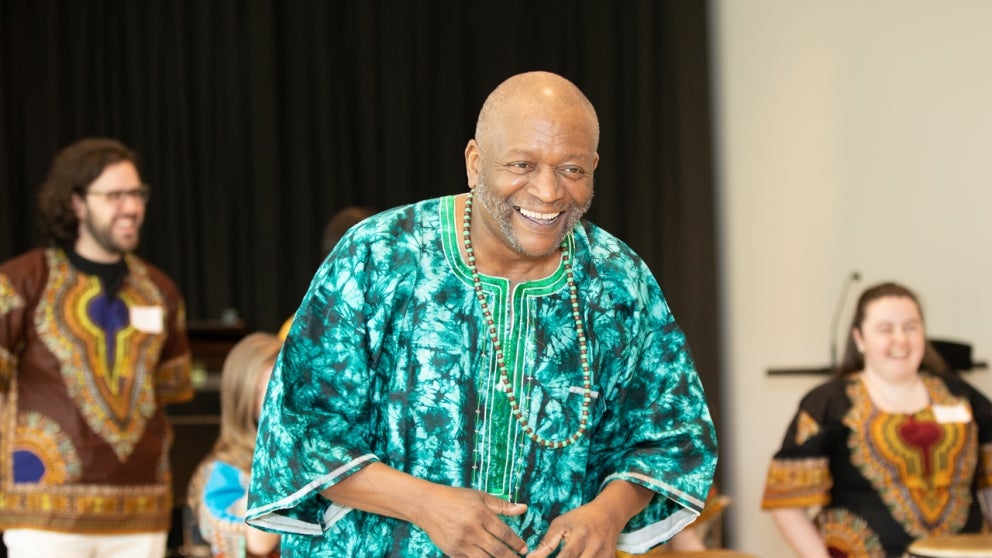 Rhythms of the Heart
The lasting impact of artist and educator Eddie Ade Knowles
Reporting by Jane Gottlieb
Gus Courtsunis '14 recalls his freshman year at Rensselaer, staying up days in a row studying, often until 3 a.m. in the library. As a mechanical engineering student, Courtsunis was experiencing the challenges familiar to every new student — juggling academics and life.
"I didn't know how classes and student life were balanced. I was studying hard but I wasn't having a blast," he says. "Ade reached out, which I really appreciated. He said, 'I understand you play drums. We have a group of mostly alums, Ensemble Congeros. I'd love for you to come to the house and play a little.' In my head I'm trying to decline. But here was this sincere, warm, kind person." 
Courtsunis, now vice president at Commodore Chocolatier, says, "Here I was, a freshman in the house of an administrator whose drums I'm playing. I couldn't stop and just walk around, so I started playing all kinds of stuff. Then I started making stuff up! Ade allowed me the possibility of being really good or really bad without feeling bad." 
"From the start, I had a connection with Ade," says Trevor Corrao '17, manufacturing engineer at Pratt & Whitney. Corrao came to Rensselaer to play lacrosse. He chose Knowles' class to fill a humanities requirement after a student adviser suggested "how great the course is and how great the professor is."
"I loved the music. I loved the guy. I stayed after class or came early to talk about school, grades, friends, or family. Ade was like family," Corrao says.

Eddie Ade Knowles passed away on February 4. In spite of a lengthy illness, he continued to bring joy to the community through his courses and performances. Ensemble Congeros had just wrapped up recording the group's second DVD.
He also was still teaching the popular Roots of Africa, a credit-bearing course that focuses on the study and performance of African, Afro-Cuban, and New World percussion music. Under his direction, students explored the significance of performance within a folkloric ensemble, and how to play percussion instruments from Africa, Cuba, and the New World.
"We had a really incredible class talking about Ade and taking some time to just connect and grieve together," says Brandon Costelloe-Kuehn, lecturer, who took over Knowles' class after he passed in February. "It was one of the most powerful classroom experiences I've had in all my years teaching, and it really drove home just how incredibly significant Ade's teaching has been for these students."
Raised in West Harlem, Knowles attended Bronx Community College, then earned his B.A. at Lincoln University in Oxford, Pa. A celebrated artist, Knowles was a founding member of Gil Scott-Heron and the Midnight Band, which is credited with spawning hip-hop. He performed with Earth, Wind & Fire, and appeared with Stevie Wonder. Kanye West sampled his work. 
When he came to Rensselaer, he focused on improving the lives of students. Under his leadership, several signature programs were created, including the Learning Center as part of the Office of Minority Student Affairs; the Bridge and PREFACE summer programs, focused on identifying and supporting the next generation of historically underrepresented students to pursue careers in STEM fields; and the Intervention Team, a multidisciplinary group of faculty and staff responsible for creating campuswide strategies to increase student retention.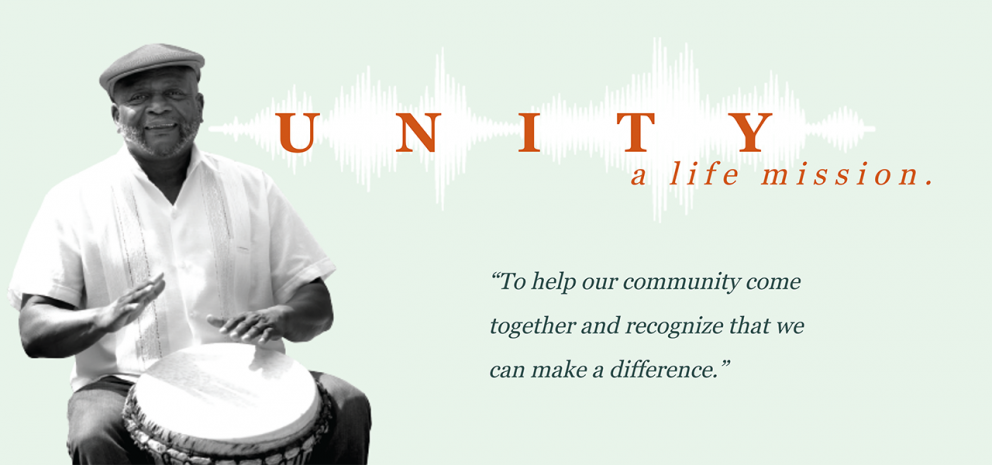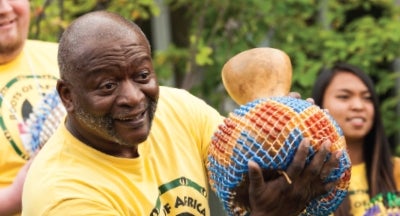 Yet his love for music remained a constant throughout his 42 years at Rensselaer. He energized students and the community with his infectious smile and twinkling eyes when he talked about it. "The greatest gift we give to others is that our music helps to elevate their spirits, helps to heal their bodies, their minds," Knowles said.
"Creative outlets are missing for many of us and so many people are thankful to Ade as a teacher, mentor, and music director," says Laura Sadowski '98, senior program specialist for the Center for Internet Security and one of the earliest members of Ensemble Congeros. "His greatest gift was bringing people together through music. His impact has been extraordinary, powerful, and far-reaching."
Unity was part of Knowles' life mission. His goal: "To help our community come together and recognize that we can make a difference."
When he was named vice president for student life after a national search, the committee chair said, "Few people can match his knowledge of the problems that face college campuses today or his ability to communicate with all members of the community."
"Dr. Knowles was a tireless advocate for our students," says President Shirley Ann Jackson. "He truly left an indelible mark as an accomplished educator and administrator."
Sunil Kunnakkat '13 credits Knowles with his success. "When I was 17, I was thinking about job safety. I had played music of some form from first grade, but figured I'd major in computer science, not chase what isn't safe. That changed because of Ade.
"Our first day of class, he asked what my name was, and I made a self-deprecating joke about its pronunciation," he says. "He immediately corrected me, in a manner only he could, getting his point across with a beautiful smile. He said to be proud of my name. No one had done that before." 
After joining Ensemble Congeros, Kunnakkat heard music differently. "While we played, Ade would look at each of us, then the ceiling, and past the ceiling to the stars. Ade was a highly accomplished musician, academic, teacher, and a dear friend. He saw something in me that I didn't until recently." 
Kunnakkat now works in IT at NYU as a data engineer and is studying for his master's in music technology. "None of this is possible without him. Ade's passing really lights a fire. Whatever thing it is that you're doing or think you want to do, whether chasing the rhythms, or arts and sciences, or everything between, just chase it."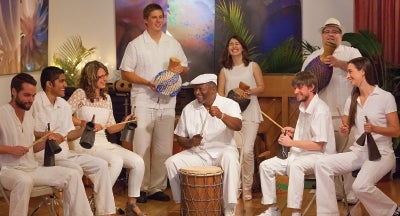 Chasing the Rhythms
Founded in 2004 as an outgrowth of the interest and passion of students who successfully completed Knowles' course, Ensemble Congeros has embarked on a journey of continuous study and performance of African, Afro-Cuban, and New World music.
Since its inception, the group has been known for its commitment to rhythm and the drum as the central medium of communication. Knowles once noted that they "fully embrace the honor and opportunity of being a continuous work in progress and a human manifestation of the synergy between the drum, science, technology, and the arts."
"All of us have rhythm," Knowles said, placing his hand over his heart in the group's promo video (below). "It's connecting with that rhythm, because that rhythm more often is about our life's rhythm and in many ways influences not only how we walk and talk, but how we live our lives."
The group, which practiced every Monday night at Knowles' home, has performed at universities, summer festivals, arts centers, and major concert halls. In 2012 they released their first DVD, Ensemble Congeros: Chasing the Rhythms. A second DVD has been recorded and is currently being mastered. 
Kristin Diotte '11, director of planning, zoning, and development for the city of Schenectady, New York, is one of more than 25 alumni members of Ensemble Congeros, which Knowles called "his musical family."
"Monday is never an easy day for anyone," she says. "I was still in work mode when I got to Ade's. But you are welcomed into a blanket of warmth. We sit at the table and unwind and discuss upcoming performances and anything else we have to figure out before playing music. When we start playing, there's a moment when we're all locked in. Ade is improvising. You enter this different realm, where you really hear the rhythm's magic, the 'Ase.' " 
Through Ensemble Congeros, Roots of Africa, and the lives of everyone whose hearts he touched, Knowles, the magic, and his music live on.