THE ARTS
Holiday Concert Presents Semi-Staged Version of Peer Gynt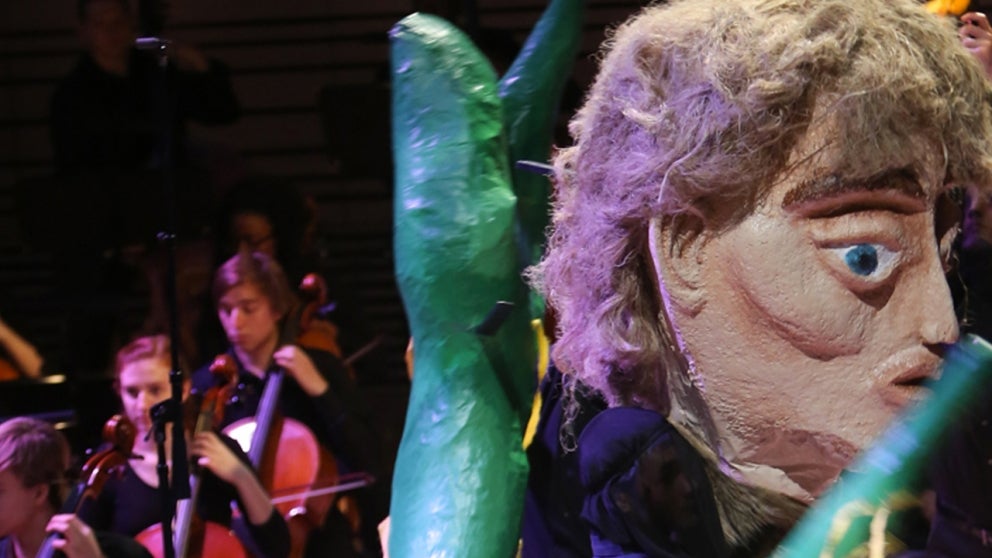 The Rensselaer Orchestra, under the direction of Nicholas DeMaison, presented a semi-staged version of Peer Gynt — the 1867 play written by Norwegian dramatist Henrik Ibsen with music composed by Edvard Grieg — at the 2017 President's Holiday Concert. The program included best-loved selections from the score Grieg composed to accompany Ibsen's famous play, which tells the story of the downfall and subsequent redemption of a Norwegian peasant anti-hero.
The production drew on the style of semi-staged orchestral-dramatic performances developed by New York production group Giants Are Small, according to DeMaison, senior lecturer of music in the Department of the Arts.
"We crafted our own 80-minute version of the piece using selections from Grieg's entire incidental music to Ibsen's play, and selected scenes from the play that appropriately cut down the narrative while maintaining dramatic continuity," he says.
The adaptation, which was created by DeMaison, music director; Assistant Professor of Arts Rebecca Rouse, director; and artist Jefferson Kielwagen, theatrical design, unfolded in two acts with an intermission.
During the performance, a narrator led the audience through the sometimes bizarre twists in Ibsen's narrative, while six puppeteers, or "acting stage hands," manipulated props and scenery, sometimes with live video projection, to bring to life the characters and situations in the play.
Joining the orchestra for the performance were the Rensselaer Concert Choir, members of the Instrumental Fellows ensemble, members of the student theater group the RPI Players, and soprano Kimberley Dolanski Osburn. The production featured the work of students in the Sculpture II class of Jefferson Kielwagen, who is a lecturer in the Department of the Arts.
"As the type of work pioneered by Giants Are Small is still relatively nascent in the broader artistic world, we see this production as a means to bring the most forward-thinking, technologically engaged concepts in musical-theatrical dramatic presentation to students at Rensselaer," DeMaison says.
DeMaison is a composer and conductor who has led dozens of premieres of new operative, instrumental, choral, and multimedia works, described as "consistently invigorating" (New York Times), "spine-tingling" (Feast of Music), and "enchanted" (Seen and Heard International). He joined the Rensselaer faculty in 2013.