Staying Connected: Making an Impact for Rensselaer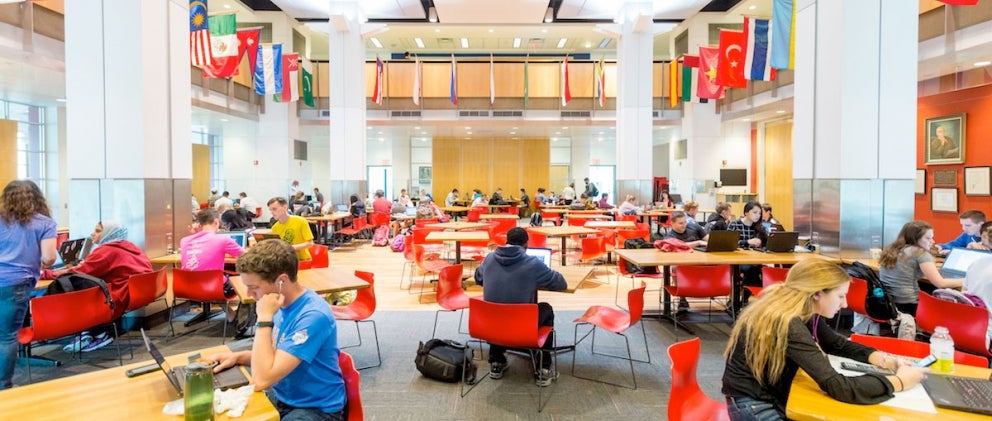 The Rensselaer Alumni Association provides crucial support for the campaign
In October, the official launch of Transformative: Campaign for Global Change was celebrated during Reunion & Homecoming weekend. Among the more than 800 stakeholders who gathered were members of the Rensselaer Alumni Association (RAA) Board of Trustees. The RAA is providing crucial support for this important campaign through its programs and initiatives.
Transformative: Campaign for Global Change will lead us to the 200th anniversary of the Institute's founding, and position Rensselaer for its third century of leadership in education and research. The campaign emphasizes three pillars: Bridging the Gap between student need and available financial aid resources; The Faculty 500, which will attract and empower talented professors whose research and teaching will empower our graduates and change the world; and Building Out the Campus, by modernizing the academic, research, and student life facilities that enable us to transform students into the next generation of leaders.
The RAA has already undertaken significant work in support of the first pillar of the campaign — supporting student scholarship. In 2016, the RAA launched a student scholarship initiative through which alumni may directly assist today's students. The endowed fund at Rensselaer, established with a gift of $250,000 from the RAA, is used to financially support scholarships for worthy and needy undergraduate students. The inaugural recipient of the RAA Scholarship was Jocelyn McConnon '21, a mathematics major from St. Johnsbury, Vermont. The scholarship was announced in October 2017 at the RAA Awards dinner.
At the ceremony, RAA President Kareem Muhammad '01 said, "This scholarship was established by the generosity of the RAA and our founding donors, and recognizes the need for technically educated people who will serve the betterment of mankind through the 'application of science to the common purposes of life.' The fund recognizes Rensselaer as a leader in providing an excellent and rigorous technological education — preparing its students to contribute to a better world."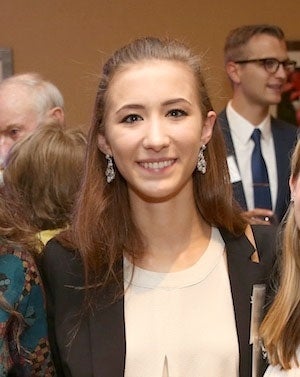 "Attending the RAA Awards dinner was my first introduction to the amazing network of alumni here at Rensselaer," said McConnon. "I am proud to be a future alumna, and thankful for the support in accomplishing my goals from those who came before me."
As Rensselaer moves toward its bicentennial in 2024, the RAA will continue to make an impact through financial support of important campus initiatives, a concern for and dedication to today's students and campus life, and a commitment to improving and adding value to the alumni network. To learn more about the RAA's programs and how you can get involved, visit alumni.rpi.edu/raa.
To learn more about Transformative: Campaign for Global Change, visit transformative.rpi.edu. If you have questions, contact raa@rpi.edu or call (518) 276-6205.
Save the Date! Reunion & Homecoming: September 27-30
Come back to Rensselaer for an immersive campus experience that will demonstrate the exciting paradigm of The New Polytechnic. Join with classmates, teammates, Greek brothers and sisters, family, and friends for what is sure to be an extraordinary weekend. Rensselaer is especially excited to welcome back the great Class of 1968, who will celebrate their 50th Reunion.
The weekend will feature academic and school-based programs such as seminars, tours, research presentations, and more, that will showcase how faculty and students collaborate to address the complex global challenges of today. You will also enjoy student performances and other special programs.
Reunion & Homecoming is for all alumni, but of special note are the classes ending in 3 or 8, who will celebrate milestone Reunions. Greeks can take advantage of the weekend to gather for dinners, barbecues, and to celebrate anniversaries. Many athletic teams will bring together former athletes for friendly competition and to meet and cheer on our current teams.
Visit the website at alumni.rpi.edu/reunion for a hotel listing, volunteer opportunities, preliminary schedule, and to tell your friends if you plan to be there!
Nominate a Deserving Volunteer for an RAA Award
Do you know alumni or alumnae whose volunteer work for Rensselaer is worthy of recognition? Nominate them for one of the RAA's annual awards! The program recognizes alumni contributions in every area of volunteer work. For criteria and information on how to submit a nomination, visit alumni.rpi.edu/RAAawards, or contact alumni@rpi.edu or (518) 276-6205. Nominations are due May 25.
Don't Miss Out on Alumni Programs!
Most alumni programs and services are advertised via email and social media — including Reunion & Homecoming. Help us continue to "go green" and make sure you don't miss out on any of the exciting events and benefits offered exclusively to Rensselaer alumni. Write to alumni_update@rpi.edu, or visit alumni.rpi.edu/gogreen with your email, social media user name, and updated contact information.
Worldwide Travel Program
Visit exciting destinations with people who share your interests — fellow Rensselaer alumni. Upcoming programs include a Mississippi River cruise, a tour of the Amalfi Coast, and a luxury cruise to Greece. Go to alumni.rpi.edu/travel for a complete listing of upcoming trips, or contact program coordinator Michael Wellner '64 at captmike46@aol.com or (212) 486-3064.
Regional Chapters Welcome New Students
In the summer months, alumni chapters across the country will be welcoming our incoming class and their families to Rensselaer. Chapters host a wide range of programs, where new students meet alumni and current students, and have their last-minute questions answered before they travel to Troy. Visit alumni.rpi.edu/chaptersendoffs this summer to see what is planned in your area.