PRESIDENT'S VIEW • SHIRLEY ANN JACKSON, PH.D.
Preparing for Our Third Century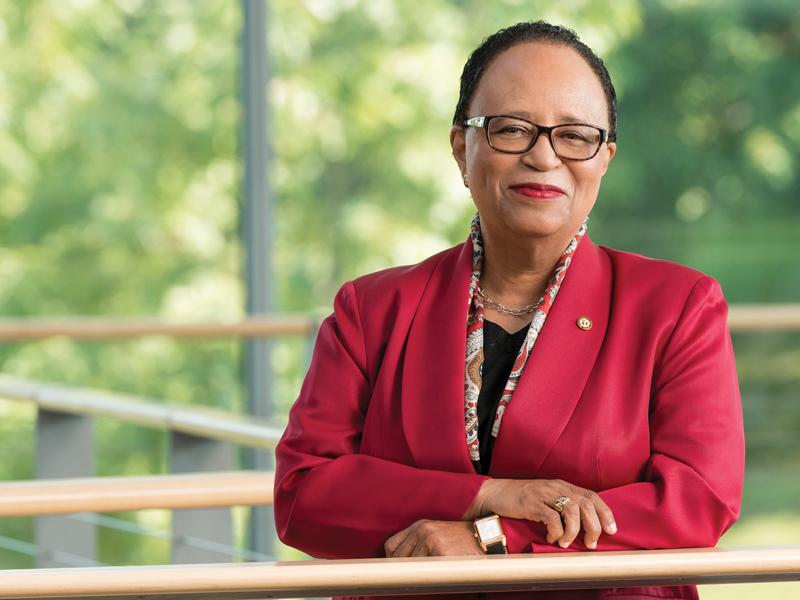 Capital Campaign Launched
Today, Rensselaer is thriving. Demand for a Rensselaer education has never been higher, and applications for admission to our freshman class numbered nearly 20,000 this year. Many of our programs are now top-ranked, and our overall U.S. News ranking once again reached one of its highest levels in the past 20 years.
We are strong because we have a strong vision for ourselves that inspires Rensselaer students, faculty, and staff alike. We operate within the paradigm of "The New Polytechnic," in which we continue to educate students with deep foundational knowledge, while serving as a great crossroads for talented people across disciplines, sectors, geographies, and generations, who, together, address the greatest of challenges, using the most advanced tools and technologies.
We believe that Rensselaer is poised for even greater leadership in its third century, and will be even more transformative in the world at large.
To ready Rensselaer — the oldest technological research university in the nation — for global leadership in the 21st century, in October, we launched an ambitious capital campaign.
...we intend to honor the intensely democratic vision of Stephen Van Rensselaer, who founded this school to place knowledge "equally within the reach of all."
Transformative: Campaign for Global Change has three essential pillars:
The first is increasing student financial aid and enhancing the student experience. The cost of the education we offer at Rensselaer — world-class, immersive, and experiential — has outstripped the financial means of many of our students. Our ability to offer financial aid must bridge this gap. Because we understand that brilliance does not exclusively come in wealthy packages — because we intend to accept the very best students regardless of their socioeconomic background — and because we intend to honor the intensely democratic vision of Stephen Van Rensselaer, who founded this school to place knowledge "equally within the reach of all" — we must add to our endowment to better meet student financial need.
Our second pillar focuses on our faculty. We will use the resources unleashed by the campaign to create new endowed professorships that will allow us to attract and retain the very best academic talent from around the world. We will draw gifted teachers and researchers to The New Polytechnic to do world-changing work in their laboratories and classrooms — and to ensure that our students, working beside them on their investigations, learn at the leading edge of their fields. Endowed chairs will allow us to expand our tenured and tenure-track faculty to 500, so that Rensselaer can achieve intellectual critical mass, and lead in all crucial areas of research and education that comport with our founding mission, "the application of science to the common purposes of life."
Our third pillar focuses on our beautiful Troy campus. We must grow, modernize, and equip the campus for continued leadership in pedagogy, research, and student life. Our goal for the campaign is to raise $1 billion in new resources. I am pleased to report that we are well on our way, with over $400 million already raised from our most generous individual and institutional donors.
At the gala launching the campaign, Trustee John E. Kelly III of the Rensselaer Classes of 1978 and 1980 — and IBM senior vice president of cognitive solutions and IBM Research — announced a significant investment in Rensselaer on the part of IBM. This investment is intended to move artificial intelligence and machine learning into a future in which intelligence will be distributed into almost every piece of technology (indeed everything) we encounter in our daily routines.
This agreement truly represents The New Polytechnic in action, as explorations in artificial intelligence will be conducted across sectors, across disciplines, across generations, and across the curriculum — transforming both the research and the education that takes place at Rensselaer — with the potential to improve the very business of living, around the globe.
Your participation in Transformative: Campaign for Global Change will make an immediate and tangible difference — for our students, for a great university, and for the world. This is a very exciting moment for the Institute — and I am so glad that we all are on this journey together.