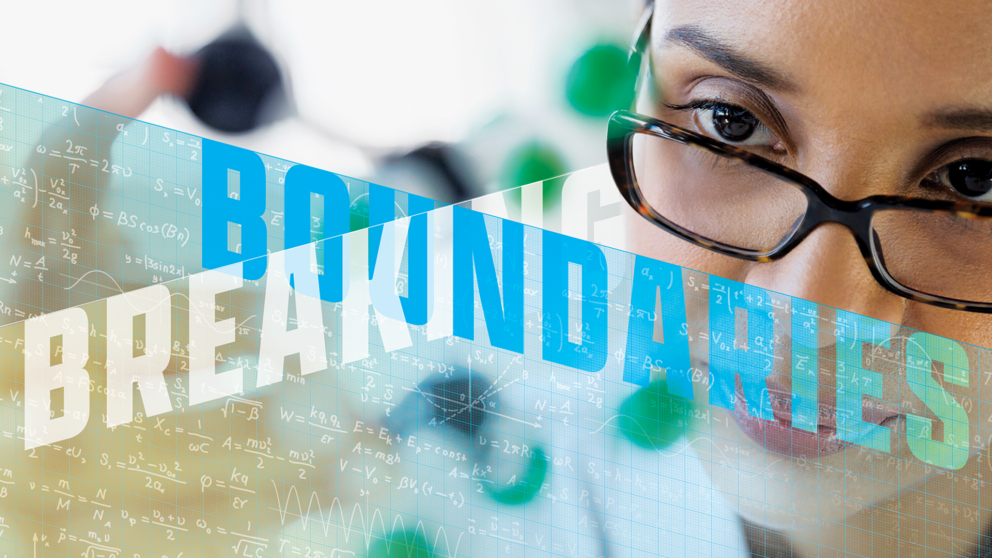 Breaking Boundaries
Rensselaer alumni pave the way as STEM leaders.
By Regina Stracqualursi
The critical importance of STEM (science, technology, engineering, and math) education has become clear in recent years. As the world continues to grapple with major problems such as climate change and disease, there is an ever-growing need for leaders who possess the unique skills and perspectives instilled by STEM.  
Rensselaer Polytechnic Institute alumni have met this demand and have played an important role breaking down boundaries that exist in STEM education. Their resilience and determination as members of groups that are traditionally underrepresented in STEM fields have helped pave the way for generations to come.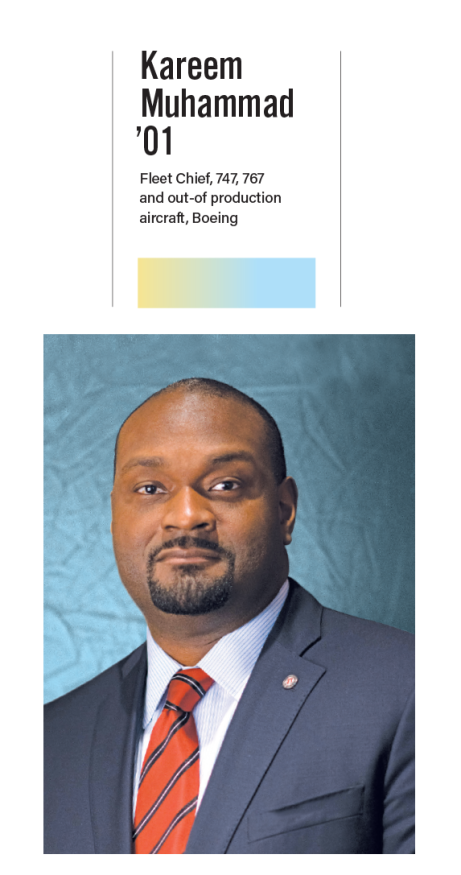 Kareem Muhammad '01 was born to be an engineer. As a child, he would often take apart his toys and put them back together, just to understand how they worked. He was deeply curious about the world, and even read encyclopedias for fun.
When Muhammad was in sixth grade, two engineers from Westinghouse Electric Corporation visited his school to talk about the steps one needs to take to become an engineer. A defining moment in his career journey, he left eager to pursue mechanical engineering in the aerospace industry. "I not only followed those steps, but I still have the brochure they gave us," he says. "I was immediately inspired."
After losing his mother at the age of 16, Muhammad relocated from Baltimore, Maryland, to Queens, New York. "It was a very difficult transition, moving to a different state, switching high schools after my sophomore year, while dealing with the grief of losing my mother," he says. "Many people worried that my younger brother and I would struggle with so many changes." Instead, Muhammad graduated high school as valedictorian.
Today, he serves as the fleet chief for the Boeing 747, 767, and out-of-production airplane models. He has dedicated his career to both advancing aerospace technology as well as inspiring future engineers, especially women and underrepresented minorities. He follows in the footsteps of the engineers who encouraged him, visiting schools to discuss career opportunities, and serves as Boeing's representative for Rensselaer, bringing alumni and students into the company for full-time positions and internships.
He has served his fellow alumni as a member of the Rensselaer Alumni Association (RAA) board, participating in a range of committees and taking on several leadership roles, including a term as the first African American president of the RAA from 2017 to 2019. He was also an alumni representative of the search committee for the 19th president of Rensselaer.
In 2018, he received the National Society of Black Engineers' (NSBE) most prestigious honor, the Distinguished Engineer of the Year Golden Torch Award, which recognizes individuals who have both expanded their industry and have actively supported NSBE's mission "to increase the number of culturally responsible Black engineers who excel academically, succeed professionally, and positively impact the community."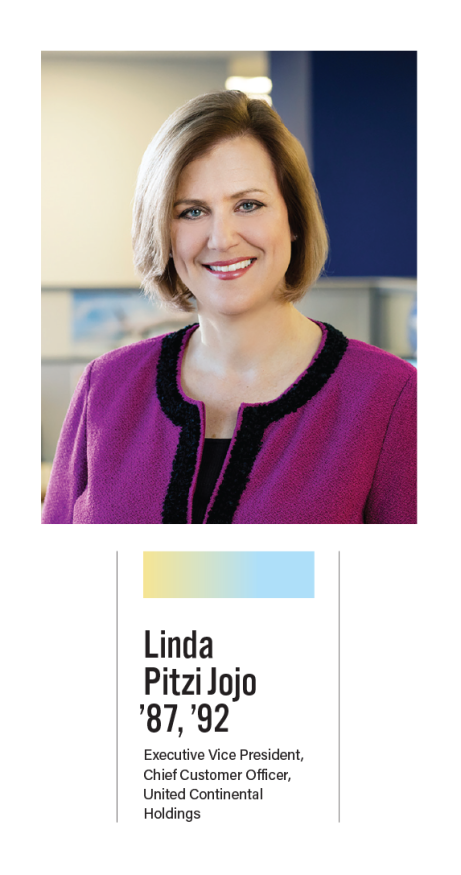 As a child, Linda Pitzi Jojo '87, '92G and her family had a special weekend ritual. Each Sunday during baseball season, they would watch Boston Red Sox games with her grandparents. Through box scores and batting averages, this weekly tradition immersed her in the world of mathematics and statistics. Her strength and interest in math and science only grew throughout middle and high school.
Growing up the daughter of a mechanical engineer and a nurse, Jojo never doubted her ability to pursue a career in STEM. "What happens to a lot of young girls is they don't feel encouraged in math and science during their teenage years," she says. "But that didn't happen to me — my parents always encouraged us to pursue what we were interested in."
When Jojo first came to Rensselaer, she was overwhelmed by how challenging the curriculum was. Up until that point in her life, academics had always come easy for her. Ultimately, it was being part of the Rensselaer basketball team that inspired her to persevere. "Just because something doesn't come easy, doesn't mean that it's not worthwhile," Jojo says. "I've been knocked down for various reasons along the way and you get back up and you get back in there."
And Jojo does exactly that. As executive vice president and chief digital officer at United Continental Holdings, the parent company of United Airlines, from June 2017 to July 2022, she was responsible for the airline's digital and mobile presence — something that became even more critical at the onset of the COVID-19 pandemic.
Jojo, who served as chief information officer for four different companies prior to her current position, helped United pivot to communicate safety measures, create a more contactless environment, and employ artificial intelligence and machine learning to process testing and vaccination requirements for flyers during the pandemic.
In July 2022, she became the executive vice president and chief customer officer for United. She is also actively involved with Rensselaer as a member of its Board of Trustees since 2018.
"Just because something doesn't come easy, doesn't mean that it's not worthwhile. I've been knocked down for various reasons along the way and you get back up and you get back in there."

Linda Pitzi Jojo '87, '92G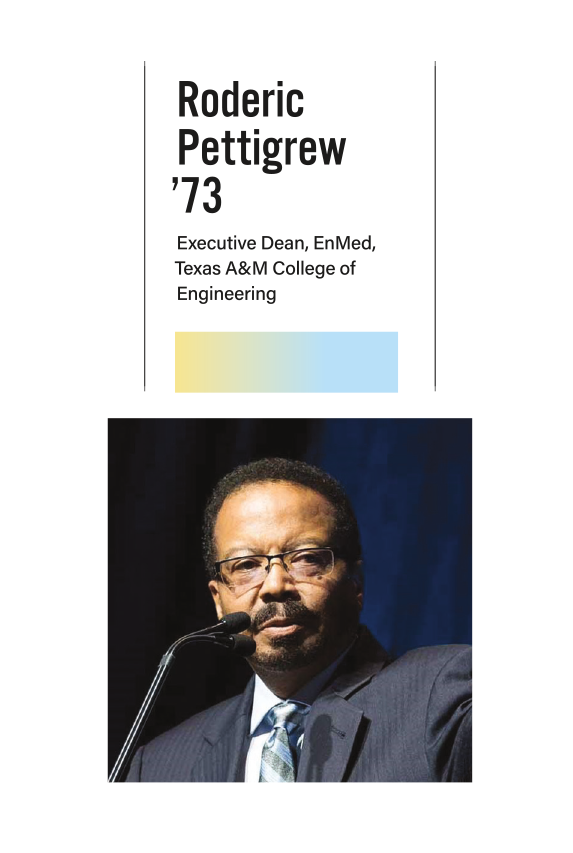 Roderic Pettigrew, M.S. '73, Ph.D., M.D., cannot remember a time when he was not interested in science. As a child, he was deeply fond of exploring and enjoyed making things. "I think I actually emerged from the womb as a scientist," he says. "I was always fascinated by the 'how' and 'why' of everything."
Growing up in the south during the Civil Rights Movement, Pettigrew's early educational experiences were heavily impacted by the legalization of racial segregation and discrimination. "It was a tumultuous and traumatizing era," he says. Despite these challenges, his interest in STEM flourished as he attended middle and high school. Inspired by an early fascination with flight and the Space Age, he initially intended to become an aeronautical engineer, but later decided to pursue physics in college.
Despite the challenging social circumstances he faced throughout his early educational journey, Pettigrew remained focused on living an impactful life, making a difference in the world. "We were taught that you were expected to go forth and make your best contribution to the world and humankind," he says, reflecting on his upbringing.
After earning a bachelor's degree in physics from Morehouse College, Pettigrew pursued a master's degree in nuclear science and engineering from Rensselaer and a doctorate in radiation physics from the Massachusetts Institute of Technology. With a desire to improve human health and well-being, he then earned a medical degree from the University of Miami Miller School of Medicine in their unique accelerated program for individuals with science-based doctorates. After completing his residency training in internal and nuclear medicine, he began his professional career in nuclear magnetic resonance imaging (now known as MRI) working with Picker International, where he was part of a team that developed the company's first cardiovascular MR imaging technology. In that capacity, he personally installed and instructed the use of the heart imaging software on Picker's first 10 MRI systems internationally.
After achieving professorships in radiology and medicine (cardiology) at Emory University and bioengineering at Georgia Institute of Technology, Pettigrew was recruited to become the founding director of the National Institute of Biomedical Imaging and Bioengineering at the National Institutes of Health. He held this position for 15 years. In this role, he helped advance human health through the development of innovative diagnostic and therapeutic technologies and new knowledge that emerged from the convergence of the physical and life sciences and engineering. Currently, he is the inaugural dean of the School of Engineering Medicine at Texas A&M, which collaborates with Houston Methodist to offer EnMed. This is a fully integrated educational and research medical school curriculum with a focus on innovation, medical problem-solving, and entrepreneurship. Building on undergraduate backgrounds in diverse engineering disciplines, EnMed students earn an M.D. and a Master of Engineering Innovation in Medicine in a blended four-year curriculum. With undergraduate backgrounds in diverse engineering disciplines, the students earn both degrees in only four years and an invention to address a health care problem is required of all graduates. This theme is also expanded to integrate engineering into all professional areas in the health care ecosystems, a comprehensive effort called EnHealth, for which Pettigrew is the CEO.
"My three careers have had a common theme indeed," he says, "the convergence of the physical and life sciences and engineering to improve the health and well-being of those on planet Earth."
Pettigrew also serves as a member of the Rensselaer Board of Trustees.
"I was always fascinated by the 'how' and 'why' of everything."

Roderic Pettigrew '73, M.D., Ph.D.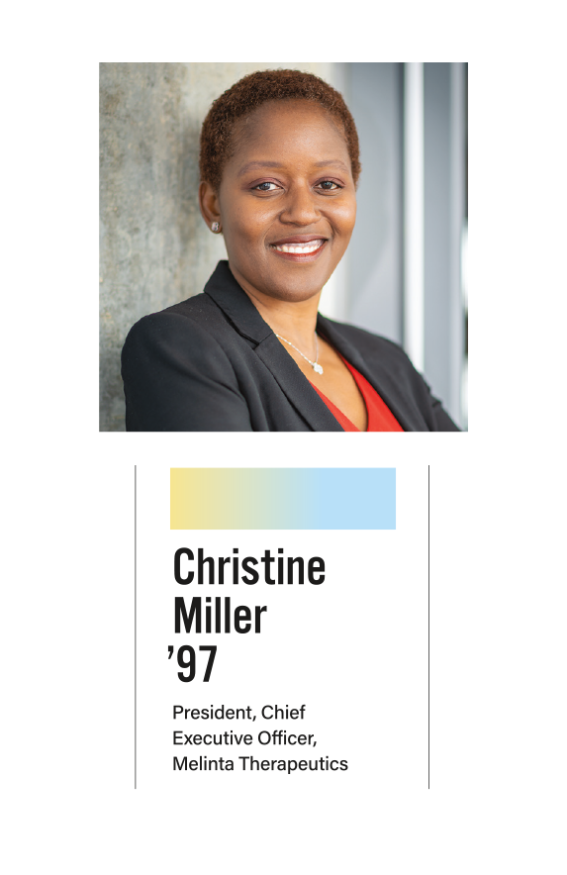 Christine Miller '97 always knew she would go to college. Coming from a family that immigrated to the United States from Jamaica in pursuit of opportunity, she had a value for education instilled in her from a young age. "It wasn't a matter of if you were going to college," she says. "It was where you were going to college and what you were going to study."
Ms. Miller was born in Brooklyn but grew up in a Jamaican immigrant community in the Bronx. At the age of 11, she relocated with her family to New Rochelle in Westchester County, New York. It was there, through her high school, that she became passionate about science and technology. She recalls having a chemistry teacher who made learning fun. "He would bring science to life," Miller says. "That's what made me fall in love with it."
Coming to Rensselaer to pursue a bachelor's degree in chemical engineering, she remembers being confronted with a harsh reality. "I don't look like the typical chemical engineer," Miller says, recalling how challenging group work was when she first came to college. "People gravitate to the people they know, to their friends, and to the people who look like them."
And that trend continued throughout her career. As someone who has served as a leader within pharmaceutical companies such as Allergan (formerly Actavis and Watson Pharmaceuticals) and Sandoz, Miller has had to advocate for herself to grow her career in the direction she wanted. "I found that there were times I would be overlooked for opportunities because I didn't check all the boxes," she says. Now the president and chief executive officer of Melinta Therapeutics, Miller strives to have as positive an impact as possible on the patients the company serves. To achieve this, she starts with her own employees. "My critical role is to build a team and create a culture where people can be the best version of themselves," she says. "It's so important."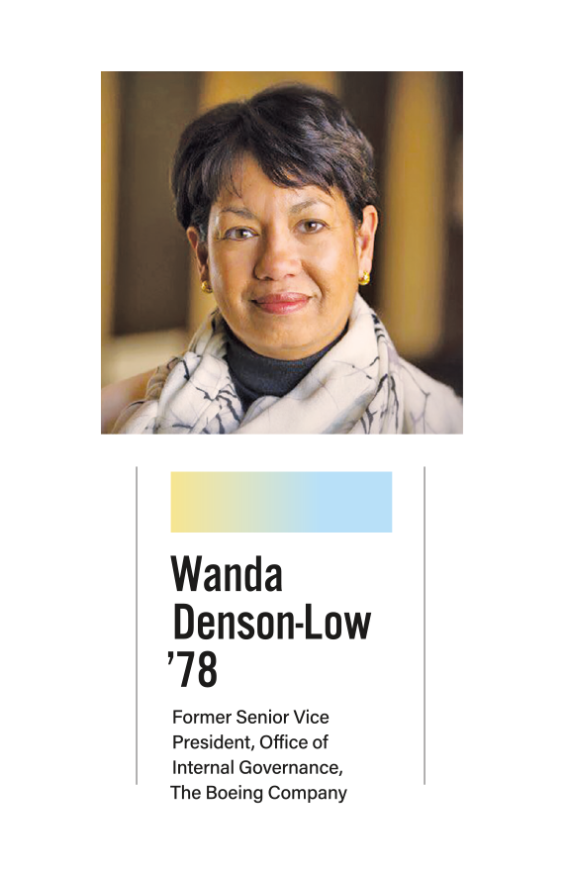 Growing up, Wanda Denson-Low '78 always had one question — why? It was an innate curiosity about the world that helped cultivate her undeniable interest in STEM. Recognizing this passion for chemistry, a middle school science teacher encouraged her parents to register her for an entrance exam to a high school specialized in science. She did, and ultimately attended the Bronx High School of Science.
For four years, Denson-Low took a two-and-a-half-hour journey each way, to and from the specialized school each day. She traveled by foot, bus, and subway, through dangerous parts of town, no matter the weather. "Failure was not an option," she says. "I realized if I could live through this journey each day, there was very little else in life that could intimidate me."
Though she chose law as her profession, pursuing a Juris Doctor from Brooklyn Law School, Denson-Low earned a bachelor's degree in chemistry, knowing that the analytical and critical thinking skills developed in a STEM program would suit her well in any career. "Even then, I could see that everything in the future would eventually revolve around technology," she says.
After beginning her career as a patent attorney at Union Carbide Corporation, Denson-Low became chief patent counsel of Hughes Aircraft Company, making her the nation's first minority woman to hold this role in a Fortune 500 company. When she became vice president at Hughes just a few years later, she was one of only four women vice presidents in the company. But for a young African American woman, these accomplishments did not come without challenges. "One was expected to continually and repeatedly prove oneself as the shadow or presumption of incompetence loomed large for those who looked like me. I had to work harder to be seen and recognized," she says. "As the saying goes, Ginger Rogers did everything Fred Astaire did except backwards and in high heels."
After Boeing acquired Hughes, Denson-Low became part of Boeing's legal team in 2000, rising to vice president of HR of Boeing's $30 billion defense business in 2002; vice president and general counsel of that defense business in 2003; and in 2007 until her retirement in 2014, senior vice president of Boeing's Office of Internal Governance. She served on the Rensselaer Board of Trustees since 2011 and is now trustee emerita.
"I found that there were times I would be overlooked for opportunities because I didn't check all the boxes."

Christine Miller '97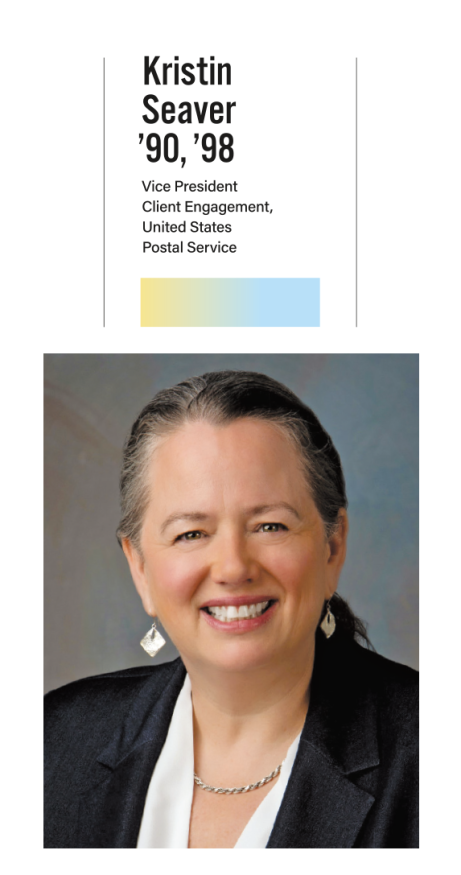 Growing up the daughter of an electrical engineer, Kristin Seaver was always helping her father fix something around the house. She remembers a feeling of excitement that arose in her every time she was allowed to use one of the tools from the tool chest he kept in their basement.
Outside of her home, Seaver was also known for her curiosity about the world. She would often break her best friend's new toys while trying to understand how they worked, and then was always up for the challenge of figuring out how to put them back together.
Living in the small town of Avon, Massachusetts, Seaver was part of a close-knit community that supported her in whatever she wanted to pursue. "Whether you were a boy or girl was never part of the discussion," she says. "Whether it was playing sports, getting a part-time job, or going for captain, it never came up." By the time she attended high school, she knew without a doubt that she wanted to pursue a degree in engineering, despite any hesitation she sensed from her guidance counselors.
When Seaver came to Rensselaer, she quickly realized how rigorous the curriculum would be. "It's really challenging and you're wondering, 'Am I really cut out to do this?'" Seaver says, reflecting on her early experiences pursuing an engineering degree. It was during this time in her life that she learned the power of a supportive network. As a member of the Rensselaer women's basketball team, Seaver had the support she needed to persevere.
After earning a bachelor's degree in industrial engineering, she went on to pursue a 30-year career with the United States Postal Service (USPS) spanning engineering, logistics, technology, and operations.   She fell in love with the organization from the moment she arrived in 1991. "It didn't matter who you were or what you looked like," she says. "If you had good ideas and could work well with other people you were going to have a positive impact on the organization and be given opportunities."
Seaver continues to support the mission of government through technology in her current position at GDIT and through her advisory work with startups looking to bring innovation to government.