President's View
Rensselaer Forward As One Community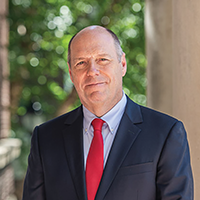 I am so grateful for the warm reception I've received since returning to RPI. My wife, Lyn, and our family are very excited to be welcomed back so enthusiastically to the RPI community.
Having last seen the area in 1981, I am amazed by how beautiful the campus is, as well as how vibrant Troy has become. Troy is undergoing a renaissance; and the Capital Region has become a hub of start-ups — many of which were founded by RPI alums — and innovation, particularly in the field of nanotech and semiconductors.
Since my first day, I've had the chance to meet so many of our students, faculty, and staff as I've undertaken a listening and learning tour across campus to see all of the things that make them so very proud. I've also had the pleasure of meeting many of you, my fellow alumni, as I've traveled across the country as part of the Presidential Tour.
In each session, I made sure to ask two questions: What do you love about RPI? And what are your aspirations for the school?
What has been fascinating to me is how people from all parts of our community share a common passion and sentiment about Rensselaer. People genuinely love this place and this community. They come here, and they stay here, for a reason. Each of you believes deeply in our mission to educate the best and brightest students who will go on to tackle the greatest challenges facing humanity and our world.
That makes me very eager to get to the work ahead. At my investiture in October, I outlined my aspirations for RPI in four areas: education, research, the translation of our ideas beyond the university walls, and regional engagement. All of these goals are inspired and will be made possible by creating the most accessible, welcoming, and inclusive environment possible for every person to do their best work.
As a nearly 200-year-old institution, Rensselaer has long been a pioneer in educational innovation.
"As we approach our bicentennial in 2024, we need to embrace our rich history of educational innovation..."
From Amos Eaton's hands-on approach to learning, to the studio and flipped classrooms of the 20th century, to today's game-driven narratives, immersive technologies, and interaction with AI in formal coursework, RPI has been at the forefront of new ways of teaching and learning. 
As we approach our bicentennial in 2024, we need to embrace our rich history of educational innovation, pursuing visions like personalized learning that adapts the delivery of knowledge to the preferred learning style of each individual. 
We need to make the most of our new research centers, which target areas that truly are critical to the future — including the Center for Engineering and Precision Medicine in partnership with the Icahn School of Medicine at Mount Sinai; our Institute for Energy, the Built Environment, and Smart Systems, whose partners include the Brooklyn Law School; and our Institute for Data, Artificial Intelligence, and Computing.
But we must also support curiosity-driven projects that don't quite fit into the boxes we have already created — great ideas in research come from everywhere. We need to ensure our faculty have all the help they need to pursue those ideas.
We then must be successful in translating our ideas into the world. The traditional technology transfer to an industrial research lab is being replaced by translation through the creation of a new venture, be it a commercial start-up or a nonprofit. In some instances, these new entities are created in partnership with established industries.

RPI has a strong culture of innovation and already excels at fostering successful entrepreneurs. As an institution, we need to do everything possible to help our current students and our faculty have a path to success. 
By educating so many brilliant young people who start local businesses, RPI plays an important role in regional economic development. However, we also have the opportunity to do even more. Which is why we need to focus even more on the importance of regional engagement. 
We need institutions with long-term interest and deep roots in the region that are dedicated to elevating the area — including higher ed, medical centers, religious institutions, foundations, economic development partners, government, and industry. And we need institutions with the collective strategic capacity to think decades into the future.
"What has been fascinating to me is how people from all parts of our community share a common passion and sentiment about Rensselaer."
This is an exciting period for RPI. We have welcomed our largest first-year class of undergraduate students in our history.
With enrollment at 2,012 students, this class represents the strongest academic class in the history of Rensselaer, with 64 high school valedictorians or salutatorians, and nearly 100 students with perfect SAT critical reading, math, or ACT scores. The Class of 2026 is one of the most diverse ever, and includes the most women in an RPI entering first-year class (29%), as well as the most underrepresented minorities (18%).
As we all know, RPI is a truly special place. Through our shared commitment to carry on and even bolster all that makes this place so remarkable, our students, faculty, staff, and alumni will continue to live up to our important mission "to change the world."
I'm looking forward to meeting and hearing from everyone. Feel free to reach out to me with your ideas and comments at president@rpi.edu. See you soon!