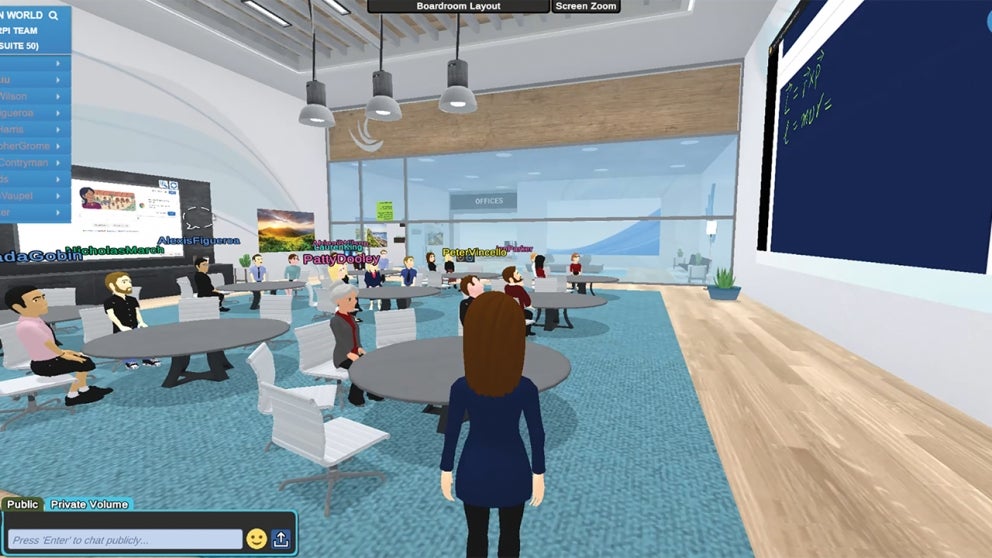 Pandemic-Driven Pivots
Faculty have devised new ways of delivering a world-class education during the COVID-19 crisis.
By Jeanne Hedden Gallagher
Life during a global pandemic is not easy. At Rensselaer Polytechnic Institute, fueled by innovative methods and techniques developed by faculty, students studying remotely and those attending socially distant classes on campus are gaining a world-class education at a time that demands adaptability and resilience. 
Professors have been tasked with coming up with ways to deliver a high-quality education across time zones, in person, and using technology in ways that didn't even exist at the beginning of last year. But who better to come up with methods to support students in pursuit of a top-notch education than a campus full of scientists and engineers dedicated to their calling. 
From developing new tools to using established technologies in novel ways to completely rethinking the concept of a classroom, the faculty is leading the way to provide students an exemplary level of learning during the pandemic and into the future.
Utilizing Technologies
"It is very difficult to constantly innovate the ways to teach and live," says Emily Liu, a professor in the Department of Mechanical, Aerospace, and Nuclear Engineering. "We are devoting three, even four times more of our day to our teaching responsibilities than before the pandemic hit. However, the feeling that we have uncovered new ways to educate is actually very satisfying. The silver lining is that we have discovered we are strong and resilient."
Since the beginning of remote learning, Liu has been looking for new ways to connect with her students, even when that means exploring options in the virtual world. With the support of the Cognitive and Immersive Systems Lab (CISL) and the Office of Undergraduate Education, she and her Nuclear Phenomena for Engineering Applications students are on the vanguard of pedagogy by using a game environment and avatars to teach and learn in real time in a virtual classroom through the use of a remote-work platform called Virbela. Liu says this immersive software lets her lecture to students and answer questions in ways she had not ever considered in her 14 years of teaching. "My hope is that by incorporating this virtual classroom into the students' experience, I can meet them in a dynamic environment that will enrich their learning."
But it's not just the use of cutting-edge technologies that has inspired original methods of instruction at Rensselaer. In the School of Architecture, Rhett Russo has taken the traditional sharing of physical models and created new systems to incorporate it into the studio courses of first-year students. According to Russo, an assistant professor and undergraduate chair of the School of Architecture, an important component of freshman coursework is students building models and presenting them to their peers. In normal times, the students would gather around the model to examine it from all angles. This year, while most of the first-year students are, in fact, on campus, COVID-19 social distancing guidelines prohibit the students from convening closely.
To provide this foundational aspect of architectural collaboration, Russo redesigned the gallery space on the second floor of the Greene Building and created a Plexiglass partition to allow for discussion. In the classroom, students are able to wirelessly upload more detailed images of their models and drawings. These images are then broadcast to a video screen in the classroom and shared with remote students, enabling the students' ability to examine and critique the work together.
Reimagining the Classroom
Whether a student is in off-campus housing in Troy or in their home somewhere around the globe, through the use of computer applications like Webex, faculty can now teach to students anytime, anywhere. For students who need to be in the laboratory to learn, faculty have devised ways to provide them with practical experiences. Some faculty sent the labs directly to students. However, one Rensselaer engineering professor was way ahead of the game.
Joshua Hurst, a senior lecturer in the Department of Mechanical, Aerospace, and Nuclear Engineering, actually began sending labs home with his Mechatronics and Mechatronics Hardware and Software students back in 2013 as part of a flipped-classroom teaching model. "When we were forced to teach remotely," says Hurst, "we were really poised to have the students continue to do their labs at home and we were able to execute the same curriculum because of this capability." 
What had to be redesigned for the fall semester, however, was the way to make the in-person experience equitable to that of the remote student. For his new course, Control Systems Lab, where sending lab kits home wasn't an option, Hurst developed computer-based simulation models and tools that he says allow the students at home to have similar interactivity and limitations as the actual hardware and measurement tools. 
And it's not just the faculty who realize the need for students to have hands-on access to learning labs. A longtime Rensselaer donor, Douglas Mercer '77, recently donated a ADALM1000 portable lab to all first-year students in the Department of Electrical, Computer, and Systems Engineering. The personal instrumentation hardware looks like a circuit board that is nearly small enough to fit inside a pocket, and it helps students visualize the fundamental relationships between current, voltage, and impedance.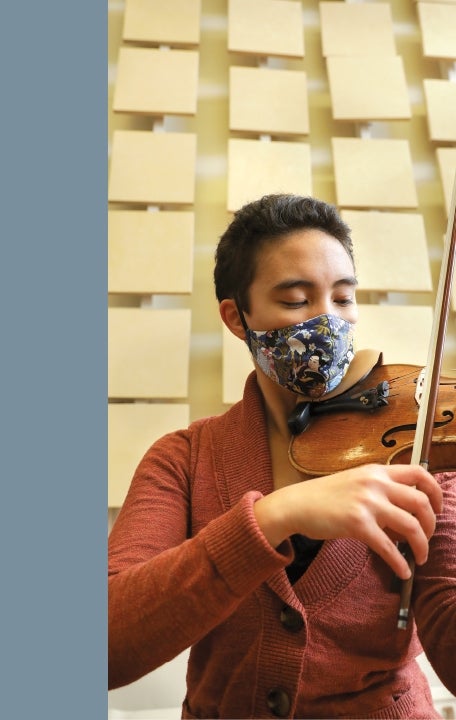 When it became clear that many students would not be returning to campus for the fall semester, Christopher Fisher-Lochhead, a lecturer in the School of Humanities, Arts, and Social Sciences (HASS), says the Arts Department recognized its courses would have to adapt. To address the needs of the musicians on campus, Fisher-Lochhead and Michael Century, a professor in HASS, developed a new course that reimagines musical education. Fusion Ensemble uses innovative technical and pedagogical methods to combine the Orchestra, Concert Choir, and Chamber Music Ensembles into one class that allows students to participate in person, remotely, during a set class time, or asynchronously.
"The student musicians at Rensselaer have been musicians for years and they're very talented," says Fisher-Lochhead. "It's part of their identity and a big part of their social interaction. In addition to reimagining musical performance, Fusion Ensemble preserves the social cohesiveness and sense of common purpose impassioned by musical collaboration."
Learn more about how the Fusion Ensemble reimagined musical performance to present the 2020 President's Holiday concert.
For the faculty in the Lally School of Management, the virtual aspect of instruction offers the ability to tear down the walls of the classroom. Because the professors are no longer limited to what, and who, they can physically bring onto campus and into the Pittsburgh Building, the options for expanding introductions to industry experts through Webex and other virtual technologies are endless.
Jason Kuruzovich, an associate professor and academic head of the Severino Center for Technological Entrepreneurship, developed a semester long speaker series course, Impactful Innovators, where alumni and industry experts talk about their entrepreneurial journeys. Dorit Nevo, an associate professor and acting associate dean for academic affairs in Lally, says she finds great benefit to bringing industry professionals into her statistics class. "This shift to remote teaching has offered the students more real-life exposure to experts in their fields of study," Nevo says, "adding an unexpected value to the Rensselaer education in these difficult times."
And students are truly seeing the benefits. Anthony Safford Jr., a freshman studying with Clint Ballinger, entrepreneur-in-residence and acting director of undergraduate programs in the Lally School, says the extraordinary diversity of business professionals he has heard speak in his first semester on campus has only been possible because of the remote nature of technology. "With apps like Zoom and Webex becoming so prevalent in society, some professors have been able to gain access to industry authorities who have previously been inaccessible due to the nature of their busy lives. We, as students, can only profit from these introductions."
Support for Students
If the COVID-19 classroom looks different, so does the support students receive from faculty across campus. 
Since 2014, Rensselaer has used the I-PERSIST (Integrative-Program for Education, Research, and Support Involving Science and Technology) Mentor Program, an initiative between the School of Science and the Division of Student Life, to ensure first-year science and engineering students comprehend foundational material and learn the "soft" skills necessary for a successful transition to college. According to Wilfredo Colón, a professor and department head in the Department of Chemistry and Chemical Biology and the program's director, these small group sessions led by undergraduates who have received crucial subject-specific and student life training to support first-year students are one of the pillars of assistance offered by the school.
But how do you mentor the thousand-plus incoming students in the requisite science classes while being socially distant? Shift the entire support system online. Through the collaborative efforts of a team of faculty leaders from each department, including Alex Ma, a senior lecturer in the Department of Chemistry and Chemical Biology, Peter Persans, a professor in the Department of Physics, Applied Physics, and Astronomy, and Bruce Piper, a professor and associate department head in the Department of Mathematical Sciences, along with the support of the Student Life group led by Janelle Fayette, dean of First-Year Experience, more than 100 mentors worked through remote, online meetup sessions every week of the fall semester.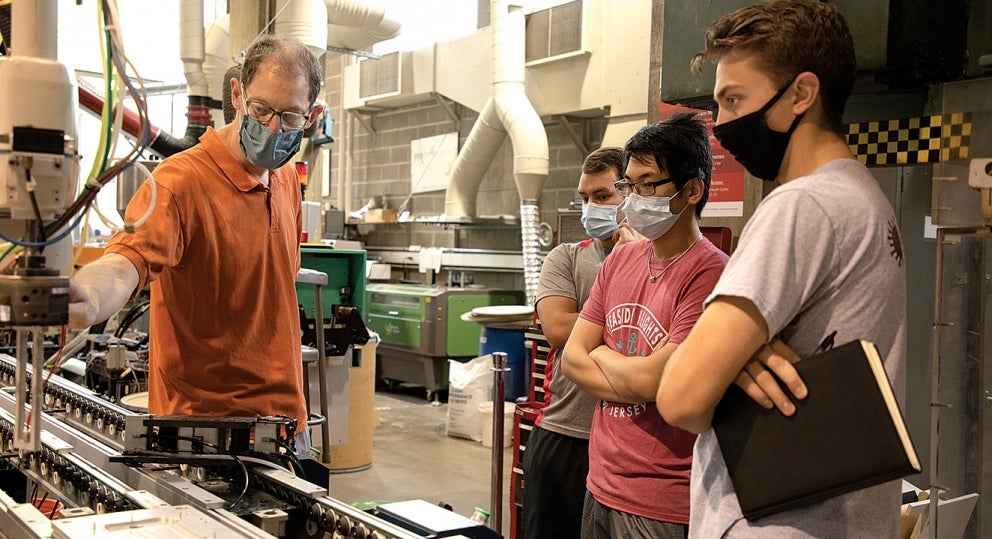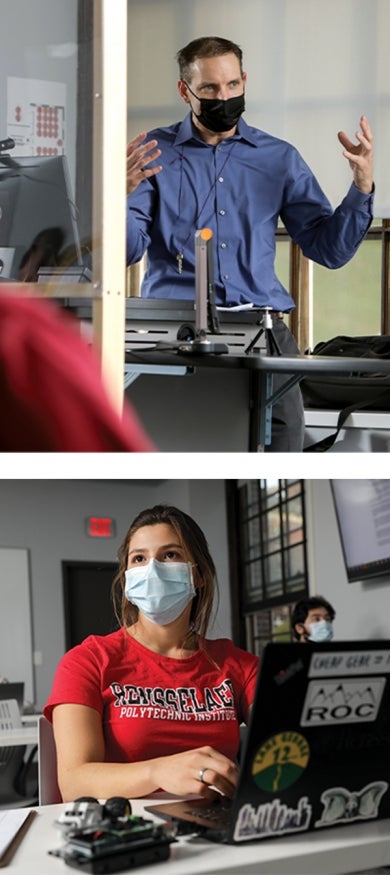 "Through the online I-PERSIST program, we continue to meet the needs of the students, reinforcing a level of comprehension and non-academic skills that will serve them well as they continue their Rensselaer education," says Colón.
Furthermore, a crucial component of the Rensselaer community is the cohort of international students, many of whom are studying 100% remotely with a 12-hour difference in time zones. At the start of the fall semester, Ma saw many of them trying to juggle attending classes and labs while maintaining a balanced life. To support their needs, Ma now teaches a class at 9 p.m. on Wednesday nights to accommodate schedules across the globe. As for office hours, those have had to evolve, too. Because of the mandated public health guidelines, most students can no longer visit their professors in person in an office during set hours a few times each week. To address this issue, Don Schwendeman, a professor and head of the Department of Mathematical Sciences, along with his colleague, Professor Ash Kapila, incorporated Piazza, an online Q&A platform, into their sophomore-level mathematics course. Schwendeman says they and their team of graduate teaching assistants are online regularly, seven days per week from 8 a.m. to 9 p.m., to answer students' questions. He says that with an average response time of just 22 minutes, students are now actually getting a response more quickly than in traditional office hours pre-pandemic. Other faculty in the math department have also adopted Piazza to help interact with the students in their courses.
And the assessment of students' work has had to change as well. Professors are no longer able to hand out paper tests in a classroom and grade them at the end of the day. Students are not in class; they're scattered across time zones and professors have no way to safeguard against cheating. Shayla Sawyer, an associate professor in the Department of Electrical, Computer, and Systems Engineering, has addressed this issue by using new assessment methods to ensure academic integrity while examining how well a student uses the knowledge they've gained. Sawyer incorporates a pedagogical concept she calls Exam Rework into her grading.
In Exam Rework, the students are given the opportunity to design a new problem similar to one they missed and then explain their solving process as they rework the problem via video or audio recording. According to Sawyer, this method gives her two modes of evaluation, design and analysis, to assess comprehension while providing students the opportunity to shore up any misunderstandings after an exam and get a few points back. "Focusing the evaluation on the correct process over correct answers not only reinforces ethical engineering practices in their future careers," Sawyer says, "but gives students some positive reinforcement that understanding how and why a procedure is used is valuable."
"The daily subtle, consistent, and deliberate interactions of the learning community are immeasurably important to the mental, social, and academic growth of all students," says Sawyer.
And though the global health crisis has forced change upon society, change sparks innovation and opportunities — in science, in research, and in pedagogical methods at Rensselaer. Sawyer sums it up for the faculty across campus.
"We are making the best of it by depending on each other as much as we can, being as flexible as we can without sacrificing quality of learning, asking a lot of questions about how things are done even if those questions don't yet have answers, and reacting to new situations with a measure of grace."