President's View
Rensselaer Resilience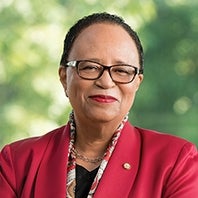 As our community has adapted through the COVID-19 pandemic, perhaps the most devastating health crisis of our time, alumni, faculty, staff, and students have come together to rise up to this unprecedented challenge. From groundbreaking research to pedagogical innovations, our community has demonstrated courage, determination, and ingenuity. It is that resilient spirit that is at the heart of "Rensselaer Strong."
In this issue of Rensselaer magazine, you will read about research breakthroughs aiding the pandemic response, the impact of the crisis on consumer behavior, and the scientific foundation at the center of our testing strategy.
Over the last year, we have contributed our scientific and technological expertise to global efforts to address the pandemic and we have applied that same knowledge to the pandemic protocols on campus. As we considered how to return safely to campus-based operations for fall semester, we called on a great Rensselaer strength — risk-informed planning.
Incorporating New York State guidelines, we devised a startup plan designed to contain any potential outbreaks with our T3SQIsm protocol: Testing, tracing, tracking, surveillance, and quarantine and isolation. Our protocol included ensuring that any student in quarantine because of exposure to COVID-19, or in isolation because of a positive COVID-19 test, was well monitored and well cared for.
We required masks in all campus spaces outside of personal living or workspaces, and social distancing on campus at all times. We further enabled that by scheduling staggered shifts in our laboratories, and by breaking students enrolled in large courses into groups for alternating in-class and out-of-class instruction.
We took every possible step to ensure that all campus buildings were as sanitary as possible, improving ventilation and filtration, and arranging for the continuous cleaning and disinfecting of personal and common spaces. We limited gatherings, other than classes, to fewer than 10 people, with strict social distancing and mask requirements.
Members of our research community also leapt into action to devise solutions to the challenges brought on by the pandemic. As a member of the COVID-19 High Performance Computing Consortium, we provided pandemic researchers outside of Rensselaer access to our super-computer, AiMOS, the Artificial Intelligence Multiprocessing Optimized System.
Across campus, faculty devised innovative methods and found new ways to leverage technology to continue to provide students a world-class education. They also incorporated COVID-19 into the curriculum. Because Rensselaer pedagogy is designed to spur our students to confront great global challenges, they have been able to apply their skills and what they are learning to find ways to address the pandemic.
Beyond the classroom, researchers continue pushing boundaries to find new ways to address the virus and its devastating effects. The research includes exploring ways to develop self-disinfecting face masks, using data analytics to track and confront the spread of the virus, and creating methods to aid in plasma therapy, vaccine delivery, and disinfection. They are also understanding its effect on the working environment and developing a data visualization tool to examine community factors underlying COVID-19 outcomes.
I am grateful for all of the remarkable contributions from across our community. These efforts made our success during the fall semester possible and enabled us to continue carrying out our mission and — as we remain focused on addressing this global health challenge — to look ahead with optimism.