Staying Connected
Virtual Alumni Engagement: The "New Normal"

When COVID-19 triggered social distancing, Institute Advancement created virtual events focused on engaging alumni and alumnae, connecting more than 1,000 alumni, alumnae, parents, and Rensselaer community members across the globe during a time when it was needed most. First was the inaugural online version of Research, Education, and Discovery (RED) Talks, led by researchers who highlighted and discussed approaches and solutions to COVID-19. Two RED Talks Online panels focused on how the Institute is using big data, artificial intelligence, and supercomputing to fight the pandemic.
Next, Rensselaer Executive Councils in New York, Silicon Valley, and New England presented virtual Global Game Changer Panel discussions — high-profile, thought leadership discussions featuring topics of emerging global importance. The focus for each was the impact of COVID-19 on finance, health care, and consumer expectations. Finally, CLASS Alive! went virtual and introduced two distinguished members of the Class of 2021, who shared how their student experience has changed who they are, and how their senior year differed from prior years. 
As members of the Class of 2024 prepared for their arrival on campus last fall, alumni and alumnae refused to let the newest members of the community begin their first semester without a proper sendoff. Nancy Mueller, trustee, has hosted an in-person garden party welcoming incoming students and their families from the northern California region for many years. This year, she hosted the event virtually.
Institute Advancement also hosted a virtual campus welcome for legacy families, and RAA Chapters across the country hosted virtual student sendoffs, as well as other programs highlighting alumni efforts to fight the pandemic.
View recordings of many of these virtual programs on the Rensselaer Institute Advancement YouTube page and online at alumni.rpi.edu/virtual. 
Suggestions for virtual program topics? Contact us at alumni@rpi.edu — and check your email for future events!

Michael Miller '80 Cultivates New Texas Network 
Michael J. Miller '80 has been instrumental in building a new executive council for the more than 3,500 Rensselaer community members who call the Lone Star State home. The Rensselaer Texas Triangle Network and Executive Council connects alumni, alumnae, and parents with one another and the Institute, thanks, in part, to his diligent efforts.
While he graduated with a B.S. in management, Miller began as a chemical engineering student. After graduation, he received an MBA from the University of Chicago. He has combined his expertise in core sciences and technology with his management skills to manage and invest in companies in the energy, utilities, and communications sectors. With over 35 years of experience as a private equity investor and corporate executive, Miller has focused on conventional and renewable power generation, midstream oil and gas, LNG, water utilities, natural gas, power trading and origination, and cable television.
In his current role as CEO and partner of Midstream Power, LLC, Miller pursues opportunities to develop projects that reduce the electric and thermal costs for North American upstream and midstream operators. 
Miller previously worked for a private equity-backed portfolio company that pursued opportunities to own and operate fossil fuel and renewable generation projects in North America and the Caribbean basin. His experience extends into infrastructure management, finance, investments, and project development, and he has served on the board of directors for several private companies focused on power generation, waste management, waste-to-energy, midstream oil and gas, and water utility sectors.
Other regional networks have been established in key regions with alumni, alumnae, and parents who are innovators, senior executives, and venture capitalists in New England, Silicon Valley, Greater New York, and New York's Capital Region. To learn more, visit giving.rpi.edu/regional-networks.
Alumni Hall of Fame
Inductees: Class of 2020
Eight new individuals have been inducted into the Rensselaer Alumni Hall of Fame. These distinguished graduates embody the Rensselaer legacy of innovation and change. 
John Joseph Albright, 1868 
Marta Ruth Bohn-Meyer '79 
Charles I. Cassell '51 
Edgar M. Cortright Jr. '47 
Peter E. Hart '62 
James A. Parsons '22 
Augustine Sackett, 1862 
Kathryn Egloff Zoon '70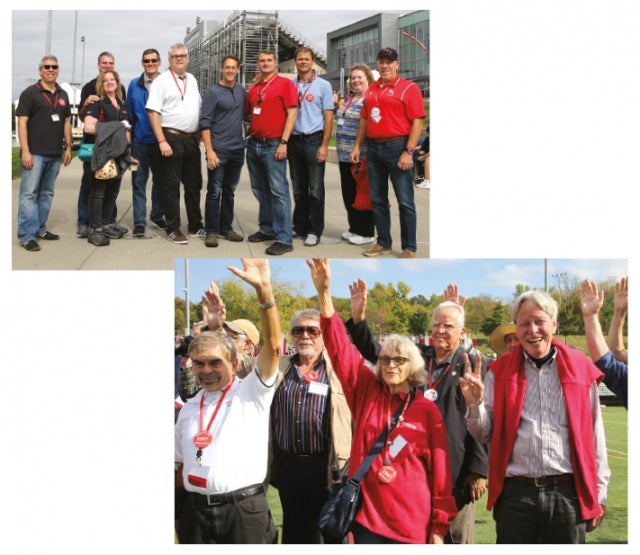 Save the Date for Reunion and Homecoming 2021!
April 14-16
Classes ending in 0 or 5
Virtual Reunion Celebration
Featuring opportunities to learn about academic and school-based programs, hear from students, and interact online with your class.
October 8-10
Classes ending in 1, 6, 0, or 5
On-Campus Celebration
Stay tuned to your email and the alumni website for details.
If you have questions or want to be involved in the planning for your class or affinity group celebration, contact alumni@rpi.edu or visit alumni.rpi.edu/reunion.
Don't Miss Out on Alumni Programs
Alumni programs and services are promoted by email, exclusively for alumni! To stay connected, update your email address at alumni_update@rpi.edu, or alumni.rpi.edu/gogreen.
Stay Connected
Stay up-to-date on all the world-changing, groundbreaking, and boundary-pushing innovation taking place at Rensselaer.