Matt Patricia '96 named head coach of the Detroit Lions.
For the first time in Institute history, a Rensselaer graduate has been named head coach of a National Football League franchise. Matt Patricia '96, defensive coordinator of the New England Patriots with whom he made six trips to the Super Bowl, was named head coach of the Detroit Lions.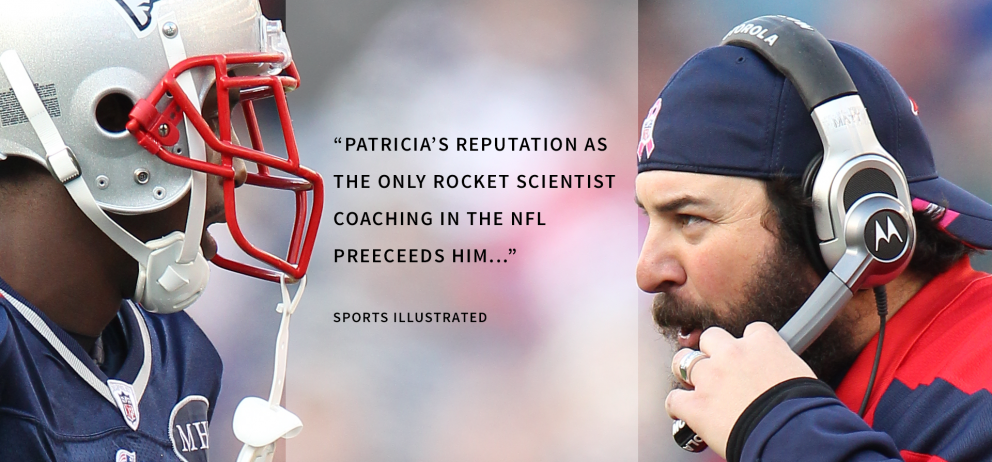 In the lead-up to the announcement February 5 that Patricia would lead the Lions, a flurry of articles appeared examining his past accomplishments, upbringing, even his beard. Not one failed to mention that he is, truly, a rocket scientist.
In January, with the ink all but signed on the deal, two reporters from Sports Illustrated visited campus to experience exactly the kind of course Patricia would have taken as an undergraduate. They sat in on a Space Flight Mechanics class in DCC 330, taught by Kurt Anderson, professor and associate dean of mechanical, aerospace, and nuclear engineering.
"Patricia's reputation as the only rocket scientist coaching in the NFL precedes him," they wrote. "He graduated from RPI in 1996, earning his degree from the School of Engineering's Mechanical, Aerospace, and Nuclear Engineering Department, while also suiting up as an undersized offensive lineman for a football team that then played its games on a tiny field a few steps from this classroom (capacity: 1,000)."
During a break in the two-hour class, the reporters spoke with Anderson.
"Engineers are taught to be logical, to look at data, and then find good solutions based on that data," Anderson said, "and from what I've seen on a football field, that is largely what he's doing, though his system is a little bit more chaotic than the ones I deal with."
Patricia, who was featured in the fall 2016 issue of this magazine, discovered the joy of coaching when he served as a graduate assistant to Rensselaer Coach Joe King while pursuing his MBA on campus.
"It was during that year I received my first taste of how thrilling it was to see a player you were helping coach make a fantastic play," he said. "That feeling — focusing on the players and their potential, not just the plays and plans — never left me."
He began his rise to coaching fame as a volunteer at Liverpool High School near Syracuse, New York, where he had accepted an engineering job at Hoffman Air and Filtration Systems. After two years at Hoffman, he was offered a position at almost double the salary at Westinghouse. At the same time he found an assistant coaching job — at a salary of $5,000 — at Amherst College. After wrestling with both offers, football won out, and his path to the Lions got underway.
After two years as defensive line coach at Amherst, he spent three at Syracuse University as offensive graduate assistant. Next stop: the New England Patriots in Foxboro, Massachusetts.
Patricia had circulated his resume to several NFL teams, and in 2004, the Patriots offered him an entry-level job collecting and reviewing video, and only 24 hours to accept the offer. He did, and off he went to professional football.
Patricia joined the Patriots under head coach Bill Belichick as an offensive coaching assistant. In addition to collecting and reviewing video, he accepted numerous extra tasks and was promoted to linebackers coach in 2006. Six years later he was named defensive coordinator — one of the two highest coaching positions beneath the head coach on an NFL team.
Along the way to his current position, he retained the focus on hard work that began during his days in Troy.
"Many of the traits he displayed at Rensselaer stayed with him and helped make his way to Foxboro," said his former teammate and past Rensselaer assistant football coach Ray Moran '95. "Once he sets his mind on something, he stays on track until he succeeds. He was never the biggest of our offensive linemen, but he always found a way to execute plays so that he remained part of our starting lineup. No one could out-work Matthew then, and no one can now."
Patricia fit in quickly with coach Belichick's approach to the game. The son of a football coach at the U.S. Naval Academy, Belichick had over the years developed a technical, meticulous approach to designing intricate game plans — something he looked for in his coaching staff. Many of his assistants have gone on to head coaching jobs in the NFL and Division I football, spreading the Belichick coaching gene pool far and wide. Patricia is the latest success story.
The Patriots won three Super Bowls with Patricia: Super Bowl XXXIX at the end of the 2004 season, Super Bowl XLIX at the end of the 2014 season, and Super Bowl LI at the end of the 2016 season.
A major part of his success, Patricia told Rensselaer magazine, is his family. His wife, Raina, and children Dominic, Dante, and Giamina form a life core that grounds him in what he feels is really important. "My family has sacrificed so much for me to be able to coach at this level," he said. "I could not have come this far without them."
Former Rensselaer head coach Joe King, who led the team for 22 seasons before retiring in 2011, isn't surprised by Patricia's success or his approach.
"We saw it right away when he worked with us as a graduate assistant after receiving his degree. He was smart and he was great at absorbing and retaining information, but most of all he knew how to treat people right," he said. "I am so proud of him and happy for him. And I do think he has what it takes to be a head coach some day."
And so do the Detroit Lions. Congratulations, Matt Patricia!