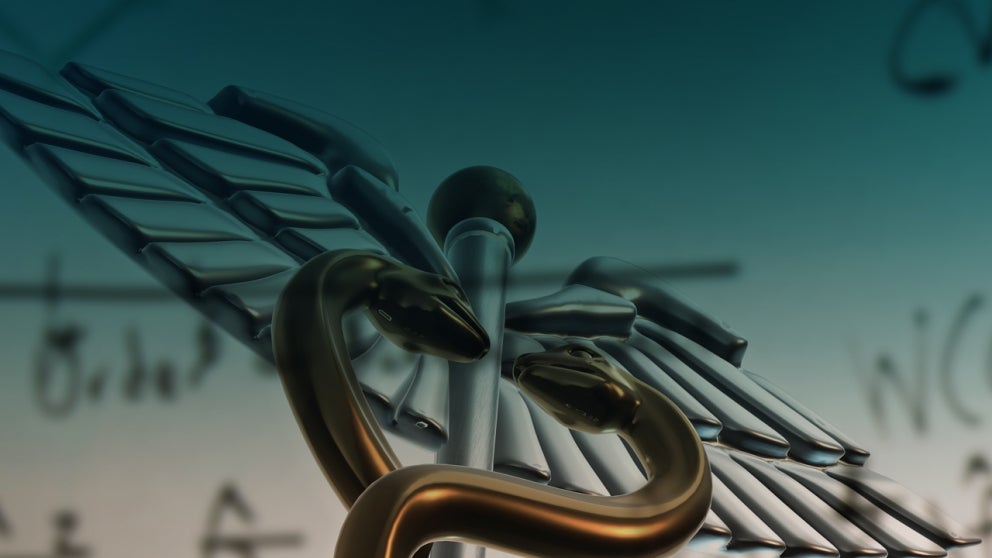 An Economics Lens on Health Care
NEW ECONOMICS PROFESSORS AT RENSSELAER ARE USING MATHEMATICAL AND STATISTICAL TOOLS TO STUDY TOPICAL ISSUES THAT REFLECT THE INSTITUTE'S EMERGING FOCUS ON HEALTH CARE AND BIG-DATA ANALYTICS.
By Jane Gottlieb

Jason Huh, a young economist researching American health care for his dissertation, read a good deal about Medicaid expansion. He noticed that no one had yet examined whether the sweeping reform had influenced the location of new medical practices. It stood to reason that financial incentives would bring more care to high-poverty areas, but Huh wanted to see for himself. He focused on dental care because of its impact on overall health.
Huh's research, which has been accepted for publication at the Journal of Health Economics, found that the number of dentists in poor counties rose 12 percent from 2006 to 2013 — that's three more for every 100,000 individuals. The shift, he noted, came mainly from recent dental school graduates, signaling, perhaps, an emerging pattern of care for underrepresented Americans.
"Coming up with the right health-care policy is really tough and I hope to contribute to making better policies," says Huh, who recently earned his Ph.D. in economics from the University of Illinois. "I have the quantitative and programming skills and the background in health-care policy to provide rigorous evaluations of various policy interventions that people can use."
Huh is one of four economists who joined the Rensselaer faculty recently to add a more multidisciplinary perspective and to collaborate with the engineering and science departments on campus. They are teaching a cluster of new courses that reflect the Institute's emerging focus on health care and big-data analytics, and on building interdisciplinary areas such as behavioral economics and economic policy.
Housed in the School of Humanities, Arts, and Social Sciences, economics has been taught at Rensselaer for more than half a century. The program has built leaders in areas related to innovation, econometrics, and environmental economics. Faculty are widely published and are members of influential economics organizations. The program also has continuously evolved to address front-burner methodological and economic policy challenges.
Now, the department is introducing upper-level electives in health economics, behavioral economics, the economics of government regulations, applied game theory, and the econometrics of big data. A focus on energy economics is being considered next.
"Economics is a social science that has always played an integral part in shaping policy," says Chad Stecher, another new Rensselaer economics professor. "We are following in the footsteps of generations of economists who use mathematical and statistical tools to study topical issues."
If a drug or screening is known to save lives, he and his colleagues ask, how can a medical practice get more patients to take their pills and get tested? What are the consequences, intended or not, of raising the minimum wage or enacting other laws to improve economic conditions? How can data be used to identify war veterans at highest risk for PTSD? At what point should your competitor's prices influence yours? And, how have economic policies brought about the technology that has transformed society?
"We want to understand how the fundamentals of economics drive markets for technology, and the behavior of businesses, individuals, and governments," explains Vivek Ghosal, who is the new head of Rensselaer's economics department and the Virginia and Lloyd W. Rittenhouse '35 Professor of Humanities and Social Sciences.
Ghosal came to Rensselaer in fall 2016 from the Georgia Institute of Technology to expand the program's research agenda and refocus the curriculum so a broader spectrum of engineering and science students are trained in economics methodology and policy. He notes that the ramp-up is happening as Rensselaer emphasizes a new way of teaching, learning, and researching that crosses disciplines and academic programs.
"Rensselaer is talking about the 'New Polytechnic' being used to solve the big societal problems, health- and energy-related challenges, and our other national issues," Ghosal says. "The economics department wants to be players in that game and we think that with our new faculty, research expertise, and our new courses, we will succeed."

It was the California smog in the early 1960s that has brought us, nearly five decades later, the Tesla, Ghosal suggests.
It started as the build-up of automotive emissions in the Los Angeles Basin was making people sick. Businesses suffered. The socio-economic problem led to the California Clean Air Act, and later the U.S. Clean Air Act of 1970, which set limits on emissions. Now, automakers had to come up with a way to meet those standards. The result, after many efforts: the introduction of the catalytic converter in 1975.
"Fast forward: the catalytic converter improves and brings a lot more innovations. Emissions regulations get even stronger, not just in the U.S. but also in Europe. Carbon, sulfur, and nitrogen have to be controlled," says Ghosal. "Then you get alternatives, the markets and technologies evolve, and then you get Tesla and its battery technologies, which provides a defining solution to many of the emissions problems. If you think of it, these technological breakthroughs were because of socio-economic problems and subsequent economic policy and regulation."
From his childhood in India, Ghosal was fascinated by cars and eager to understand the development of various models and technologies, the companies that built them, and the market outcomes.
He made his fascination his career. Ghosal left India to study econometric modeling, data analytics, and firm strategy. He earned a Ph.D. from the University of Florida before teaching at several universities and working for the antitrust division of the U.S. Justice Department. He came to Rensselaer after teaching at Georgia Tech for 15 years.
An expert in the economics of regulation and antitrust, Ghosal has lectured at several dozen universities globally, and given executive education and training lectures throughout Europe, Asia, and South America. He has been an economic adviser for the Organization for Economic Cooperation and Development in Paris. His current interests include competition and innovation in automotive markets, aspects of health care and innovation related to the markets for pharmaceuticals and medical devices, and environment and energy. And he can give example after example of how his fields are central to manufacturing, government policy, health care, and business.

For Jianjing Lin, the field beckoned as she studied business in college at home in China. Studying pure finance was not as interesting as the broader road map laid out by economics.
"I remember the first concept I came across was about how human subjects make rational decisions and how to incentivize them," says Lin, who joined the Rensselaer economics faculty in the fall, following postdoctoral work at Tulane. "It's about resources, allocation, and how to maximize what we have. The logic is kind of beautiful."
Lin earned her Ph.D. in economics at the University of Arizona, satisfying her academic interests and desire to come to the United States. She specialized in health-care economics and industrial organization. For her dissertation, she looked at the slow shift many hospitals are making from paper to digital record keeping — a perfect application, she believes, for Rensselaer students to explore.
Among other things, she identified a steep learning curve for older doctors, who become less efficient when they are not given proper training in the technology. Lin also found that while digitizing records can increase hospitals' ability to share information with doctors and insurance providers, there is a potential downside: "If a hospital can exchange information, their patients can easily switch to other hospitals. And a hospital will lose patients," notes Lin, who is teaching applied game theory and introduction to econometrics. "The most popular technology isn't necessarily the one that's best for a business. I hope that is something my students can apply."
Health care, a topic woven through Rensselaer's new focus on economics, now represents the largest economic sector in the United States, Ghosal notes, accounting for 18 percent of the U.S. GDP.
Interest in the field has, of course, been fueled by the contentious partisan debates in Congress. But also, Ghosal points out, it is such a rich area of study because there is so much information and data that can be leveraged to improve health-care delivery and human health.
Twenty years ago, he says, the medicine was often there but not the data now available on an individual's genetics, eating habits, the environment they live in, and lifestyle choices. So while people with diabetes were once all given similar drugs or diagnostic tests, today the details about a given patient can inform a far more personalized plan of care. Also, the data gives economists a lot more to work with to understand issues related to cost-effectiveness, insurance policies, treatment patterns, physician and patient networks, and policy effectiveness.
"If you're very good at economic modeling and econometric analysis, you can take all this data and try to model and forecast how health-care businesses and networks should be run better, or how two different individuals can be treated differently for the same disease," says Ghosal.
With numerous academic programs and research partnerships across disciplines, Rensselaer has escalated its dedication to health care. A team of computer scientists is developing a system that would enable consumers to use computing to learn more about their own health. World-renowned lighting experts are exploring ways to use light to reduce stress, while biomedical research scientists develop a test to detect autism and predict diseases. Students are engaged in these efforts. And Rensselaer's affiliations with Mount Sinai and Albany Medical College help students tie technology directly to medicine.
Ghosal is eager to integrate economics into these efforts. The growth of advanced technologies and availability of massive amounts of data, he notes, have also brought a rise in economics sub-specialties that are drawing young scholars eager to shape policy and practice.
The four new economics professors at Rensselaer have diverse research interests, but they share expertise in various aspects of heath care. Their work ranges from research that looks broadly at health-care systems, to work that centers on patients, to innovation and economic policy.

Chad Stecher, who earned his Ph.D. at UCLA, looks closely at people, including what makes us decide to take or not to take medicine that is known to save our lives.
The prominence of his field, behavioral economics, was made clear recently when Richard Thaler was awarded the Nobel Prize in economics for his work, which looks at human actions that fall outside economic theory. Among his many accomplishments, the American behavioral economist is credited with documenting the so-called endowment effect, whereby individuals value an item more once they physically possess the item.
"There are many situations where economic models describe behavior accurately," explains Stecher, who draws from Thaler's work in his teaching and his research. "But there are other cases where that is not true and we see people doing things economists call 'irrational.'"
To research his Ph.D. on medication adherence behavior, Stecher traveled to Uganda and Tanzania, where AIDS is still an epidemic and adherence to treatment in many regions is low. Failure to take the medicine, he explains, allows the disease to mutate and grow still more difficult to treat.
Stecher and his co-author employed incentives to promote adherence. Specifically, all individuals who took the AIDS medicine were entered into a lottery that made them eligible for small prizes such as umbrellas or pens conditional on maintaining proper adherence to their medications. The prizes acted as both a reward and a monthly reminder to show up for treatment.
"We saw a 20 percent improvement that persisted six months, through the end of our intervention. We feel we built a habit that persisted," says Stecher, who will return to those countries next year to introduce his technique to a larger population.
Stecher is hopeful that the approach has promise for people closer to home, who he believes are more likely to take medicines and undergo preventative screenings when they get phone calls and other reminders from their doctors' offices.
His colleague, Jason Huh, also looks forward to continuing his research, on the impact of Medicaid expansion. Now that he has seen a growth of dental offices in poor areas, he would like to study the impact on the location of new physicians' practices.
Like his colleagues, Huh chose economics because it allows him to apply data to humanity. After just a few weeks into teaching health economics and econometrics of big data, he was impressed by his students' ability to grasp the concepts and apply it to their fields.
"The students are mainly engineering majors and when I explain economic concepts, it's brand new for them," Huh says. "Sometimes, I use terms without thinking about it that we economists use all the time, like 'opportunity costs' and 'decreasing marginal utility.' I'm learning that I have to rephrase it. And then they get it right away.
"There's learning happening on both sides," he says. "It's been a lot of fun."