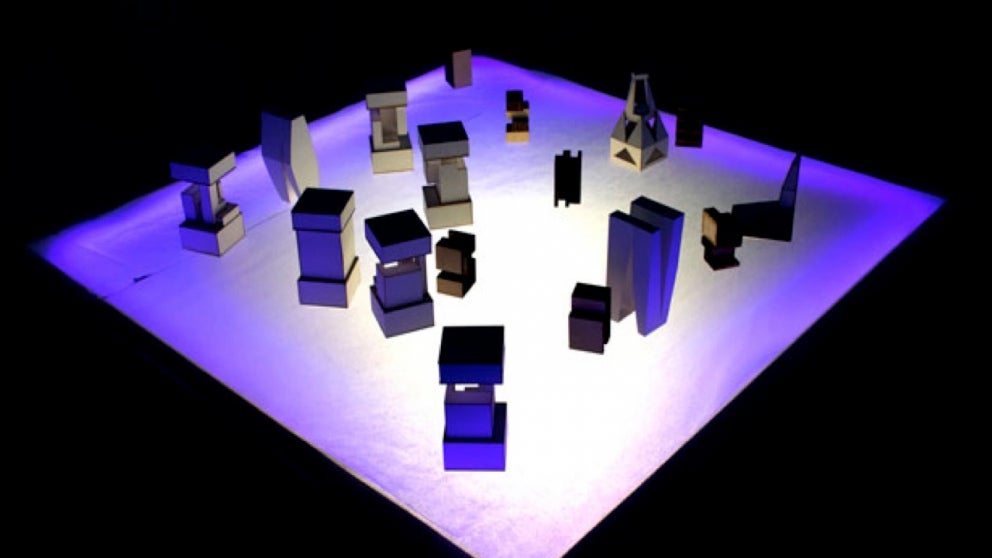 Crossroads of Creativity
Art_X at Rensselaer encourages students and faculty to seek inspiration where art and science intersect.
By Elisa Gallaro
The university known worldwide for its connection to some of history's most impressive bridges is building a different kind of bridge — between art and science. 

With Art_X at Rensselaer, the Institute is encouraging students and faculty to join the likes of Michelangelo, Leonardo da Vinci, Benjamin Franklin, Albert Einstein, and Steve Jobs in seeking inspiration where art and science intersect.
A campuswide teaching and learning initiative, Art_X is designed to help students discover the art and science in technology, as well as the science and technology in art. The initiative emphasizes the importance of incorporating artistic concepts throughout the curriculum. Team-taught classes bring together artists, scientists, engineers, architects, and business experts to help accomplish this objective.
"The idea is for students to understand, very early in their academic career, that the questions we all need to be asking are complex and span multiple disciplines," says Mary Simoni, dean of the School of Humanities, Arts, and Social Sciences (HASS). "Art_X creates a framework where it is OK — even desirable — to traverse boundaries to ask those questions.
"We prefer to think of it as 'disruptive pedagogy,' " she adds. "We're disrupting the way you think about how you learn. We're going to do it early, in your first year, and we will do it over and over again."
Simoni is an ideal champion for the program. Her research — into digital signal processing, sound synthesis, algorithmic composition, and the design and programming of new interfaces for musical performance — sits at the intersection of the performing arts, computer science, and engineering. She knows firsthand that "artists can learn how to advance their art by adopting some of the methodologies used in the sciences and vice versa."

Exemplifying The New Polytechnic
The Institute is not alone in appreciating the essential connections between the arts and sciences. Other leading universities have introduced interdisciplinary programs that explore the intersections of what previously were considered disparate disciplines. What sets the Institute apart is an innovative, comprehensive approach that recognizes Art_X as fundamental to President Shirley Ann Jackson's vision of Rensselaer as The New Polytechnic.
A new way of thinking, teaching, learning, researching, and doing, The New Polytechnic breaks down barriers and fosters unprecedented levels of collaboration across disciplines, institutions, and regions. Jackson introduced the construct in January 2013, when she delivered the ERA International Foundation Lecture at the Royal Academy of Engineering in London. She shared the concept with a larger audience the following year in an op-ed column, "The New Polytechnic: Preparing to Lead in the Digital Economy," in U.S. News & World Report. In that column, she noted the obligation to "prepare the next generation to succeed and lead in this new world.
"Students need to acquire new skills for this digitally interconnected environment, including the ability to 'translate' between and among disciplines and sectors," Jackson wrote. "They must learn to operate effectively and ethically in virtual communities, immersive environments, and in blended worlds."
As an Institutewide "highest priority," Art_X plays a vital role in fulfilling that obligation.
The initiative is spearheaded by a steering committee appointed by Provost Prabhat Hajela. Chaired by Curtis Bahn, professor and HASS associate dean for graduate studies and research, the committee includes representatives from each school and the Curtis R. Priem Experimental Media and Performing Arts Center (EMPAC). In addition to Bahn, members are Ashley Ferro-Murray, associate curator, EMPAC; Jeff Durgee, associate professor, Lally School of Management; Michael Oatman, associate professor, School of Architecture; Peter Persans, professor and associate head of the Department of Physics, Applied Physics, and Astronomy; and Ge Wang, John A. Clark and Edward T. Crossan Professor of Engineering.
Committee members serve as a combination of ambassadors, matchmakers, and mentors. They promote Art_X, help connect faculty from different disciplines, and model ways to incorporate Art_X into existing coursework. It's a challenge made easier by the fact that Rensselaer is the ideal setting for an initiative of this nature and scope.
Few universities can match the combination of capabilities available through EMPAC and the Center for Biotechnology and Interdisciplinary Studies.
Steering committee members also have the support of exceptional faculty. Many are researchers/artists, who personify the principles of Art_X. Some took to the stage in fall 2015 to help celebrate the launch of the initiative.
A Musical Introduction
HASS and CBIS co-sponsored the launch event, which consisted of two concerts, two weeks apart. Michael Century, a pianist, composer, and professor of new media and music in the Department of the Arts, organized and produced the concerts in collaboration with CBIS faculty. Each concert featured three performances. Each performance opened with a discussion exploring the link between music, science, and technology.
Steven Cramer, the William Weightman Walker Professor of Chemical and Biological Engineering, spoke about improvisation in music and science. Then the accomplished pianist drove the message home by performing jazz piano selections.
Sergei Nirenburg, professor and department head, Department of Cognitive Science and professor, Department of Computer Science, is an accordionist, composer, arranger, and singer. He routinely performs and records with the Golfstrom quartet. At an Art_X concert, Nirenburg discussed borders and transformation in music and language before performing with Golfstrom bandmate Bobby Kendall on bass. Rensselaer colleague Marjorie McShane, associate professor of cognitive science and computer science, accompanied them on French horn.
Other Rensselaer presenters and performers included Century; Rob Hamilton, composer, performer, researcher, software designer, and assistant professor of music and media in the Department of the Arts; Mattheos Koffas, the Dorothy and Fred Chau '71 Career Development Constellation Professor in the Department of Chemical and Biological Engineering; and Zach Layton '17, composer, curator, artist, and Ph.D. alumnus from the Department of the Arts.

Since the launch, Art_X has increasingly been incorporated into the curriculum, research projects, lectures, seminars, performances, and other presentations. The impact of the initiative has also extended beyond the campus, to the surrounding community.
Traditional courses — such as Physics I, Physics II, and Honors Physics — have introduced sound and music examples because of Art_X. A HASS inquiry course, Introduction to Music and Sound, examines the physics and acoustics of sound across cultures. The Department of Chemistry and Chemical Biology has added an art forensics track, and the Department of Mathematical Sciences offers a seminar in the Art and Science of Mathematics. Earth and Sky, an elective in the Department of Physics, Applied Physics, and Astronomy, requires students to provide artistic interpretations of course material.
Special projects include a May 2016 collaboration of students from the schools of Architecture, HASS, Science, and Engineering. A multimedia, black box theater work performed in EMPAC Studio 1, "Navigating and Negotiating Sound Architectures of the Night" involved 92 abstract architectural models, placed on a glass interface table designed to produce computer-generated images and sound. The table enabled audience members to interact with the objects and become part of the performance. A technical system, built specifically for the project, tracked the location, orientation, and movement of the objects and used the data to create large-scale projections and musical scores.
The project was led by Ted Krueger, associate professor of architecture; Pauline Oliveros, distinguished research professor of music (now deceased); and guest artist William Seaman, professor of art, art history, and visual studies at Duke University. Consulting scientists were Jonas Braasch, architectural acoustician, associate professor of architecture, and director of the Center for Cognition, Communication, and Culture; and James Hendler, Tetherless World Professor of Computer, Web, and Cognitive Sciences, and director of the Rensselaer Institute for Data Exploration and Applications (IDEA). Funding was provided by the Chris '49 and Marcia Paris Jaffe Program in Art, Music, and Architecture.
Expanded Efforts
Arts Ph.D. candidate Maria Michails brought Art_X to Albany's South End neighborhood in April as part of a STEM outreach effort that used art and technology to engage children in environmental issues. Michails invited kids to build, decorate, and drive remote-controlled toy rovers equipped with small, low-cost sensors to collect data on air quality in their community. Before building the rovers, the children heard from a New York State Department of Environmental Conservation scientist, who explained the difference between molecular sizes of air pollutants. The kids also deconstructed discarded toys to learn about the cradle-to-grave life cycle of electronics and their plastic shells.
"This knowledge all came together when the children made their air-quality sensing rovers," Michails says. "The children took popular electronic toy trucks and gave them a much more useful function — that of sensing air pollution, temperature, and humidity.
"It wasn't just about cool electronic boards and flashing lights," she adds. "The children had to come up with creative solutions to problems, all the while thinking about how to do this aesthetically to draw others into the work emotively. The children understood why they were making the rovers and experienced the conflicting tension of having to use electronic technology — a contributor to the problem — to learn about their environment."
Michails sees long-term value in this multidisciplinary approach, which encourages children to tap their analytic, creative, and tactile skills. They learn to "put their hands to work in many ways and think more expansively about problem-solving — to see the 'why' and the 'how' when making decisions," she says.
For the spring 2017 semester, the Department of Chemical and Biological Engineering and the Department of the Arts partnered to produce artistic, digital images that captured the essence of chemical and biological engineering. Students from Associate Professor Kathleen Ruiz's Intermediate Digital Imaging course created three canvases that were displayed on the walls of the Ricketts Building. At first glance, the images appeared to consist of circles representing several unrelated objects. When viewed via a smartphone, using the LayAR augmented reality app, the objects came to life, mimicking the act of cells merging into one.

In fall 2017, Rensselaer hosted its first major Art_X symposium, showcasing music, sound, and mathematics. Keynote speaker was internationally recognized composer and researcher Gareth Loy, whose address focused on "A Theory of Music Interest." The daylong event also featured Rensselaer faculty from the Department of the Arts, EMPAC, the Department of Science and Technology Studies, and the School of Architecture. They presented research on topics including musical composition based on spectral analysis, the use of Markov chains for generative musical form, live computer coding for musical performance, and interactive music driven by the analysis of 3-D character physics in game-play.
A new bioarts lab, sponsored by CBIS and HASS, is among the most tangible examples of the concerted effort to bridge the arts and sciences. Located at CBIS and spearheaded by Arts Professor Kathy High, the new lab will support research conducted by faculty and graduate students. The lab also will be used by students enrolled in the Bioarts Academy, a course expected to be launched in 2018.
The Art_X Interdisciplinary Seminar (AXIS) series presents lectures and discussions examining the intersections of science, engineering, business, and art, as well as projects and initiatives of Art_X at Rensselaer. A joint effort of the Department of Science and Technology Studies, the Department of the Arts, the Center for Materials, Devices, and Integrated Systems (cMDIS), the Center for Deep Listening, and the Art_X Steering Committee, AXIS helps students and faculty recognize the connections between the arts and sciences and become more comfortable breaking down old barriers.
"We've had great success bringing together researchers in the arts and sciences whose work examines similar issues from different points of view," Bahn says. "The synergies exemplifying Art_X emerge naturally in the discussions that follow."
From Discomfort to Leadership
Without question, Art_X will support new discoveries in virtually every discipline. But perhaps the greatest discovery will be the importance of appreciating — and even embracing — differences. In Art_X courses, students who otherwise would have little reason to interact with classmates outside their major will learn side-by-side with peers from other departments and schools. That interaction will shape students long after they leave Rensselaer.
"Students learn from each other, and these classes are designed to take advantage of that," Simoni says. "Students have enough interaction that they are learning from each other's perspectives. More importantly, in this day and age, they are learning to value differences. They see others thinking differently and they realize it's not right or wrong — it's different and it has value."
At first, many students will be uncomfortable. But over time, Simoni expects most students not only to adjust but also to appreciate the multidisciplinary experiences, find them intellectually, emotionally, and socially fulfilling, and recognize their role in strengthening and sustaining society.
"Questioning, seeking, and critical reasoning all focus on obtaining the truth. They are the tools that carry civilization forward," Simoni says. "We are training the leaders of tomorrow. We have a responsibility to equip them with these tools."