PRESIDENT'S VIEW • SHIRLEY ANN JACKSON, PH.D.
Advancing Health in Challenging Times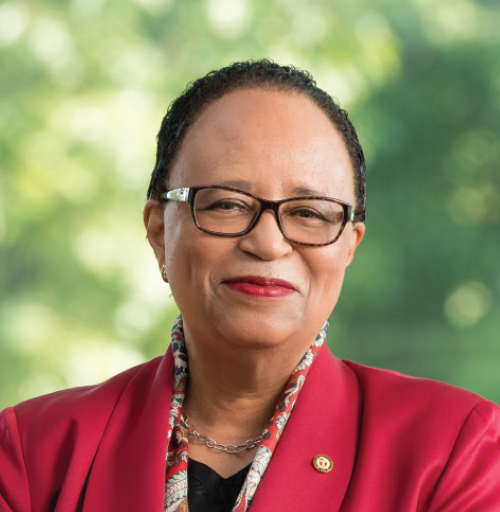 According to the World Health Organization, "health" is defined as "a state of complete physical, mental, and social well-being, and not merely the absence of disease."
At Rensselaer, health is a principal focus in our research, in our pedagogy, and most especially, in the lives of our students. This issue of Rensselaer magazine focuses on the many ways we are leading on all these fronts.
This spring, COVID-19 became the health issue that would catapult our research in new directions and put Rensselaer and our supercomputer AiMOS on the forefront of addressing a global crisis. Though we remain in this pandemic, at Rensselaer we do not shy away from the hard problems. 
Clean water and energy are among the grand challenges of our time. With the generous support of successful entrepreneurs Priti and Mukesh Chatter '82, endowed faculty are engaged in finding ways to change the lives of two billion people in the developing world with technological developments in the areas of clean water and clean energy.
To ensure that our research is getting to the physicians and patients who critically need it, our Office of Intellectual Property Optimization works hand in hand with faculty to transfer new treatments and diagnostic tools from the laboratory into the marketplace. 
Our signature research thrusts include a focus on Biotechnology and the Life Sciences, with specific emphasis on human health and the prevention and mitigation of disease. Researchers across the campus are studying ways to improve, repair, and restore the human body, including cancer treatments; the study of diabetes, Alzheimer's, and autism; 3D printing of human skin; and the promise of regenerative medicine.  
Beyond research, students and alumni are leading efforts to develop video games that have the potential to solve some of today's most pressing health challenges. They are developing training tools for medical students, helping people with mental illness, and leveraging games to better understand how humans make decisions.

A new degree program in biological neuroscience explores the structure and function of the brain and nervous system. The new program provides both an overview and an in-depth study of neuroscience, with an option for a dual degree in biological neuroscience and psychological science that examines the brain on multiple levels of analysis. The program includes a summer clinical rotation at the Icahn School of Medicine at Mount Sinai in New York City, one of the best medical schools in the country, which is one of our affiliates in biomedical research and education.
Of course, student health is paramount for all of us at the university. Our student-athletes are supported by a team of athletic trainers in the state-of-the-art sports medicine suite in the East Campus Athletic Village Arena. The Mueller Center, which is celebrating its 20th anniversary this spring, supports the well-being of students, faculty, and staff by offering wellness classes, workout facilities, and semi-annual stress-relief days.
In addition, our longstanding partnership with the Capital District Physicians' Health Plan has allowed us to contribute to the health and well-being of our faculty and staff, through initiatives such as a bike share program, research partnerships, and an award-winning health plan.
And finally, we pay tribute to Professor of Practice Eddie Ade Knowles, an accomplished musician whose artistry and humanity left an indelible mark on us all.
As a university, we ask all of our people: Why not change the world? From our breakthrough research to find solutions to today's most pressing health challenges, to our innovative pedagogy that provides students with the education they'll need to make an impact in health care, to our determination to provide a healthy student and staff experience, Rensselaer is truly making a difference.