1960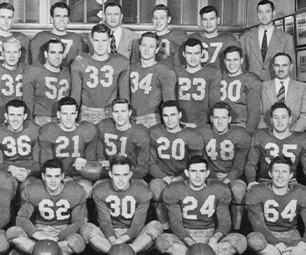 Bill Blanchfield is still getting emails about the passing of Navy hero Bob Flesch. Bob's life and untimely death touched many people. One other hero — Bill's wife's uncle, Joe Fiori '49 — died in April 2020. Joe was a WWII veteran who took time away from Rensselaer to serve in the U.S. Army in the Pacific campaign. After his service, he completed his degree in civil engineering while playing football and lacrosse. Joe was a friend and admirer of Ned Harkness, the legendary lacrosse and ice hockey coach. "Always the song leader at family parties, Joe was one of many of our families (seven in all) who graduated from the Institute," Bill says. He also reports that the 50 Year Club is alive and waiting for its next meeting. "We have been meeting virtually, but it isn't the same," he says. "Where we will eat lunch is a problem since the Notty Pine closed. How many beers have I had at that place? Too many."
Posted 2021-09-29
An article in a recent Rensselaer magazine was about Navy guys and their service. Bob Flesch was mentioned prominently. Dennis Fitzgerald said that Bob was his big brother at PKA — both "regular Navy." Dennis never met a classier guy who was a true big brother. 
Posted 2021-02-26
Bill Blanchfield '60 writes, "Due  to  the  COVID-19  pandemic,  the  Reunion  celebration  planned  for  October  has  been  postponed."
Posted 2020-06-16
Bill Blanchfield writes: Been recently elected VP of the 50 Year Club. It was a tough one but my promise to "make Rensselaer great again" seems to have worked. We are a generous bunch of old-timers and we give stipends to students who have contributed to the Rensselaer and the Troy communities. The students are great and always fun to be with.  Our last speaker was Marty Daniels, the director of financial aid. Marty explained clearly the need for more money for student scholarships. A message well received. 
Posted 2019-10-01
Received my annual greeting from Basil Whiting. "Baze" as he likes to be called is, like all of us, dodging life's health challenges. From his home on Staten Island he enjoys walking to small restaurants and the small town vibe of the Island. He does miss Brooklyn and its combination of art and nature. 
Posted 2019-10-01
Listen up, all you RPI guys worrying about your 401Ks. Bob Goldstein recently won $50,000 playing video poker at the Borgata Casino. By the way, that was the second time Bob hit it. Six years ago he also won a $50,000 jackpot at the same machine with the same denomination. I encouraged Bob to move to sunny Utica so he could rub off some of that skill and luck. Bob believes the probability gods are now, however, working against him. The "probability gods" are not working against us having a rewarding retirement. Let me know what's on your mind and, in Bob's case, what's in your wallet.
Posted 2019-03-10
Stu Mencher reported that 15 brothers of the Alpha Epsilon Pi Class of '60 and their guests gathered at the Riverpark restaurant in NYC in October for a reunion brunch. They met to celebrate our 58th graduation anniversary and the 62nd anniversary of their joining the fraternity. The brothers reminisced about the "good old days" at RPI and their experiences as pledges in 1956 and '57. 

Lary Wasserman contributed to the reminiscing by preparing a quiz to dust off their memories. Here are a couple of those questions to test your memory: (1) Who taught freshman chemistry? and (2) What was the famous edict for Sunday lunch in the freshman dining hall, and why was it never enforced? Neil Sherman won the prize for the alum who traveled the farthest, all the way from California; 

Mike Balk was a close runner-up with his trip from Colorado. The AEPi brothers have maintained their friendships for these many years and enjoy these periodic reunions. They are already planning their return to campus for our 60th Reunion, coming up in 2020.
Posted 2019-03-10
Dick Bohlin and I had a long phone conversation in June. One of Dick's RSE buddies, Monty Monteleon, died and Dick wanted him remembered. A nice remembrance from one of the '60s guys.
Posted 2019-03-10
Science
More and more I'm getting news of our classmates passing into the next world. Tom Giammo, a math major at Rensselaer, earned a master's in math from UCLA and then commenced a long career in government. Tom's other work was traveling and connecting his family roots to Sicily.
Posted 2019-03-10
Roger Orloff and I have been exchanging emails on various subjects. Roger, an extraordinary Rensselaer volunteer, agrees with me on the need for some form of universal service for young people. Our Volunteer Army has left out many who could and should serve in some way.

Roger is vice chair of the Leadership Council for the Lally School and co-chair of the Patroon Society of the Annual Fund.

We both agree that whatever complaints we may have about Dear Old Rensselaer, our contributions (monetary and other) are for the Rensselaer students. Let's keep them coming.
Posted 2018-10-10
Mason (Mace) Cadwell: Joel Pratt called me a while ago (remember those old-fashioned phones) and told me the sad news that his brother-in-law Mason (Mace) Cadwell died.

After his graduation, Mace had a three-year stint in the Navy (another old-timer who served) and then received a master's degree from Columbia University. A later Ph.D. in environmental science propelled him to a career in academe and consulting. Mace and his wife, Jennifer, have horses that they trained and loved. Their three daughters started riding as little girls.
Posted 2018-10-10
Bill Blanchfield notes that, every once in a while, his life as a class correspondent takes a very interesting tack, and happened to read in an article that one of his classmates, Richard Chutter, had received a patent for an improvement in sailboat technology. A resident of Maine, Richard had been sailing from an early age. His innovation lifts boats above the water thus reducing the drag; a simple idea but a difficult one to implement.

After his days at Rensselaer, Richard served in the U.S. Navy and then worked at Texas Instruments, GE, and the U.S. Department of Transportation, having an interesting and rewarding career.

Sadly, Bill later learned that Richard passed away in August after a long illness.  After reading of Richard's achievements, Bill states: " I am reminded of how many of us served in the military after our college days. Now, of course, it is very different. I wonder if our country is better off with our volunteer service members or whether we college guys balanced the career guys. If you have an idea or a story, please write. Stay well, old friends."
Posted 2018-03-15