1961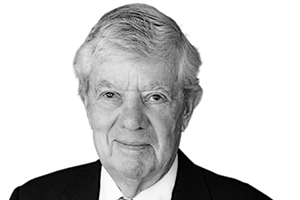 Dale Corman '61 is among five new members of the Canadian Mining Hall of Fame. During his 50-year career, he has served as president of seven public companies and director of 25 listed companies, and was involved in the development of seven mines and mineral deposits in Canada, and other parts of the world. Dale's early successes in the 1970s included the high-grade Sturgeon Lake base metal mine in Ontario, the Lake George antimony mine in New Brunswick, and the Cullaton Lake gold mine in Nunavut. The highlight of his career was the discovery and development of the world-class San Nicolas deposit and the Penasquito mine in central Mexico. Penasquito ultimately became Mexico's largest gold mine and second-largest silver mine and an important asset for current operator Newmont Corporation. Dale spent several years in the investment industry before joining Harbinson Mining and Oil Group, where he helped manage a group of 15 listed junior companies. In 1989, he focused his attention on copper and precious metal deposits in Canada and Mexico. His company, Thermal Exploration, was then in a 50/50 partnership with Western Copper in the Carmacks deposit in the Yukon. A positive feasibility study was completed in 1994, and Thermal and Western Copper soon merged to form Western Copper Holdings with Dale as chairman and CEO. He moved to Vancouver in 2003 and in 2009, he returned to Western Copper (later Western Copper and Gold), which had been spun-out from Western Silver.
Posted 2023-02-27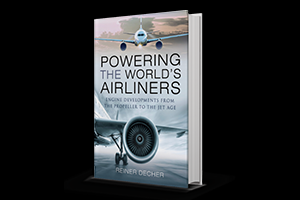 Reiner Decher '61 retired after being a professor of aeronautics and astronautics at the University of Washington. His recent interests include writing on subjects that he loves. "Books I have written with an academic bent were one thing, but the recent books are meant to provide to general audience readers a perspective on what I have learned that had quite a bit to do with my attending RPI. I will let the books, their titles and a few words speak for themselves: Powering the World's Airliners; Pen & Sword (UK) 2021: A history of engines for aircraft: The Vortex and The Jet – A Journey Into the Beauty and Mystery of Flight; Springer; Turbulent Journey – The Jumo Engine, Operation Paperclip, and the American Dream: a bio of my father who by his interests encouraged me to become an engineer; Invading Hitler's Europe is a story by an American intelligence officer in WWII who fought in three landings and participated in the arrest of Hermann Goering. This is a story I did not write but edited, amended, and brought to publication by Frontline Books (UK) 2021. The author, Roswell Doughty, was a member of my larger family."
Posted 2023-02-27
Ed Segal, former member of the freshman hockey team and high school graduate from Albany High, has lived in San Francisco for over 50 years. His career was in semiconductor equipment. His two sons and their families live nearby, which makes it nice. Ed stays in regular contact with Phi Sig brothers, which over the years have included Jerry Schnee, Merv Lapin, and Mike Herman.
Posted 2023-02-27
Fred Guimond, after years of living in Baton Rouge, discovered that the weather and landscape was much more accommodating in Wenatchee, Oregon, in the Cascades. He has spent his working career in the metals trading business and at one time owned three factories and employed 44 people. He is still involved on a lesser level. Fred played lacrosse for 33 years and ice hockey for 25 after college. He played lacrosse on the victorious alumni team at our 55th Reunion. He often lined up against Rod Palmborg in Palo Alto and Billy Wilkes once in Birmingham.
Posted 2023-02-27
John Billingsley Jr., a class leader and gentleman, recently passed away. He was the chairman of the class' 50th Reunion. He had been president of TKE, a member of the Student Council, and a member of the freshman hockey team. After earning an MBA at RPI and three years in the Army stationed at Watervliet, he joined Dow Chemical Company, where he worked for most of his career at Dow plants around the U.S. and world. He is survived by his wife, Karen, and three daughters.
Posted 2021-09-29
Don Beck is enjoying semi-retirement on Martha's Vineyard, where he just closed his B&B after 23 years. He and his wife now enjoy it themselves. He also trains square dance callers via Zoom, conducting three to four sessions a week with participants from eight countries and four continents.
Posted 2021-09-29
Dennis Dupier and his wife, Gayle, have sold their waterfront Fort Lauderdale house. They used it for 15 years as a winter haven and just spent their first winter up north. They built the house in 1975 as income property with the intention of living in it someday. That day came in 2004 when Dennis retired from serving the U.S. intelligence community, first as a GE employee in Valley Forge where spy satellites were once built, then as a CIA officer for 26 years and, finally, as a Booz-Allen staffer supporting the National Reconnaissance Office, which manages the U.S. spy satellite programs. Gayle and Dennis now live year round in the Massanutten Resort in Western Virginia's Shenandoah Valley.
Posted 2021-09-29
George Vachuda, former goalie on the varsity lacrosse team, has experienced what would be a major setback for most people, but not George. Twelve years ago, he broke his foot and wore a cast for three months. After complications, the foot was amputated and George now wears a prosthetic device. His attitude is absolutely marvelous. He blames no one for his problem and with a new, flexible ankle device he received recently, he is looking forward to hitting a golf ball again.
Posted 2021-02-26
Science
There have been many exploits by our classmates over the years, but George Bein is an unheralded success story. Here it is. Immediately following graduation, he decided to enroll at the Polytechnic Institute of Brooklyn for an M.S. and a Ph.D., both in electrophysics. George took a total of six years; seemed like an eternity. His first job after that was at Cornell Aeronautical Laboratory in Buffalo, N.Y., and he did that for about 10 years. In the early '80s when Ma Bell was being required to have some competition, his son, at the age of 17, came to him with an ad from Entrepreneur magazine. George writes: "He said, 'Dad, we can get into the pay phone business if we buy 50 pay phones from this company.' I told Jeff to just buy one. If he could sell it, we could buy more. He bought one and quickly sold it to a local bar. Long story short: We became The American Telecom Network offering a variety of telecom services across America, doing $50 million per year. Jeff and I were in business together for 25 years." George goes on to say, "I must have inherited my son's sense of creativity because I was recently awarded a patent called GFI Tripped Circuit Detection and Notification System. It notifies a homeowner when their GFI circuit trips, even if they are thousands of miles away from home. This can be very useful if, for example, they have a freezer and/or a refrigerator plugged into a GFI outlet in their garage. All garages are required to have GFI outlets. The approved patent uses an existing security system. I am currently working on an app that also notifies a homeowner when their GFI outlet trips; but this version does not require an existing security system." What a great story. George lives in beautiful Sedona, Ariz., gets to play tennis three times per week, and plays drums in a fantastic dance band.
Posted 2020-05-19
Engineering
Brian McManus writes: At the most recent Reunion in October, a few people robustly represented the Class of 1961: Bob Bardagy, Fred Guimond, and Brian McManus, along with Ed Bok and Bob Peterson. Other Chi Phis: Hank Bauer, Mike Smith, Bill Hart, Tony Dignazzio, Jack Lahey, and George Maniatty participated in a Chi Phi general reunion. A trip to the Notty Pine was included. Bob lives in Victoria, B.C., and recently met with Rod Palmborg in Seattle. Fred Guimond, the only Deke present, moved from Baton Rouge to Leavenworth, Wash.
Posted 2020-05-19
Brian McManus writes: In a prior issue of the Rensselaer magazine I solicited stories of what you were doing in your spare time, given that most classmates are now retired. I cited pickleball as a favorite pastime of mine. Well, Barry Burbank replied and he wins the Grand Prize with no questions asked. He currently goes line dancing five nights a week, rides a bike every week or so, and engages in rock climbing. To his great credit, he scaled El Capitan when he was 57 years old, which required six days and about 15 to 18 hours per day working with a companion climber. Over the years he has run 20 marathons, played ice hockey in a senior league, started snowboarding at age 67, cliff climbing at age 51, and has written two books. His "daytime" job all these years was in the Finance Department at IBM. Several years ago Barry moved to New Paltz, N.Y., in order to be near the cliffs because he still likes to go climbing about once per week. If you have seen the movie Free Solo about the fellow who climbed El Capitan with no safety ropes, you have a good idea of the challenge of that mountain. 
Posted 2019-10-01
Brian McManus writes: I would like to invite whoever is interested to share with us what form of exercise you are utilizing to age longer and stronger (?). I have read that one should have a vigorous exercise program that gets the heart beating at least 30 minutes three times a week. Doesn't sound too difficult but there are always things that interfere. As for me, I have taken up pickleball, the fastest growing sport in America (according to the pickleball people). You can see it at www.usa.pa. It's great for seniors. Fred Guimond was playing lacrosse with an adult group right up until recently.
Posted 2019-03-10
Mark Camp, after retiring from BP in Illinois, dialed up his winter cross country skiing program. He races in The Vasa in Traverse City, Mich., and this year will be his 32nd to compete. He has also been a regular in the Birkebeiner XC race in Hayward, Wis. 
Posted 2019-03-10
Allan Whittemore writes that he and wife Marge recently traveled from their Siesta Key condo to Ft. Myers to visit with two of his Theta Chi fraternity brothers: Jim Briem and his son, and Dave Boshart and his long-time Swedish girlfriend. They reminisced about the old fraternity house at 57 Second Street and competitive bridge games at the one bridge table in the fraternity. 
Posted 2018-10-10
In the field of tax-paying workers helping America, Murray Edelberg continues to be a leader as he works toward his 60-year pin. However he has slowed down to working only four days a week. I hope he isn't getting tired.
Posted 2018-10-10
For those of you who are still actively playing sports and experiencing leg cramps, you may have seen an article this past year linking this problem not to muscles but rather to your electrical system. More specifically, a neuron in your electrical system. The simple cure to "reset" the neuron is to drink tart cherry juice or any other very tart substance. I have tried it and it works. Enter Eberhard Fetz, who as a postdoctoral researcher at the University of Washington in Seattle published a paper in 1969 that discussed brain-computer interfaces (BCI) and how a monkey could control the activity of a single cell (neuron) in its brain. Eb's work showed that the brain was capable of learning how to operate a BCI without any help. Forty-eight years later, Dr. Fetz is still at the U. of Washington working on the brain's plasticity. Current work may help recovery from spinal-cord injuries, or the strengthening of stronger bonds within the brain itself, e.g., the speech-processing area of a stroke victim's brain. Eb says that there is a high hurdle to conduct these studies in people, but that all it requires for further advances is for scientists to jump in.
Posted 2018-10-10
Brian McManus reported that Chico Christopher '70, a member of PiKA, died in January 2017. Chico had worked with Troy Architecture Practice (TAP) for 46 years and was loved for his appreciation of the importance of urban agriculture, sustainable landscape, and the urban tree canopy, and in essence he was a master gardener for the environment of Troy. He championed an arboretum project at RPI that funded and planted seven trees along 15th Street that came to be known as the PiKA Arboretum because each tree honored a different class of fraternity brothers. With Chico's too-early death, a group raised some funds and, with RPI's permission, placed a plaque and tree in front of the Greene Building on the knoll overlooking the old football field in early November 2017.
Posted 2018-03-15