1962
Engineering
Frank Van Rensselaer earned bachelor's degrees in management engineering and mechanical engineering at RPI, then went to work for NASA in the design of the Saturn V moon rocket. He was a flight controller during the Apollo missions, then went into management of the space shuttle. Frank retired from NASA after 20 years and became a senior executive for Orbital Sciences, Martin Marietta, Fairchild, Raytheon, Harris, and Schaffer. He is married to a "lovely lady" from his "little town in Tennessee." They have a blended family of four children and seven grandchildren. Not one to sit still, Frank consults part-time with DoD research and engineering and enjoys golf and travel.
Posted 2021-09-29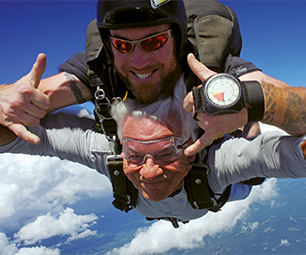 Steve Bartlett celebrated his 80th birthday last August with a tandem parachute jump at the Skydive Ranch in Gardiner, New York. He retired from IBM in Poughkeepsie in 2009 and worked for the next five years as a published industry analyst. He broke loose from the mundane and became certified as a glider pilot in 2011, flying out of Wurtsboro Airport, which is 10 to 15 miles south of the Catskill Mountains. Steve and his wife have been married for 58 years. Steve would like to hear from classmates, especially his ATO brothers, and asks them to contact him at Stevedbmw@hotmail.com.
Posted 2021-09-29
Last December, Jay Winderman reached his 80th birthday "with no discernible defects." His family held a party with a Boston cream pie and lots of gifts. One granddaughter wanted to put enough candles on the cake to displace half the chocolate frosting! On March 21, 2021, Jay and his wife, Rochelle, marked their 50th wedding anniversary. They managed a limited celebration, bringing home a nice dinner from a fine restaurant.
Posted 2021-09-29
Engineering
Ed Loizeaux sent me an essay about his "now-ancient life." Ed and I started life at RPI across the hall from one another in the freshman dormitories, he in Room A-108 and I in Room A-103. Ed earned an MSIE degree and an MBA degree. He worked for the U.S. Air Force at Norton AFB in San Bernardino, Calif., before it closed. Then he moved to the San Francisco area where he "morphed from engineer to operations management," running factories for high-tech firms. He once worked for Bill Perry before Perry became President Clinton's Secretary of Defense. Bored with managing factories, Ed incorporated as Manufacturing Advisors and became flooded with clients from Brazil, Singapore, and many U.S. locations. He has been married to Judi McHan for 34 years. They have five children, all married and all gainfully employed. Ed retired at age 55, and he and Judi are living comfortably. He teaches English to foreign graduate students at Stanford University — not beginning English, but conversational English complete with slang and idioms.
Posted 2020-05-19
Engineering
Steve Mirer sent me a beautiful photo of four Pi Lambda Phi fraternity brothers and their wives who met in Santa Fe, N.M., in September to attend the Santa Fe Indian Market. The attendees were hosts Mary Anne (RSC 1964) and Bruce Larsen of Santa Fe, Lois and Mike Mannes of Baltimore, Helen and Marv Meistrich of Houston, and Arlene (RSC 1964) and Steve Mirer of Phoenix. Bruce retired from Vista Chemical in 1995, Mike practices real estate law in Baltimore, Marv retired from M.D. Anderson Cancer Center in 2012, and Steve retired from GE Global Research in 2008. The intrepid octet is ruminating about meeting in Sonoma County, Calif., in 2020. Empty or near-empty stemmed glassware could be seen on the table in front of them, telltale evidence that everyone was having a terrific time. Mike and I palled around at RPI before losing track of one another.
Posted 2020-05-19
Marcia Dresner '65 emailed me in March to say that her husband, Norm Dresner, died on Nov. 1, 2018. Norm worked for Westinghouse/ Northrop Grumman and then turned his passion for wood turning into a small business. His hobbies over the years included photography, electronics, computers, HO-scale model trains and boats, and puzzles and games. Norm also is survived by two sons, Jon and Alex (RPI '92), and three granddaughters. 
Posted 2019-10-01
Jay Winderman I just completed a novel titled Abel Streitman and the R&D Factory. It is a satire based on my observations and experiences while working in the defense industry. I do not have the time to publish and distribute this novel as I did with the Thunder Tortoise trilogy, so I had a small number of copies made for several family members and select retirees. 
Posted 2019-10-01
Ben Kroup shared the following lyrics to a humorous ditty that he and others in Phi Kappa once sang during keg parties, to the tune of "From the Halls of Montezuma:"

From the dizzy heights of Prospect Park/To the mudflats of Cohoes, We will drink all day and through the night/And the rest God only knows.

We will drink to Troy's fair maidens./We will drink to Troy's fine beer. And without a doubt some tool will shout/Let us drink to Rensselaer.
Posted 2019-09-17
I received the sweetest four-page story about Neil Ullman, which ran in The New York Times in September. Here is a capsule summary. I know I won't do justice to it. Neil met Elaine Hoffman at a class titled The Lives We Lived at Fairleigh Dickenson University, and they immediately felt energy between each other. Both had been widowed recently. As time progressed, they drew closer, discovering all the things they had in common, such as the same car model, the same credit card type, and the same interest in taking a one-week vacation to Cambria and Pismo Beach in California. Spooky, wasn't it? Needless to say, they both fell madly in love. They married at Florham, a former Vanderbilt estate. Neil graduated from RPI and Rutgers and became a founder of Middlesex County College and County College of Morris. Elaine graduated from State University of New York at Cortland in 1967 and received a master's degree in student personnel services at Newark State College. She has been a career elementary school counselor and a school social worker.
Posted 2019-03-10
Engineering
Roger Lipton was appointed to the board of directors of Diversified Restaurant Holdings, one of the largest franchisees for Buffalo Wild Wings. Roger earned his B.S. degree in mechanical engineering at RPI and his MBA degree at Harvard. He worked as an auditor with PricewaterhouseCoopers and then on Wall Street with restaurant and franchising industries.
Posted 2019-03-10
My friend from White Plains, Larry Kaye '64, MEE '65, wrote to say he has been "reading your column for years." Larry worked for Hughes in Culver City, then Systron Donner in Concord, Calif., and finally Giga-tronics, a microwave test equipment company he helped found. He now restores pinball machines. His son, Andrew, is a senior at RPI, and is studying mechanical engineering. Larry and his wife, Beth, married in 1992.
Posted 2019-03-10
Jay Winderman states: Classmates Bob Levy and Henry Steckler and I studied together for final exams in my rented room on 14th Street during our last two years at RPI. I built a blackboard from a sheet of Masonite that I brushed with flat black paint, and we used it to test one another. After tedious hours, we would adjourn to the Sycaway Diner on Hoosick Street for coffee and jelly doughnuts. Bob and Henry and I passed all of our final exams. I am debating whether to credit my blackboard or the Sycaway's jelly doughnuts for our successes.
Posted 2019-03-10
Dr. John Hall contacted me via email to say that a documentary film titled Secrets of a Frozen Ocean won the award this year for the best documentary at the New York City International Film Festival. John owns the hovercraft that was used in the film, and he funded much of the work. In the movie, he said, he appears as "Executive Enabler." John has lived in Israel for about 68.6 percent of the country's existence.
Posted 2018-10-10
Captain Ed Davidson, also known as Lt. Cmdr. "Engine Eddie," became the 33rd Navy "Top Gun"-type jet fighter pilot to survive more than 200 combat missions in Vietnam and was flying fighter escort next to John McCain when McCain was shot down and captured.
Posted 2018-10-10
Dick Lundgren, who had a passion for historic preservation, has been named executive director of the Historic Albany Foundation, whose mission is to preserve and protect the architectural and historic resources of the city of Albany and Albany County. Dick has experience as an urban renewal project director and a district planner, as well as president of a real estate and city planning consulting practice.
Posted 2018-03-15
John Templin, president of the 50 Year Club and a Phi Sigma Kappa alumnus, was happy to report that the fraternity was well represented at the Class' 55th Reunion, and that they had a chance to meet for breakfast and catch up on what each has done over more than half a century: Lew Davidson, Stu Heller, Lou Hoadley, Harry Laufer, Lionel Michelman, and (of course) John himself. John is president of Templin Management Associates Inc. in Greenfield Center, N.Y., in Saratoga County.
Posted 2018-03-15