1968
Mal Crawford has gotten his second COVID-19 vaccination and is looking forward to seeing his two grandsons. "We've been celebrating holidays and birthdays with Zoom get-togethers until this Easter when my kids switched over to a new conferencing service. Apparently, Zoom is now only used by seniors, with all the 'cool kids' shifting over to Jitsi. I should be able to stand up to the 'techno-shaming' with the new vaccinations."
Posted 2021-09-29
Dick Burke recently found out about the death of another classmate, John DeHart. Dick had lost touch with John, who was a former roommate, and only found out about his death last fall. Both Dick and John were active in the radio amateur club at RPI, W2SZ, so Dick started searching online and found the website of the Sawnee Amateur Radio Association in Cumming, Georgia. John had been an active member of the club since 2008, when he apparently moved to Cumming. Dick found a posting on the club Google Groups site that informed all the members about John's death on April 12, 2017, in a local hospital.
Posted 2021-09-29
With the postponement of last year's Patriots Day B.A.A. Marathon, I didn't have the opportunity to see classmate Steve Litchfield last spring. For the last 10 years, the RPI Alumni Association Boston Chapter has volunteered at the Sunday evening pre-race Pasta Fest Dinner event at Boston City Hall. One event that was not canceled last year was the 51st wedding anniversary of Steve and his wife, Martha. His hometown newspaper published a nice story on how the couple met while Steve was attending RPI and Martha was attending nursing school in Troy. — K1MC-Mal@earthlink.net
Posted 2021-02-26
Humanities, Arts, and Social Sciences
Classmate Larry Kagan and his wife are relocating from Troy to Los Angeles to live closer to their two sons and spend some serious quality time with their three grandkids. After teaching at RPI for 43 years, and living in Troy for 50 years, they will miss their friends and colleagues but perhaps not the winters. As a professor emeritus in the Department of the Arts at RPI, Larry was able to devote more time to his sculpture practice and mount exhibitions. An exhibit of his selected works covering a 40-year span titled Shape and Shadow came down last summer at the Albany Institute of History & Art. Larry has also been to Taiwan for an exhibit titled Beyond the Shadows that featured his sculpture at the Chimei Museum in Tainan. He had a solo exhibit titled Impossible Shadows that opened in September at the Montclair Art Museum in New Jersey. The theme that runs through Larry's works is how abstract metal sculptures can create seemingly impossible shadow images with special lighting.
Posted 2020-05-19
Engineering
Classmate Roy Wepner was honored in June by the New Jersey Law Journal as an "Unsung Hero" of the New Jersey bar. The award celebrates lawyers who work behind the scenes, but whose efforts are indispensable to their firm. The Law Journal highlighted his work in building his firm's intellectual property litigation practice by stepping into cases already in process producing persuasive briefs. Roy graduated from the U. of Pennsylvania Law School and has been a partner for over 35 years at the firm of LernerDavid, which specializes in intellectual property law.
Posted 2020-05-19
Engineering
  In his retirement in Colorado, Gary Masner is a co-founder and director of the seven-year-old nonprofit public-private partnership Southwest Colorado Accelerator Program for Entrepreneurs (SCAPE). SCAPE is an economic development program that helps startup and early stage companies by providing mentoring and investment funds. Gary's strength in business and financial strategy was initially developed during his business strategy consulting work at McKinsey after earning an MBA from Stanford. He credits the success of SCAPE in helping startups thrive through the network of retired business, technical, and finance professionals in the area that want to be part of the community and want to help.
Posted 2020-05-19
Classmate Bill Criss and his wife, Judy, are continuing to cross off items on their "bucket list." In 2018 they traveled to Peru and China and they are planning trips to Australia and New Zealand for this year. When not traveling, Bill has been involved in the pub-hosted game of QuizKnows in the Washington, D.C., area. The competition is among science, technology, and engineering school alumni groups from schools including RPI, MIT, and Georgia Tech. The quiz involves answering questions related to STEM subject areas, such as, "Why do bubbles pop?" and "Where does sound travel faster, water or air?" The RPI alumni group is ahead in the competition series, and Bill recently awarded his Knurd Bowl Trophy to Nagesh Rao, RPI '02.
Posted 2019-10-01
John Boice gave a lecture at Washington State University Tri-Cities in April on the subject of the past and future of the National Council on Radiation Protection and Measurements, where he serves as the director of science. The council develops and disseminates information and recommendations on radiation protection and measurement methods based on current scientific thinking. John is an international authority on ionizing radiation effects and is also a professor of medicine at Vanderbilt U. After earning a B.S. in physics at the U. of Texas - El Paso, he continued his education at RPI with an M.S. in nuclear engineering in 1968, and continued at Harvard for an M.S. in medical physics and a doctoral degree in epidemiology. He is currently directing a large population study of lifetime cancer risks associated with low-dose long-term exposures. 
Posted 2019-10-01
Mal Crawford writes: The RPI Alumni Association Boston Chapter had another good turnout for their volunteer activity as marshals at the Sunday evening Pre-Race Pasta Fest Dinner at Boston City Hall. The dinner is held the night before the Patriots Day B.A.A. Marathon to allow runners to "carbo load" for the race. Classmate Steve Litchfield was part of the group again and reported that plans to build a pumpkin-firing trebuchet for a Halloween celebration were scrapped because of safety concerns. A cornfield maze cut in a local field was substituted for the pumpkin-launching event. This year the Halloween activity being planned is to decorate an out-of-service water tower. Steve continues to be active in his community as a trustee of the Scituate Historical Society, vice chair of the Scituate Historical Commission, and member of the town's Community TV Advisory Board. 
Posted 2019-10-01
The Albany law firm of O'Connell and Aronowitz recently added Roland Cavalier and two other attorneys to its staff to expand its business law and commercial litigation practices. Roland attended Albany Law School and earned a Juris Doctor degree after attending RPI. He has been advising business clients for over four decades and will continue in the practice of business law concentrating on a wide range of corporate and business clients. In addition to Roland's court experience with civil litigation, he has had extensive experience in alternative dispute resolution.
Posted 2019-03-10
Science
The Albany Times Union published a moving personal interest story about Sid Stark closing his auto repair garage in Saratoga Springs and retiring in 2018. He got his start in the auto repair business working summers during high school at his father's garage. After earning a B.S. in chemistry at RPI, he taught science at local high schools in Greenwich and Albany. In 1970 he went to work full time with his father, Henry, and took over the garage a year later when his father retired after running the business for 25 years. Sid enjoyed the long-term relationships he had with his customers, some who had been coming to the garage since his father opened it in 1946. In the last few years Sid began keeping a list of all the positives and negatives of running his business and decided to retire once the negative side of the list grew longer. One of the negative business reasons to close the garage was that the area had gentrified and the new residents didn't own cars that were 5-to-10 years old and needed the maintenance and repair services he provided. The many customers on the positive side of the list will be missed by Sid, but he plans to spend more time with his grandchildren in retirement.
Posted 2019-03-10
Ira Goldman has managed to stay mostly retired since 2012 with the exception of a 2016 two-month consulting project in England for a former boss. He and his wife, Sherry, moved in 2009 from Connecticut to a house in Penn Yan, N.Y., in the heart of the Finger Lakes region that overlooks Keuka Lake. While their house has great views and is near the upstate wineries, they regret that it is far from their six grandchildren who live in North Carolina. Ira races sailboats in the summer and does some casual skiing in the winter, which included a trip to Cortina, Italy, last winter. He is still active with the Boy Scouts and was awarded the Silver Beaver for his many years of service.
Posted 2019-03-10
Science
Steve Ross sent in a detailed account of what he has been doing in the fields of technical journalism, teaching, and consulting over the last 50 years. His career in technical journalism started as editor of the Rensselaer Engineer magazine while at RPI earning a B.S. in physics. After graduating, Steve earned an M.S. in journalism at Columbia's Graduate School of Journalism and became editor of the New Engineer magazine in the 1970s. Steve taught full time at the Columbia Graduate School of Journalism from 1985 to 2004 before becoming the founding editor of Broadband Communities magazine, where he is currently the editor at large. Steve has authored or edited 19 books, won numerous technical, professional, and journalism awards, and is a fellow of the American Institute of Chemists. He and his wife both live and work in New York and in Boston and enjoy traveling. As Steve wrote, "People still pay us to go to interesting places and talk to interesting people."
Posted 2019-03-10
Last May Nick Pinchuk was selected to address the Southern Vermont College Class of 2018 at the school's 91st Commencement. He also received an honorary degree from the college based on his leadership in the areas of workforce development and technical education and careers. He is currently the president and CEO of Snap-on Inc. and has been widely recognized for his contributions to the formation of the country's technical education agenda and for the growth of a skilled workforce. The former St. Joseph College that you may know from your days at RPI became Southern Vermont College after it moved to its current Bennington campus in 1974. The college became an accredited four-year college several years after the move and competes with Rensselaer in NCAA Division III women's basketball.
Posted 2018-10-10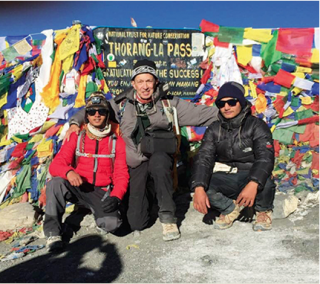 Classmate Robert Sturm sent in a short description of his 2017 trek of the Annapurna Circuit in Nepal with a guide and porter. In spite of a torn MCL and a knee brace, he completed the 90-mile trek that went through the 17,700-foot-high ThoRang-La Pass in 16 days. The weather was cooperative with only one day of rain/snow, which allowed Robert to take many outstanding pictures of the mountains in the Annapurna range. He describes the trek as a great adventure in spite of returning home with pink eye and a mild case of bronchitis.
Posted 2018-10-10
Bill Criss and his wife, Judy, have completed their move from northern Virginia to Sunset Beach, N.C., and Bill adds that he has found that mint juleps can ease the challenge of downsizing. Bill, who is looking forward to this year's 50th Class Reunion and has been in contact with George Casey and Jerry Sweeney to help organize the festivities, has promised to bring his collection of Bachelor magazines to the Reunion to highlight how much campus humor has changed in 50 years.
Posted 2018-03-15