1970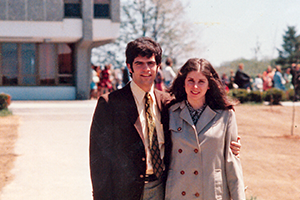 Lon Blumenthal graduated with a bachelor's degree in mechanical engineering. He married his college sweetheart, Annette Hurwitz, on June 6, 1971. They celebrated their 50th anniversary last summer. They have three great children, all grown and married. During the '70s, Lon worked building nuclear submarines in Groton, Connecticut, and completed his MBA. During the '80s, he built land-based conventional, co-generation, wood-burning and solar power plants. During the '90s, he led a global implementation of Systems Applications and Products in Data Processing (SAP) and transitioned to consulting. Since then, he has served clients all over the world, including Nike, Walgreens, Blue Cross Blue Shield, BP, and many others, and has delivered millions in savings and efficiencies. Lon started to climb mountains in northern New Hampshire, and went on to climb all over the country, including four of the five highest in the lower 48. While in Japan, he was lucky to climb Mt. Fuji. He says the most important lessons he learned at Rensselaer were not facts from the classes. "I learned about discipline, endurance, and keeping focused on the goal and those qualities helped me graduate and be successful with my consulting clients. It was hard to see 50 years into the future when we sat for our freshman picture, but now looking back, I can honestly say that I have only good memories from our years on campus." Lon was president of the Chicago alumni chapter for about 10 years and during that time, he attended many high school college fairs. "I met one young man during one of those fairs and had the pleasure of seeing him at the summer send-off picnic. He told me that our conversations were instrumental to him applying and selecting RPI. Came back to campus for our 40th reunion and hope to come back again in the next year or two. Call outs to Jay Lessens, Norm Silverman, Marty Leffler, Debbie Henry Senchak, Art Price, Steve Rose, and Dave Wishko. Oh, and to Jay Bondell, who I lent my advanced calculus and complex variables textbook to and who never returned it."
Posted 2023-02-27
The 50th Class Reunion Committee, chaired by Bill Palmer with members Susan Alten, Otto Zamek, Paul Miller, and Rick Hartt, is looking forward to a successful virtual Reunion & Homecoming and to continue their connections after October through the RAA and the RPI Class of 1970 Facebook page, "where you will find great photos and stories of our past and present."
Posted 2021-09-29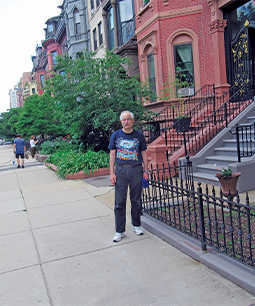 Elliott Laffer, who served as chairman of the Neighborhood Association of the Back Bay in Boston for two terms from 1990 to 1992, has assumed the reins of the organization again. Previously, he had a 30-year career in sales and sales management of engineered equipment.
Posted 2021-09-29
Gary Aikin has shared that Nason Hall classmate Edward Hicks died on Aug. 13, 2020. Hicks attended both RPI and the Rhode Island School of Design.
Posted 2021-09-29
Susan Alten reports, with great sadness, that during Reunion planning, she learned of the death of Judy Lieberman Porte from ALS in January 2019.
Posted 2021-09-29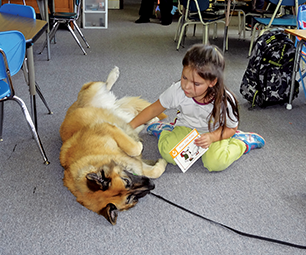 Rick Hartt and his wife, Julia MacDonald '72, '77, celebrated their 45th wedding anniversary in April and look forward to many more. "We both continue to work with pet rescue and recently fostered four young barn cats and were able to place them," Rick says. "Weekly therapy dog visits with our dog Ally have resumed. COVID restrictions permitting, Julia will be going to Uzbekistan and Kyrgyzstan in September for three weeks."
Posted 2021-09-29
Tom Gilbert and his wife, Penny, a Russell Sage student, married in their senior year. Upon graduation, they moved to Poughkeepsie, where Tom began a 10-year stint at IBM. "It was a wonderful decade but I became convinced that computer networks were the future. In 1980, we moved to Vienna, Virginia, where I worked for Satellite Business Systems, and then 19 years at Network Systems Corp. (NSC)," Tom says. All the while, Penny pursued her career as a physical therapist and raised their two daughters while Tom traveled on business. In 1997, Tom again became convinced that cybersecurity was the future, and left NSC to cofound Blue Ridge Networks, which develops best-in-class computer and network security products.
Posted 2021-09-29
Architecture
Gerardo Brown-Manrique continues as a professor of architecture at Miami University's Department of Architecture and Interior Design in Oxford, Ohio, and is not sure when he will retire. After spending the 2019-20 academic year at Miami's European Center in Differdange, the Grand Duchy of Luxembourg ("the spring semester rudely interrupted on March 13, when the students were ordered home and the program switched online"), he returned to Oxford to teach totally online, rarely leaving his house this past academic year. He now looks forward to future Reunion & Homecoming events, and continuing his connections. As a five-year architecture major, he did not graduate until 1971, so he is looking forward to the joint celebration of our semi-centennial (1966-1971). While officially retired as a practicing architect, he continues his scholarly research on interwar European architecture, housing for large numbers, and the work of his mentor, O.M. Ungers.
Posted 2021-09-29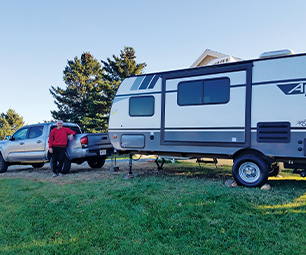 Chuck Rancourt and his wife, Judy, thought it would be fun to do something different and have a travel adventure. "Mid-summer 2020, while celebrating my 50 years since graduation and during the pandemic, we bought a travel trailer and truck," he says. "Judy was the primary planner and we started to plan a trip to Florida, which we did this past February and March. It was the first time we ever did anything like this and it turned out great. On our 30-day round trip, we went 3,600 miles through nine states. We stayed safe and met several people and relatives while socially distanced. We even met someone whose husband went to RPI and played hockey — but only for a year. We are already looking forward to some summer trips and another long-distance, warm-weather trip next year. You are never too old to try something different." Chuck also reports that it was a good year for the Class of 1970 and the Rensselaer Alumni Hall of Fame. Chuck continues as chair of the Selection Committee and Roger Mike continues as a valuable member. They were very excited to induct classmate Kathy Egloff Zoon "for her remarkable work and accomplishments as an immunologist." "She is the first person from the class of 1970 to be inducted to the Alumni Hall of Fame," Chuck says. "Congratulations, Kathy!"
Posted 2021-09-29
David Donnelly and his wife, Linda, moved from California to Evansville, Indiana, in April, to be near their son, Brian. Before COVID-19, Dave and Linda spent several summers exploring and pet-sitting throughout Europe, and hope to be able to resume those activities soon.
Posted 2021-09-29
Stephen Valentine, who created the Class of 1970 Facebook page, reports that "the page is picking up speed. We are now up to 80 members. Recent additions are Glenn Matsuyama, Bob Heilman, Rene Milo, Bob Soika, Tony Reid, David Boehm, Chuck Rancourt, Roger Wilson, David Donnelly, Lon Blumenthal, Alan Baker, Alan Marie, Bob Harris, and Tom Gilbert. Looking forward to reaching 100 of us after our 50th Reunion."
Posted 2021-09-29
Gary Nelson has offered to host a brunch at his home in Troy for cross-country and track alumni who will be attending the 50-year reunion on Saturday, Oct 9, at 10 a.m. RSVP to Gary Nelson at garygnelson@gmail.com.  
Posted 2021-07-15
The 50th Class Reunion Committee, chaired by Bill Palmer with members Susan Alten, Otto Zamek, Paul Miller, and Rick Hartt, is looking forward to a successful return to campus and to continue their connections after October through the RAA and RPI Class of 1970 Facebook page, where you will find great photos and stories of the class past and present.
Posted 2021-07-15
Remember to join the RPI Class of 1970 Facebook page. — harttrm@aol.com
Posted 2021-02-26
Check out classmate Matt Costello's website at http://www.mattcostello.com and take a look at the award-winning books he has authored including the Cherringham series and the Mydworth Mysteries.
Posted 2021-02-26
In preparation for our 50th Reunion in 2021, Susan Alten needs new email addresses for Jane Zuckerman Israel, Judy Lieberman Porte, Diana Halstead Smith, Roswita Apkarian Hayes, Deborah Krohn Rogers, and Virginia Lester Teslik. Send her a note at susan.alten.sa@gmail.com.
Posted 2021-02-26
Stephen Valentine took the initiative in 2017 to create a Facebook page that is truly ours. Almost 10% of our class is now part of "RPI Class of 1970," sharing pictures and stories of the past and present.
Posted 2021-02-26
Humanities, Arts, and Social Sciences
Rick Hartt writes: At press time we learned that our 50th Reunion, originally scheduled for Oct. 8-11, 2020, has been postponed due to the COVID-19 pandemic. Our Facebook page, RPI Class of 1970, is administered by founder Stephen Valentine and now has over 60 members. Let's shoot for many more as we celebrate our 50 years since graduation. Great photos and memories are posted. Many ideas for our Reunion have been suggested on our FB page. Keep an eye out for news about the rescheduling of Reunion. Let's all try to re-connect. A few short notes: Stan Sieger volunteers weekly at the Los Angeles Kitten Adoption Center. Matt Costello, editor of our literary magazine, the Gorgon, just published, with Neil Richards, the third book in his series The Mydworth Mysteries, London Calling! The developer of the classic game The 7th Guest is also an active reviewer of classical music and continues his work on various media projects. Mike Weishan is a great supporter of the arts, local business in Cattaraugus, N.Y., and also a photographer extraordinaire. Walt Piskorski is enjoying life in Nashua, N.H. Del Davis lives in Texas.    
Posted 2020-05-19
Engineering
I heard from Dave Bivans. In the last three years, Dave has been inducted into his high school's (i.e., Exeter Twp HS, Reading, Pa.) Academic and Athletic Hall of Fame. This is on top of his 2007 induction into Pennsylvania's State Sports Hall of Fame for his high school conference, county, district, and state cross country championships. He tells us that "given that we live on 84 acres with 80+ of various species of trees, from pine to maple, oak, aspen, and others, I decided to focus much of my woodworking design to utilizing those resources." Over the past three years he has developed an acoustic guitar design based on a Martin 000 size, completing a prototype last spring, after 2-1⁄2 years developing the skills and tools, from butternut and maple trees on their property. "As expected, it has an extremely mellow sound that a dozen guitarists have given top marks. In addition, being a fly-tier and fisherman for over 60 years, finally acquired property and constructed a cabin on a trout and salmon pond in northern Maine. We now can sleep seven on an 1,800-acre cold water pond and dock our Lund fishing boat along with several canoes and kayaks."
Posted 2020-05-19
Business
Tom Krause is living in Frisco, Texas, although he had moved around a lot before getting relocated there. He got his B.S. in Mgt. from the 'Tute and a little later his MBA from South Carolina. He has retired from a career in health care/hospital management, but does a little work from time to time. Mostly just concentrating now on downsizing and getting rid of all the stuff that has accumulated over the years.
Posted 2020-05-19
Rick Hartt First things first; it is only a year away to our 50th. There is a Facebook page that classmate Stephen Valentine created, "RPI Class of 1970," which has 56 members. People on the page have been talking about ideas for our 50th. Join in on the discussion.

Deborah (Henry) Senchak said, "Our 50th Reunion is around the corner. I vividly remember all the 'ol' geezers' at the 50 Year Club table at the dinner — let's fill that table with our much younger selves and make it a memorable showing for the Class of '70." Paul Miller suggested, "Speaking of reunions, any thoughts on social gathering events for Thurs, Fri, Sun, and/or Mon, in addition to a Sat dinner kind of event? It would be nice to have a class gathering place for a few hours each day at or near campus. Susan Alten opined, "The small coed contingent has had several brunches over the years on Reunion weekend and they were wonderful fun. I recommend food/ alcohol involvement, but that may just be me." James Martinez reflected, "Although college lasted only four, maybe five or seven years, there were memories that haunted everyone their whole life. Remember as you consider that 50 Year Club that inside all of you is a Blutarsky, a Flounder, a Hoover, a Neidermeyer, a D-Day Simpson, and for some, a Clorette or Mandy Pepperidge." So the story is, get involved, join the Facebook page, and be part of the group that could make our 50th Reunion more than a cookie-cutter weekend. 
Posted 2019-10-10
On to more serious stuff. Considering the recent air tragedies, Paul Miller shared that he has been a member of the European Advisory Committee, Flight Safety Foundation EAC FSF, 1998-2012. He writes: "The group produced, for the first time ever, the definitive Operators Guide to Human Factors in Aviation, or OGHFA, a compendium both defining human factors and a collection of checklists, briefing guides, and training syllabi for use mainly by commercial airlines worldwide, but applicable to all airmen. Our steering committee worked for seven years, and internationally, to complete OGHFA, and work is now published online for everyone at Eurocontrol's Skybrary Portal. The work to make commercial aviation safe worldwide has been my volunteer career for quite some time, beginning as a Naval Aviation Safety Officer in 1982, continuing on as a commercial pilot association safety committee member and chair in 1992, and as an EAC FSF member in 1998." In these capacities, Paul has written over 30 newspaper and magazine articles, two biweekly columns, and more than a dozen professional papers on safety management. 
Posted 2019-10-10
Wayne Coleman and Otto Zamek met in Cary 3 in September 1966, and in spring '67 they both joined RSE, becoming roommates in the Coolie Room. A year later Bart Guttag and Chuck Phelps, both '71, joined them.  Bart initiated a 50-year Coolie reunion in Las Vegas, March 11-15, and for five days in Bart's well-stocked suite at Treasure Island, the four Coolies recalled tales of RSE and RPI. Pleasant memories came flooding back, and while they did debate Fox News vs. CNN, they put politics aside to thoroughly enjoy one another's company once again. They highly recommend similar reunions for all who experienced brotherhood at the 'tute. Otto (Chem '70), and Bart and Chuck (both Mgmt '71) have been successfully retired for years while Wayne (Aero '70) is still an itinerant white-collar worker and musician in this gig economy. 
Posted 2019-10-10
Our classmate Ed Touchette has shown that there was and is exceptional artistic ability in our class. His watercolors are stunning. Email him at eddesign@nii.netand join his list. 
Posted 2019-10-10
I see on Facebook that Gordie Benoit continues his good deeds with Habitat for Humanity in the Rochester, N.Y., 
Posted 2019-10-10
Bob Reith is on Facebook and if you ever wanted to see incredible avian photography, he is doing it for real all over North America 
Posted 2019-10-10
Rick Hartt: Julia MacDonald '72, '77, and I have moved to Rush, N.Y., just south of Rochester, where we are only 2/10 of a mile from our son and daughter-in-law. Email me if you happen to be close to the area. 
Posted 2019-10-10
As Thomas Myers said in his post, "70 is the new 50. I know that at 70 I'm in better shape than my father or grandfather were. I wouldn't want to challenge new graduates to any physical challenge, though. I'm highly confident we'll still look like geezers to them." 
Posted 2019-10-10
Rick Hartt states: I was very proud to be at the ceremony that awarded the most prestigious RPI alumni award to Jeff Kodosky. The Distinguished Service Award is given to at most one alum annually and recognizes distinguished service to RPI, a profession, the nation, or humanity. Jeff is known for his invention of LabVIEW, which was named one of the "Top 50 Milestones for the Industry" by Electronic Design magazine. He co-founded National Instruments Corp. (NIC) in 1976, served as VP since 1978, and VP of R&D from 1980 to 2000, and has been a Fellow of NIC since 2000. He has a personal passion for education and opera. He has been recognized with the Woodrow Wilson Award for Corporate Citizenship for his work with organizations including the University of Texas at Austin UTeach program and College of Natural Sciences, the Rensselaer Polytechnic Institute board of trustees, and the Austin Lyric Opera. Jeff and his wife, Gail, have always been supporters of the arts. While I was director of the Rensselaer Union, they arranged for the exceptional Austin, Texas, vocal group, Conspirare, to come to Troy to perform at RPI and record at the Troy Savings Bank Music Hall. Jeff has tirelessly given his time, treasure, and talents to RPI.
Posted 2019-03-10
Dave Schopp has been appointed to the board of directors of DASAN Zhone Solutions, which specializes in fiber access for enterprise and service provider networks. He is currently operating partner for Stonebridge Partners, a private equity firm, and also a general partner of Fund IV. Dave is currently chair of the boards of Cast Crete, Hydraulex Global, and Specialty Bakers.
Posted 2019-03-10
Paul Miller writes a commercial aviation safety blog, Safetyforecast.com, where he offers innovative, relevant, and credible comments on current safety issues, recent aviation mishaps (disasters), and arguments in support of safety legislation or international regulation. As he told me, commercial aviation safety improvements are the work of a remarkably hardworking core of international colleagues, who devote immeasurable efforts not only to hazard resolutions and new procedures and training, but moreover advocate for the implementation into regulation and international law.
Posted 2019-03-10
A little bit of trivia from our Class of 70 FB page. Lee Mandell said, "My fraternity, TEP, hired The Doors to celebrate an anniversary. An expensive bet that enough tickets would be sold to recoup the cost of $10K; yes that is all that they cost. I was disappointed that they didn't come to the house afterward, but I did sit in the front row for the concert."
Posted 2018-10-10
Ed Touchette continues his artistry. Four pieces from his exhibition at Trident Gallery—Lessons, Barns and Other Structures—were featured in the Spring 2018 issue of Watershed Review, a publication of California State University at Chico. See csuchico.edu/watershed/2018-spring/art
Posted 2018-10-10
Gordy Benoit not only volunteers with ski patrol but also with Flower City (Rochester) Habitat for Humanity. Within the last year he has helped Habitat rehab neighborhoods in South Florida and in Rochester.
Posted 2018-10-10
I reconnected with basketball buddy Bob Reith. Bob's passion is now photography, and he says that beyond working out, he gets a lot of his exercise photographing wildlife. He uses two primary lenses among several, and one of them is a beast, weightwise. His wildlife photography is something to behold. Go to his Facebook page and check out his wildlife photos: www.facebook.com/bob.reith/photos.
Posted 2018-10-10
Rick Hartt  states that among his recent exploits, probably most important is the therapy dog work that he and his spouse Julia Macdonald, '72 and '77, do with their dogs Jack and Ally, who are rescues from Georgia and Alabama. Every week, Rick and Julia go to a nursing home, a school where first and second graders read to them, and the community library, and then monthly to an adult day care facility.

Rick adds that The Class of '70 had a great time in their four, sometimes five, or maybe even six years on campus, and now the group can look forward to its 50th Reunion in 2020.
Posted 2018-03-15
Paul Miller shares this memory about the RPI football finishing the season 5-4: "The final game against the Yellowjackets of the University of Rochester occurred on freshman parents' weekend, as I recall my parents watching the game. Overly excited, we tore out the goal post, and for some strange reason carried it through downtown Troy, about 4:30. A Troy cop stopped traffic. We returned up to the '86 Field, joyful, as our parents figured it was time to head home in their cars. At least we had spirit, and for once in 17 years, a winning season."
Posted 2018-03-15
Howard Matis writes: "My RPI education just paid off. Two papers that I co-authored were cited by the Nobel Prize for Chemistry as important background research that led to this year's Nobel Prize—The Development of Cryo-Electron Microscopy."

Howard, a physicist at the Lawrence Berkeley National Laboratory, is president of the Contemporary Physics Education Project (CPEP), and both Howard and the CPEP received the 2017 Excellence in Physics Education Award from APS Physics "for leadership in providing educational materials on contemporary physics topics to students for over 25 years."
Posted 2018-03-15
Kenton Lee, who writes that he will always consider himself as part of the Class of '70 even though he was on the five-year ZBT program, went back and did a bit of digging through some Polys and found that the following acts had performed at the Field House through the years:  Simon & Garfunkel, Peter, Paul and Mary, The Association and The Young Rascals (same blanket concert), Sammy Davis Jr., Mitch Ryder (but no mention of the Detroit Wheels), The McCoys (of "Hang On Sloopy" fame), The Lovin' Spoonful, Woody Allen, The Doors, the New Christy Minstrels, Frankie Valli and the Four Seasons, Al Hirt, Tom Paxton, Jay and the Americans, Flip Wilson, Iron Butterfly, B.B. King, Sonny & Cher, Bill Cosby and Roberta Flack, and Santana. In addition to that impressive list, Jamie Martinez also remembers Little Anthony and the Imperials performing at the Field House; Paul Miller added Gary U.S. Bonds, The Fifth Dimension, The Association, and Alan King.

Kenton also remembered Jimi Hendrix appearing at the Troy Armory; classmate John Granito shared photos from Hendrix's show, and Rick Hartt, who observed that was a concert that they all should have gone to, said that he particularly envied Wayne Coleman, who was in the fifth row.

In a more personal summary of what he's been up to after leaving Rensselaer, Kenton says that, after being with the NYS Dept. of Public Service, American Electric Power, an independent consultant in the U.S., and even several months in Pakistan, and with several auto dealers, he finds that retirement and grandchildren are the best rewards.

Kenton keeps busy with USA Hockey as a referee and coaching clinic instructor, and has officiated on-ice for almost 25 years, from 6-to-7-year-old children through high school JV and varsity and all levels of adult hockey (many of whom act like 6-to-7-year-olds). Instead of paying to go to a gym to exercise, Kenton gets paid to stay fit; he's done over 250 games over the past 12 months alone!

For 2018, Kenton is looking forward to celebrating 45 years of marriage to his wife, Joyce, who just retired, and spending more time with their five grandchildren. Ken adds that he also tries to keep in touch with Sue Alten, former roommate Wayne Coleman, and Carolyn Chin '69.
Posted 2018-03-15
Stephen Valentine has created a Facebook page, RPI Class of 1970. There are now 50 members, but other class members are welcome to submit even more great photos and stories as reminders of the Class' illustrious past!
Posted 2018-03-15