1971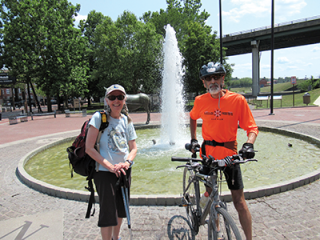 Seth Bergmann completed a 150-mile bike ride, over three days last summer, from Pittsburgh, Pennsylvania, to Cumberland, Maryland, on the Great Allegheny Passage (GAP) bike trail.
Posted 2023-02-27
Arnie Gundersen, M.S. '72, is chief engineer for Fairewinds Energy Education and just had his third peer-reviewed paper in the last three years published. The first two concern the spread of radiation near Fukushima. This latest journal article concerns the spread of radiation in California from the 2018 Woolsey Fire, titled Radioactive Microparticles Related to the Woolsey Fire in Simi Valley, CA published in the Journal of Environmental Radioactivity.
Posted 2023-02-27
Warren Walker joined with AXP fraternity brothers of the Class of 1971, and their spouses, to celebrate their 50th Reunion. "As brother Joe so eloquently put it, If our lives were a baseball game, we would only be in the top of the seventh inning! If you were the manager, you would be telling your guys, 'There is a lot of baseball left to play!'" The group plans to travel to Europe in 2022.
Posted 2023-02-27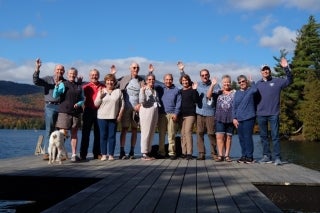 Warren Walker traveled to Lake Placid for a week with some of his AXP fraternity brothers of the Class of 1971 and their spouses. "As brother Joe so eloquently put it, 'If our lives were a baseball game, we would only be in the top of the seventh inning! If you were the manager, you would be telling your guys, "There is a lot of baseball left to play!"' Warren says. "The group plans to travel to Europe in 2022." Photo (from left to right): Rich and Joyce Barra; Ralph and Pat Rio; Charles "G" and Kathryn Reid; Joe and Marie Jesuele; Ed and Cindy Brandenburg; and Lorraine and Warren "W" Walker. Credit: Warren Walker.
Posted 2021-10-22
Rafael A. Sierra, former chief technology officer of Cynosure, which develops and manufactures medical aesthetics, rejoined the company as R&D adviser. With a career spanning more than four decades, his expertise will help fuel Cynosure's new product development engine.
Posted 2021-09-29
The Class of 1971 will be celebrating along with the Class of 1970, with their reunion being delayed a year. Larry Maver is a member of the Reunion Committee and is assembling a slide show of images from that era. If you have any digital or print images that you would like to loan or donate, contact Larry at larry.maver@gmail.com.
Posted 2021-07-16
The 50th Reunion of the Class of 1971 (in person) is being planned for Oct. 8-10, 2021. As of May 1, the Reunion Committee included 21 classmates who met the criteria for joining the committee (i.e., they agreed to try to make it back to RPI for Reunion; and they agreed to reach out to classmates they'd like to see at Reunion and encourage them to attend). You, too, are welcome to join the Reunion Committee. If you are interested in doing so, please email Mark Rice at rice@babson.edu. Reunion activities will include: All-Alumni General Reception and Dinner on Saturday evening Tour of the campus (including EMPAC) and/or the new athletic facilities Possible tailgate and football game* 1971 (and 1970) Class Dinner at the Hilton Garden Inn on Friday evening Greek, athletic, and other student organization events throughout the weekend* *Once events are finalized, they will be added to the Reunion & Homecoming website.
Posted 2021-07-16
I participated in the Hartshorne Memorial Masters Mile and finished the race with a time of 6:42.1, placing me 44th, age-graded, out of 76 competitors. — bergmann@rowan.edu
Posted 2021-02-26
Steve Nauman retired from Exelon after approximately 44 years. After RPI, he served as an engineering officer in an Air Force Civil Engineering unit and then started at Commonwealth Edison in its System Planning Department. Steve went to law school at night and after about 20 years of transmission planning and operations work, shifted to regulatory work. In addition to testifying before federal and state agencies, he represented the utility industry through testimony before several congressional committees on cybersecurity and other electric power reliability policies. He has worked with many RPI electric power engineering graduates, all of whom have provided leadership to the industry.
Posted 2021-02-26
Humanities, Arts, and Social Sciences
Seth Bergmann writes: On a sad note, Candy Kanuchok '70 wrote to tell me that Kirby Rowe passed away in August of 2017. She said that Kirby was on the RPI hockey team, 1968-71.
Posted 2020-05-19
Science
Gary Nelson '70, '71, wrote that he and Dave Ritchie organized a Track & Field and Cross Country reunion on September 27. Dave also wrote to tell me about the reunion: "Our Cross Country and Track & Field Teams Reunion, the 1965-75 teams edition (with Doc Hudson '56 and Crispin Hall '56 included!), was pretty successful, with 22 former cross country and track guys (and some spouses or partners) attending. I've heard from many of those who attended, saying they'd be happy to come back in five years, 2024, which is also the 200th anniversary of the 'Tute. And maybe include a spring home track meet in the get-together. "Some highlights and thoughts I had: Bob Peters '65 came from the farthest away — California — truly a cross-countryman! Al Alexander '69 was runner-up, probably the only time he's lost (or been entered in) this kind of competition — motoring in from Minnesota! Charlie Patton '69's visual presentation of the Puerto Rico and Laurinburg, N.C., pre-season track training trips, plus some pictures he took from various meets — with his winning commentary and various comments from the audience — was a delight! Also, nearly 15 members of the current RPI cross country men's and women's teams stopped in and talked with us — they were an engaged and engaging group of young people! Instead of concentrating on a win-loss record for the school, the cross country program is built around helping the runners become the best they can be. So that means fewer meets for each runner, with each runner having a goal for the season and identifying the meets that they will run in, and training for the ultimate meet they want to compete in. Pretty interesting, and less about running the best runners every meet, but rather saving everyone and training them for the end-of-season big contests. Another source of pride for the school is the number of All-Americans that the program fosters and the individual results that these student-athletes achieve. And yes, we heard that the two highest GPAs for RPI's athletic teams are still held by the cross country and track teams!"
Posted 2020-05-19
Engineering
Former RPI distance ace Bill Pollock writes that he did not enter the Boston Marathon last year (it would have been his eighth consecutive) due to a knee injury. He had surgery and has already qualified for the 2020 Boston Marathon. Way to go, Bill! 
Posted 2020-05-19
Seth Bergmann writes: I was not able to find former RPI distance ace Bill Pollock's name in the results of this year's Boston Marathon...we hope you are OK, Bill. On March 16, I ran the Haddonfield "Adrenaline" 5K road race, finishing in 21:54, which was 7th place in the male 65-69 age group. 
Posted 2019-10-01
Former RPI center fielder Mike Levitan was recently honored by the Oceanside (Long Island, N.Y.) Little League Association, where Mike dedicated four decades of his life as a coach. On Nov. 5, 2018, Oceanside Park Field No. 3 was renamed "Mike Levitan Field." Mike played on this field as a child and coached there from 1972 to the present day. Mike was quoted: "It's something you think about once in a while, and you never really think it's going to happen to you...It was hard to put into words." 
Posted 2019-10-01
Ken Nowack has stayed in touch with RSE brothers Mike Evanchik, Rich Junker, and Bob Mooney. Ken sent some sad news on the passing of RSE member Jean Lapointe. Here is what I have from the Ann Arbor obituary: Jean passed away Dec. 28, 2018, after a long battle with lymphoma. Jean received both his undergraduate degree and master's at RPI. He served as an officer in the Navy and then obtained his Ph.D. in organizational psychology at the University of Michigan. He had a long career in corporate organizational development, working at Merrill Lynch, Anheuser-Busch, and Chiquita. He then started his own consulting business, coaching executives in personal and professional growth. He also loved to cycle, completing two 100-mile bike rides to raise funds for the Leukemia & Lymphoma Society while in treatment for his lymphoma. 
Posted 2019-10-01
Seth Bergmann writes: I ran the Delaware Distance Classic 15K race on Oct. 7, 2018, finishing in 1:11:23, good for third place among men 65 and over. I am looking forward to my birthday in September, when I will move up to the next age group.
Posted 2019-03-10
Mark Rice, former Grand Marshal at RPI, has been named provost (and professor of entrepreneurship) of Babson College in Wellesley, Mass. Mark had previously been dean of the graduate school at Babson, and prior to that, professor, dean, and vice provost at WPI.
Posted 2019-03-10
RPI track and cross country hall of famer Bill Pollock of Hunt, N.Y., completed the 2018 Boston Marathon in 5:19:47, which was 383rd place in the M65-69 age group. The runners fought strong headwinds on a cold rainy day in Boston. Congrats, Bill! I completed the Haddonfield Adrenaline Run 5K road race on March 17 with a time of 21:34, which placed me second in the M65-69 age group.
Posted 2018-10-10
Linda Miller, founder and co-president of the Newburyport Preservation Trust, presented a session on the preservation of 18th-century houses. Linda moved to Newburyport in 1975 after completing her M.A. in architecture at MIT. Since then she has run her own firm specializing in the restoration and remodeling of older buildings.
Posted 2018-10-10
The Adirondack Almanack recently ran a front-page article on trailblazer Kathleen Suozzo: "Kathleen Suozzo's work is at the heart of one of the more difficult issues facing the Adirondacks today: upgrading aging waste-water and drinking-water treatment facilities in small communities where the cost is borne on the backs of local residents, though the heaviest usage is when tourists and seasonal residents come to visit. At stake are the lakes, rivers, and streams of the region." Kathleen is an RPI engineering grad who lives in Bolton Landing, N.Y.
Posted 2018-10-10
I received this note from Gordon Cass: "I like to remind colleagues in our age group that Facebook does have positive features. Heading from MA to FL in February and posting as I drove. My freshman RPI roommate 1967-68 contacted me to say he lives in Tampa and to stop in. We had dinner and caught up on 50 years. Great evening with Steve Gerstein." Gordon, would you believe I remember Steve Gerstein? He was a sprinter on the RPI freshman track team!
Posted 2018-10-10
Arnie Gundersen writes: "My wife of 39 years, Maggie, and I live in Burlington, Vt. She runs a nonprofit called Fairewinds Energy Education, and I am on the board. In March of 2015, I spoke at Northwestern U. in Chicago, giving a speech, 'Building New Nuclear Plants Would Make Global Warming Worse.' Forbes magazine covered the speech. The Forbes story, titled 'Did Tesla Just Kill Nuclear Power,' about my Northwestern speech had 530,000 page views! Also, I recently had an article published in the Bulletin of Atomic Scientists with a great pic of me collecting radioactive samples near Fukushima titled 'Is Solar Power Advisable in a Nuclear Disaster Zone?' I also had a peer-reviewed paper published in Science of the Total Environment about my Fukushima research on radioactively hot particles."
Posted 2018-10-10
Ralph R. (Rich) Barra, M.S. '72, shared this great memory of how he met his future wife at a Phalanx dance: "Fifty years ago, in September of 1967, I met my future wife at a dance that was "mandatory" for all freshmen to attend. It was the Phalanx Dance. RPI went to all of the surrounding schools that were predominately women (think nursing schools) and recruited 700 young ladies to be bused to the old Field House for an evening where they were matched with (as my wife describes the scene) a "pimply faced young man." All the matching was done by asking only four questions, two of which would now be illegal: "what is your race" and "what is your religion."

"My apparent date (I actually met her three years later) had a far better offer from a fraternity brother, and my wife was just too uncomfortable to come down from the stands when they called her name." "So the remaining guys and gals were paired by forming two long lines. Then it was just "you with you." I suspect I might be the only person who ever married his Phalanx Dance date, or at least stayed married since 1967." "I have been so fortunate in so many ways over the years, but meeting my bride (Joyce) was by far the best thing that ever happened in my life.I am thankful to RPI that they made sure that each of us "geeks" went out on at least one date in our college career!"
Posted 2018-03-15
Seth Bergmann ran the Delaware Distance Classic 15K race in Delaware City, Del., on October 8, 2-17, finishing in 1:09:37, earning second place among men aged 65-69.
Posted 2018-03-15