1982
Robert J. Fairchild is a senior partner at Appalachian Hydro Associates, which dedicated its new 2.64 MW hydroelectric power plant, The Matilda Hamilton Fee Hydroelectric Station at Lock and Dam 12 on the Kentucky River, on September 21, 2021. It is a run-of-river plant built in the abandoned lock chamber. It uses submersible turbinegenerators, with variable frequency drives to maximize output with changing river levels and changing head. Projects at other locks and dams are planned.
Posted 2023-03-24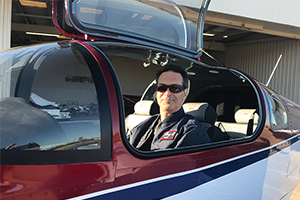 Craig Maiman spent six years building his Sling 4 aircraft, which took flight on September 30, 2020. "It took longer than I expected but was so worth it as it flies like a charm. I'll be flying to many beautiful destinations around my home base in Eastern Massachusetts and beyond."
Posted 2023-03-24
Dean Francis joined Quality Steel as vice president of strategy and corporate development. He has more than 10 years of experience in management consulting.
Posted 2021-09-29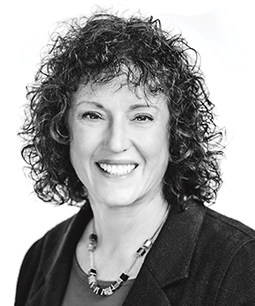 Marci Sindell joined The Permanente Federation, the leadership organization for the Permanente Medical Groups of Kaiser Permanente, as executive director of brand and marketing. Responsible for building the Permanente Medicine brand and consulting for the medical groups, she works from home in Needham, Massachusetts. Marci spent 14 years as chief marketing officer and senior vice president of external affairs at Atrius Health, a large nonprofit medical group serving greater Boston. She has joined the board of directors of the Greater Boston Food Bank.
Posted 2021-09-29
Drew Kugler was hired in a new role as vice president of innovation and product development at AES Clean Technology, a leader in the design, construction, and manufacturing of modular cleanroom systems and custom cleanroom equipment for life science and technology companies.
Posted 2021-09-29
David Haas is still living in northern New Jersey and is treasurer of the New Jersey chapter of the Rensselaer Alumni Association. He continues his second career in financial planning and started a new service called College Money Match to help families plan for the costs of education and choose a college that makes sense financially. He looks forward to connecting with other alumni at live events in the New Jersey and New York areas.
Posted 2021-09-29
Raj Gandhi was named vice president of ASIC Engineering.
Posted 2021-09-29
Steven Marsh was appointed as special IP counsel for PicPocket-Labs. He oversees all patent prosecution and is responsible for strengthening the company's IP portfolio.
Posted 2021-02-26
John Brown has been the chair of the Department of Mathematics and Information Science and Technology at Cabrini College for over 20 years. A recent student newspaper article lauded him for how his passion for teaching mathematics translates to a passion for student success.
Posted 2021-02-26
Al Fargnoli dropped a quick note that, although it hasn't been an eventful year, he now has a new job title, "senior research engineer" and that he's "...at least getting paid to do mathematics!"
Posted 2021-02-26
Darhl Ehrgott joined the Navy flight program after graduating and spent 10 years on active duty, then 10 more in the Navy Reserves. He flew the F-14 Tomcat off the USS Enterprise and was in the Top Gun program at NAS Miramar in San Diego, joined American Airlines in '92, and currently is qualified as a pilot on the Boeing 777 out of Miami. For any of his old friends at RPI who want to say hello, call (239) 821-4420. Or if you're in the Naples, Fla., area, stop in!
Posted 2021-02-26
Edward Gilchrest owned a contract product design and engineering firm in Oxford, Conn., for 14 years. Over the past few years they have added contract manufacturing to the mix, taking on manufacturing responsibility for a number of the products they have designed for clients. Clients range from small startups to Fortune 500 enterprises. www.gyre9.com.
Posted 2021-02-26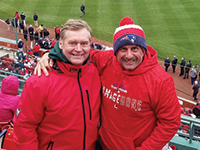 Engineering
Tom Knapp and Jamie Sarkisian got together at Opening Day celebrating the Red Sox 2018 World Series championship. Tom asserted that they look exactly the same as they did in '82, but Bob Corell is challenging that statement.
Posted 2020-05-20
Science
Al Fargnoli shared that in April 2019, he hiked Mount Tammany (N.J.). Then in May, he celebrated his 13th work anniversary with Hubbell Power Systems. In September he was awarded his first patent from the USPTO. He writes: "I am one of five inventors. It's a method of synchronized phasor measurements on an electric power distribution network because everyone needs to know the relative phase of the mains. Someday your toaster could use this!"
Posted 2020-05-20
Business
Betty Jo Licata (Ph.D., MBA '81) noted: I am celebrating my 25th year as dean of the Williamson College of Business Administration at Youngstown State University. I still reflect upon the RPI Professional Leadership Program we ran for high management potential engineering and science students. I hope those who went through the PLP all experienced great career success as tech leaders."
Posted 2020-05-20
Engineering
Brian Adler has been on the run! "I finished my 30th NYC marathon (185th marathon) and I have now run at least one marathon a year (40 consecutive years) since our junior year at RPI. I ran my very first one in Portland, Maine, while doing a co-op work assignment in October 1980. I'm still teaching physics, aerospace engineering, and digital electronics — and looking at retiring in a couple of years."
Posted 2020-05-20
Science
Rich Allen wrote: "I am approaching 30 years at the National Institute of Standards and Technology. Although I have had only one employer, it seems like I have had multiple careers, mostly in various aspects of semiconductors and MEMS. But recently I have moved to leadership of the NIST Accelerometer Calibration Service. Total career change! On more personal notes, Ruth Ann and I celebrated 35 years of marriage in October and our three children are all grown up and well-started in their careers."
Posted 2020-05-20
Engineering
Carol (Fik) Davis has been pretty busy! "I have been married for 27 years to my husband, Larry, who practices real estate law, and we have a 17-year-old son and 12-year-old daughter (started a little late!). I have been practicing occupational medicine for 21 years now and have retired from nearly 18 years at the clinic at Brookhaven National Lab. I now do per diem work at Plum Island Animal Disease Center at the employee health clinic where I ferry to work. I also am employed by a federal agency where I perform fitness for duty exams at the IRS and federal courts. Over the years I have combined engineering with medicine and have had the opportunity to do stints at the LIRR, Belmont Racetrack, Toyota, Corning, Jim Beam, and the JFK Airport. "I am in touch with my past RPI roommates, Mary, Jill, Michaela, former fellow cheerleaders Sandy and Rose (with Mary and Jill), and my friends Mary and Gary (Y'all know who you are!). Would love to hear from anyone I shared a class with or Church IV friends. My favorite memories of RPI were weekend movies at CC308, the summers I spent there on work study, or classes where I took up roller skating and did a bit of careful rolling through campus with Mary or dancing at the Rafters at Saratoga Lake. I enjoyed cheering at hockey and football games too, and enjoyed a short time in the chorus before things got too intense to stay! I'm on Facebook or my contact is cddavis@optonline.net. Best wishes!"
Posted 2020-05-20
Business
Marty Byrne recently marked his 11-year anniversary at RPI as director of business development for the Center for Future Energy Systems (CFES). According to Marty, "CFES supports NYS energy initiatives through applied research, technology transfer, education, and outreach. It is especially gratifying that our offices are in the George Low Center for Industrial Innovation building, a tribute to his vision for cooperative interface between academia, industry, and government. I take pride working at the institution that launched a 30+ year industry journey in technical sales and marketing with GE, Total, and 3M and I proudly display my RPI diploma, which carries George Low's signature. My education allowed me to raise four wonderful professionals and I look forward to retirement with my wife of 44 years, visits with grandchildren, and travel. The wonderful RPI faculty and staff are second to none and will always have a special place in my life."
Posted 2020-05-20
Engineering
Emile Anderson retired from Raytheon IDS. He's currently a MITRE senior systems engineer working for USAF FMS programs at Hanscom AFB. He is also engaged in his community through the Knights of Columbus, as a NH/VT/ME Red Cross trustee, and as an adjunct prof. at NH Community College in math/physics. Plus, he's an RPI alumni volunteer!
Posted 2020-05-20
Engineering
Bob Fairchild, vice president of Appalachian Hydro Associates, is happy to report that construction is nearly complete on their brand-new hydroelectric power plant at Kentucky River Lock and Dam 12 near Ravenna, Ky. Bob and his business partners, including David Brown Kinloch '78, are also part owners of the Mother Ann Lee Hydroelectric Station at Lock and Dam 7 on the Kentucky River, which they purchased in 2005 and refurbished from 2006 to 2009. MALHS has produced more than 10 GWh since its refurbishing.
Posted 2020-05-20
Science
Louis Kokernak has been living in Austin, Texas, for nearly 30 years, where he runs an investment advisory firm. His charitable interests include community health care, secondary education, and local parks. "Best wishes for the members of the Class of '82!"
Posted 2020-05-20
Engineering
Margaret (Mac) McMahon (Ph.D.) and her family are "...still in Maryland where I teach cybersecurity. I am missing ice hockey while my knees get sorted out. I have been lecturing about military history and genealogy, and there are links to my books and blog at https://aweekofgenealogy.com. If there are any other RPI descendants of the 51st Pioneer Infantry Regiment soldiers (formerly NYNG 10th), drop me a line."
Posted 2020-05-20
Engineering
Randy Kuldell shared that he and his Phi Kappa Theta brothers Brian Heft '80, Mike Laraia ('82, '83 M.S.), Michael Tessman, and Paul Spicer ('81, '82 MBA) all met up for three weddings of their progeny in 2019. The weddings were in Tripoli, Pa., Skytop, Pa., and Norfolk, Va. There are two more weddings on the calendar for this year. According to Randy, "...just when we all thought paying for college was over, now comes paying for weddings!"
Posted 2020-05-20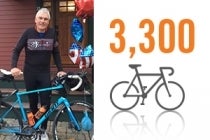 It took 50 days for Derek HasBrouck '82 to complete a 3,300-mile cross-country bicycle trip from Saratoga, Calif., to Saratoga Springs, N.Y., with stops in Saratoga Springs, Utah, and Saratoga, Wyo., along the way. The adventure, inspired by the Paul Simon song, "America," gave him a deep understanding and appreciation for people and places across the U.S.
Posted 2019-10-03
Mark Bowers writes: Please join us on Facebook at www.facebook.com/groups/RPIClassOf82.
Posted 2019-10-02
Derek HasBrouck took 50 days to complete a 3,300-mile cross-country bicycle trip from Saratoga, Calif., to Saratoga Springs, N.Y., with stops in Saratoga Springs, Utah, and Saratoga, Wyo., along the way. The adventure, inspired by the Paul Simon song, "America," gave him a deep understanding and appreciation for people and places across the U.S.
Posted 2019-10-01
Sue Baelen and Sue Mackey, who were frosh roomates in Nason Hall, offered their tale of two Sues, with Sue B. noting that "other than sharing a first name, we didn't have that much in common, but we formed a strong friendship and she even created my wedding dress when I married Phil King soon after graduation. Sue M. went on to be an engineer in Rocky Flats, Colo., and I became a tech writer for a robotics and machine vision company in Massachusetts (pretty cool gig as we greeted 1984!).

"The interesting part, though, is our choice of second careers. Phil and I moved to San Francisco and after many twists and turns I was finally able to pursue my dream of becoming a home-birth midwife. It was something I discovered when I was at RPI and knew that's what I wanted to do when I 'grew up.' I've been helping families since 2001 and there are even a couple of babies named after me (the Baelen part!).

"In a parallel universe, Sue M. left engineering and became a registered nurse, pursuing a career in hospice work. So from that single dorm room on the third floor of Nason Hall, we have someone helping souls come in and another person looking after them as they make their way out. Who would have thought?"

Sue M. adds that she's continuing her quest to visit the national parks and state capitols; this time it's Olympic, Cascades, Mt. Rainier, and Olympia.
Posted 2019-10-01
Brian Geary, M.S. '82, an attorney, has been hired as counsel for Ernstrom & Dreste LLP. Brian's legal background includes private practice and in-house corporate counsel. He spent 17 years as president and general counsel of a material supplier company.
Posted 2019-10-01
Vijay Thaker, PE, M.S. '82, joined HNTB Corp. as a project manager in the firm's New Jersey structures practice. Based in HNTB's Lawrenceville office, he leads design, delivery, technical review and construction support for the firm's highway and bridge projects with the New Jersey Department of Transportation.
Posted 2019-10-01
Rick Schuett has been hired as senior vice president of business development at MaxLite, a leading global manufacturer and marketer of energy-efficient lighting solutions. In this newly created role, he is responsible for accelerating company growth by focusing on new and under-penetrated markets.
Posted 2019-10-01
Chris Heimgartner checked in: "Since graduating I've been in the electric utility industry, first in California, then in Washington, and now in Kentucky. The industry has changed enormously since '82, and I've had a front row seat. I currently run a small municipal utility in Kentucky and we just retired our legacy coal plant and transitioned onto different energy sources. Anybody who thinks that's easy has never been to coal country. If anybody ever comes to the Henderson area, please let Chris know!
Posted 2019-10-01
Matt Gilligan started working for Raytheon as a co-op after our sophomore year and never left. Matt states that he's "...now the vice president of Navigation, Weather and Services. We do cool stuff for NOAA, NASA, FAA, and the DoD like the ground systems that fly the GPS and weather satellites, as well as a lot of the air traffic control systems that control a good portion of the air space around the world. Still happily married to Linda Murray '84 living in Topsfield, Mass. Three great kids!"
Posted 2019-10-01
Lazhar Abida, Ph.D. '82, reports that he finally retired — after teaching at (almost) all levels on three continents!
Posted 2019-10-01
Don Maynard has "half retired" from 30 years in Vermont with the same company. In that time he got PE and PG licenses in several states, and worked half the time outdoors: designing and building dams, finding and permitting public water supplies, and cleaning up hazardous waste, from town dumps and mom-and-pop underground tanks, to solvent and gas plant superfund sites. Currently he is on call for cleanups in national parks across the country, from Yosemite to New York City. He and his wife, Louise, are still married after 33 years, and live in the Florida Keys each winter, and off-grid in the Adirondacks in the summer. They have one son and one grandson.
Posted 2019-10-01
Diane Castro mentioned that there have been lots of changes in the Castro home this year. "My husband, Mark, and I have both retired and two of our daughters are engaged to be married; our oldest, Jennifer, this June and our middle daughter, Elizabeth Castro '16 (to Chris Flood '16) in 2020. Our youngest daughter, Grace, started her mechanical engineering career this year with Schneider Electric. We are above the STEM curve — three daughters — one nurse and two engineers!"

"This past summer I had mini reunions with a few Class of '82 friends. AGD sisters Marci (Sindell) Goffin and Colleen (Muscarella) Delmonte got together for lunch on a beautiful day overlooking the Narragansett Bay and then in the fall we were able to reunite with my dear friend Steve Montambault and his wife, Riva. It was great to spend time with them!"
Posted 2019-10-01
Bob Hartman shared that he and Carol Yeaton '84 "...are still married with three children. Oldest is a Ph.D. candidate at the University of Michigan in biostatistics. Middle kid is a lead test engineer for the Chick-fil-A mobile app. The youngest started last year as a full-time developer in the Amazon Web Services group. In 2008 I started my company, Agile For All. We specialize in helping organizations become more agile across the board. Everything from teams using Scrum, to executives creating truly agile organizations. Our clients run the gamut, from the 10-person startup to huge Fortune 50 companies. When I started I thought it would be a one-person business forever, but we now have 15 people! It's a bit crazy at times, but I love helping organizations understand how to use agility as not only a competitive advantage, but also for better recruiting and helping their people feel better about their work and work environment."
Posted 2019-10-01
Anne Massey is joining the Isenberg School of Management at UMass Amherst as Dean and Thomas O'Brien Endowed Chair. Anne's thrilled to be returning to the Northeast after 23 years in the Midwest!
Posted 2019-10-01
Mark Bowers writes: Neil Christie let us know that our classmate and his longtime friend Dave Didio passed away in September 2018. Dave was a Navy aviator with 10 years of active service, and later retired from the Naval Reserve with the rank of commander. He worked for 10 years in the Federal Reserve Bank of Richmond as an information technology expert. Most recently, he was a partner in a successful home improvement business. Dave was known to his large circle of friends and clients for his cheerful disposition, his kindness, sense of humor, his loyalty to friends, his love of animals, and his excellent cooking. I had the pleasure of reconnecting with Dave over a phone call a few years ago. Fair winds and following seas, shipmate.
Posted 2019-03-10
Mark Bowers writes: By the time you read this, I'll be a little over one year in as the founder and executive director of the Professional Development Consortium of Hampton Roads (pdc-hr.org). The consortium is a platform for local volunteer leaders to connect, coordinate, and collaborate on common goals and challenges. We provide low-cost/no-cost leadership education to local professional societies, civic associations, faith-based groups, and service organizations.
Posted 2019-03-10
Bob Laurita shared that "...after nearly 40 years, this is my first time writing an update for the alumni magazine. Ironically, it is just a few months before I will retire from corporate life to spend more time with my family. "Since graduation, I've spent most of my career in the electric utility industry. For the past 15 years, I've worked at ISO New England, the organization that administers the region's wholesale electricity market. I've had the opportunity to work with many dedicated people and helped the advancement of energy efficiency, renewable resources, and competitive electricity markets." Bob also noted that, "Hopefully the next chapter of my life will be as rewarding. My wife and I plan to travel, sail, ski and—most importantly—spoil our grandchildren!"
Posted 2019-03-10
Mark Weyna continues to work in the medical device space and is currently SVP of customer success and operations at United Imaging Healthcare. On the side, Mark and his wife, Nancy, are opening multiple kickboxing studios in Seattle and Tucson. His daughter is finishing grad school and will be a DVM exotic animal pathologist, and his son recently graduated and is now an exploration geologist. Mark would be happy to reconnect at mark.weyna@yahoo.com.
Posted 2019-03-10
David Dickoff, M.D., reports that he "is so proud that his son, Aaron, is an RPI freshman and an RPI Medal winner." David also noted that the dorm rooms are exactly the same!
Posted 2019-03-10
Faye Yarbrough was endorsed to serve as an International Ministries (IM) missionary in King William's Town, South Africa. She will serve through an IM partner, the Baptist Union of Southern Africa, as a teacher of math and science. Faye has held a variety of professional positions related to chemical engineering, earning numerous educational and career accomplishments and awards in the field. Her most recent role is laboratory manager with Triumph Processing Inc., in Lynwood, Calif.
Posted 2019-03-10
George Lukacs Jr. reported that "I find myself river running, swimming, cart-golfing, and deep powder snowmobiling a whole lot more than back-country skiing in Utah's Wasatch Mountains between entrepreneurial ventures these arthritic days." On a somber note: George Lukacs let us know that Ed Carey III passed away unexpectedly in February "...doing what he loved most, alpine skiing!" Also, Rob Peterson shared that Lisa, his wife of 32 years, passed away after a long battle with cancer.
Posted 2018-10-10
Gordon Davidson was hired as the executive director of the Mount Washington Community Development Corp. in Pittsburgh, Pa. His responsibilities include implementing a new strategic plan, developing new programs and plans for community needs, developing multiple funding strategies, and developing strong communications with community members and stakeholders.
Posted 2018-10-10
William "Bill" Meaney was appointed to the board of directors of State Street Corp. Bill is the president and chief executive officer of Iron Mountain Inc., a global provider of storage and information management services.
Posted 2018-10-10
Ernest Grey retired as a lieutenant colonel in the U.S. Army Air National Guard, after decades navigating C-130s to Earth's polar regions between their respective brutal winters.
Posted 2018-10-10
Stephen Mohr moved into the Applied Research group at OSIsoft. Stephen shares that his "...son Matthew finished his RPI degrees in May. By coincidence, his master's project and some of my research are in the same area of graph theory. Matthew likes to point out that he got better grades than me!"
Posted 2018-10-10
Diane (Ozovek) Howard retired in 2016 after 34 years in industry. She started at IBM as a computer engineer in Endicott, N.Y. Eventually she transferred to IBM's Federal Systems Division in 1992 and worked the remainder of her career in the defense industry with roles of increasing responsibility for IBM, Lockheed Martin, Thales, and Northrop Grumman. She retired from Northrop Grumman as VP, operations—Cyber Division. Upon retirement she made a quick retreat from the Washington, D.C., area with her husband, Don (Col. (R) U.S. Army, and also a retired Lockheed Martin executive) to Sarasota, Fla., where they are both enjoying the sunshine along with many visitors escaping the winter cold from the North! Diane continues to volunteer for RPI as chair for the Annual Fund Volunteer Leadership Council and enjoys her frequent visits to campus—"RPI is amazing!!!" Diane also stated that "...our 35th Reunion weekend was a lot of fun last fall, although sparsely attended from the Class of '82! (Our 40th will be just around the corner—hope we can get more of our class to campus!)"
Posted 2018-10-10
Lou Alongi noted that he designed a very low-tech drip irrigation system that's "user-friendly" for senior citizens. The system is very green because it uses gallons of water per hour and not per minute. Lou also casually mentioned that he was—ahem—a bit "seasoned" when he graduated and is currently 88!
Posted 2018-10-10
Don Maynard (B.S. '82, M.S. '88) is still working for the Johnson Co. in Montpelier, Vt., after 30 years. Don's work is focused primarily on cleaning up hazardous waste, these days in the National Parks (Anacostia River, D.C.; NYC landfills), and also public water supply development and dam engineering. He's married to RPI engineer Louise Beaulieu '81 and has one grandchild.
Posted 2018-10-10
Naomi Shields shared that she is "...beginning over! Amazing at almost 60! I've been in Wichita since 1994. Tremendous reputation and good friends made in residency while in the Air Force in San Antonio. My adopted parents now have some health issues, so the plan is to go back to Texas in June 2018 and join San Antonio Orthopaedic Specialists. There are a few mission trips during my transition; Costa Rica with Health Volunteers Overseas in February, then Haiti and Vietnam in May. I'm teaching a couple of Clinician Patient Communication workshops as well. Oh, and I hate moving and the boxes!"
Posted 2018-10-10
A. Curtis Pagano is the VP of quality and regulatory compliance at Delavau Pharmaceutical Partners in Philadelphia, Pa. He is expecting to retire in late 2018 and looks forward to new and exciting non-work-related things.
Posted 2018-10-10
Mark Bowers recently founded the Professional Development Consortium of Hampton Roads (Virginia)—a place for leaders of professional development organizations to connect, collaborate, and coordinate on common issues and goals. Mark been thinking about it for several years…and decided it was finally time to act!
Posted 2018-03-15
Patrice Milos (M.S. '82, Ph.D. '84) was appointed to the board of directors of MedMates, a life sciences industry network group in Rhode Island. She is the president/CEO and co-founder of Medley Genomics, which addresses the challenges of genomic heterogeneity in the diagnosis and treatment of complex diseases. Initially focused in oncology, Medley provides unique 'molecular fingerprints' of a patient's cancer enabling individualized diagnosis and optimal treatment. 
Posted 2018-03-15
Michael Angle was promoted in August 2017 to chief technology officer (CTO) of Opus. Mike was formerly president and co-founder of Alacra, a leading provider of Know Your Customer and Referential Data solutions, acquired by Opus. In his expanded role as CTO, Mike leads software development, technology operations, and data solutions globally.
Posted 2018-03-15
Rob Stone worked in NYC for the last 14 years before he and his wife, Mary Ann, moved to Chicago, where Rob is now the CIO for Jenner & Block—a large international law firm. Rob noted that "…we decided this move would give us the chance for a major lifestyle change—we left a house in the suburbs of Connecticut and now live in an apartment in Lincoln Park. It's been quite freeing to get rid of most of our 'stuff.' I also got back almost three hours a day by reducing my commute!"
Posted 2018-03-15
Guy Gabrielson III reports that his youngest son, Dane, finished his through-hike of the Appalachian Trail in the early fall...199 days, 2,190 miles! His middle son, Roy, is finishing up his master's in fine art education in Cambridge, Mass., and hopes to be teaching next fall. Guy's eldest son, Jess, is working in the tree business doing the high stuff and loves the thrills! Guy adds that he hopes to get back to RPI soon.
Posted 2018-03-15
Amy Dickison spent the summer doing a lot of sailing out of Newburyport, Mass, and Russ Paige '81 and his daughter joined Amy's family on the boat while they were passing through.
Posted 2018-03-15
Paul Agnello is a senior fellow at GlobalFoundries in Malta, N.Y., joining GlobalFoundries when it acquired the IBM Microelectronics business in 2015 (after 25 years at IBM).
Posted 2018-03-15
Chris Hanke (B.S. '82, M.S. '86) and his wife Kathy Mason reconnected with Paul Agnello (B.S. '82, Ph.D. '88) and his wife Iris Agnello in mid-2017 on a "…fabulous two-week vacation in Northern Spain (La Rioja and Basque regions), enjoying lots of great food and wine." Chris has been working for Qualcomm in Raleigh, N.C., for four years, still keeping his hands dirty designing mixed-signal/analog power management circuitry for large data-center server chips.
Posted 2018-03-15