1984
Mark Berube was diagnosed with colorectal cancer in 2011. He continued to work through 2018, supporting the U.S. Air Force at the Pentagon, while focusing on time with his family. After an intense eight-year battle, he passed away in July 2019. RPI and his fraternity, SAE, were very important to him. Mark is survived by his wife, Karen, and three children, Allie, Nicole, and Matthew. He will be missed by all who knew him.
Posted 2021-09-29
Mark Griffon is visiting assistant professor of health services at Anna Maria College in Paxton, Massachusetts.
Posted 2021-09-29
Michael Bartikoski joined Diamond Crystal Brands as chief operating officer. Prior to joining Diamond, he was vice president of frozen manufacturing and supply chain operations at Rise Baking Co.
Posted 2021-09-29
Kevin retired and we have relocated back to Carson City, Nev. Our home that was rented for eight years needs lots of TLC so "staying at home" has allowed us to make a dent in the project list.  — kupde@sbcglobal.net
Posted 2021-02-26
William Morales had to look for a new job due to the relocation of the Bureau of Land Management to the West. Fortunately, he found a job with the Department of Defense in the same line of work. Additionally, William has started posting YouTube videos. One shows you how to convert a 3-foot-tall, battery-powered Christmas nutcracker so that it uses either AC or battery. The other video shows how to convert a folding bike to electric.
Posted 2021-02-26
Todd Engelhardt '84, MBA, has been named regional director of investments at Cumberland Advisors. Todd will provide investment advice to individuals, institutions, retirement plans, and government entities throughout Southwest Florida. A Series 65 licensed adviser, Todd has more than 30 years of investment management experience.
Posted 2021-02-26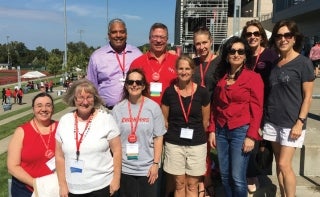 Classmates from the Class of '84, celebrating their 35th Reunion in September, met on the sunny steps of the East Campus Athletic Village. From left, are Diane Basile, Anne Prosser, Carlos Nieto, Marie Sayre Cole, Doug Bladecki, Diane Updegrove, Laura Dunn Salvati, Florence Huban Suraci, Carol Iorizzo DiTaranto, and Debbie Tozier.
Posted 2020-06-11
Engineering
Diane Updegrove writes:  First, thank you to Carlos Nieto (Class Pres), Florence Huban Suraci (Class VP), Marie Sayre Cole, Laura Dunn Salvati, and Walter Ashe for pulling together our 35th Reunion. Marie captured 19 classmates attending various activities during the weekend. It was good to hear how everyone is doing. I had wonderful conversations with several people, however, I ask that they send an "official" update to me as I don't want to report something they would rather not share with the masses!
Posted 2020-05-20
Engineering
Florence Huban Suraci (Chem.Eng.) has just crossed her 20 years at Cisco, manager of strategy and planning for Cisco's Americas Data Center Architecture. Her husband, Tom Suraci, and she remain active in community and alumni events and were happy to see everyone who was able to join or correspond to the recent 35th Reunion, as well as being at the 20-year celebration of Dr. Shirley Ann Jackson. They are proud of starting their own legacy family; son Jonathan Matla '15 (Ind.Eng. and '18 MBA & M.S. Finance) is working as a restructuring consultant at EY, and son Peter Matla '17 (IT) is working as a cloud and IT consultant at Deloitte. They enjoy living locally in Loudonville, N.Y., and spend winter in Sunny Isles Beach, Fla.
Posted 2020-05-20
Engineering
There is a motivating article in the August 7, 2019, edition of the Greenwich Times. In July, Tom Brust, an avid swimmer and biker, participated in the Greenwich Cup Triathlon for the 30th straight showing at the strenuous event. Tom moved to Greenwich after his 8th race as he liked the community. He participates in other marathons, but the "Cup" is his favorite. After leaving RPI, Tom earned a graduate degree from Columbia Business School.
Posted 2020-05-20
Engineering
Diane Updegrove writes: Since there is not much else to report, you get to hear about my life. During my trip north, I enjoyed lunch with Liz Rodriguez (B.S., BArch). Her work in the Troy area is admirable. I also was lucky enough to attend the Duracell Co. picnic at Lake Compounce as a guest of my son Alex and met up with Gary Rapp who also works for Duracell, and his wife, Kim. They are doing well and were in the process of moving their son who just graduated from RPI to his new job in NYC. Lastly, I am a second-time grandma; Baby Mae Ellis Updegrove was born in August. Our 40th Reunion will coincide with RPI's 200th anniversary, 1824-2024. I'm sure it will be an impressive event, so I thought it best to get it on your radar now.
Posted 2020-05-20
Will Morales received a promotion as the complaints manager for the Bureau of Land Management, an agency with about 9,000 employees. Will really enjoys his job and, more excitingly, his new daughter! Will remarried five years ago and his wife gave birth to a beautiful baby girl.
Posted 2019-10-01
Architecture
Elizabeth "Liz" (Syska) Rodriguez ('84 B.S., BArch) sent in this nice note: "Hello all, I have been reading the class notes for years and always thought nobody would remember me and nothing is worth writing about. After reading Diane's plea for submissions and then the One Last Thing section, which described Whitney M. Young's call to action in 1968, I was inspired to finally write. Since graduating, I have made my career as an architect at TAP Inc., a not-for-profit community design center right here in Troy. In 2019, TAP will be celebrating its 50-year anniversary: 50 years of helping our clients revive vacant buildings, helping not-for-profits to provide their services, and municipalities to improve their communities. It is very rewarding work. I have had the good fortune to marry Darren Scott '92. We have two wonderful children who bring us a lot of joy. I have worked under my mentors and friends, Joe Fama '70, G.S. Christopher '70 (deceased), and now Barb Nelson '80. I have the pleasure of working with my best friend, Laura Ryder '87, and the very funny Joel Altschul '72. TAP's formation was inspired by Whitney Young's speech. It started with the thesis project of Vince LePera '69. Many RPI architecture students, too many to name here, have come through our doors to get some real-world experience. We enjoy their youthful energy. I invite all of them to come celebrate with us as TAP turns 50. Visit us to see what TAP Inc. is up to these days."
Posted 2019-10-01
Dean Roth has spent the last year assisting the Ukrainian Curling Federation as they prepare for their first foray into international competition. He's been consulting with the UCF on starting in-country social curling programs and is the director of their high-performance curling program. He also coached the mixed doubles team in the World Mixed Doubles Curling Championships this April in Stavanger, Norway. Sounds like Dean is our resource if we want to add curling to the events at our next reunion!
Posted 2019-10-01
Karen Murdoch ('84 B.S. ChemE; '92 MBA) was awarded the Women of Innovation Award for Small Business Innovation by The Connecticut Technology Council. Karen has had an exciting career and life. After graduating from RPI, Karen worked for Air Products in Allen-town, Pa., for two years, then moved to Connecticut and worked for UTC. She moved from the fuel-cell to the space division and remained there for 18 years. She worked with the space shuttle program on the development of Sabatier, a system that takes carbon dioxide, reacts it with hydrogen, and gets the oxygen back. Karen left UTC and started her own consulting business. She also works part time for Skyre, which builds and sells products for H2, energy, and CO2 transformation markets. Added to all that, Karen lives in Somers, Conn., with her husband, Mark, and two children. There is a very nice article based on an interview with Karen in the Journal Inquirer, March 30, 2019.
Posted 2019-10-01
Science
Santa J. Tumminia ('84 M.S. '87 Ph.D Biology) was appointed deputy director of the National Eye Institute (NEI), a part of the federal government's National Institutes of Health (NIH). After earning her Ph.D., Santa joined NEI as a senior staff fellow in the Laboratory of Mechanisms of Ocular Diseases. She then spent five years with the Foundation Fighting Blindness, the largest private funding source for retinal degeneration research, where she oversaw a $12 million vision research grant portfolio. She returned to NIH and has served in numerous capacities including ongoing oversight of key NEI biomedical initiatives such as eyeGENE, a pioneering public private genomic medicine initiative that ties advances in ophthalmic disease gene identification and disease phenotype to clinical care. As a longtime mentor to NIH staff in administrative, scientific, and clinical careers, Santa was honored with an NIG Director's Award for mentorship in 2018.
Posted 2019-10-01
Engineering
Katherine Dewkett, PE (M.E. CivilE), not long after having been promoted to senior associate, has been promoted to the position of associate vice president of the site/civil transportation department in Dewberry's New York City office.
Posted 2019-10-01
Diane Updegrove writes: Sean Lydon sent in an upbeat note. To celebrate their 34th reunion, a small group of alumni responded to a contest to see who had lasted the longest in their first job. The hands-down winner was Charles T. Bucci who still works for the same organization, Allegro MicroSystems, LLC, in Worcester, Mass.! (National anthem playing in the background as he is handed his award.) Chuck also is proud to announce that his oldest daughter, Danielle, is attending RPI as a member of Class of 2022 – third generation! Second place was captured by Louis Agro, who now works for Frontier Communications from Westchester County, N.Y. Lou reports he and his wife, Camille, have sent their youngest son James off to college and are now empty nesters. Mike Hurle rounded out the medalists. He and his husband, John, are busy renovating the former Stover Mansion in Bucks County, Pa., but still find time to travel in the U.S. and Europe. Not making the podium was Sean. Still a bit on the competitive side, Sean soothed his wounds just as he did after a brutal Comp Fund project, with a cold brew after it was all over. Sean works as an international trade consultant from Washington, D.C., which has kept him on the road quite a bit lately.
Posted 2019-03-10
Norma Hubele, Ph.D. '84, an automotive safety expert and educator, founded The Auto Professor, a resource that uses statistical findings to educate consumers about the safety record of cars (www.theautoprofessor.com). She created the ranking system Auto Grades, a data source for accurate information on how well cars have protected drivers in crashes. "Our fun Auto Grade search allows people to look up vehicle safety grades by not only make, model, and year, but by their age and gender! It's really exciting, groundbreaking stuff," she told Arizona Foothills Magazine. Norma is engineering professor emeritus at Arizona State University. She has studied auto crash statistics and auto safety for over 30 years, and has provided expert witness testimony in over 100 legal cases involving vehicles.
Posted 2019-03-10
Meredith (Gordon) Stevens was appointed to the board of governors for GS1 US. GS1 is an information standards organization that brings industry communities together to solve supply chain problems through the adoption and implementation of GS1 Standards. Meredith is vice president, strategy and deployment, at Johnson & Johnson Supply Chain. Meredith is also an active member of the Smithsonian Science Education Center and the RPI Supply Chain Advisory Boards.
Posted 2019-03-10
The Hanover Insurance Group announced that Kathleen S. Lane was elected to the company's board of directors. She has held senior roles at several Fortune 500 companies, most recently as executive vice president and chief information officer at TJX Companies. Kathleen earned her bachelor's degree at SUNY-Albany and her MBA and M.S. in management information systems at RPI.
Posted 2019-03-10
There are some very flattering comments about Tim McCabe in Digital Journal. Tim is "a dynamic, methodical, and self-driven individual with excellent communication skills and a proven track record of successfully building high-performing organizations." Tim is the director of sales and marketing at Auto-Guide Mobile Robots. Before this position, Tim served as VP of marketing and technical sales at American Science and Engineering Inc. Prior to that, he held the position of director of AMHS product management at Brooks Automation. Tim graduated with his mechanical engineering degree from RPI.
Posted 2019-03-10
Diane Updegrove: The opportunities available to students today are truly amazing. My son Andrew will be studying abroad this fall in Copenhagen; if we have any alumni who are living over there, let me know. Lastly, I am a grandma. Darling Hannah Anne Updegrove was born in November. Ready or not, time to move on to the next phase of life! Please send some news!
Posted 2018-10-10
I've been emailing with Gary Rapp. He has quite the RPI legacy and his son Kent, currently attending, is in Germany. Kent was selected for the Congress-Bundestag Youth Exchange for Young Professionals. The program provides 75 American and German students between the ages of 18 and 24 the opportunity to spend one year in each other's countries, studying, interning, and living with hosts on a cultural immersion program.
Posted 2018-10-10
I also enjoyed two weeks in the small town of Schlehdorf, Germany, where roommate Chrissy Krempl lives. We hiked daily in the mild spring weather thanks to the foehns (look that one up). Chrissy is changing from project manager to marketing manager for EOS GmbH, a 3D printing company. She is a great host if you get to the area.
Posted 2018-10-10
I had lunch in Berkeley, Calif., with lab partner Mark Mitchell. It was great to catch up on 34 years of "life." Mark takes exceptional pictures of birds/animals and posts them on Instagram. He still is a consultant for pharmaceutical companies in "trouble."
Posted 2018-10-10
Kevin and I had a delightful dinner and evening with Kaitlyn Lounsbury '15 who was the southern representative from the Alumni Office.
Posted 2018-10-10
Connie Hastings enjoyed Reunion & Homecoming's fun-filled weekend, and attended the campaign kickoff with her second-oldest daughter—an RPI junior/senior currently on a co-op adventure—and classmate Diane Updegrove. Turns out that Connie and Diane were the only registered '84 grads for the weekend! Connie's son, an RPI freshman, played pre-event music with other band members in the foyer of the EMPAC. "Quite a treat," Diane remarked. 

Connie's oldest daughter is also an RPI graduate (2015) who married her college sweetheart, and she now lives in Texas; Connie's husband Ed missed the Reunion, as he was home with their youngest son, who hasn't decided if RPI will be his future! Connie is busy with full-time employment and Ed with running his own business. 
Posted 2018-03-15
John Tesoro was named president and CEO, responsible for American operations, of TUV SUD—a world leader in testing, certification, inspection, and training—in October. In its announcement regarding his new position, the company had the following praise for John: "An experienced technology executive with a collaborative, deliberate, process-oriented leadership, John's previous experience includes transformative solutions selling processes, organic growth initiatives, successful acquisitions and business unit restructurings, involving strategic planning, market research, financial modeling, due diligence, divestitures, and business integration—all invaluable skills that will help keep TUV SUD America on its continued course of development and growth, and most importantly to be the solutions provider of choice for clients." John resides in the Boston area with his family, and will be based out of the company's Peabody headquarters.
Posted 2018-03-15
Nambirajan Seshadri, M.S. '84, Ph.D. '86, former chief technology officer, Broadcom Corp. and NAE member, received the 2018 IEEE Alexander Graham Bell Medal, the highest honor conferred by the IEEE in the field of communications and networking.
Posted 2018-03-15
Tobi Saulnier had a nice write-up in the Albany Times Union last summer. Tobi, who founded 1st Playable because she wanted to create games with a social purpose, earned her bachelor's, master's, and doctorate at RPI and used the RPI incubator to help start her business in 2005. At that time, only 11 percent of the game-development community was women. Now the number has grown to 22 percent; however, the changing industry has brought new challenges and opportunities. According to Tobi, anyone can produce a game; the challenge is making something people will pay for from a professional. Tobi has focused on educational games, building partnerships with organizations like The Environmental Law Institute, and maintains the principles she started with—putting people first, getting outside whenever possible, and having fun wherever possible. 1st Playable now resides in a former ballroom at Troy's Market Block.
Posted 2018-03-15