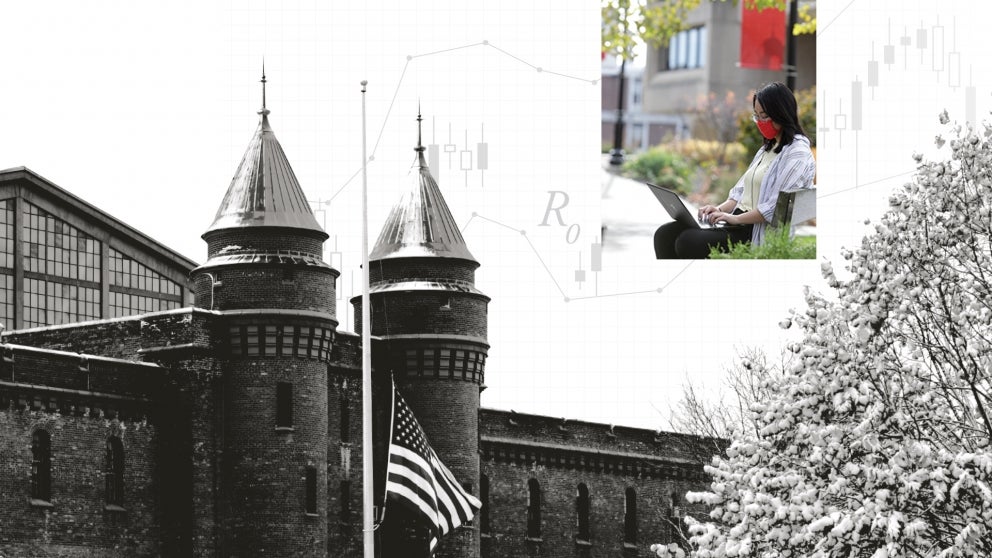 Strategizing with Science
How Rensselaer reimagined the campus experience during a pandemic.
By Tracey Leibach
As colleges and universities across the country reopened last fall, many quickly experienced COVID-19 outbreaks, and had to shift to remote learning. Meanwhile, at Rensselaer Polytechnic Institute, an in-person living and learning experience continued throughout the fall semester, thanks to a return-to-campus plan informed by science and technology.
By relying on its roots of scientific and technological prowess, the university developed a strategy to protect the health and safety of its community members and prevent the spread of COVID-19 on campus, as it continued to engulf the nation and the world.
"We started talking about how we were going to return last March," says Dr. Leslie Lawrence, executive director of the Student Health Center. "We asked, 'How are we going to keep everybody safe?'"
According to Dr. Lawrence, at the time, scientists were seeking to determine the "R0" (pronounced "R naught"), a mathematical term that indicates how contagious an infectious disease is. It's also referred to as the "reproduction number" because an infection reproduces itself as it is transmitted to new people. R0 calculates the number of susceptible people who a single person infects within a defined timeline.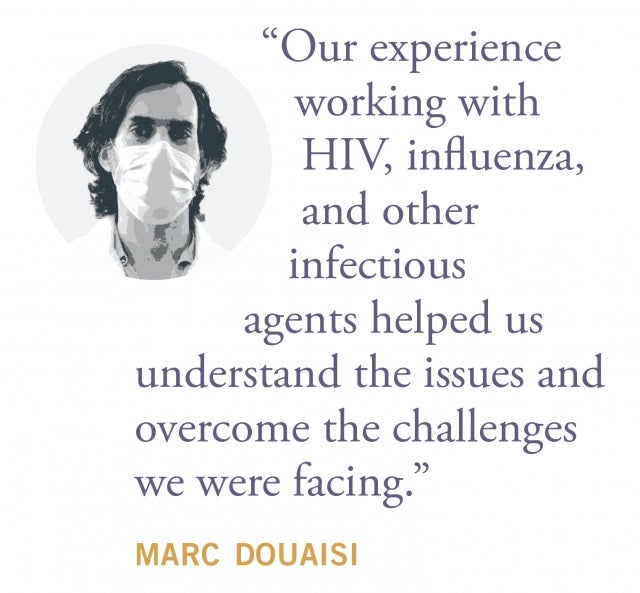 Scientists projected that COVID-19 would have an R0 of 2.5, meaning that with no precautions in place, an infected person would pass the disease on to 2.5 to 3 other people.
"Using 2.5, epidemiologists, as well as some of our own professors, created mathematical models to predict what would happen with the spread and how you could control it based on the number of tests you could apply," Dr. Lawrence says.
Malik Magdon-Ismail, professor of computer science, created several robust machine learning models, including COVID War Room, which analyzes reopening strategies, and COVID Back-to-School, an app designed to help schools reopen. It allows users to plug in a number of different circumstances — such as location, the number of people on campus, and the number of meals served — to predict how many individuals could become infected with COVID-19 over time.
Users can also see how face masks, the size and duration of classes and labs, and the frequency of testing could impact a school's infection rate. "That's the key value of COVID Back-to-School," Magdon-Ismail says. "It allows you to try out various strategies, figure out what works and what doesn't work, and then, once you settle on a strategy, it allows you to see how the disease will evolve."
COVID Back-to-School helped inform the return-to-campus plan implemented at Rensselaer last fall and is now publicly available for other schools and universities to use to quantitatively analyze their own reopening strategies.
As they sought to develop an effective return-to-campus strategy, leaders at Rensselaer also examined various models and approaches being developed around the country. A consistent theme became evident — testing members of a college population twice a week, or every three days, and critically returning results within 24 hours, would allow Rensselaer to keep the infection rate below 1%.
While the Centers for Disease Control and Prevention (CDC) recommended several methods for sample collection, including oropharyngeal (back of the throat), nasopharyngeal (back of the nostril), anterior nasal (front of the nostril), and saliva tests, Rensselaer decided on an anterior nasal swab because it is less invasive than the nasopharyngeal swab and can be self-administered, yet provides similar effectiveness in detecting the coronavirus. For the people collecting the samples, self-administered nasal swabs can also lower the risk of exposure to the virus.
When patients can administer a test themselves, without the aid of a nurse, anterior nasal swabs also allow for a greater number of tests to be conducted per day. "Our goal was to do 2,000 samples a day," Dr. Lawrence says.
Collaborating During a Crisis
The final return-to-campus plan ultimately required effort from every member of the Rensselaer community. It relied on strict social distancing, the wearing of masks, and included the Rensselaer Testing, Tracing, Tracking, Surveillance, and Quarantine and Isolation protocol (T3SQ/Ism), a comprehensive, integrated plan that requires all students, staff, and faculty who are on campus to be tested regularly.
Institute administrators spent approximately two months planning for and creating a COVID-19 testing facility, which was set up near the Houston Field House in August, and moved inside the Armory once the weather turned colder in November. "When we first started, we were only able to collect 60 specimens per day and then we slowly kept improving our process and looking for efficiencies," says Dr. Lawrence. "We now do 200 to 300 samples an hour."
With a robust plan in place, the key to its success was collaboration from Rensselaer community members. When students, faculty, and staff returned to campus in late August, they scheduled regular COVID-19 testing throughout the fall semester.
"Our students have done a fantastic job adapting to testing as part of their campus experience," says Chris Thompson, head athletic trainer. Thompson, along with the other athletic trainers and members of the Department of Athletics, works in the testing facility to guide students, faculty, and staff through each COVID-19 test. "Because of the nature of the student who attends Rensselaer, I think they genuinely understand the 'why' behind what we are doing, and that has been a large factor in the success we have had."
"Our students have scientific minds, so if you tell them why this is important, most of them take this very seriously," says Dr. Lawrence.
Looking Beyond Testing
"As we considered how to return safely to campus-based operations for the fall semester, after our pivot to remote learning in the spring, we called on a great Rensselaer strength — risk-informed planning," says President Shirley Ann Jackson.
Knowledge in data science informed the T3SQ/Ism protocol that was implemented on the Institute's campus last fall. "Combined with epidemiological modeling, it also allows a data-based approach to the tracking of community spread, so we can eliminate factors that seem to be contributing to it," says President Jackson.
While frequent testing is essential, it is only part of the equation. Contact tracing is a vital step to mitigating the spread of SARS-CoV-2, the virus that causes COVID-19, and preventing an outbreak on campus. Contact tracing is conducted for close contacts — any individual who has been within 6 feet of an infected person for a total of 15 minutes or more. Rensselaer trained 12 staff members as contact tracers, and each had to undergo privacy training. Contact tracers interview an infected person to learn who they have been in close contact with, counting back two days before they started feeling symptoms or from the date of their positive COVID-19 test, if they are asymptomatic. 
To aid in rapid and effective contact tracing, Rensselaer also developed the Daily Interactions and Activity Log (DIAL) app, which everyone on campus during the fall semester was required to fill out daily, in addition to a health and wellness check-in form.
When a residential student tests positive, they are placed in an isolation room on campus. This protocol — which requires all individuals who test positive to isolate for a minimum of 10 days — was informed by CDC and New York State guidelines, as well as faculty, students, staff, community members, and public health officials. During that time, Student Health Center medical staff and Student Life staff check on them daily. 
Students who have been in close contact with a positive case are placed in quarantine, and are tested more frequently to ensure they are not developing the illness.  
"The combination of frequent testing and the DIAL app, in tandem with contact tracing, is how it works, and why it works," Dr. Lawrence says. "If you test twice a week, you catch people early enough in the course of the disease that you can contact trace. The idea is to catch and test them early and then contact tracing can be much more effective. You can see in other universities that aren't testing nearly as frequently — the contact tracing isn't working."
Putting Technological Expertise to the Test
A major factor in the success Rensselaer had preventing an outbreak during the fall semester is the fact that the university is able to conduct its own sample testing. Jonathan Dordick, the Howard P. Isermann '42 Professor of Chemical and Biological Engineering, set up a lab along with Elena Paskaleva and Marc Douaisi, senior research scientists at the Rensselaer Heparin Applied Research Center (HARC) at the Rensselaer Technology Park, to perform RT-qPCR testing. RT-qPCR is a reverse transcriptase polymerase chain reaction that can detect the RNA from SARS-CoV-2. 
"Rensselaer was able to develop a number of tools and strategies in-house that have enabled us to maintain control over the virus and remain focused on our education and research mission," President Jackson says.
It is unusual for a university without a medical school to have such a testing capability, and it reflects the investments Rensselaer has made, over the past two decades, in the life sciences and bioengineering. Moreover, according to Dordick, "it is very rare" for a university without a Clinical Laboratory Improvement Amendments (CLIA) lab to run a molecular diagnostic testing lab.
Dordick says having the molecular biology and microbiology expertise to get something like this off the ground from a technical perspective was key. "Of course, that built upon the knowledge we've acquired over many years at the Center for Biotechnology and Interdisciplinary Studies (CBIS)."
"Our experience working with HIV, influenza, and other infectious agents helped us understand the issues and overcome the challenges we were facing," says Douaisi. 
Work began in April to convert a section of HARC into a COVID-19 testing facility. The university deliberately located the lab away from the main campus, to keep it safe in the event of a campuswide outbreak. It took approximately three months to obtain and install the necessary equipment and supplies, and to develop standard operating procedures for the diagnostic testing, which were approved by the New York State Department of Health.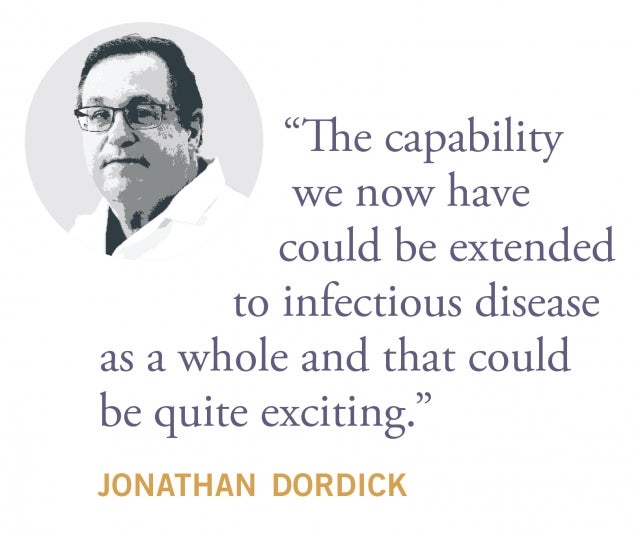 In addition to Douaisi and Paskaleva, other researchers at HARC include Ahmad Abu-Hakmeh, a postdoctoral researcher and COVID-19 testing lab manager, and Matthew Brier, a former Ph.D. student of Dordick who is now a postdoctoral researcher at HARC. A number of scientists from other labs across campus also spend time in the lab weekly, along with core directors from CBIS.
"It's a pretty significant enterprise," Dordick says. "It represents a vast combined effort of essentially all major administrative offices at Rensselaer." He credits teams from across campus who came together to order and stock the necessary equipment, set up the facility, ensure lab safety compliance, and make sure all the correct procedures were in place.
The Rensselaer scientists are doing pooled, or surveillance, PCR testing, with 10 students in one pool. On July 18, 2020, the Food and Drug Administration issued an Emergency Use Authorization (EUA) permitting entities, including universities, to do pooled testing without going through all of the steps involved in becoming a CLIA-certified laboratory. "This allowed us to get up and running quickly and surveillance test from the beginning of the semester," says Dr. Lawrence. Using pools of 10 also allowed Rensselaer to test thousands of people a day, rather than hundreds. "As long as the incidence is low, we will continue to do pooled testing so we can test all students twice a week," he says.
Currently there are two types of diagnostic tests to detect the virus — molecular tests that detect the virus' genetic material and antigen tests that detect specific proteins on the surface of the virus.
The COVID-19 RT-qPCR is a test for the qualitative detection of nucleic acid from SARS-CoV-2 in upper and lower respiratory specimens. When the COVID-19 pandemic began, RT-qPCR tests were the first to be developed and widely deployed, and remain the primary tool used for diagnosis, with exceptional sensitivity.
Antigen tests are immunoassays that detect the presence of a specific viral antigen, which implies current viral infection. Thus, antigen tests are very good for detecting symptomatic individuals; PCR tests are ideal for pre- and asymptomatic individuals as a surveillance tool.
The COVID-19 virus is an RNA virus. When the samples arrive at HARC, they are first pooled before extracting nucleic acids from the cells, and in some cases, the virus they contain. The real-time RT-qPCR is used to detect the presence of the virus. First, a reverse transcriptase transcribes RNA back into DNA, and then the PCR amplifies the DNA. During each cycle of the PCR, the quantity of the targeted piece of DNA doubles and a fluorescent signal is generated that is quantified by the PCR machine.
By detecting viral RNA, which will be present in the body before antibodies form or symptoms of the disease are present, the tests can tell whether someone has the virus very early on. The infected person can then be isolated and contact tracing can begin. 
"If you have a lot of DNA in there from the RNA that's been transcribed, you won't have to do many cycles to see the two viral RNA targets we're looking for, N1 and N2," says Dr. Lawrence. "You'll see it turn positive at the 24th or 27th cycle. You could have very little RNA from the virus; we've seen some that didn't show until the 36th or 37th round of doubling or even up to the 39th round. That tells us that someone has a very low amount of the virus. Because we're testing every third day, we've found people of cycle thresholds of 36, which means we've caught it so early they probably weren't even contagious. The goal is to catch people early before they've had a chance to spread the virus."
"We effectively catch it early, and this was really the whole point of a surveillance test," says Dordick.
Pool testing is incredibly sensitive, according to Dr. Lawrence, but it's not a diagnostic test. To be called a diagnostic test, you have to have the PCR test protocols approved and a pathologist as lab director. 
If a pool turns positive, the 10 students in that pool are called to the Student Health Center to do antigen testing, which is point-of-care testing. Antigen testing looks for the spiked proteins on the coronavirus. "Once confirmed by the antigen, then we can make the diagnosis," says Dr. Lawrence.
Because the pooled testing is not a diagnostic test, Rensselaer partnered with the Broad Institute, a biological and genomic research center in Cambridge, Massachusetts, early last fall. Once a week, Rensselaer sends Broad the day's samples to conduct diagnostic PCR tests. They tested approximately 19,000 samples in total during the fall semester. 
"We wanted to make sure we had at least one CLIA-certified lab that could do individual diagnostic tests," says Dr. Lawrence. "Also, when we contracted with Broad, we did not know how well our lab would be able to handle thousands of tests, so we wanted to have backup."
In November, however, Rensselaer partnered with St. Peter's Health Partners to establish a CLIA overflow lab at Rensselaer under the St. Peter's license, and approved by the New York Department of Health. The partnership will allow Rensselaer to use its tests as diagnostic tests for public health reporting and offer tests to local universities and business partners.
Remaining Resilient
"As a result of this painstaking plan, our laboratory resources, and the goodwill of members of the Rensselaer community, thus far, we have succeeded in minimizing the risks of our coming together to live, to learn, and to change the world," says President Jackson.  
The researchers say they have learned a lot as a result of the pandemic.
"There's a lot of information people would need to know in order to do PCR testing, that no one's ever researched. So, our people out at HARC are going to write a number of papers," says Dr. Lawrence. "For example, no one ever researched a cotton nasal swab versus a polyester flocked swab, and how much saline each absorbs. That's important to know."
"We learned a lot about the virus as a whole. From the process, we've learned a lot about how we can turn a research project into a clinical enterprise; and it's not that straightforward," says Dordick. "The capability we now have could be extended to infectious disease as a whole and that could be quite exciting."
The entire Rensselaer community came together to make the plans successful last fall. The efforts of all its community members embody the Institute's motto, "why not change the world?"
"Rensselaer has been nothing short of exemplary in its testing, going above and beyond what other universities thought may have been necessary to combat the virus," says first-year student Anthony Safford Jr., a football player majoring in business and management. 
"The one thing we've learned through this whole process is that our students, faculty, and staff realize this is important," says Dordick. "They realize this was not an easy thing to do, that a significant effort went into putting this testing facility in place, at a high cost. I don't think anybody has complained. More critically, without our students, staff, and faculty being dedicated to making this a success, we wouldn't have succeeded."