Center for Engineering and Precision Medicine Launched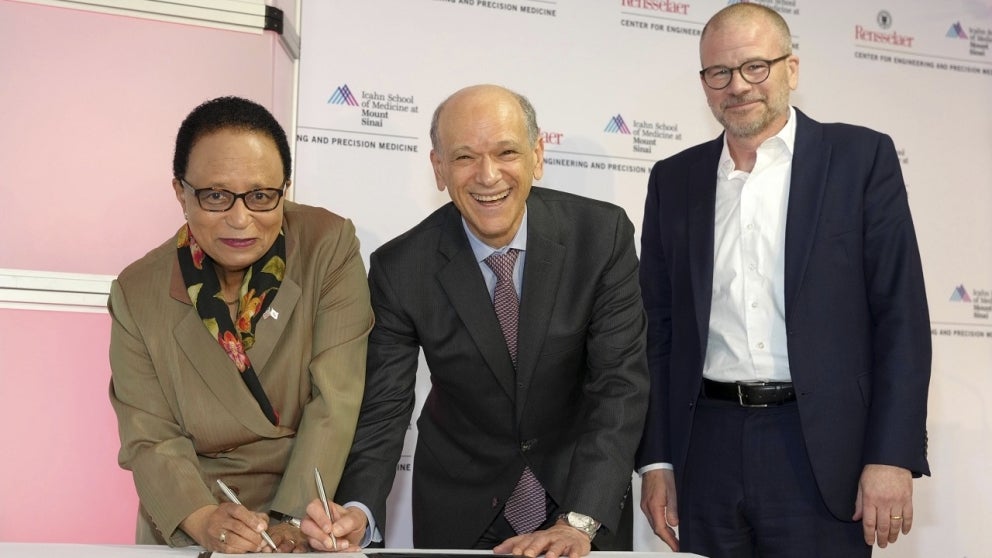 Rensselaer Polytechnic Institute and the Icahn School of Medicine at Mount Sinai have announced the creation of the Center for Engineering and Precision Medicine (CEPM), one of the first centers in the nation to bridge engineering and engineering science with medicine. This undertaking will build on shared basic research discoveries, explore unique therapeutic innovations in cancer, Alzheimer's, tissue degeneration, and infectious diseases; educate a new generation of biomedical leaders; and develop new technologies and processes that enhance patient outcomes in unprecedented ways.
The center, located in Manhattan, will drive advances in point-of-care and point-of-use devices and diagnostics; microphysiological platforms for discovery and diagnosis; robotic surgery; biomedical imaging; therapeutics biomanufacturing; and artificial intelligence and machine learning applied to biomedical data.
CEPM will develop a five-year joint Ph.D. in engineering and precision medicine that will equip a new generation of researchers with the fundamental biological sciences, data analytics, and engineering knowledge and skills to pursue breakthroughs in medical science. The development of master's degrees and certificate programs will broaden CEPM's academic mission and facilitate research that spans all aspects of disease mechanisms, data, and technologies from molecular to human dimensions. These programs include a joint Ph.D. in engineering and precision medicine, a Ph.D. in the School of Engineering or School of Science at Rensselaer with a concentration in engineering and precision medicine, and a Ph.D. with a combined master's degree or certificate in entrepreneurship.
 "Innovative research is a foundation of Rensselaer," says President Shirley Ann Jackson. "This new center will continue to fuel medical and scientific discoveries with life-changing impacts across the globe."