SCHOLARSHIP
Gala and Performance at Carnegie Hall Celebrate Scholarship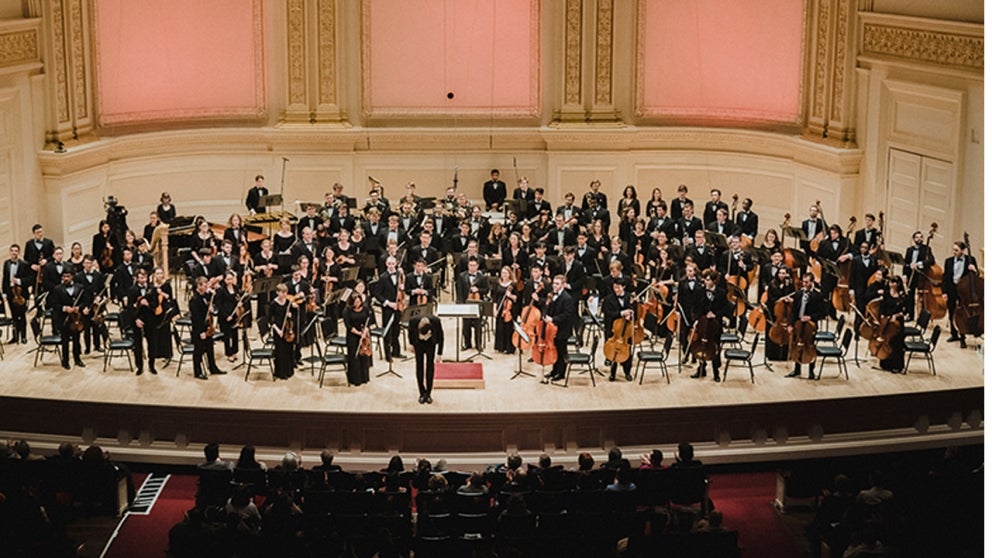 "Many of those performing are future engineers, scientists, architects, and entrepreneurs... Our students gracefully cross the divide between the arts and sciences."
— Mary Simoni
History was made in New York City at the Rensselaer Scholarship Gala and debut performance of the Rensselaer Orchestra at Carnegie Hall last October. The evening's events highlighted student scholarship, honored distinguished leaders, and encouraged visionary philanthropy at Rensselaer.
A highlight of the evening was the historic performance at Carnegie Hall from the 80 students, alumni, and alumnae of the Rensselaer Orchestra, led by Maestro Nicholas DeMaison. The performance was a celebration of the recent launch of the new Bachelor of Science in Music degree.
"The Rensselaer Orchestra performance is a concrete example of how we are implementing our vision for Rensselaer as The New Polytechnic," says President Shirley Ann Jackson. "This vision is inherent in everything we do — it establishes Rensselaer as a vital crossroads for student, faculty, and alumni and alumnae collaborations across disciplines, sectors, geographies, and generations."
"Our students were tremendously excited to have the opportunity to perform in such a world-class, iconic venue," says Mary Simoni, dean of the School of Humanities, Arts, and Social Sciences. "And, many of those performing are future engineers, scientists, architects, and entrepreneurs. They are drawn to the orchestra because music is an essential part of who they are. Our students gracefully cross the divide between the arts and sciences."
At the Scholarship Gala prior to the performance, Helen-Jo Kelly and Rensselaer Trustee John E. Kelly III '78G, '80 Ph.D.; Gail Kodosky and Rensselaer Trustee Jeffrey L. Kodosky '70; and the Boeing Company were honored with Presidential Lifetime Achievement Awards for their extraordinary service, philanthropy, and partnerships, which enable Rensselaer to continue being transformative in its third century. Several foundations and individuals also were recognized for their exceptional student scholarship, faculty, and research support.
Underwriting was provided by IBM and supported by major corporate sponsors United Airlines, The Boeing Company, and Sodexo.