PRESIDENT'S VIEW • SHIRLEY ANN JACKSON, PH.D.
The Future of Flight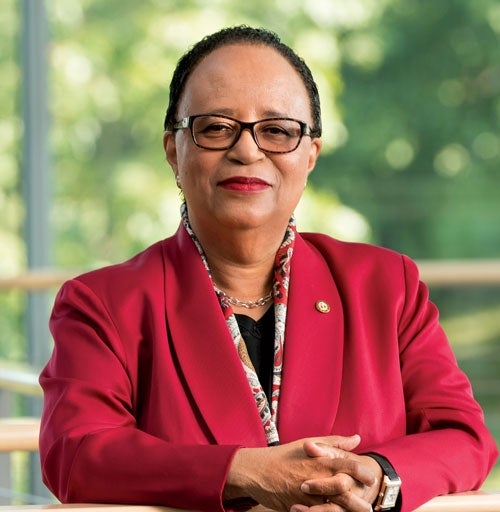 Rensselaer launches new center to advance vertical lift technologies
Last October, I was pleased to welcome alumni and guests at the formal opening of the Center for Mobility with Vertical Lift, or MOVE, in the School of Engineering. At Rensselaer Polytechnic Institute, we believe in taking on the very hardest of problems — the "grand challenges." We also believe that to make headway against them, we must work alongside talented partners in government and industry.
The longstanding excellence of the education offered by our Department of Mechanical, Aerospace, and Nuclear Engineering is readily apparent, when one considers the degree to which Rensselaer graduates dominate the field of vertical flight.
In the last 25 years, three of our alumni have won the Dr. Alexander Klemin Award "for notable achievement in advancing the field of vertical flight aeronautics," the highest honor bestowed by the Vertical Flight Society. They include Kenneth Rosen '65, '70, whose expertise in a wide range of aero-thermodynamic topics has been incorporated in the systems for many helicopters, including the UH-60 Black Hawk.
Steve Weiner '78 is another Klemin honoree, and chief engineer of the JMR-Defiant and the X2 Technology Demonstrator. Our third Klemin honoree, Frank Harris '56, was chief engineer of the Bell OH-58D Scout Helicopter, one of the most successful Army Aviation procurement programs.
With MOVE, we are embracing the spirit to not only anticipate the future, but race forward to meet, and to shape, it."

— PRESIDENT SHIRLEY ANN JACKSON
Rensselaer graduates have been connecting people and communities since our founding. They have designed and developed canals, bridges, the transcontinental railroad, ships, aircraft, and vehicles for space exploration, as well as many foundational technologies in the digital realm — offering a previously unprecedented mobility to people, goods, and ideas — powering our economy and undergirding our military strength.
With MOVE, we are embracing the spirit to not only anticipate the future, but race forward to meet, and to shape, it. Together, all of us can envision the opportunities: The "future of Vertical Lift platforms" is one of six key modernization priorities of the United States Army.
In the private sector, with the emergent field of multi-rotor electric vertical take-off and landing (VTOL) aircraft — we are moving far beyond hobbyist drones into the realm of air shipping and air taxis. Uber and Cora are both developing air taxi networks and air taxis. And Terrafugia, under the leadership of Chris Jaran '78, is developing personal air vehicles — cars that can both drive and fly!
VTOL aircraft are going to help us to address many challenges, including national security and emergency response — which is especially important, given the increasing frequency of natural disasters.
E-VTOL aircraft, in particular, represent a new form of sustainable aviation that can help us to replace greenhouse-gas-emitting vehicles with a cleaner form of transport, as well as ease the congestion on our roads, and improve people's lives by cutting long commute times down to size.
However, to make potential revolutions in vertical lift a reality and to create larger, faster aircraft — both piloted and autonomous — with greater endurance and the ability to navigate unpredictable conditions, both on battlefields and in urban environments, many fundamental research questions await us.
We require advances in aeromechanics and aerodynamics, nanotechnology and advanced materials, energy storage and management, autonomy and control systems, and real-time diagnostics and decision-making.
At Rensselaer, we have a special opportunity to contribute to vertical flight the emerging technologies in artificial intelligence and machine learning, data analytics, edge computing, and immersive systems — areas in which Rensselaer is making significant investments, along with our research partner IBM.
Under the leadership of Professor Farhan Gandhi, our Rosalind and John J. Redfern Jr. '33 endowed chair in aerospace engineering, MOVE is convening faculty and students in many different disciplines, and leaders in both the private sector and government, to focus on advancing vertical lift technologies.
To end, I quote Igor Sikorsky, the great pioneer of vertical lift: "According to the laws of aerodynamics," Sikorsky said, "the bumblebee cannot fly. But the bumblebee does not know the laws of aerodynamics, so it goes ahead and flies."
At Rensselaer, we do know the laws of aerodynamics, and with the advent of the Rensselaer Center for Mobility with Vertical Lift, we bring together many bumblebees among our faculty, students, and partners who will invent new ways to fly — and to change the world.