ARCHITECTURE
Student Designs Take Top Honors in Argentina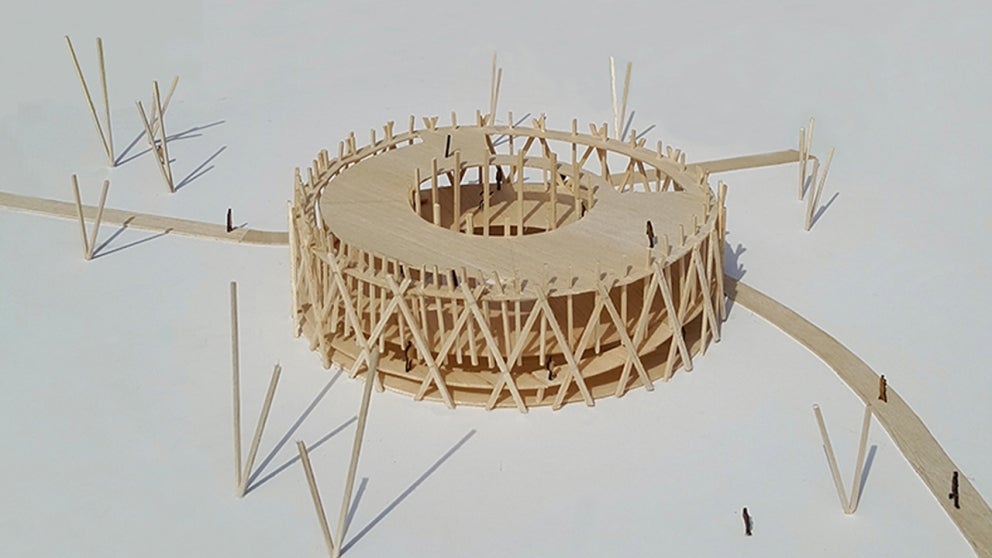 Rensselaer students taking part in a study abroad semester in Latin America were named winners in a juried design competition in Argentina, earning first prize and three honorable mentions. In addition to taking first prize, the winning design team — which includes Rensselaer architecture student Ria Kelsick — will now proceed with the design and development of their proposal.
The competition, organized by the Universidad Nacional de Cordoba (UNC) and the Municipality of Cordoba City, sought designs for an environmental interpretation center for the San Martin Natural Urban Preserve.
"We take great pride in offering our students a variety of cultural immersion opportunities, so they can appreciate and draw upon the profound value of our multicultural planet," says Evan Douglis, dean of architecture. "Our Latin American program, in particular, represents an extraordinary opportunity for the students to see up close a unique and important architectural legacy that is quite different from their own."
The Rensselaer students were taking part in a four-month study abroad semester led by Gustavo Crembil, associate professor of architecture. They worked in joint teams with students from the Universidad Nacional de Cordoba for the design competition, their first architecture studio exercise of the semester.
"The project is well and clearly defined," the competition jurors wrote. "The use of wood and structural elements as 'pattern' collaborate with a very interesting and attractive image. From an environmental perspective, it has a low impact on the natural context with a form that allows lower energy expenditures and low reflectance materials that are appropriate for the dynamics of plants and animals of the natural preserve."