COMPUTER SCIENCE
Students Win World's Biggest Student-Led Cybersecurity Competition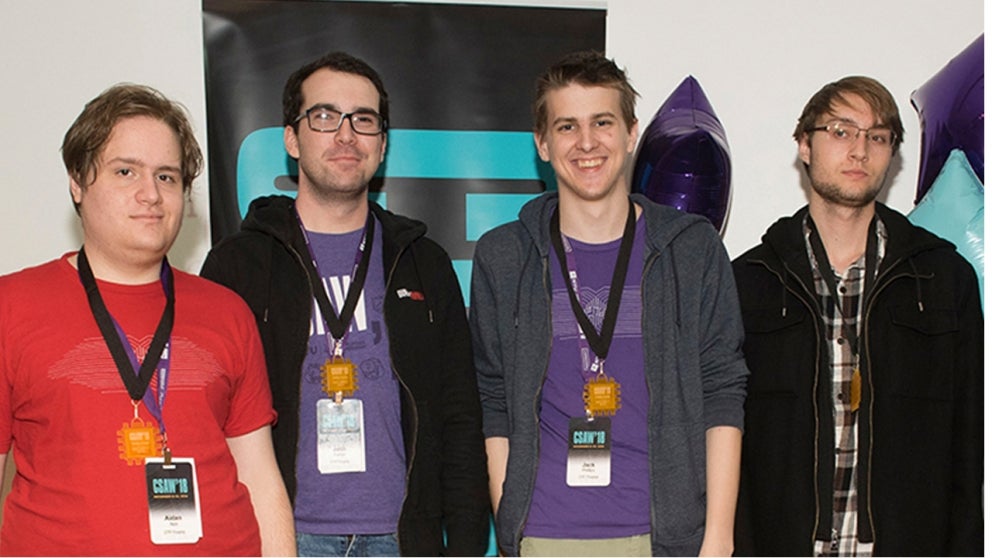 A team of four computer science students from Rensselaer once again took home top honors at the 15th anniversary edition of Cyber Security Awareness Week (CSAW), the world's largest student-run cybersecurity event. The event was hosted by the New York University Tandon School of Engineering.
For the second year in a row, students from the Rensselaer computer security club RPISEC took first place in the week's main event, a notoriously difficult "Capture the Flag" competition that tests the hacking and protecting skills of undergraduate teams. The RPISEC team also came in third place in the Security Quiz Bowl, a fast-paced competition covering technology, current events, and history.
"I am very proud of the Rensselaer computer science students in cybersecurity (RPISEC), who once again came out on top of the extremely competitive CSAW contest," says Curt Breneman, dean of science. "Given the large number of competing teams and the difficulty of the tasks involved, this accomplishment illustrates the incredible level of skill that the RPISEC team members were able to apply to master these challenges. Their futures will be very bright."
Two team members — Jack Dates and Josh Ferrell — returned from last year's winning team. They were joined by Aidan Noll and Jack Phillips. To earn their spot in the final rounds of the competitions, this year's contestants beat out nearly 20,000 competitors worldwide.
An RPI team also won a side contest put on by Red Balloon Security in which CSAW participants were challenged to hack a real ATM machine and make it dispense nearly $2,000 in small bills. Red Balloon uses similar tests to evaluate job applicants.
NYU welcomed 130 student finalists in seven separate competitions, and another 267 competed in the final rounds hosted by schools in France, India, Israel, and Mexico.
Students participated in a career fair and networking events designed to introduce them to mentors and peers who can form strong networks for their later careers. Industry experts and judges were able to engage in professional development opportunities via the Frontiers of Cyber Security Workshop, which focused on security analytics and secure deployment of machine learning.