ENGINEERING
Virtual and Augmented Reality Experimentation Lab Opens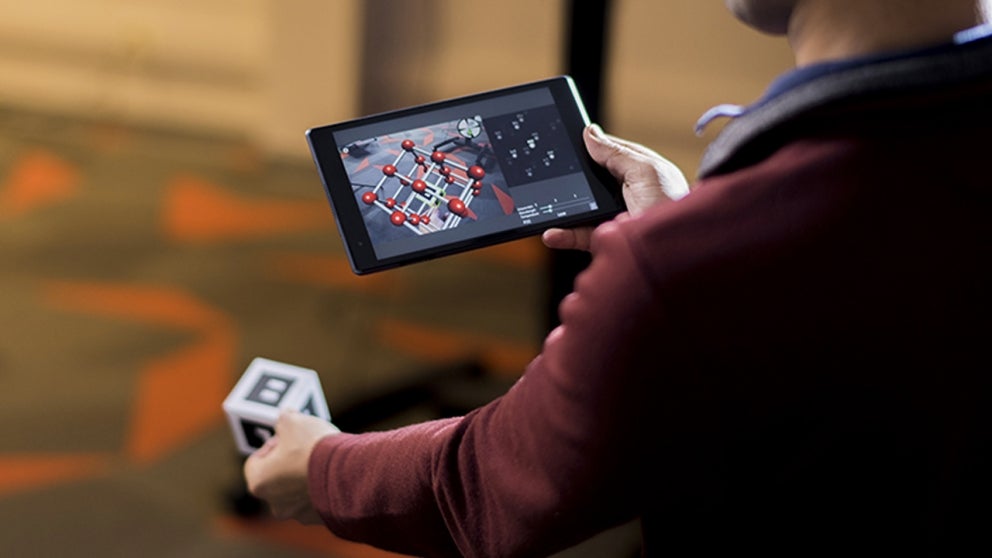 "The RAVE presents unprecedented opportunities for how we study and incorporate this technology at Rensselaer."

— Rich Radke
On the second floor of the J. Erik Jonsson Engineering Center in the heart of the Rensselaer campus, a room has been created that — not unlike Hogwarts' Room of Requirement — has the potential to be almost anything. Students who enter could find themselves standing on the wing of an airplane, managing a failing nuclear reactor, or designing the crystalline structure of a molecule.
It is called the Rensselaer Augmented and Virtual Environment (RAVE), a new laboratory for researchers and students to experiment with different uses of virtual and augmented reality. The former immerses users in a computer-generated environment, while the latter adds a layer of computer-generated enhancements to the real world.
"Virtual and augmented reality can be used to perform experiments and provide learning experiences that were previously impossible due to scale, cost, or safety," says Rich Radke, co-director of the RAVE and a professor of electrical, computer, and systems engineering. "The RAVE presents unprecedented opportunities for how we study and incorporate this technology at Rensselaer."
With state-of-the-art equipment and an extremely flexible physical space, the RAVE can be configured and adjusted according to the needs of whoever is using it.
A materials science and engineering class might gather around large molecular structures visible to them only through smartphones and tablets. A researcher wearing a virtual reality headset might explore a distant celestial object and be able to move around it as if she were actually there. Radke and co-director Jason Hicken, an associate professor of mechanical, aerospace, and nuclear engineering, hope that Rensselaer faculty members and students make use of the lab to explore new ways in which these technologies can enhance their work.
After its ribbon-cutting in November, the RAVE began its first full semester in operation in January, supporting several undergraduate research projects related to engineering pedagogy, and being written into several faculty research proposals.
"We are only beginning to discover the RAVE's potential," Hicken says.