1983
Chris Root, chief operating officer at Vermont Electric Power Company, received the 2020 Institute of Electrical and Electronic Engineers (IEEE) Power and Energy Society (PES) Meritorious Service Award for "outstanding contributions in leadership, technical, and educational activities of the IEEE PES."
Posted 2021-09-29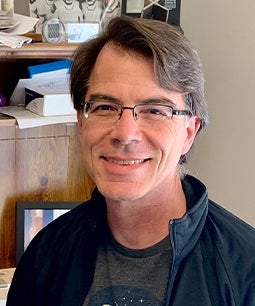 In May, Peter Homer '83 was thrilled to watch NASA astronauts Bob Behnken and Doug Hurley wearing the spacesuit he designed when they boarded SpaceX's Falcon 9 for the first manned space flight from U.S. soil since 2011.
Posted 2021-03-16
Business
The Daniels College of Business at the University of Denver has named Vivek Choudhury dean. Says Vivek: "You have the chance to interact with students, learn about their aspirations, and work with them. And if you're lucky, you have an opportunity to make a difference in some lives." Since the days of earning his MBA at Rensselaer, Vivek has led a distinguished career in academia with faculty positions at Florida State University and the University of Pittsburgh, followed by faculty and leadership roles at the University of Cincinnati's Carl H. Lindner School of Business, and at George Washington University's School of Business.
Posted 2020-05-20
Science
David Tannenbaum was the sole bicycling competitor in Team USA's Master Division at the 2019 Maccabi Pan American Games in Mexico City, finishing 8th in the 55-59 age group. The Games include three races: a 13-mile time trial on a Formula 1 car racetrack at 7,200-foot elevation, a 48.8-mile course that lapped around Ajusco Mountain in 45-degree temperatures at 11,772 feet, and a 51-mile mountain descent from 5,200 feet and return climb. Following RPI, David spent 13 years overseas as his wife was posted to six countries with the UN, traveling to 45 countries. Since his return to the U.S. in 2014, he has been a foreign cultures and languages teacher at Fort Huachuca near his home in Hereford, Ariz. In 2018, he medaled in every Senior Olympics event he entered, taking five gold medals at state and qualifying for nationals.
Posted 2020-05-20
Business
Dr. Geoffrey Akers, P.E., is a principal engineer at Missile Defense National Team for General Dynamics in Huntsville, Ala.
Posted 2020-05-20
Joseph Daly was appointed to the board of directors of Image Sensing Systems. He is the founder and CEO of Essig Research, an engineering services company that specializes in the design and repair of large, infrastructure related equipment.
Posted 2019-10-01
William Danko was the speaker at a Lally School event in March. The author of Richer Than a Millionaire: A Path-way to True Prosperity, he delivered the talk "The Millionaire Next Door: You're Richer When You Think."
Posted 2019-10-01
James Hardie Industries announced that Jack Truong will become the company's new CEO. Chairman Michael Hammes said, "Jack offers the ideal combination of commercial expertise, operational excellence, and leadership in order to continue to grow the business and maintain the industry-leading performance, across multiple geographies." Jack has been president of international operations at James Hardie since early 2017. Prior to that, he was president and CEO of Electrolux North America. Earlier, Jack enjoyed a successful 22-year career at 3M Company, where he held senior leadership roles throughout the U.S., Europe, and Asia-Pacific. He is the recipient of 11 U.S. patents and several international patents. And, he enjoys giving time to philanthropic causes and professional industry associations.
Posted 2019-03-10
David Gertler received the Albert Fox Demers Medal from the Rensselaer Alumni Association. This award is the second highest award that the RAA bestows and was established in 1942 to recognize substantial contributions to the welfare of the Institute by either alumni or non-alumni and to stimulate further interest in the support of Rensselaer.
Posted 2019-03-10
Materials engineer turned comedian (yes, you read that right) Eric McMahon was back in Troy this past year to perform at the Troy Savings Bank Music Hall during the New Year's Eve celebrations. Eric, now residing in central New Jersey, has been featured on ESPN and NBC. As he told the Troy Record, "It's always good to come back to Troy and see how much the area has changed. Even though I've been gone more than a few years now, I'm in the area every year at least either to perform or to ski or both. Troy also helps me find new material—it's got a never-ending supply. The city seems to have had some highs and lows, and I'm happy to see that it's currently on one of the highs."
Posted 2018-10-10
Mark Begor was named CEO at Equifax Inc. Mark spent 35 years at General Electric serving in a variety of roles leading multibillion-dollar business units of the company, including president and CEO of GE Energy Management from 2014 to 2016, president and CEO of GE Capital Real Estate from 2011 to 2014, and president and CEO of GE Capital Retail Finance (Synchrony Financial) from 2002 to 2011. Most recently, Mark was a managing director at Warburg Pincus.
Posted 2018-10-10
Wes Horbatuck, who was promoted to president of Norcom Insurance in November, has been with Norcom since 1993, where he held his position as executive vice president and manager of the Norcom Insurance team. The president/CEO of Norcom Mortgage had this to say: "Wes Horbatuck has grown Norcom Insurance into one of the best insurance agencies in Connecticut." 
Posted 2018-03-15
Business
Saul Kaplan, who is the founder and chief catalyst of the Business Innovation Factory, and recently shared his "From…To Story" for a colleague's book that contains stories of pharmacy school graduates who leveraged their education in surprising ways. Saul began with his pharmacy degree from the University of Rhode Island, although he knew he wouldn't spend his career filling prescriptions. After adding an MBA from Rensselaer, he leveraged both degrees to work in the pharmaceutical industry for Eli Lilly & Co., where he had the opportunity to work on the U.S. introduction of Prozac. Saul then became a consultant, first with Arthur D. Little and then as a senior partner at what became Accenture. After retiring from Accenture, Saul led Rhode Island's economic development agency.
Posted 2018-03-15
Business
Mark D. Lansing, now an attorney, has joined Dickinson Wright PLLC in their Washington, D.C., office, and focuses his practice on property tax and condemnation matters with respect to energy, industrial, and commercial properties. After receiving his B.S. and MBA from Rensselaer, Mark earned his J.D. from Albany Law School of Union University.
Posted 2018-03-15
Mark Mistur, dean of Kent State's College of Architecture and Environmental Design, served as the featured speaker at a recent Bowman Breakfast, a twice-yearly tradition at Kent since 1963. Mark's vision for future learning at the university included adding interdisciplinary course offerings and co-curricular initiatives and creating an innovation infrastructure to provide interdisciplinary spaces. Mark states that some challenges for higher level classes that could be explored by such learning would include algae pollutants in Lake Erie, water scarcity and conservation, issues of rapid urbanization, or wearable technology. "It is not just about STEM, or even about learning new skills and requiring more education," he explains. "This helps of course, but creating an innovation economy requires thinking outside the box and continually challenging and solving things. It requires encouraging greater creativity, ingenuity, and quickly adapting to market demand." Prior to Kent State, Mark was associate dean of Rensselaer's School of Architecture.
Posted 2018-03-15
Kevin Updegrove, former site leader at Chromalloy Tampa Castings, is the CEO for Advanced Airfoil Components, a new joint venture between Siemens and Chromalloy in Tampa, Fla. The primary scope is turbine blade and vane cast components for power generation. Kevin has been with Chromalloy for 23 years and has a proven record of success starting up new facilities and effectively managing operational excellence to achieve the highest level of manufacturing performance. Kevin and his wife, Diane '84, received the Alumni Key award at the RAA Awards Dinner in October.
Posted 2018-03-15
Dino Cerchie retired after 30 years at McDonnell Douglas/Boeing. He started back in 1983 in Long Beach at the old Douglas Aircraft Co., continued studies while working, and picked up a master's in engineering from USC. He almost finished his Ph.D. in engineering from University of Arizona, had it not been for a new product launch that demanded too much attention to finish his dissertation. Dino met his wife of almost 30 years, Pam, while in Long Beach—both having started work the same day. They have two sons, both out of college with advanced degrees and on their own. After much travel around the world working with customers on various aircraft programs, Dino and Pam in retirement now travel closer to home in their four-wheel drive EarthRoamer RV, the first trip being 100 days, 12,000 miles, 19 states, and four Canadian provinces on "the roads less traveled."
Posted 2018-03-15
Brent Williams retired after 25 years at Xerox Corp. in Rochester, N.Y. Prior to that, he worked at Charles Stark Draper Laboratory in Cambridge, Mass., for eight years. While at CSDL, he received an M.S. in mechanical engineering from MIT. Brent spent his entire career in various technical areas, including his last three years at Xerox, where he was a systems engineer working on the multifunction devices designed in collaboration between Xerox and its Japanese partner Fuji Xerox. Brent and his wife live in Penfield, N.Y. He's enjoying retirement and much of his time is occupied by either riding or repairing bicycles. In addition to volunteering with an organization in the inner city of Rochester that takes in unwanted bicycles, makes them safe and rideable, and gives them to people for free to use for transportation, Brent also works part-time in a local bike shop and repairs bikes for friends and neighbors at his home.
Posted 2018-03-15