1986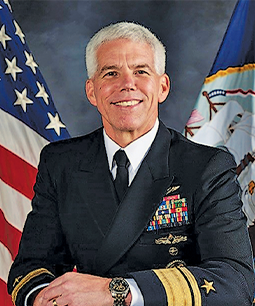 Rear Adm. Karl O. Thomas, a veteran naval officer with command experience, has been named to lead the 7th Fleet, which includes up to 70 vessels and 20,000 sailors. Nominated by the White House and confirmed by the Senate, Karl will return to Yokosuka Naval Base, Japan, to command the largest of America's overseas naval fleets. He previously served as commander of Task Force 70 and Carrier Strike Group 5, centered on the aircraft carrier USS Ronald Reagan, homeported in Yokosuka. A naval aviator, Karl began his career in the E-2C Hawkeye, a tactical early-warning aircraft, and rose up the command ranks with service as executive officer aboard the carriers USS Dwight D. Eisenhower and George Washington, and commander of a third, the USS Carl Vinson, according to his Navy biography. A Northern Virginia native, Karl earned his commission through the Naval ROTC at Rensselaer. He also holds a master's degree from the Naval Postgraduate School.
Posted 2021-09-29
Engineering
Gregory Low was promoted to director of engineering operations for SRCTec LLC. He has contributed to many SRC programs, most notably managing the SR Hawk product line and leading the Ground-Based Sense and Avoid program.
Posted 2020-05-14
Debbie (Geisler) Hren sent a note to the alumni website about a reunion of AFROTC alumni in the summer of 2016. The group included Brad Smith and his wife, Lisa, Rich and Lisa Guba, Russ and Ling Nero, Brian Jordan, and Debbie and her husband, Mark Beckmeyer. Mark Danehy '84 and his wife, Lori, also joined them. Mark retired from the Air Force/Air National Guard in 2012 after 28 years and became chief engineer at NOAA.
Posted 2019-10-10
Rich Guba met his wife, Lisa, through another AFROTC grad, Jeff Heller, while in San Antonio, Texas. Rich left the Air Force in 1992, joined the Naval Reserve in 1993, and retired in 2008. He works for the U.S. Coast Guard as an electronics engineer in support of new ship construction.
Posted 2019-10-10
Brad Smith is enjoying his recent retirement and continues to serve others by providing beer brewing software and essentials to home brewers around the world. While Brad and Lisa were engaged, Brad met Russ Nero's future wife, Ling, as she was finishing OTS at Randolph AFB and introduced her to Russ. Russ and Ling live in Fairfax and have two children. Russ retired from the Air Force in 2010 and became a systems engineer at TA SC.
Posted 2019-10-10
Engineering
Brian Jordan (CSE) is now at Aerospace Systems and not missing the commute from Burke to Ft. Meade. He and his wife, Karen, who met while attending a Red Sox game with a mutual friend, have three kids.
Posted 2019-10-10
Debbie is going on 15 years at GSA as a program manager in network services. She and Mark live in Great Falls, Va. Debbie spends her free time doing aerobics, gourmet cooking, and her most recent science project: restoring their Audubon-certified wildlife sanctuary to native plants and organic practices.
Posted 2019-10-10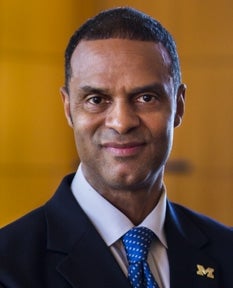 Alec Gallimore '86 has been inducted into the National Academy of Engineering, one of the highest honors bestowed in the profession. He was cited for "advanced spacecraft electric propulsion, especially Hall thruster technology."

Gallimore is the Robert J. Vlasic Dean of Engineering at the University of Michigan. Holder of two endowed professorships, he is founder and director of the Plasmadynamics and Electric Propulsion Laboratory, which is developing the plasma drive system that ultimately may propel humans to Mars. He co-founded MCubed, a real-time seed-funding program for high-risk, multidisciplinary research, which has been adopted throughout the university.

Gallimore earned his bachelor's degree in aeronautical engineering at Rensselaer, and his master's and doctoral degrees at Princeton. His primary research interests include advanced spacecraft (electric) propulsion, plasma physics and advanced plasma diagnostics, nanoparticle energetics, and the use of plasma for energy transfer and environmental remediation.

A fellow of the American Institute of Aeronautics and Astronautics, Gallimore has served on a number of advisory boards for NASA and the Department of Defense, including the U.S. Air Force Scientific Advisory Board, as well as college and university advisory boards. 
Posted 2019-10-10
Dave Chaput was not able to attend the Class' reunion, but sent an update saying that he and his wife have three children and live in Brookeville, Md. Dave left the Air Force in 1994 and is a major account manager at Cisco.
Posted 2019-10-10
Rear Admiral Karl O. Thomas (Naval ROTC) assumed command of Combined Task Force 70, the U.S. Navy's largest battle force, while aboard the aircraft carrier USS Ronald Reagan recently. This follows his tour as director, 21st Century Sailor Office for the Office of the Chief of Naval Operations in Arlington, Va. Thomas also earned an M.S. in information technology from Naval Postgraduate School in Monterey, Calif.
Posted 2019-03-10
The Burlington Ontario Junior Hockey League Cougars hired Mark Jooris, former RPI hockey star, as head coach for the 2018-19 season. This is his third stint as head coach, and he has also served as the team's general manager. Jooris was OJHL and Ontario Hockey Association Coach of the Year in 2015-16. Mark played for the Cougars prior to his NCAA career at RPI and also played professionally in Finland, Germany, Switzerland, and for the American Hockey League.
Posted 2019-03-10
Engineering
Advanced Robotics for Manufacturing in Pittsburgh named Arnie Kravitz (M.S. EE) as its new chief technology officer. Kravitz' primary responsibility is the development of technologies to make robotics more accessible in the U.S. manufacturing industry. He has previously held several C-level positions at major Fortune 50 technology companies and served as adjunct professor at Johns Hopkins University.
Posted 2019-03-10
Science
John Jacquin (M.S. Comp.Sci.) recently received the Division Leadership & Service Award from the TAPPI NET Division at the 2018 PaperCon Conference Awards. John is technical service and application development manager at Michelman, a global developer and manufacturer of environmentally friendly advanced materials for the coatings, printing and packaging, and industrial manufacturing markets. He received his B.S. in chemical engineering from Rutgers University and is currently chair of the Binders, Additives & Minerals Committee of TAPPI.
Posted 2018-10-10
Although he did not compete at RPI, Ed Neighbour (B.Arch, B.S. Bldg.Sci.) has become an avid long-distance runner. He is president of the Morris County Striders after fulfilling two terms as president of New Jersey's USATF and as division chair of the Long Distance Running Committee. He has competed in several New York City marathons, as well as Philadelphia, Rome, Madrid, Buenos Aires, and the Big Sur in California.
Posted 2018-10-10
Engineering
Dr. Alec Gallimore (B.S. Aero.Eng.) has been named to the ANSYS Board of Directors. ANSYS is the global leader in Pervasive Engineering Simulation software, enabling imaginative and innovative product design across a myriad of aerospace and consumer products. Dr. Gallimore holds several posts at the University of Michigan, including professor of aerospace engineering. He is director of the NASA-funded Michigan Space Grant Consortium, co-director of the Plasmadynamics and Electric Propulsion Lab, and has served on the U.S. Air Force Scientific Advisory Board. Alec also holds an M.S. and a Ph.D. in aerospace engineering from Princeton University.
Posted 2018-10-10
The Albany Times Union recently published an article about women entrepreneurs overcoming the hurdles of starting a business, featuring RPI grad Lynn Momrow-Zielinksi (B.S. Chem.Eng., M.S. Mgmt.Eng.), who co-founded Extreme Molding, a silicone and plastic injection molding manufacturing company in Watervliet, N.Y., in 2002. The business partners leveraged their savings to purchase their first injection molding machines. Their products range from dog collar buckles to pacifiers, following strict health and safety guidelines for multiple baby products. Sales have reached at least $5 million annually and sometimes twice that. Lynn's philosophy, "when times get tough, go bowling," has served her well.
Posted 2018-10-10
Anthony Szema, M.D., has been promoted to clinical associate professor of medicine, Division of Pulmonary and Critical Care, and Division of Allergy/Immunology, Northwell Health, and clinical associate professor of occupational medicine, epidemiology and prevention, and director of the International Center of Excellence in Deployment Health and Medical Geosciences, at the Donald and Barbara Zucker School of Medicine at Hofstra/Northwell.

Dr. Szema wrote two new books: Unusual Diseases with Common Symptoms and World Trade Center Pulmonary Diseases and Multi-Organ System Manifestations. He is CEO of RDS2 Solutions Inc. and is co-inventor of a vasoactive intestinal peptide (VIP) drug that cures pulmonary fibrosis and lung injury and pulmonary hypertension. His part-time practice is Three Village Allergy & Asthma, PLLC, South Setauket, N.Y. He is married to Denise Monte, M.D., FACS. He and his children, Allison and Austin, received their black belts in Tae Kwon Do over the summer. 
Posted 2018-03-15
Michael Wands was named head of Global Investment Strategies at Putnam Investments. He joined Putnam in 2008, having spent his career since RPI on Wall Street, most recently as head of Fixed Income N.A. for State Street Global Advisors.
Posted 2018-03-15
Arnold Abraham (B.S. Physics), with 25 years of federal service, retired as associate director of intelligence for United States Cyber Command at Fort Meade in August 2013. The next day, he started law school at the University of Maryland, where he was the oldest student in the class. Arnold graduated cum laude, passed the bar, and is now the principal attorney/founding partner of The CyberLaw Group, a 21st-century firm focused on personal privacy and data protection.
Posted 2018-03-15
Engineering
Kathleen Conley (B.S. ECSE, MBA) has been promoted to senior vice president of operations at CommerceHub. Prior to joining CommerceHub in 2014, Kathleen worked in a diverse portfolio of companies, including Capital District Physicians' Health Plan, Bank of America, Viewlocity, Factory Automation & Computer Technologies, and Computer Integrated Modular Mfg.
Posted 2018-03-15
Humanities, Arts, and Social Sciences
Peg Olsen (M.S. Urban&Env., Ph.D. Ecol. Econ.) was named director of the Adirondack Chapter of The Nature Conservancy. Peg, who most recently served as chief conservation officer at the National Audubon Society overseeing 23 state programs and 46 nature centers as well as international programs, also worked for the Conservancy from 1989-2003, holding various national and international posts and launching the Australia Program. In her new position, Peg will be protecting 585,000 acres and working on the environmental challenges of land and water protection, reducing the causes of climate change, and utilizing nature to adapt in a climate-changing world.
Posted 2018-03-15
Business
Dan Ireland (B.S. Mgmt.) recently participated in presenting an interactive webinar on career advice for entry-level engineers. Dan is senior director of content operations at IEEE GlobalSpec, where he's responsible for managing a group that maintains technical content for one of the largest engineering resource and digital media websites. Dan previously managed an IHS aerospace engineering group in the UK.
Posted 2018-03-15