1990
Michael J. Lembo, P.E., F.ASCE, patent portfolio manager of CertainTeed LLC and an engineer with more than 30 years of active practice in construction engineering and construction materials, was named a fellow by the ASCE Board of Direction. The Malvern, Pennsylvania-based CertainTeed LLC manufactures interior and exterior construction products including, roofing, siding, gypsum board, insulation, and ceilings.
Posted 2021-09-29
George Dib is serving a three-year term on the Power Transmission Representatives Association Board of Directors.
Posted 2021-09-29
Sreenivas Alampalli, Ph.D., P.E., F.SEI, F.ASCE, recently retired director of the Structure Management Bureau of the New York State Department of Transportation, was honored with the ASCE's Outstanding Projects and Leaders (OPAL) Award for career achievement in the government category for demonstrated leadership of public sector projects and programs.
Posted 2021-09-29
Betty Chan-Massey has joined KORE Power, a global energy storage provider, as the vice president of strategic development. Betty has worked in the industry for over 10 years, previously at A123 Systems and NEC Energy Solutions serving the renewable energy markets globally. She brings a new level of product integration, customer support, and perspective to the growing business and the team at KORE Power.
Posted 2021-02-26
Business
Carl Christenson (MBA), chairman and CEO of Altra Industrial Motion Corp., has been appointed to the board of directors at IDEX Corp. Altra is a leading designer and producer of electromechanical power transmission motion control products, while IDEX is a family of diverse businesses that supplies products such as BAND-IT side airbag clamps and Hurst Jaws of Life rescue tools.
Posted 2020-05-21
Business
Archana Deskus (MBA) was appointed senior vice president and CIO at Intel. She has served as CIO and senior vice president at Hewlett Packard Enterprise since fall 2017. Prior to HPE, she held CIO positions at Baker Hughes, Ingersoll Rand, Timex Group USA, and Carrier.
Posted 2020-05-21
Engineering
Carl Esposito (B.S., EE) has been appointed a senior vice president and president of the E-Systems division of Lear Corp., a leading supplier of automotive seating and electrical/electronic systems. Carl most recently served as president of the Electronic Solutions Business Unit for Honeywell Aerospace.
Posted 2020-05-21
Engineering
Amy Villeneuve (M.S., MgmtE), has been appointed to the board of directors at Humatics Corp., a pioneer in the field of microlocation navigation technology serving the autonomous vehicle and industrial automation industries. Amy was most recently a vice president at Amazon and the president and COO of Amazon Robotics (formerly Kiva Systems), providing fulfillment center automation through the use of robots and software.
Posted 2020-05-21
Engineering
Jackie Yeaney (B.S., EE) has been appointed executive vice president, marketing, for the analytics platform company Tableau Software. Jackie brings more than 20 years of marketing thought leadership experience to Tableau, including positions at Boston Consulting Group and Delta Air Lines. Jackie was the EVP of strategy and marketing at Red Hat and most recently, the chief marketing officer at Ellucian, an EdTech company for higher education.
Posted 2020-05-21
Engineering
Rob Mueller (B.S., Comp. Sys. Eng.) emailed with an update of their travels to Nashville, Colorado, and South Carolina and cute photos of the grandkids dressed up for Halloween. They spend a few months in Florida each winter in order to escape the snow as best as possible.
Posted 2020-05-21
Engineering
Rob Sherman writes: As for Dianne and me, we celebrated our son's graduation from Oklahoma State University with degrees in both aeronautical and mechanical engineering last May, then moved him to Seal Beach, Calif., in July, stopping at every air and space museum that we believe exists between El Paso and San Diego. Adam has since started his career with Boeing in Long Beach, making "the nest" seem just a bit emptier. We moved our daughter to and from Olympia, Wash., for the summer, where she interned with the USDA National Agricultural Statistics Service. We joined Abigail and her friends for a long, sunny(!) weekend in Seattle to celebrate her 21st birthday before she returned to Pullman and Washington State University. At the front end of that long weekend, we really enjoyed staying with Bob Beauchamp (B.S., MechE) and his wife, Kim, at their lovely home in Centralia, Wash., checking out their farm and wandering through the nearby farmers market. As if his work at Boeing and around the farm weren't enough, Bob has gone back to school, completely filling his Saturdays with his graduate course studies.
Posted 2020-05-21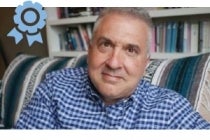 Francois Barcomb '90, a high school physics teacher in Montrose, N.Y., won the Jeopardy! teachers' championship, which aired in May, and its $100,000 grand prize. A lifelong fan, it took him 12 years of trying to finally land a spot on the show.
Posted 2019-10-03
Rob Sherman writes: "As for Dianne and me, over the winter break we took our son, Adam, out to Long Beach, Calif., to begin looking for a place for him to live after graduation from Oklahoma State University this past May. Then the three of us and daughter Abigail spent spring break in Denver, though we were never more than three at any one time owing to the kids having two different break weeks. While on spring break, in the "small world category," Dianne and I spent a lovely day up at Red Rocks Amphitheatre and she and our son visited with his good friend at Colorado School of Mines, both located in Jefferson County, Colo. Next time, we might go look up a certain county manager. Dianne and Abby visited with Bob Beauchamp (B.S. MechE) and his wife, Kim, to prepare Abby for her intern-ship over in Olympia this summer. I also got to see AJ Leale (B.S. MechE) twice — once in Jersey City during my business trip there, then again in Houston during his business trip here. It was great to catch up in person and re-live some of the moments we had captured in pictures (gosh, how young we looked). Should your travels bring you to Houston, look us up. We look forward to catching up in person, and it gives me a great excuse to visit my favorite Houston breweries!"
Posted 2019-10-01
Engineering
Mike Bunker (B.S., MechE) has been with The Boeing Company since he graduated in summer 1990. During his time at Boeing, he's managed programs in Seattle; helped start up their new facility in Charleston, S.C.; and spent the last two years running their factory in Melbourne, Australia. Mike and his wife, Gretchen, just returned to Seattle, where he's settled into the role of vice president of composites, managing the various composite factories around the globe. Mike, whose two sons are both in college in South Carolina, is looking forward to visiting RPI and his FIJI chapter as they approach their 30-year anniversary.
Posted 2019-10-01
Science
Bianca Mancinelli (B.S. Math) and husband Paul (B.S. Phys.) sent in an update to say that by the time their classmates read this, they will have three RPI graduates under their roof, as their daughter Chiara was due to graduate on May 18. Bianca also sent a reminder that this is the same day we graduated, just 29 years later (the key word there being "just"). Chiara will be attending Weill-Cornell in New York City, pursuing her Ph.D. in pharmacology. Bianca and Paul love that she'll be only 45 minutes away and are already planning lots of lunches! Their son Dante loved his first year at RPI in nuclear engineering and has won a scholarship from the NRC. Dante is minoring in music and physics and continues playing drums in the funk band. Their youngest, Lucia, is a freshman in high school and has her eyes set on Canada for college. This year, Paul will celebrate his fifth year at CIGNA as the chief data and analytics engineering officer, while Bianca continues to use her "...math degree to do local theater and write music (lol!)."
Posted 2019-10-01
Engineering
Ravi Keswani (M.E. MechE) has been appointed president of products and technology for the Freedom Financial Network (FFN), a family of companies that assists consumers with debt settlement, mortgage shopping, and personal loans. Ravi's career has included a variety of leadership positions, including in software engineering and product management, and he was most recently the chief technology officer of Ten-X.com.
Posted 2019-10-01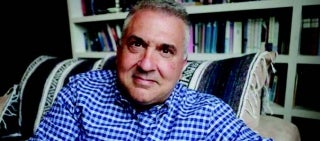 Francois Barcomb, a high school physics teacher in Montrose, N.Y., won the Jeopardy! teachers' championship, which aired in May, and its $100,000 grand prize. A lifelong fan, Barcomb tried for 12 years before finally landing a spot on the show.
Posted 2019-10-01
Business
Don Davis (B.S. Mgmt), who retired from the U.S. Marine Corps in 2017, is currently serving as the county manager of Jefferson County, Colo., the "Gateway to the Rocky Mountains." Don became the county manager following a distinguished career in the Marines, during which he rose to the rank of colonel, served in many different locations and commands, and was deployed on numerous occasions. 
Posted 2019-10-01
Rob Sherman writes:  I write this edition in early November from Pullman, Wash., where I enjoyed another Dad's Weekend, visiting with our daughter at WSU. We've kept in touch with Bob Beauchamp (B.S., Mech.E.), who in turn has been keeping in touch with our son, as he pursues employment with Boeing after graduation from Oklahoma State in May 2019.
Posted 2019-03-10
Craig Pine (B.S. Matls.E.) is living in Hoosick Falls with his wife, Denise, and their two children. Craig is the quality manager for Crystal IS in Green Island, a manufacturer of UVC LEDs founded by former RPI physics professor Leo Schowalter.
Posted 2019-03-10
After working at traditional consulting companies like Deloitte, as well as small consulting companies, Vivek Bhatia founded The Bhatia Group in 2013 to serve small to mid-tier clients in integrating project, product, and process management. He recently wrote a white paper on transitioning to Agile, titled "Overcoming difficulties integrating project and Agile product management." You can access it through his LinkedIn profile page.
Posted 2019-03-10
Engineering
Aninda DasGupta (M.S. ECSE) was named senior vice president - international, for global water technology company A. O. Smith Corp. Aninda is responsible for their businesses in Europe, India, Turkey, Vietnam, and Hong Kong, in addition to overseeing export sales and business development throughout Asia Pacific. His long career has included senior positions at OSRAM GmbH and DMC Worldwide.
Posted 2019-03-10
Engineering
Capt. Paul Spedero Jr. (B.S. Mech.E.) turned over command of the USS Dwight D. Eisenhower on Aug. 9, 2018. Over the course of his nearly three-year tour, Paul brought Ike out of dry dock and completed a seven-month deployment supporting Operation Inherent Resolve. Paul's next assignment was executive assistant to Director, Joint Staff.
Posted 2019-03-10
Rob Sherman, who's in Katy, Texas, wrote: "...last December Dianne and I enjoyed a rare touch of winter in the form of 1.5 inches of snow. We followed that up with a spring break trip to Breckenridge, where we decided to hang up the skis and join our son on the snowboard. We enjoyed having both kids home from university at various times this summer. If you find yourself in the Houston area, please be sure to let us know!"
Posted 2018-10-10
Engineering
Rob Mueller (B.S. ECSC), also a "Nifty 50" this year, has been active. After crossing skydiving off his bucket list in 2016, he and wife Sharon had a great time scuba diving during Pirates Week in Grand Cayman last fall. Rob and Sharon spend about one month each winter working remotely from Florida, and are starting to plan a Disney vacation with their three grandkids over Halloween. All that activity and his passion for hockey finally caught up to Rob this spring, when he elected to have hip replacement surgery. Not one to sit still for long, Rob was up and about in no time and dancing again only three weeks after his surgery.
Posted 2018-10-10
Science
Bianca Mancinelli (B.S. Math) shared some fantastic news, saying that their son Dante will attend RPI beginning this fall! Dante joins Bianca, Paul '90 (B.S., Phys.), and sister Chiara (May, 2019) in what is becoming an RPI family. With their youngest son entering high school this fall, the adoption of two kittens, and Paul's 50th birthday, 2018 is shaping up to be an amazing year for Bianca.
Posted 2018-10-10
Rob Sherman and Dianne are in Katy, Texas, and were fortunate to have no impact from the torrential rains brought by Hurricane Harvey; like many others across the area, they helped friends and colleagues clean up their flood-damaged homes. Lately, they have enjoyed trips to Amsterdam and Singapore, making it home in time to share in the joy of watching the Houston Astros claim their first World Series victory. Rob adds: "If you find yourself in the Houston area, please be sure to let us know!"
Posted 2018-03-15
Science
Al Gross (B.S., CompSci) wrote in from Miami to say that he and his family made it through Hurricane Irma with about a week of power outages and quite a bit of cleanup, but otherwise came through relatively easily.
Posted 2018-03-15
Engineering
Qamar Wan Noor (B.S., ChemE) was appointed the chief operating officer of the Malaysia Land Public Transport Commission, where she is responsible for transforming the passenger services and commercial goods transportation sectors, including infrastructure, within Malaysia. Qamar joins the commission following a successful career with Shell, where she served in the Middle East, Asia-Pacific, and Malaysia.
Posted 2018-03-15
Engineering
Willem Van Twembeke (M.E., NuclearEng), has been named CEO of Orazul Energy by its board of directors. Orazul, headquartered in Houston, Texas, is a privately owned, independent power producer serving markets in El Salvador, Guatemala, Ecuador, Peru, Chile, and Argentina. Willem joins Orazul following 25 years with Tractebel and various companies within the ENGIE Group.
Posted 2018-03-15
Science
Richard Taylor (M.S., Ph.D. Chem), professor of chemistry and biochemistry at the University of Notre Dame, has been named interim director of Notre Dame California, where he is responsible for further developing Notre Dame's presence on the West Coast. Rich joined Notre Dame's Department of Chemistry and Biochemistry in 1995 following completion of a postdoctoral fellowship at Stanford University. He helped found what is now the Warren Family Research Center for Drug Discovery and Development, serving as interim director, and maintains an active research program studying natural compounds for their therapeutic potential.
Posted 2018-03-15
Business
Suzanne Rosato (MBA) joined the operations group at G2, which provides telecommunications contract negotiations expertise to enterprise companies globally. Suzanne is widely regarded as an expert in the field of carrier pricing and telecom negotiations.
Posted 2018-03-15
Science
Melville "Mel" Davey III (B.S. & M.S., CompSci) began his update by saying that he was one of the original founders/creators of Ion Torrent Systems Inc., DNA sequencing technology. He later ran the software and bioinformatics groups, developing novel sequencing technology and platforms that enabled targeted cancer gene panels and software for the identification of mutations, rearrangements, and gene fusions. Mel is now working with Jonathan Rothberg '05 on a new startup, and is always looking for top programming talent with deep learning skill sets and a passion to improve the world to join his team.
Posted 2018-03-15