1991
Jason Hagopian, AIA, started his own architecture and design company, Neuvio Architects, in Fort Lauderdale, Florida, specializing in delivering built solutions to complex challenges in a variety of project sectors, including commercial, retail, hospitality, government and neuvio.com.
Posted 2023-03-24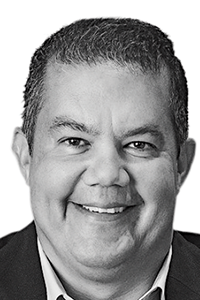 Sherif Mityas has been named operating partner of JAMCO Interests, a private equity group based in Texas specializing in hospitality and retail-related investments. A highly experienced restaurant and retail executive, Sherif has held various executive positions in consulting and the retail-restaurant industry sectors, most notably as the chief experience officer for TGI Fridays and as the chief executive officer for Hollywood Video/Movie Gallery. In 2020, he was named as one of the Top 10 Innovators in the restaurant industry by Nation's Restaurant News in their annual Power List rankings.
Posted 2023-03-24
Rafael (Ralph) Pons, is chief manufacturing officer for Trecora Resources, a leading provider of specialty hydrocarbons and specialty waxes. To his role, Rafael brings over 35 years of chemical manufacturing experience at some of the industry's leading companies.
Posted 2021-09-29
Lisa Salley was appointed to the Board of Education of the School District of Philadelphia. She has spent her career at GE, Dow, Underwriters Laboratories, and the American Petroleum Institute, and advising advanced stage start-ups.
Posted 2021-09-29
Dave Logan is chairman and vice chairman of the board of directors at Data Link Solutions (DLS). A joint venture between BAE Systems and Collins Aerospace, DLS provides Link 16 terminals and software, and logistics and support services for air, land, and sea-based platforms.
Posted 2021-09-29
Antonio Medina Comas was appointed to the Puerto Rico Oversight Board. He spent 20 years at Merck Sharp & Dohme, advancing to chief financial officer of the firm's Brazilian operations.
Posted 2021-09-29
Richard Vehlow looks forward to seeing his classmates at Reunion in October. "30 years! I have been at every milestone reunion and can tell you RPI always puts on a great celebration for alumni. Please consider attending! Looking forward to seeing you all."
Posted 2021-07-16
Engineering
Sabih Khan, M.S. '91, long-time executive at Apple, was promoted to the executive team as senior VP of operations. The operations department is the division spearheading supplier partnerships for green manufacturing.
Posted 2020-05-14
Charles Voss has been promoted to a managing land use planner at Barton & Loguidice, a Northeast and mid-Atlantic regional engineering, planning, environmental, and landscape architecture firm. He is a member of the firm's Sustainable Planning & Design Practice Area.
Posted 2019-10-01
Amy Shiley has been promoted to assistant vice president of National Fuel Gas Distribution Corp. She is responsible for the human resources and payroll departments for the regulated subsidiaries in New York and Pennsylvania. Amy, who earned her M.S. in psychology at RPI, joined the company in 1991 as a management trainee.
Posted 2019-03-10
Philip Kahrl writes: "After graduation from RPI, I went on to get an MSME from UC Davis while working on robotic solutions for highway repair for the California Department of Transportation. After UC Davis, I was commissioned in the U.S. Navy and did a tour aboard the USS Rentz (FFG-46) including a deployment that took me all over Southeast Asia. I left the Navy in 1996 and spent many years working as an IT consultant, climbing, skiing, and traveling. I eventually settled down in the Puget Sound region, where I live in a house among the trees with my wife, Andrea, our three children, and several cats. I currently work as a software engineer in the local tech industry, and can be found on LinkedIn."
Posted 2018-10-10
Business
Darold Londo, MBA '91, is the new CEO of Lac du Flambeau Business Development Corp. and has 25 years of management and CEO experience. He has a military background, having graduated from West Point prior to attending RPI, and has also attained a JD from the University of Wisconsin Law School in Madison, Wis.
Posted 2018-10-10
Joe Lanzisera rejoined Eigen X as principal/owner. In 2012, he co-founded Eigen X, a CRM, analytics, and agile technology company. Previously, Joe was president and CEO of Anexinet.
Posted 2018-10-10
Beth Sienel was appointed by the Nuclear Regulatory Commission as the new resident inspector for the Nine Mile Point nuclear power plant in Scriba, N.Y. Beth joined the NRC in 1990, and has previously been a reactor engineer in the Division of Reactor Safety and a resident inspector at the Pilgrim, Millstone, Vermont Yankee, and James Fitzpatrick stations.
Posted 2018-10-10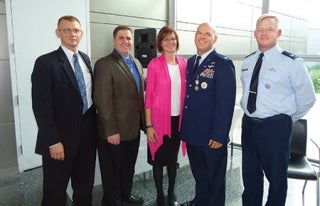 Charles Havasy was joined at his U.S. Air Force retirement ceremony in June 2017 by Rensselaer Air Force ROTC graduates John Marsh '90, Steve Mare '91, Melissa Wong '92, and Ed Bellem '89.  Charles, who now works for The MITRE Corp. in McLean, Va., writes: "I have been enjoying my time at the MITRE Corporation—I'm actually spending more time at the Pentagon now than when I was in uniform. It has been an easy transition as I am still doing defense-related projects."
Posted 2018-10-10
Humanities, Arts, and Social Sciences
Rebecca (Whittemore) Kreider writes: "I recently earned my doctorate from New Jersey City University in educational technology leadership. In 1991, I graduated from RPI with a B.S. in science & technology studies and in 2001 from Stevens Institute of Technology with an M.S. in information management. Currently I am working on a makerspace/STEM lab build-out at Mount Olive Middle School in Mount Olive, N.J."  Richard Vehlow adds this about Rebecca: "Funny story is that we discovered through our discussion that we had worked together in an EMAD CAD project sophomore year and I had photo evidence of that in my scrapbook."
Posted 2018-10-10
Richard Vehlow has been pretty busy still working as a senior HVAC engineer at New York State Office of General Services in Albany.  He and his wife Jenny are also busy with their two sons, Teddy, born in 2015, and Joshua, born September 2017. 

Richard also shared the following story: "...I ran into Charles Havasy last year at my milestone high school reunion in New York City, because his wife, Meredith, was 10 years behind me and in a different milestone class! He sent a photo from his USAF retirement ceremony last year that includes John Marsh '90, Steve Mare, Melissa Wong '92, Charles, and Ed Bellem '89. Charles now works for The MITRE Corp. in McLean, Va., conducting defense-related studies. John is working at the F-35 Program Office, Steve is working for the Northrop Grumman Corp., Melissa is at the Applied Physics Lab, and Ed is at the Defense Intelligence Agency. All live in the greater Washington, D.C., area."
Posted 2018-10-10
Laurence Burke is curator and Pucci Family Foundation Scholar, Aeronautics Department, at the National Air and Space Museum. As curator, he oversees the U.S. Naval Aviation collection of over 30 U.S. Navy and Marine Corps aircraft, covering all eras of naval aviation from a pre-WWI Curtiss N-9 trainer to the prototype for the Marine Corps' Lockheed Martin X-35B. In December, Laurence spoke about Pearl Harbor at the Freedom Museum in Manassas, Va. 
Posted 2018-03-15