1994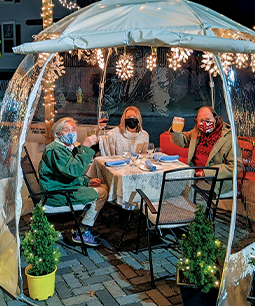 Todd Thomas, who earned a bachelor of architecture, was furloughed from hospital construction management in February 2020. He split his time between creating PPE and organizing citizens' brigade responses to the ongoing pandemic with Nation of Makers and other "maker" organizations, cofounding Ocean State Shields in Rhode Island last April. The company helps combat COVID-19 by developing applications and EPA approvals for its long-acting antimicrobial surface coatings. He also "accidentally stumbled on" an opportunity to help Rhode Island restaurants survive indoor dining restrictions by designing and producing winter outdoor dining igloos that survived multiple nor'easters with gale force winds and heavy snow without flinching. See photos: oceanstateshields.com.
Posted 2021-09-29
Paul Browning, president and chief executive officer of Mitsubishi Hitachi Power Systems (MHPS) Americas, has been appointed to an expanded role as chief regional officer of the Americas and co-chief regional officer of Europe, the Middle East, and Africa. Under his leadership, MHPS Americas has expanded into Central and South America.
Posted 2021-09-29
Ram Krishnan is executive vice president and chief operating officer (COO) of Emerson, a global technology and industrial software leader. In his COO role, Ram will oversee global supply chain operations, information technology, and mergers and acquisitions.
Posted 2021-09-29
Cory Smith has chosen to retire after a long career as an electric utility engineer. During his career, he's seen the internet come to life and the nation's electric utility industry change from a monopoly to a market-based system. He's seen computers evolve from mainframes to desktops to laptops to handheld devices. He participated in the development of the nation's first mandatory reliability requirements for the bulk electric system and was the principal planning engineer for several extremely large projects. "I like to think that my small contribution has made the world a little better."
Posted 2021-02-26
Engineering
Bob DeRosa was promoted to director, hardware engineering, at SRC Inc. He served in the U.S. Navy for six years and has worked at SRC for 15 years, most recently as senior manager, radio frequency engineering.
Posted 2020-05-14
Greg Longo, M.S. '94, joined Loureiro Engineering as an associate to the Structural, Mechanical, Electrical and Plumbing Engineering (SMEP) Division. He was previously senior project manager at BL companies.
Posted 2019-10-01
An article in the Washington Business Journal last summer featured the new pier area at The Wharf in Southwest D.C., which was designed by StudioMB, a 12-person D.C. practice co-founded in 2011 by Adam McGraw.
Posted 2019-03-10
Larry Butkovich was named vice president of operations for Precision Roll Grinders in Allentown, Pa. Prior to joining PRG, he worked for Fuji Electric Corp. of America as general manager of its Virginia Assembly Center in Roanoke.  
Posted 2019-03-10
Tiffini Eugene Jones, M.S. '94, a sustainability consultant and doctoral candidate at Prescott College, has been selected to be in a cohort of 80 female scientists participating in a yearlong global leadership building project. "Mother Nature Needs Her Daughters" is the sentiment behind the Homeward Bound 2019 Project. Based in Australia, the HB2019 program culminates in a two-week expedition to Antarctica studying climate change science with scientific innovators and leaders in the field. Tiffini is part of a global collaboration with a goal of having 1,000 women in STEM to inform and shape policy and decision-making in support of climate change issues.
Posted 2018-10-10
Edward Gumina was named president and CEO of Precision Roll Grinders, which specializes in high-tolerance regrinding and repairs for industrial cylinders used in various industries, including textiles, flooring, film, and chocolate. 
Posted 2018-10-10
Brian Williams was promoted to partner at Carl Marks Advisors, a corporate restructuring and investment banking firm. His primary focus is in the energy industry. Prior to joining Carl Marks Advisors, Brian was CFO and co-founder of Cretic Energy Services, a provider of completion services to oil and gas producers.
Posted 2018-03-15
Kelly Palmer was named director of marketing and development for the Imaginarium Science Center and the Southwest Florida Museum of History. A former advancement officer at Rensselaer, Kelly most recently was director of development at Boise State Public Radio in Boise, Idaho.
Posted 2018-03-15