1997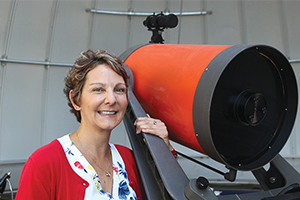 The Division for Planetary Sciences (DPS) of the American Astronomical Society has awarded the Carl Sagan Medal for excellence in public communication to Nicolle Zellner, Ph.D. '97, the Herbert H. & Grace A. Dow Trustees' Professor in the Sciences at Albion College, for her effective and wide-ranging outreach activities, reaching diverse audiences spanning more than 20 years. According to DPS, Nicolle has spoken to thousands of people around the country and has reached millions more through her written articles, television appearances, radio interviews, and more. She uses every opportunity to convey her passion and enthusiasm for space science to audiences of all ages, often bringing these topics to audiences who might otherwise not seek them out. She regularly offers public observing nights at Albion College and encourages college and community members to look up, especially during worldwide events, such as the annual International Observe the Moon Night, the 2012 Venus transit, and the 2017 Great American Solar Eclipse. Nicolle co-founded the public observing program at Rensselaer, is a member of one of the first classes of NASA's Solar System Ambassadors, and is also a member of the Astronomy in Chile Educator Ambassadors Program. Learn more about the Carl Sagan Medal: dps.aas.org/prizes/sagan.
Posted 2023-03-24
Ganesh Vedantham has been named senior vice president, technical development, at Bio-Marin Pharmaceutica lnc. Previously, he spent more than two decades at Amgen/Immunex in increasingly senior roles across the organization.
Posted 2023-03-24
Christine Ann Miller is president and chief executive officer of Melinta Therapeutics, a commercial-stage company focused on the development and commercialization of novel antibiotics. Christine, a global pharmaceutical veteran, has more than 20 years of experience in the life sciences.
Posted 2021-09-29
Miya Gray joined Apervita, a technology leader in health care collaboration for payers, providers, and other stakeholders, as senior vice president of customer service. She has more than 20 years' experience in the health care ecosystem.
Posted 2021-09-29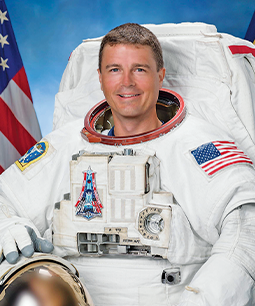 Veteran astronaut Reid Wiseman has been appointed as chief of the Astronaut Office for NASA. He will be responsible for managing Astronaut Office resources and operations at NASA's Johnson Space Center in Houston, Texas. He will help develop astronaut flight crew operation concepts and make crew assignments for future spaceflight missions. Reid is a U.S. Navy captain and a native of Baltimore, Maryland. He earned a bachelor's degree in computer and systems engineering from Rensselaer, and a master's degree in systems engineering from Johns Hopkins University. The naval aviator and test pilot served through three deployments before being selected as an astronaut in 2009. Reid spent 165 days aboard the International Space Station as part of Expeditions 40 and 41 in 2014. During that time, he took part in two spacewalks, spending a total of 12 hours and 47 minutes upgrading the station's mobile servicing system for the Canadarm2 robotic arm, and kicking off reconfigurations needed to prepare NASA for commercial crew missions. He also spoke to Reunion & Homecoming attendees from space in October 2014 via Skype. Since returning to Earth, he has supported the Astronaut Office in a number of roles, including as deputy chief astronaut and associate director of the Flight Operations Directorate.
Posted 2021-09-29
Marc Douglas Eigner is chief commercial officer at H1, a global platform for the health care ecosystem. He has more than 20 years' senior leadership experience within the life sciences and technology industries. Most notably, he is the cofounder of Polaris and is known as one of the founding fathers of pharmaceutical commercial compliance technology.
Posted 2021-09-29
Anne Wilkinson is chief human resources officer at Chelsea Groton Bank.
Posted 2021-09-29
Dr. Gordon Chiu, Ph.D., is chief science officer for Hemptown. He is leading the cannabinoid research team and is responsible for filing IP patents, specifically in the areas of water-solubility, bioavailability, and peptide sequencing. He has more than 15 years of combined domestic and international experience in the biomedical, chemical, cosmetic, medical, and technology industries.
Posted 2021-09-29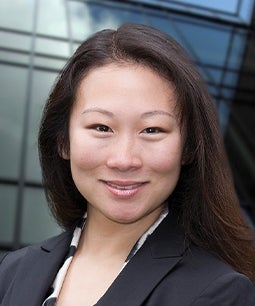 Sarah Angel-Johnson '97 has joined Save the Children U.S. as chief information officer, overseeing business-technology integrated strategy and solutions, IT operations, customer service, policy and planning, and Payment Card Industry compliance, in addition to building operations. She joins Save the Children from Year Up, where she also served as chief information officer. Prior to Year Up, she took the $860 million Girl Scout Cookie Program digital, earning them a place in Fast Company's Top 10 Most Innovative Nonprofits.
Posted 2021-03-16
Rakesh Chopra has been making waves at Cisco as a Cisco fellow. Fellow alum Eric Friedrich ('06) reported that Rakesh's work on Silicon One is groundbreaking for the speeds it can transfer data at and also for the new lines of business it is opening for Cisco.
Posted 2021-02-26
Glenn Weinstein, who received his M.S. in '97, just joined Twilio as their chief customer officer.
Posted 2021-02-26
Stacey Hills, one of our MBAs in the Class of 1997 and a Ph.D. from 2004, was just appointed assistant professor of business at Columbia-Greene Community College.
Posted 2021-02-26
Bob Hepburn just set records in weightlifting; his day job is a materials scientist for Fujimi, but he fits in time to build strength and set records for his age group in Portland. In case you're wondering if you can compete with him, only if you can squat more than 195 kg, bench more than 127.5 kg, and deadlift more than 220 kg.
Posted 2021-02-26
Stephen Trowbridge was promoted to EVP and CFO of AngioDynamics in Latham, after serving as interim CFO since October.
Posted 2021-02-26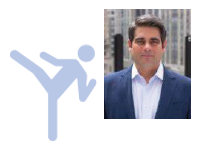 Michael DePietro '97 co-founded Karate Combat, the first professional, full-contact karate league worldwide. The company designed its own fight ring, which it stages in exotic locations, and is pursuing technologies like body sensors, biometrics, and IA, to improve the audience experience. He presented his business story on campus in October. 
Posted 2020-06-18
Engineering
Kristen Fitzpatrick writes: I had a chance to catch up with Josh Haacker while I was in LA for work. He and his wife, Jessica, have two kids, ages 9 and 11, and he just launched his own business, Muldrow Partners. Here's what they do, from LinkedIn: "We partner with entrepreneurial companies and developers striving to implement water, clean energy, and climate solutions. The firm seeks to identify and manage attractive investment opportunities on behalf of environmentally conscious investors, and support growth-stage companies with capital planning, transaction, and commercial support." Best of luck, Josh!
Posted 2020-05-21
Engineering
Sara Schiveley was awarded the Alumni Key Award by the RPI Alumni Association.
Posted 2020-05-21
Humanities, Arts, and Social Sciences
Kord Jablonski has been named business director of deCordova Sculpture Park and Museum in Lincoln, Mass.
Posted 2020-05-21
Engineering
Marc Eigner has been named CEO of Anju Software in Phoenix, Ariz.
Posted 2020-05-21
Architecture
Peter Rader was promoted by JLL to regional education practice lead for the firm's Project and Development Services group.
Posted 2020-05-21
Science
Kathleen Moriarty was named as one of the top 100 females taking up the battle against cybercrime.
Posted 2020-05-21
Kristen Fitzpatrick writes: "My husband, Brian, and I enjoyed catching up with Marsha (Aaron) and her husband, Ken Cordio, Dawn (Arthur) and Greg Guarriello, Alicia (Sopko) and Taric Kabir, and Neha (Shah) Biggs at the annual Camp Kessem Magic Ball in Boston. If any fellow RPI alums want to join us next year and raise money for a fabulous cause, let me know!"
Posted 2019-10-01
Eric Kaled recently joined SPX Corp. as president of the Genfare business. Previous to this position, Eric was an SVP at Crane & Co.
Posted 2019-10-01
Kristen Fitzpatrick writes: "I was able to catch up with a few RPIers at a fundraiser in April, too. Neha Biggs was in town from Chicago to support Camp Kesem's Magic Ball in Boston (she's on the national board), where they raise funds to support the operations of Camp Kesem, an organization that supports children through and beyond their parent's cancer via awesome summer camps run by the most enthusiastic undergrads you'll ever meet. Alicia (Sopko) Kabir is Camp Kesem's COO and she and Taric are also on the Boston board of the organization."

"My husband, Brian Fitzpatrick, and I were there to support them, along with fellow Class of '97 classmate Jason Federspiel. Jason is director of technology at AMAG Pharmaceuticals; he and his wife, Rebecca, have two kids, Elly and Tad, and are neighbors to Kyle and Pamela Hollasch up in New Hampshire."
Posted 2018-10-10
Scott McNeal has been appointed vice president of information technology for Terex Aerial Work Platforms (AWP), the business unit of Terex Corp. that includes the Genie brand. In this role, he is responsible for all Terex AWP IT tactical planning and operational execution, making IT a strategic asset to drive improved customer experiences through faster innovation and improved business processes. He will also drive the transformation of IT into an enterprise-enabling function. He is based in Redmond, Wash.
Posted 2018-10-10
Mary (Rooney) LaChance and George Norman '87, each running as first-time candidates for the Glastonbury Town Council, were both elected on November 7. They look forward to working together to serve the great town of Glastonbury, Connecticut.
Posted 2018-03-15
Business
Mike Morrissey was appointed president and COO of Stewart EFI, one of the largest suppliers of small precision metal stampings in the world. Its capabilities include deep draw, progressive, slide-forming, wire forms, machining, and automated secondary assemblies, as well as metal plating and finishing.
Posted 2018-03-15
Kristen Fitzpatrick wrote in to say: "I hope everyone who was able to make it to Reunion had a lovely time—one of these years that weekend won't compete with all the kids' soccer games, and Brian and I will actually get to attend."
Posted 2018-03-15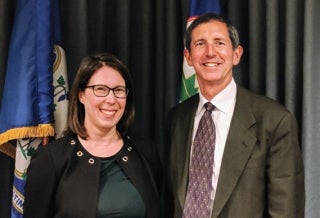 Mary (Rooney) LaChance '97 and George Norman '87, each running as first-time candidates for the Glastonbury Town Council, were both elected on November 7. They look forward to working together to serve the great town of Glastonbury, Connecticut.
Posted 2018-03-15