2000
Stephen Testa has joined Solidification Products International as the quality assurance, safety, and compliance manager for the Northford, Connecticut, facility.
Posted 2021-09-30
Sagar C. Kurada has been named chief financial officer of Eos Energy Storage, a manufacturer of safe, low-cost, and long-duration zinc battery storage systems.
Posted 2021-09-30
Ryan North Miller has been elevated to partner in the Intellectual Property department at Fox Rothschild LLP, in its Philadelphia office.
Posted 2021-09-30
Business
Mike O'Malley was interviewed for a profile in the Albany Business Review in December. He is vice president of sales and marketing at DeCrescente Distributing Co. He started his career at Gallo Wine Co., then moved to Coors, before joining DeCrescente. The biggest change in the industry, he says, is the amount of data that is available, which helps target sales based on statistics of who is buying what, where, and how often.
Posted 2020-05-21
Steven Caley has earned a doctorate in education from the University of Southern California. He is the elementary school principal at the American School of Kuwait, overseeing 70 teaching staff and 1,000 students.
Posted 2019-10-01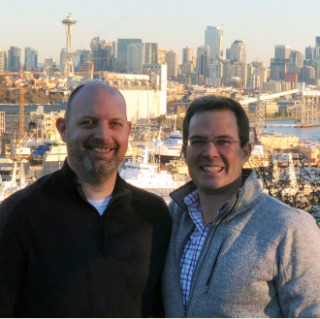 Former Classmates Navigate Successful Startup Cycle Parental leave has become a hot issue as companies look to update their benefits policies to attract and retain top talent. To aid both employers and employees, the startup company LeaveLogic, with the help of two Rensselaer alumni, has developed a parental leave management platform. Justin Alford '00, chief technology officer, and Michael Brandimarte '00, M.S. '02, head of business development, are part of the executive team at LeaveLogic that has been with the company from its conception in 2013 through acquisition in 2018. According to Brandimarte, the startup has recently progressed from ideation, market development, venture funding, customer acquisition, and product launch through to strategic acquisition by a Fortune 300 company. Company CEO—and Brandimarte's wife—Anna Steffeney and the LeaveLogic team have created the first employee self-service SaaS (software as a service) platform to help employers standardize and scale the delivery of family leave processes and benefits through transparency, automation, and design. The platform has been called "an essential modeling tool for employees" and "the missing piece!" by companies already using the product to help their employees design their family leave experience.
Posted 2019-03-10
Congratulations to Nina Lynch who, with Rich and Winter, welcomed Chapel James to the world on Sept. 12, 2018!
Posted 2019-03-10
Congratulations to Lisa (Pietropaoli) Krug, who has authored a children's book, The Snowmobile Named Little Vroom, with her sister, Laura A. Reinisch. She is also growing her new business, Snowmobaby, which designs snowmobile apparel and accessories for kids to share a love of snowmobiling with the next generation of riders.
Posted 2019-03-10
Humanities, Arts, and Social Sciences
Jen Bacon was appointed dean of the College of the Arts and Humanities at West Chester University last spring. She has been at WCU since receiving her Ph.D. in communication and rhetoric from RPI in 2000.
Posted 2019-03-10
Engineering
Thanks to Justin Gullotta for his work in the community and on the environment. He was elected to the board of the Upper Valley Land Trust, which works on conservation in the Connecticut River watershed. He is also an engineer at Hypertherm in Hanover, N.H., where he designs industrial products and has been named an inventor on three U.S. patents.
Posted 2019-03-10
Rob Cortiglia also has some big news: "Birch Construction Group (www.Birch-CG. com) was open for business on June 1st in New York and we hit the ground running! We are a full-service construction management and consulting firm specializing in projects that are in the $10M (+/-) range. I really would love to network with RPI grads in the NYC market!"
Posted 2019-03-10
Sharon Berger joined Gannett Fleming Engineers and Architects as vice president and project executive of the Construction Services Business Line, where she will be leveraging her knowledge of rail, infrastructure, and vertical markets to grow the firm's construction offerings.
Posted 2019-03-10
Chris Latreille was promoted to principal in the Finger Lakes office of Ryan Biggs Clark Davis Engineering & Surveying. He is currently designing the clinical lab addition on Bailey Road for the University of Rochester.
Posted 2018-10-10
Engineering
Jeffrey Langer joined the law firm Stites & Harbison, PLLC, as a partner in the Intellectual Property & Technology Service Group. He was previously managing partner for an IP boutique firm in its Alexandria, Va., and China offices, and is proficient in Mandarin Chinese. Jeff, who also spent four years in Switzerland with Philip Morris International as in-house senior council, earned his B.S., M.S., and Ph.D. degrees in electrical engineering at Rensselaer.
Posted 2018-10-10
Tom Hartman was selected by the Nuclear Regulatory Commission as the new senior resident inspector at the Point Beach nuclear power plant last June. The two-unit power facility is located in Two Rivers, northwest of Manitowoc, Wis.
Posted 2018-03-15
Suzanne Delaney founded the business Leaders of Future Technology (LOFT), in Nashua, N.H., in March 2016, to provide after-school, summer camp, and vacation-week programs in which children can learn and have fun with programming and engineering. She was a finalist for a Rising Star Award, nominated by a professor in her MBA program at Rivier University, who called LOFT "a for-profit business with a nonprofit impact making our community better."
Posted 2018-03-15
Heather Ward is a scratchboard artist who has exhibited her work nationally and abroad, and has been named a finalist in several major international art competitions. In scratchboard art, black India ink is scratched off white clay board using sharp knives and abrasive tools to create dramatic black and white images. Heather creates highly realistic depictions of wildlife, both local and exotic, and her recent solo exhibit, A World of Birds, in Los Alamos, N.M., will be traveling to additional venues. 
Posted 2018-03-15