2003
John Andonie, an Iraq war veteran, has been promoted to major general and selected to serve as the deputy director, second in command, of the Army National Guard, which consists of 50 states and three territories plus the District of Columbia. He has been serving as director of joint staff for the New York National Guard.
Posted 2021-09-30
Sebastien Katch is chief operating officer for truck bed covers for Truck Hero, a provider of truck and Jeep accessories. He will oversee all truck bed cover manufacturing operations and will be responsible for the development and implementation of the organization's global supply chain and procurement functions and Truck Hero's distribution network and logistics.
Posted 2021-09-30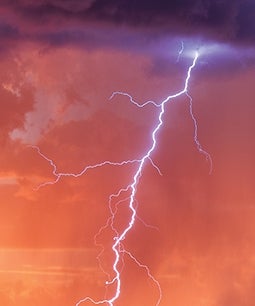 The popular weather app Dark Sky, brain-child of Adam Grossman '03, has been acquired by Apple. Dark Sky aggregates data from many sources to predict precisely when it will rain or snow at an exact location — down to the minute — and uses beautiful visualizations to present weather information. The inspiration came when Grossman was stranded by a storm at a highway rest stop — and frustrated by his inability to learn when the storm would end. "Our goal has always been to provide the world with the best weather information possible, to help as many people as we can stay dry and safe," says Grossman.
Posted 2021-03-16
Science
Dr. Sumbul Desai, VP of health for Apple Inc., helped design the advanced heart monitoring, ECG, and fall detection feature of the Apple Watch Series 4. This feature was designed to revolutionize the health industry, by collecting your personal health data so that your doctor can spend more time consulting with you about a treatment plan. Dr. Desai is also a clinical associate professor at Stanford Medical.
Posted 2020-05-21
Ed DerGurahian writes: Paul Zapustas emailed me to say that he has started a new career. After hanging up his Wall Street suit and tie, Paul moved to Boston where he is now the CFO and business director of R3Bilt, an interval training workout focused on anti-aging. Paul and his colleagues hope the company will become the "Amazon of fitness" at some point. Way to go, Paul!
Posted 2020-05-21
Business
Xinfeng Wang was recognized by the RAA with the Alumni Key Award during Reunion & Homecoming weekend. Congratulations!
Posted 2020-05-21
Science
Avanindra Joshi was recognized by the RAA with the Alumni Key Award during Reunion & Homecoming weekend. 
Posted 2020-05-21
John Andonie, a decorated Iraq War veteran, was promoted to brigadier general and was named New York National Guard Director of Joint Staff, responsible for coordinating joint Army and Air National Guard operations. He lives in Clifton Park, N.Y.
Posted 2019-10-01
Nancy (Scirocco) Nesbitt joined United Personnel as vice president of business development for the Connecticut region.
Posted 2019-03-10
Eric Palomaki was appointed vice president of operations at Core Molding Technologies in September. 
Posted 2019-03-10
Maureen Masiulis, a program manager in tactical solutions at Ball Aerospace, received the 2018 Society of Women Engineers Emerging Leader Award. 
Posted 2019-03-10
Allison Shannon, senior associate at SWBR, received the 2018 Rochester chapter of the Construction Specifications Institute Starlight Award. A project manager in SWBR's education studio, she manages projects for K-12 districts in New York.
Posted 2018-10-10
Ed DerGurahian and his wife, Melissa, welcomed a daughter, Giovanna Marie, on September 30. She was 7 pounds, 10 ounces, and 20 inches long. Ed reports that Giovanna already enjoys listening to Engineer hockey games with daddy and can't wait to attend her first game!
Posted 2018-03-15