2005
Eric Kretschmar celebrated 15 years of employment at ISO New England last June.
Posted 2021-09-30
Jessica Parenteau is celebrating three years at Regeneron Pharmaceuticals Inc.
Posted 2021-09-30
Frank P. Bottone is working at SilverSky.
Posted 2021-09-30
Anthony Martuscello owns WestFax Brewing, a brewery located in Lakewood, Colorado.
Posted 2021-09-30
Joey Faust started a new position as chief digital officer at One Republic.
Posted 2021-09-30
Regina Primm started a new position as director of New York Health Primary Care at New York Cancer and Blood Specialists.
Posted 2021-09-30
Brian Kolins entered his fifth year of running his adult education business.
Posted 2021-09-30
Venkata R. Vedula was named to the advisory board of ASTM International's Additive Manufacturing Center of Excellence. He is the executive director of additive manufacturing at Raytheon Technologies, where he leads the Additive Manufacturing Process Capability Center.
Posted 2021-09-30
Jamie Kay joined the faculty of the Maplewood School to teach film and photography.
Posted 2021-09-30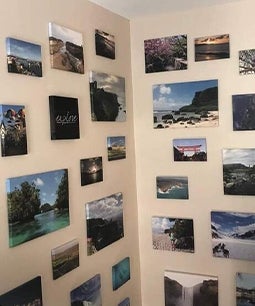 Heather Wyld has completed staircase photo collage walls and she loves them! It took her six years of traveling the world to compile them. Her mom was a huge help.    
Posted 2021-07-16
Elizabeth (Niro) Myers married Jon Myers on April 20, 2019. Three family members in attendance are also RPI alumni, including Jonathan's father, Stephen Myers '75, and cousin, Connor Young '15, and Elizabeth's brother, Rich Niro '98. Elizabeth and Jon reside in Boston, where she is director of research and evaluation for WGBH Education and he is a product manager for Avid Technology. 
Posted 2021-07-16
Hilary Lahn Albro has been barely maintaining her sanity at home this past year with her husband and two kids, Owen (7) and Mara (5), while closing out her 10th year at Deloitte Consulting LLP, where she most recently supported the IRS's COVID-19 relief efforts.    
Posted 2021-07-16
Sonya Mazumdar Sengupta lives in Falls Church, Virginia.
Posted 2021-07-15
Daniel and Holly Ann Quinn's "baby" is 6. They love this kid. He has the biggest heart, is smart and kind... and has lots of energy. They have 2 boys, 6 and 4 1/2.
Posted 2021-07-15
David Fannon was awarded tenure and promoted to associate professor at Northeastern University in Boston, where he studies and teaches about the science and design of buildings.
Posted 2021-02-26
IT & Web Science
Chris Searles and his wife welcomed Bryson Christopher into this world last May. Son Max is a wonderful and enthusiastic big brother.
Posted 2020-05-21
Engineering
Jason Gertler plays on the hockey team Fire and Ice. They play during the year locally. They went to Lake Placid for a tournament and won Bronze. They just started going to this tournament as of last year.
Posted 2020-05-21
Business
Jonathan and Kellie Bullis Eck celebrated their 10-year anniversary. They have two little girls in their family.
Posted 2020-05-21
Science
Larissa (Wudmaska) Wolf celebrated her 10th wedding anniversary (last July) to fellow alumnus Adam Wolf.
Posted 2020-05-21
Engineering
Zaheera Abdul Ghani was part of Team Bey, which completed the Viper Challenge @ Bukit Jalil National Stadium in Malaysia. 
Posted 2020-05-21
Engineering
Our classmate Joshua Khoury took a disastrous spill that resulted in a hospital stay as the bleeding on his brain was monitored. He is in recovery and almost back to 100%. A glorious miracle for his wife, Abigail, and four children!
Posted 2020-05-21
Engineering
Daniel Quinn is a staff materials and process engineer at Sikorsky, where he has worked for 11 years.
Posted 2020-05-21
Engineering
Katie Karaffa writes: Our updated FB link is: http://facebook.com/groups/RPI2005.
Posted 2020-05-21
M. Hafiz Yusof works for a Kuala Lumpur-based IT company, The eCEOs, that specializes in digital project management where they advocate the use of technology with industry best practices to assist and deliver projects successfully.
Posted 2019-10-01
Scott and Kelly (Weaver) Loudis own Greenbriar Construction Services in Colonie, N.Y. Contact them on Facebook to see how you can partner on your next project!
Posted 2019-10-01
Carl Harding lives in Avon, Conn., and is an operation executive director for Collins Aerospace. He celebrates nine years with his wife, Vinay, and two children, Avani (6 years) and Ashaun (2 years).
Posted 2019-10-01
Alissa Wilkinson wrote in November that she had a long, good day of voting at Lincoln Center in her second year as a member of the New York Film Critics circle, the oldest critics' group in the country and a collection of her "most formidable colleagues." She also sent a note saying that in her work as a film critic and journalist, she had the opportunity to interview filmmaker Penny Lane, who earned her MFA at RPI in 2005. The article, "What the director of Hail Satan? learned from making a documentary on the Satanic Temple," was published in Vox on April 16.
Posted 2019-10-01
Jennifer Kovacs is working for Unilever in New York, N.Y. She completed a Spartan, AND has also traveled to Austria and Paris.
Posted 2019-10-01
Katie Karaffa writes: I have created a Facebook page to keep in touch as well. It is located here: https://www.facebook.com/groups/219666488863492/. My goal is to get all 853 of our classmates on it. We are currently @ 254. There are many of you out there that I would love to hear from!
Posted 2019-03-10
In an effort to raise $50,000 for cancer research, Kiel Weston was preparing to trek to Everest Base Camp with the Multiple Myeloma Research Foundation. Over the course of October 26 to November 8, 2018, Kiel planned to join patients and caretakers in Nepal as part of a team raising over 250k. For more info, go to https://endurance.themmrf.org/2018EverestBaseCamp/Kiel.
Posted 2019-03-10
Congratulations to Nick and Jessica (Chiappone) Parenteau on the birth of Caleb Nicholas on January 6!
Posted 2019-03-10
Congratulations to Michael Comer and Maria (Milcetic) Comer '06, who welcomed their second child, Michael Edward, on Aug. 6, 2018. Their daughter, Cassandra Marie, loves her little brother!
Posted 2019-03-10
Alyssa Kent joined the board of the Tiny Miracles Foundation in January. She is co-chair of the NICU Family Advisory Council at Yale and was formerly the chair of the CT March of Dimes Family Teams. Named CT AIA Emerging Architect of the year in 2016, Alyssa lives in Fairfield, Conn., with her husband, Heath, and three children.
Posted 2018-10-10
Maj. Alexander Turner was inducted into the Chelmsford High School Alumni Association Hall of Fame. A U.S. Air Force major, he served tours of duty in Asia, Europe, and the Middle East. While deployed during Operation Odyssey Dawn in 2011, he flew what is believed to be the longest Viper combat mission on record at 13-1/2 hours. Alexander spent two years as lead solo pilot with the elite Thunderbirds Air Demonstration Squadron.
Posted 2018-10-10
Jonah Brown, a U.S. Air Force major, has flown F-15 jets since 2007 and served two three-year tours at Kadena Air Base in Okinawa, Japan, as well as a solo six-month mission in 2013. In June he made a low-level flyover in an F-15 fighter jet in his hometown, of Catskill, N.Y., on his way to attend an air show in Niagara Falls. Jonah told the online newspaper HudsonValley 360 that the flyover was dedicated to all those who serve in the military and who inspired him to follow in their footsteps.
Posted 2018-10-10
Jason Melo joined Reading Cooperative Bank as information security analyst last summer. Previously the IT manager at GenArts Inc. and an IT administrator at Everyscape Inc., Jason earned his J.D. from the Mitchell Hamline School of Law.
Posted 2018-03-15
Shannon Hitchcock has stepped down as class correspondent for the Class of '05. Please contact the Alumni magazine if you would like to volunteer to serve as class correspondent.
Posted 2018-03-15