2007
Aaron Henshaw founded Bison Trails and sold the company to Coinbase in February 2021. Joe Lallouz was Aaron's cofounder.
Posted 2021-09-30
Brian Chase recently joined FanDuel as director of engineering after spending the last two years at MLB, also as director of engineering. He earned his bachelor's degree in computer science from Rensselaer and an MBA from NYU's Stern School of Business, and resides in Long Island City, New York.
Posted 2021-09-30
Yun Jing associate professor of acoustics and biomedical engineering at Penn State, researches sound in several domains. He investigates engineered acoustic functional materials and biomedical ultrasound. The applications of his work span from minimizing office noise to reducing the vibration of vehicles to scanning the brain.
Posted 2021-09-30
Ishita Surendra Manjrekar received the distinguished "Young Member Award for Professional Achievement," the top honor by the American Concrete Institute.
Posted 2021-09-30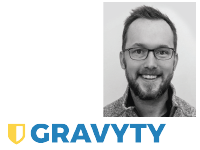 Richard Palmer '07 co-founded Gravyty, the first AI company focused solely on the social good sector. Gravyty recently received an investment of $21 million to fund the growth of the company, which provides SaaS-based fundraiser enablement solutions for higher ed, health-care, and other nonprofit organizations. 
Posted 2020-06-18
Engineering
The Colorado School of Mines welcomed Nikki Farnsworth as assistant professor of chemical and biological engineering in the fall. Her research centers on the development of novel biomaterials to investigate cellular interactions with their environment and develop therapies for life-threatening diseases.
Posted 2020-05-21
Destany Eagles was featured in a S.C. newspaper in May. She is a teacher and girls basketball coach at Carolina Forest High School, and she plays professionally in the minor leagues.
Posted 2019-10-01
Isobel Ojalvo was named assistant professor of physics at Princeton. Her research focuses on high-energy particle physics.
Posted 2019-10-01
Jamel Mosely, vice president of marketing for the agency Collectiveffort and creative director of Mel eMedia, was named to the Albany Business Review 40 Under 40 in March.
Posted 2019-10-01
Garret Heaton and Pete Curley '06, who founded HipChat in 2010, have a new venture. They recently announced the launch of Swoot, a podcast app that stands out from other podcast apps with its social networking elements and recommendation feature, which allows users to suggest podcasts to friends. The company, founded in 2016, has raised more than $4 million in seed funding.
Posted 2019-10-01
Rich Palmer's company, Gravyty, which makes AI-enabled tools for frontline fundraisers at nonprofits and higher education institutions, was on the floor of the Nasdaq Nov. 27 to ring the opening bell for Giving Tuesday. Gravyty was invited to ring the bell in acknowledgment of the company's Pledge 1% partnership. Rich serves as co-founder and CTO at Gravyty.
Posted 2019-03-10
Business
Jesus "Laz" Montano, MBA '07, was named head of enterprise information risk management (EIRM) and chief information security officer at MassMutual. He has nearly 30 years of technology and cybersecurity experience.
Posted 2018-10-10