2009
Matthew Connelly, who received a BS in biomedical engineering, attended SUNY Upstate Medical University in Syracuse after RPI, where he obtained his Medical Doctorate. He completed his residency at Indiana University School of Medicine and now is an emergency room doctor in the Community Health Network in Fishers, Indiana. He is the medical director of the Community Health-South hospital in Fishers.
Posted 2023-03-24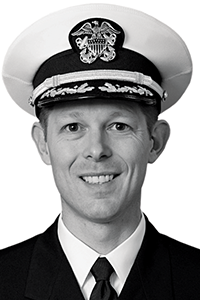 Dave Latta, M.S., has been appointed Commanding Officer of the Navy Reserve Officers' Training Corps (NROTC) program and Professor of Naval Science at Rensselaer. He is a career nuclear submarine officer who has served aboard both fast-attack and strategic deterrent submarines. He most recently commanded USS Scranton in San Diego, California, from 2019 to 2021, leading one seven- month deployment to the Western Pacific.
Posted 2023-03-24
Kevin Avery is head coach for the Greenwich Country Day School varsity football program. He played wide receiver at Rensselaer and earned Liberty League academic honors as well as the National Football Foundation's Hampshire Scholar Athlete Award. After graduating cum laude, he began a teaching career through Teach for America.
Posted 2021-09-30
Joseph Henits and Lindsey Garrett were married on Jan. 18, 2020. Joe earned his B.S. in aeronautical and mechanical engineering and Lindsey earned her B.S. and M.S. in applied mathematics. They live and work in Melbourne, Fla., where Joe is a senior loads engineer at Northrop Grumman and Lindsey is a senior project engineer at L3Harris.
Posted 2021-02-26
Science
Dr. Shaina (Feldman) Bruce was the lead author on an original article published in the September 2019 edition of Obstetrics & Gynecology (the "Green Journal"). Her article was titled "Disparities Among Cervical Cancer Patients Receiving Brachytherapy." This is the second time she's been published as the lead author — her previous article was published in Gynecologic Oncology in June 2018.
Posted 2020-05-21
Science
Lydea Irwin was named Young Professional of the Month by the Greater Concord Chamber of Commerce last fall. A staff attorney with the New Hampshire Bureau of Securities Regulation, Lydea earned her bachelor's in biology at RPI, and her MBA and law degrees at UNH.
Posted 2019-10-01
Tyler Cinelli joined Williams Financial LLC as a financial planner and retirement plan specialist. He works out of offices in Albany and Bennington, Vt.
Posted 2019-10-01
Morgan Shaw joined the architecture firm Sullivan + Associates Architects, located in Oak Bluffs, Martha's Vineyard, last fall.
Posted 2019-10-01
Eric Leibenguth has returned to the architecture, engineering, and planning firm CPL as associate architect, responsible for client management, as well as project delivery from design through construction for a variety of higher education, municipal, and parks and recreation projects. He was a five-year intern with the firm throughout his college years at RPI. He is located in Raleigh, N.C.
Posted 2019-03-10
Kendra Krueger founded 4Love + Science, a workshop and educational program designed to arm students with the tools gleaned from science, sustainability, social justice, and art to develop new modes of thinking and existing in a complex world. Trained in facilitation, permaculture, anti-oppression, and mindfulness meditation, Kendra facilitates trainings, workshops, and research and learning programs that cover a wide variety of disciplines. She was featured recently in a publication by Lenovo, because the ThinkPad has been an integral tool in her work.
Posted 2018-10-10
Daniel Hashim was appointed acting chief scientific officer and member of the advisory board of the Vivakor Inc. subsidiary VivaVentures Energy Group in October. He received his Ph.D. in materials science and nano engineering from Rice University and has 1,000 citations credited to his published work. In 2014, Daniel was named to the Forbes 30 Under 30 in Science & Health Care list. 
Posted 2018-03-15