2014
Tanya Bruno joined CPL, a full-service architectural design firm in Albany, New York, as a senior drafter. She is responsible for creating, updating, and overseeing architectural plans for a variety of project types. Prior to joining CPL, she served as a designer at 3tarchitects.
Posted 2021-09-30
Engineering
Christina Pacifico, production engineering associate manager at Tesla Inc., and president of Women in Tesla, in Reno, Nev., was honored by the Girl Scouts of the Sierra Nevada for her leadership in STEM.
Posted 2020-05-22
Architecture
Brenna Weisslender was hired as an intern architect at Gawron Turgeon Architects in Scarborough, Maine.
Posted 2020-05-22
Jeffrey Liebowitz joined The Chazen Companies' Hudson Valley office in Poughkeepsie as an assistant project engineer.
Posted 2019-10-01
David Vorick and Luke Champine are the founders of Siacoin, which was featured in an issue of Cryptoline News in May. David and Luke started Siacoin, which provides a decentralized cloud storage facility that facilitates payments using blockchain technology, during the HackMIT hackathon in 2013.
Posted 2019-10-01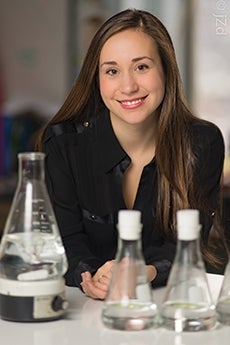 Science
Bianca Wentzell was appointed assistant professor of biology at St. Thomas Aquinas College. Bianca, who earned her Ph.D. at Rensselaer and conducted postdoctoral research at both Montclair State University and Kean University, specializes in wetland ecology and plant biology
Posted 2018-10-10
Elizabeth Plowman joined Phillips Lytle LLP as an associate in the firm's Buffalo office. She earned her J.D. from William & Mary Law School and practices in the area of commercial litigation.
Posted 2018-10-10
Engineering
The growth of the wire industry is being driven by wireless applications, and recent Rensselaer graduates are helping lead the way at the Pawcatuck, Connecticut, company Cable Components Group (CCG), which develops components and compounds for the wire & cable and optical fiber industries.

What's wireless is the short distance between the nearest wireless access point and your smartphone or laptop. But the wire leading to the wireless access point must have outstanding dielectric properties and the ability to handle intense heat.

CCG has developed compounds and components that can be used safely in high-temperature applications in everything from optical fiber to high-temperature filtration systems and are especially suited for evolving Power over Ethernet (PoE) and Power over LAN applications.

Pictured, from left, are David Connor '16, quality engineer, who majored in chemical engineering; Dan Messmer '14, sales engineer, who earned his B.S. in mechanical engineering and an MBA; and Charles Glew '15, technical services sales engineer, who earned his B.S. in chemical engineering and M.S. in technology commercialization.
Posted 2018-03-15
Architecture
Anthony Policastro deserves a tip of the cap for becoming a registered architect in November.
Posted 2018-03-15
Matt McGivern and Joe Eilert '15 made some noise in the world of virtual reality when their new venture, Spark VR, opened in Vernon last May. Spark houses four VR bays where players can immerse themselves in 15 different games. Wearing elaborate headsets, players can fight zombies, swim with fish, or defend a castle, among other games.
Posted 2018-03-15
Brian Wilczewski not only started a Ninja Warrior gym (Movement Lab) in NJ, but also advanced to the L.A. finals of American Ninja Warrior back in July.
Posted 2018-03-15
Thomas Thayer writes: "For you Red Sox fans out there, make sure you keep an eye on the CLNS Radio website for articles from 2014's very own Lars Gjesteby."
Posted 2018-03-15
Sarah Williams and Matthew Monaco get a big congrats for getting married on October 15, 2017. 
Posted 2018-03-15