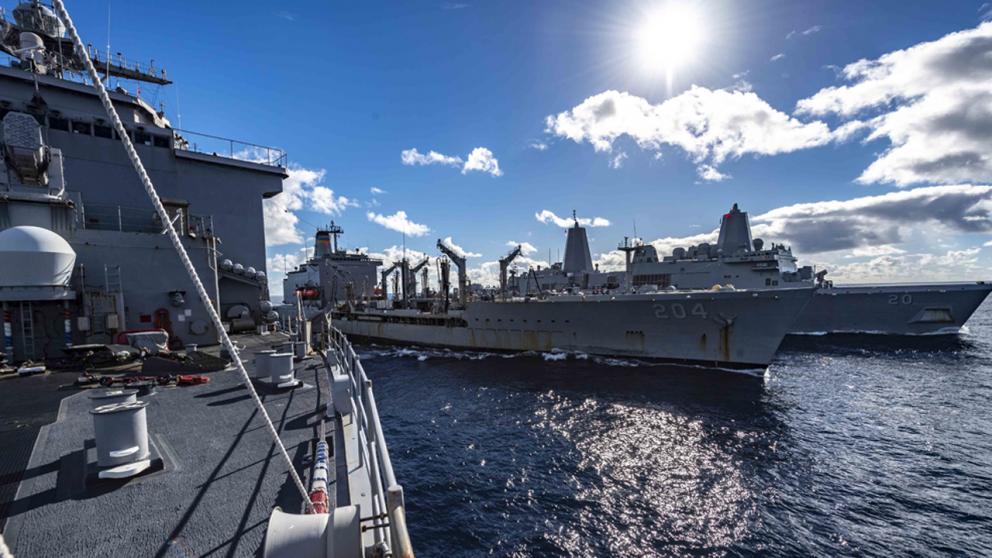 An Anchor and a Compass
Next Wave of Alumni Rise in the Ranks
by Meg Gallien
With the announcement in March that the U.S. Senate had confirmed 22 Navy captains for promotion to rear admiral, came news that two of the 22 listed were Rensselaer graduates. CAPTs Paul Spedero '90 and Scott Brown '91 now join an elite group with an august legacy: More than 80 U.S. Navy flag officers — senior officers above the rank of captain — have earned degrees at Rensselaer.
Rensselaer has a deep history of educating future flag officers. In fact, a survey undertaken in 2008 by the Institute and the Navy found that, other than the U.S. Naval Academy, Rensselaer has trained more U.S. Naval flag officers than any other school in the nation.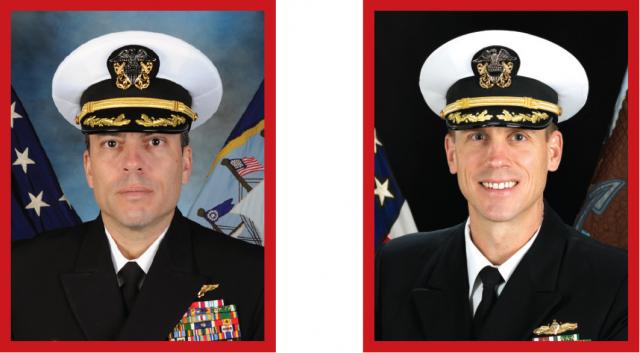 One Rensselaer alumnus currently serving, Rear Adm. John Tammen '84, gave the keynote address at the Naval Reserve Officers' Training Corps (NROTC) commissioning ceremony held on campus May 17.
"Rensselaer has a long relationship with the military, and I am particularly proud of the ties between the Navy and this great school," he said. "In fact, RPI's tagline — why not change the world — is exactly what we expect these soon-to-be ensigns to accomplish.
"Many superb officers," he said, "all started their military officer careers here. Today we have at least two active duty admirals — Karl Thomas '86 and myself — pretty remarkable considering the relatively small numbers. As I look out at our commissionees, I am assured that this great tradition will continue."
The Naval ROTC unit was commissioned in September 1941, three months prior to the attack on Pearl Harbor, as the first NROTC unit in the state of New York, and as one of the 28 units located at various colleges and universities throughout the country at that time. Today there are 63 NROTC units hosted at 77 schools throughout the U.S., with the program available at over 160 schools through cross-town agreements with host universities. The NROTC program qualifies students for commissioning as officers in the Navy and Marine Corps.
"The ROTC was founded to encourage more of the most talented young people in the nation to join our uniformed military, and Rensselaer, which had been educating Naval flag officers, particularly in the Civil Engineer Corps, since the 1860s, was a natural choice with such a goal in mind," said President Shirley Ann Jackson in her remarks at the 69th annual Presidential Joint Service Awards Ceremony in May.
Already, during the Civil War, many graduates had served as engineers on Navy steamships, and they have served prominently in the Navy ever since. Rear Adm. Mordecai Endicott, Class of 1868, designer of the world's largest floating drydock at the time, the "Dewey," became the first individual named both chief of the Civil Engineer Corps and chief of the Bureau of Yards and Docks.
He began a tradition of Rensselaer graduates serving in positions of civil engineering command in the Navy; more than two dozen alumni have served as chief or deputy chief of the Navy's Bureau of Yards and Docks, which was the branch of the Navy responsible for building and maintaining Navy yards, drydocks, and other facilities relating to ship construction and maintenance, and its successor, the Naval Facilities Engineering Command.
In 1907, Rear Adm. Harry Rousseau, Class of 1891, followed Endicott as chief of the Bureau of Yards and Docks. He was the youngest person ever named to that position. Rousseau became one of the leaders in the construction and early management of the Panama Canal and, like Endicott, is a member of the Rensselaer Alumni Hall of Fame.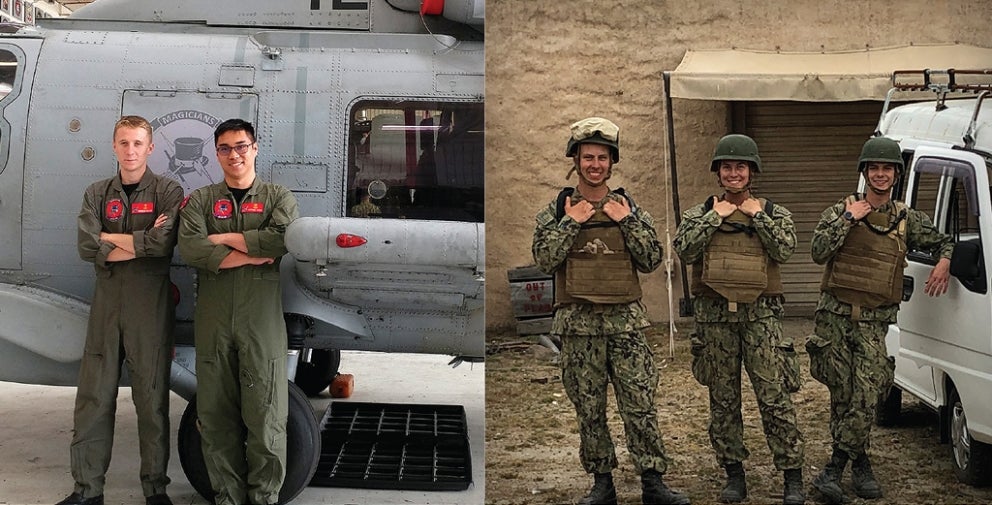 A Vibrant Military Campus
While there had been some disruption to campus during World War I, no one anticipated the radical change that would take place during the second world war.
Military operations during World War II became increasingly technological in character, and schools with engineering programs were called upon to offer special training programs. The number of civilian undergraduates at Rensselaer dropped as men went off to serve; they were replaced by large numbers of students in the Navy V-5 program, which prepared future naval aviators, and the Navy V-12 program, which provided a college education for future officers.
The campus became an official Naval Training Station. Bugle calls, morning calisthenics, daily inspections, and Saturday infantry drills were routine. Academic schedules were accelerated, as well. Students graduated in two and two-thirds years, and new students were admitted three times a year. In all, Rensselaer offered war training programs to nearly 6,000 students.
At a Wartime Navy Reunion held on campus in October 1995, alumni veterans shared memories of this time of upheaval.
"The stress of obtaining an RPI degree and naval commission in two years, seven months, and 18 days has faded in the past 50 years," said Thomas Davis '46 at the reunion. "Time has proven it to have been the best of engineering educations."
Charles Merdinger '46 was a Navy lieutenant who had already served three years at sea when he was sent to Rensselaer by the Naval Academy to study civil engineering in preparation for entering the Civil Engineer Corps (CEC). 
"RPI was a vibrant military campus; almost every student was in Navy uniform," he said. "Regardless of rank, we were all students together."
Contributions to the war effort went beyond the preparation of military leaders and included the training of defense production employees. Following World War II, the Navy honored Rensselaer for its war efforts with a Mark of Commendation.
After the war, Army and Air Force ROTC units were added which, alongside the Navy unit, became a substantial feature of the postwar Institute, supplying officers with combined engineering and military training to the American forces.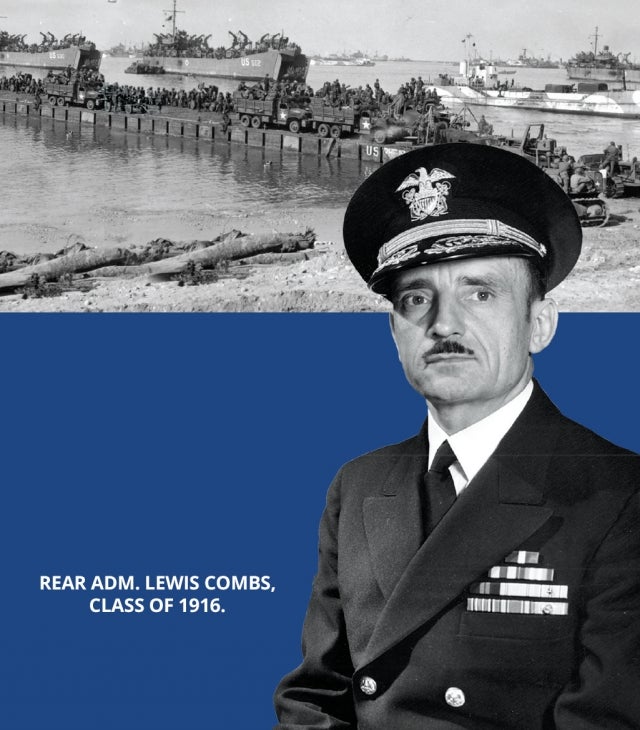 Another feature of the postwar campus was a special program to train CEC officers, which was supervised by Rear Adm. Lewis Combs, Class of 1916. A leader in the Civil Engineer Corps, Combs had overseen an unprecedented construction program to provide the public works and utilities for Navy operations in the U.S. and at bases around the world. He was co-creator of World War II's legendary Seabees — Naval Construction Battalions (CBs) that rapidly built the docks, landing strips, and other critical facilities needed during the war.
After retiring from a 31-year naval career, for which he received the 1946 Navy Distinguished Service Medal, given to a "brilliant engineer and inspiring leader," he became head of the civil engineering department at Rensselaer, from 1948 to 1962.
Besides the regular undergraduate and graduate programs, he oversaw the CEC Qualification Program for Naval Academy and Coast Guard Academy graduates. This included 395 CEC officers, several of whom went on to become U.S. Navy chiefs of civil engineers.
One of those graduates was CAPT Ward de Groot '54. In a 1995 article in Navy Civil Engineer, de Groot spoke of the influence Combs had on him.
"Rear Adm. Combs was truly an inspirational person for me," he said. "He made me feel that being a Civil Engineer Corps officer is a special calling."

New Directions for Rensselaer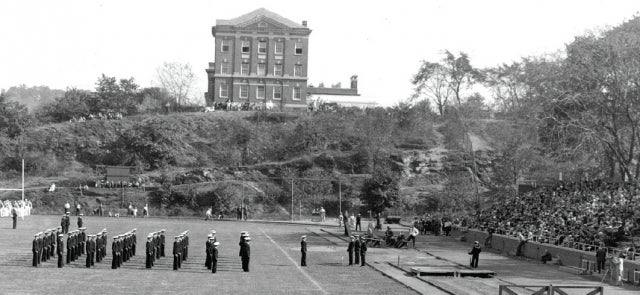 At the Commencement ceremony held Feb. 22, 1946, of the 108 graduates receiving degrees, 79 had completed the Navy College Training Program and were commissioned as ensigns, and five were World War II veterans. The Commencement speaker was Rear Adm. John J. Manning, Class of 1915. He spoke of the developments in science and technology that had occurred in the 31 years since his graduation and in particular, in service of the war.
"Much of this wartime technical development will have far-reaching peacetime applications. We must continue unabated the development of research which has made such tremendous gains during the war period, not for war purposes alone, but for the betterment of a world in which we may all live in peace and harmony."
Another significant outcome of World War II was a focus on research at Rensselaer, made possible by the availability of government funds for wartime projects. In the 1942-43 academic year, research funds totaled nearly $100,000; by 1944, with funding sponsored by many divisions of the government as well as industry, that amount had doubled. From these beginnings, research became a major thrust in the postwar development of the Institute.
"World War II marked an important transition for Rensselaer, from a university that emphasized teaching to one that also conducted groundbreaking research," said President Jackson. "With a new understanding of the impact of scientific research on national security, the government funded wartime projects at technological universities."
Today, Rensselaer receives close to $10 million in funding for research from the Department of Defense.
"Rensselaer has a strong track record of collaborating with the Department of Defense, to conduct basic and applied research," says Robert Hull, senior associate vice president for research. "Rensselaer has partnered with Army, Air Force, and Navy research organizations, as well as the Defense Advanced Research Projects Agency (DARPA), to conduct groundbreaking research in areas as diverse as robotics, network science, artificial intelligence and machine learning, neuromorphic and cognitive computing, optical and electronic devices, biotechnology, and aerodynamics.
"We value this collaborative relationship focused on both early-stage discoveries and translational solutions," he says.

Graduates of NROTC in the postwar era continued to achieve notable success. Retired Admiral and Rensselaer Trustee Emeritus Ronald J. "Zap" Zlatoper '63 rose from ensign to four-star admiral in a career that culminated in his service as commander in chief of the U.S. Pacific Fleet, the world's largest naval command.
During the Navy Wartime Reunion in 1995, Zlatoper was awarded an honorary doctor of engineering degree. He spoke of two tools he obtained at Rensselaer that no sailor can go without: an anchor and a compass. The anchor was the values and leadership skills learned in ROTC training; the compass was the technical understanding gained in classes, which allowed him to thrive amid rapid change in a technology-intense field.
Those core strengths of the military and academic programs have launched scores of successful naval careers throughout the history of the Institute. 
"Rensselaer's great success in providing flag officers for our nation's Navy is not surprising," says Zlatoper. "The university provides a world-class education in science, technology, and engineering…important in a highly technical organization operating and supporting cutting-edge surface ships, aircraft, and submarines around the world.
"More importantly," he says, "the Naval ROTC and academic curriculum develop in abundance the vital qualities of leadership, teamwork, personal discipline, maturity, and respect that characterize the ideal naval officer."
Those core strengths are as important today as ever, says CAPT Jeffrey Joseph, commanding officer of the NROTC program and professor of naval science.
"The ROTC programs at Rensselaer are making vital contributions to our national defense, providing officers to lead our future military who possess the necessary technical education to keep our military on the cutting edge," he says.
"Technological competence of our officers and sailors is absolutely essential to the ongoing success of the Navy. We need at least two-thirds of the officers we commission each year to have a technically based education in order to continue to effectively operate our advanced systems and to innovate future systems."
Those systems include nuclear reactors, intricate navigation systems, computer-based controls, advanced information processing algorithms, and big data transport, among others, says Joseph. During their careers, he says, NROTC graduates are likely to see advancements in quantum computing, quantum communication, power systems, and artificial intelligence that will revolutionize the profession.
Joseph attributes the achievements of Rensselaer graduates in the Navy to a combination of technical excellence and high standards.
"The demanding nature of the curriculum here at RPI and the overall quality of both the faculty and the student body require our students to perform at their best," he says. "Having that experience at this early stage of their professional career helps them develop habits that propagate to success."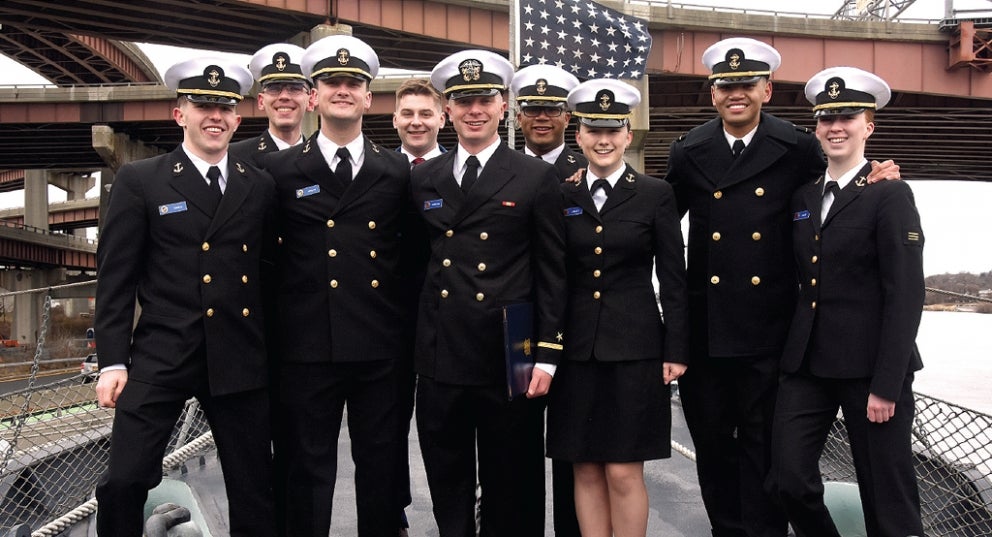 In May, more than 30 students graduated from ROTC programs, including 15 who were commissioned as ensigns into active duty in the Navy. Their future career paths include surface warfare officers, submarine officers, naval aviators and flight officers, and nuclear surface warfare officers.
Ensign Brian Wisbauer '19 is currently deployed on the USS John P. Murtha (LPD 26), a San Antonio-class amphibious transport dock ship. At Rensselaer, he says, he found the opportunity to be trained by and with motivated and intelligent people in an environment that demands individual growth and a strong sense of community in order to be successful.
"ROTC was able to open up doors for me that otherwise wouldn't have been possible," he says. "I was able to get an education, as well as receive high-quality military instruction, to eventually do a job that makes a difference on both an individual and global scale."
Wisbauer says Rensselaer's history of high-ranking alumni reinforces his belief that graduates of the program have the potential to make it as far as their performance in the fleet will take them.
"RPI cannot make just anybody an admiral," he says, "but it seems like, if that's your goal, it's an awfully good place to start."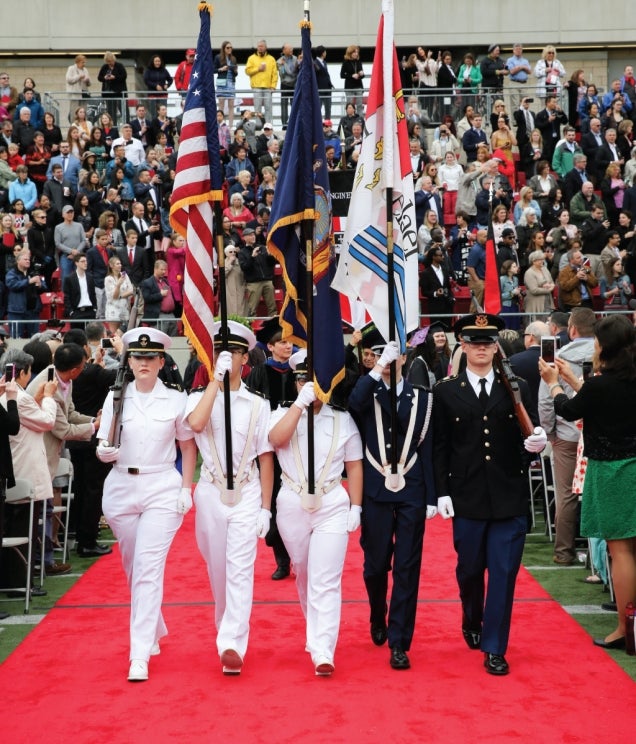 Rensselaer's Newest Flag Officers Reflect on Their Education 
"My Rensselaer education has proven to be invaluable throughout my career," says CAPT Paul C. Spedero Jr. '90, one of two Rensselaer graduates selected this year for promotion to rear admiral. Spedero currently serves as director, Fleet/Joint Training (N7), U.S. Fleet Forces Command. 
"The broad range of engineering and science courses I completed in pursuing my degree in mechanical engineering put me ahead of my peers in appreciating and understanding the advanced technologies that make our armed forces the most advanced in history," he says. "Additionally, my degree from RPI made me eligible for the Navy's Nuclear Propulsion Program and for many of the other opportunities I have had during my career to include being an executive officer and then a commanding officer of a nuclear powered aircraft carrier."
CAPT Scott M. Brown '91 graduated with a degree in engineering physics and a minor in physics. "RPI's education established the foundation for my learning and experience in the Navy," he says. "I learned the fundamentals of technical problem-solving and how to apply first principles and simplified models to solve complex problems."
Brown is currently director, Fleet Maintenance for COMPACFLT (Commander Pacific Fleet), stationed near Pearl Harbor. As a senior Navy leader, he says he is working with teams solving problems and sharing knowledge and information every day.
Both acknowledge that the education and training they received at Rensselaer provided the foundation of their future success.
"I was honored to be selected for promotion to flag rank alongside my fraternity brother and fellow RPI graduate, Scott Brown," says Spedero. "I am proud of my alumni status and grateful for the opportunity to serve at this new rank, an opportunity that began at RPI."