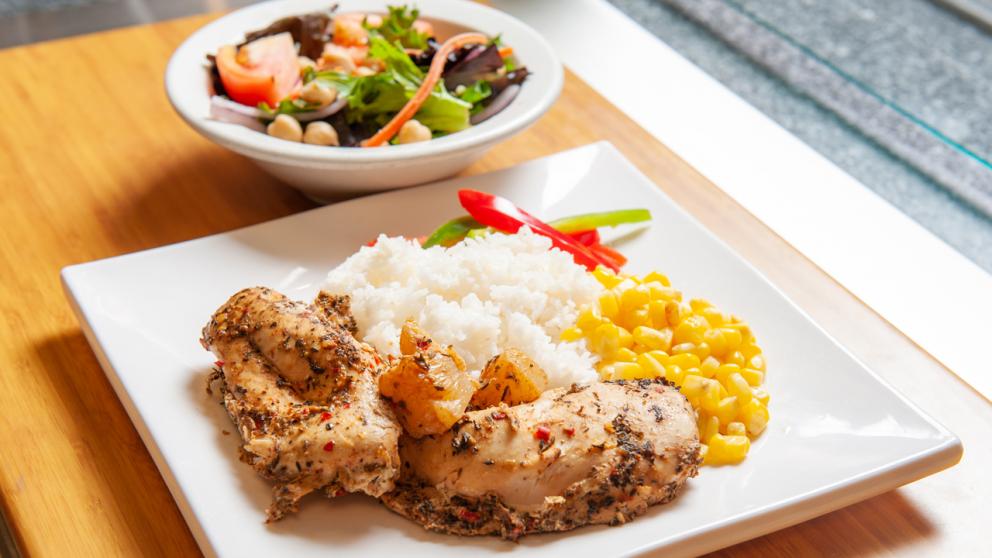 Food for Thought
Rensselaer Dining Services has transformed campus dining, with an emphasis on healthy options and sustainability.
by Tracey Leibach
On a cold November morning, the line for the omelet station at the Commons Dining Hall is by far the longest. Members of the men's lacrosse team have just finished practice and are lining up for replenishment.
Freshman Ricky Bokavich '22 places his order for an omelet with ham, sausage, mushrooms, spinach, cheese, and onions. "I really like the omelet station—it's one thing that's always better than everything else. They have a pretty good variety," he says.
"The students definitely have moved healthier," says David Wilkerson, lead daytime lunch cook, who has been at Rensselaer for three years. "They ask for more grain dishes and salad dishes; overall, just more variety. We always have at least one gluten-free option and a vegan or vegetarian offering."
"Variety" is a common theme for dining options on campus, as students, faculty, and staff have become increasingly focused on what they are eating. Nutrition plays a big factor in their food choices, and sustainability is a major concern.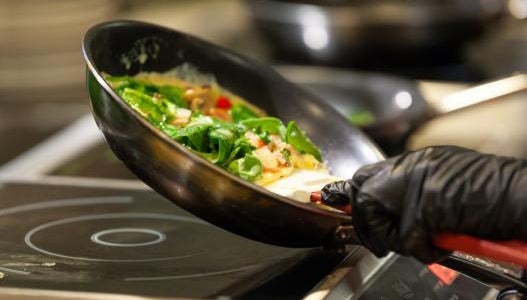 "With such a broad range of diversity here at RPI, the tastes that the students bring are so eclectic," says Aaron Pouliot, Rensselaer Dining Services' new campus executive chef. "The students are educated in food and they are not afraid to try new things. They have a strong global palate. They want authentic cuisine, and I am hoping to bring that to the operation."
"RPI is such a diverse campus," says Mollie August, marketing coordinator for Rensselaer Dining Services. "There's a stigma that college kids just want burgers and fries, but at Rensselaer that is not the case. They are looking for variety and customization."


Stirring Things Up
Rensselaer's dining options have undergone a major transformation in the last decade, driven in large part by student demand. According to Matt Mueller, recent past general manager of Rensselaer Dining Services (which is managed in partnership with Sodexo USA), students are surveyed yearly about their dining preferences.
In recent years, Rensselaer Dining Services has refreshed and updated the dining locations across campus, adding additional serving and seating options in the major dining halls, extending the hours of operation, expanding offerings in the retail locations, and increasing the choices for grab-and-go meals.
The campus is home to four dining halls and 12 retail locations, including a new full-service Panera located in the Student Union.
The Commons Dining Hall on Freshman Hill is open until 9 p.m. daily (weekends are most popular). The dining hall in the Burdett Avenue Residence Hall (BARH), located near the East Campus Athletic Village, now stays open until 9 p.m. to better accommodate athletes' schedules. Before the time change, athletes had to choose between showering after practice or eating dinner before the dining hall closed.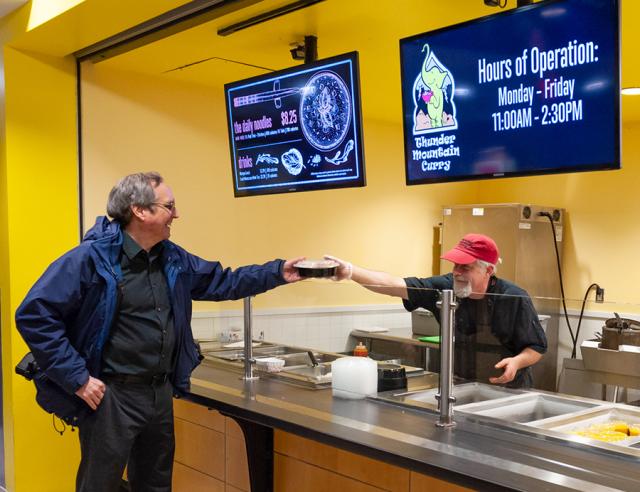 In addition to Panera, one of the first to be operated fully by a university, the Student Union features the wildly popular Thunder Mountain Curry, alongside Collar City Grill, Cusato's Pizza, and the new Halal Shack, which offers what is known as "American Halal," an amalgam of Mediterranean flavors, savory Middle Eastern spices, and classic American style. Rensselaer is also home to the first MOE's Southwest Grill on a university campus, thanks to student demand.
At the Commons and Russell Sage, the two largest dining halls on campus, students can make a one-time purchase of a reusable to-go container that they can fill with whatever the dining hall is offering that day. They can bring the box back and exchange it for a new one as many times as they want.
And the BARH dining hall has transitioned to performance-based menus. "It's always leaned in that direction, but now the menus are focused on foods that enhance optimal athletic and mental performance—things like lean proteins, whole grains, steamed vegetables, and cauliflower and whole wheat crust pizzas," says Kimberly Mayer, registered dietitian-nutritionist and dietitian for Rensselaer Dining Services. "We want to provide the food that athletes and students need to fuel their bodies and minds to keep them at the top of their game."
Last fall, more than 1,800 new students joined Rensselaer—the largest class yet. To accommodate Rensselaer's growing student body, both the Commons and Russell Sage will be expanded in the coming year to add room for more seating and serving space. Russell Sage will gain 160 additional seats, while the Commons will add seating for 200 and will be transformed into a restaurant-style location, where every station will have its own restaurant concept.

Healthy Choices
Health and nutrition are significant priorities for Rensselaer Dining Services. Kimberly Mayer, the campus dietitian, was honored by AllerTrain with its 2018 Best Food Allergy Innovations for Universities award. This training organization, which promotes best practices for university food allergy and gluten-free food management, recognized Mayer for going above and beyond in providing new ways to cater to students with food allergies and special diets. In addition to introducing Rensselaer as the first campus in New York to stock epinephrine in the dining halls, Mayer facilitated the first "entity" course to train staff on a college campus.
"We want these issues top of mind for everyone on staff. It's something we have to stay in front of," she says. Since coming to Rensselaer in 2014, she has led a number of food-allergy initiatives to ensure that every Rensselaer student with food allergies or intolerances, celiac disease, or other special diets has access to food that is safe, healthy, and tasty.
Vegan diets are also gaining in popularity, "so we're offering more plant-based menu items," she says. "Hummus, falafel, tempeh, tofu, and edamame are big sellers."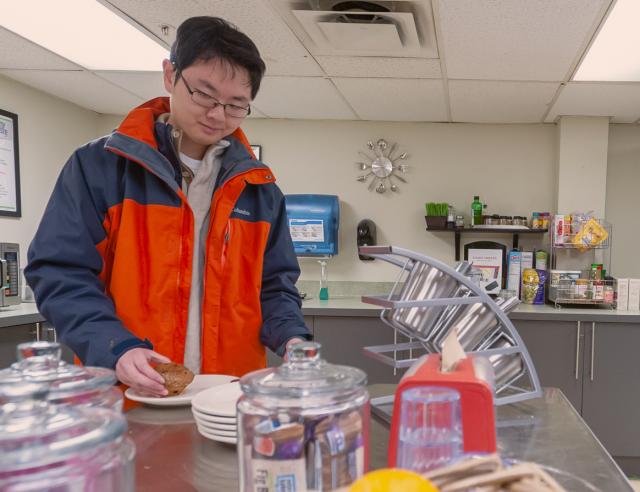 Rensselaer was the first university in the nation to offer "My Zone," a secured, gluten-free, peanut- and tree-nut-free "kitchen pantry" in the dining halls where students access a room with a special ID. Inside, they can get fresh meals, bread, wraps, frozen items, and snacks that are free of the most common allergens.
Additionally, a purple, color-coded kitchenware system has been implemented in campus dining locations to prevent cross contact with common food allergens. To make life easier for those with peanut and tree-nut allergies, Rensselaer Dining Services no longer cooks with peanuts or tree nuts in any of the four dining halls on campus.
At the "Simple Servings" food stations, students can select ingredients that are free of seven of the eight most common food allergens. The station occasionally serves fin fish. The server who works the station is AllerTrain-certified in food allergies and serves each meal to prevent cross contact.
Reducing food waste is a priority. Leftover unused food is shared with local nonprofits…

Keeping It Green
It's no surprise that a desire for more sustainable practices has inspired many of the changes at Rensselaer. The university has put into place a number of sustainable initiatives and programs across the campus, and Rensselaer Dining Services is no exception.
Tray-less dining service was introduced four years ago, helping to minimize water and energy usage, while creating a more sustainable food service. It also has resulted in much less food waste.
Working with the Student Sustainability Task Force, Rensselaer Dining Services now offers a reusable coffee mug to all incoming freshmen. Whenever possible, food is sourced locally. Recent featured local partners include Bryne Dairy, Carioto Produce, and Purdy & Sons Meats.
Reducing food waste is a priority. Leftover unused food is shared with local nonprofits, including Joseph's House in downtown Troy. The Panera location donates all day-old baked goods to Joseph's House.
"During this time of year, our shelter is always full and we try to give our guests healthy food and snacks," says Patti Tullgren, director of development for Joseph's House. "We place great value on RPI's food donations, as it's always fresh and delicious food that our guests enjoy. It helps us feed those that we might not be able to."
The Dining Services team is aiming for zero waste, utilizing compost, recycling, and donations.
A Changing Student Palate
Although Rensselaer Dining Services is taking the lead on the renovations and upgrades, students are the driving force behind many of the changes. There are a number of clubs focused on food and nutrition, and the Student Senate now has a 10-member Hospitality Services Advisory Committee (HSAC), which surveys students to identify what specific improvements they would like to see.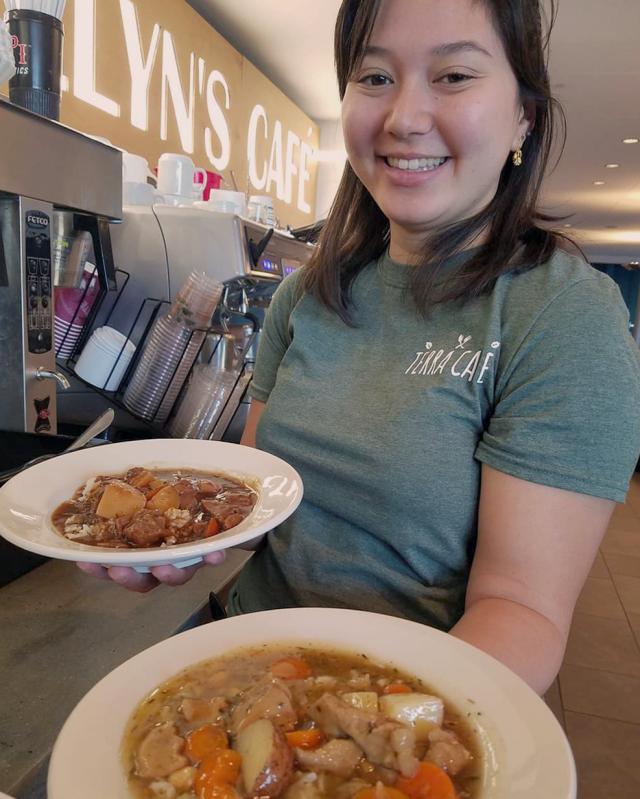 According to Student Senate member Advaith Narayan '21, a mechanical engineering major who chairs HSAC, "I joined this committee to increase its impact on the student body and also because campus dining/food was one of the biggest concerns for my constituency."
One of committee's new initiatives is a program called Fresh Pantry. "This would work like Blue Apron or Hello Fresh, where students would be able to pick up a pre-proportioned meal that they can then cook at home. We are working closely with Rensselaer Dining Services to figure out the details of what meals we can offer, and we plan to roll out a pilot program next semester," he says.
The student club Terra Café has been making an impact on campus for more than a dozen years. Now located in Evelyn's Café in the Curtis R. Priem Experimental Media and Performing Arts Center (EMPAC), Terra Café is a sit-down or take-out restaurant committed to providing locally sourced and organic food to the campus community every Wednesday. The group often partners with Rensselaer Dining Services and other organizations on campus to co-host events. Each week features a new menu with a meat option, vegetarian/vegan option, and dessert with drinks.
Joerene Aviles '19, a senior biomedical engineering major, is president of Terra Café. "In terms of sustainability, I've learned the importance of sourcing local food, to both support the local and state economy and reduce environmental impact, through reduced travel of ingredients," she says. Her favorite Terra Café lunch is shepherd's pie, and her favorite vegan dessert is Black Forest cake.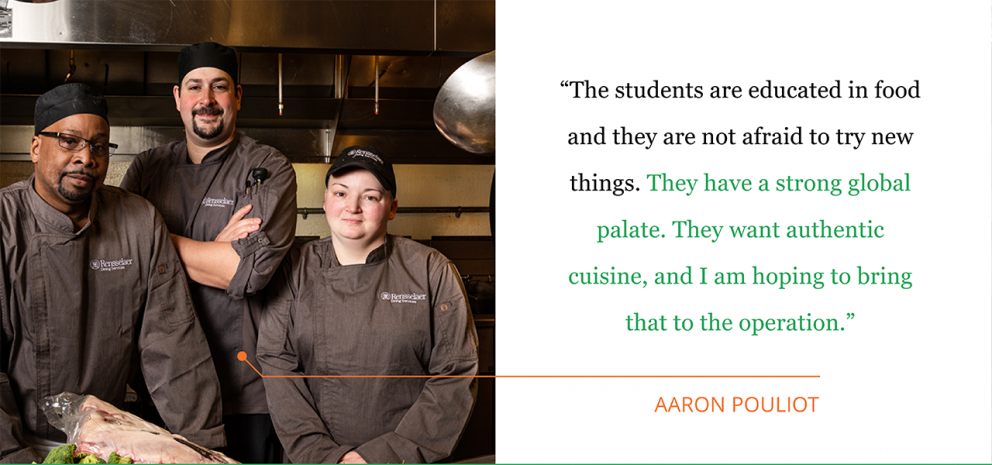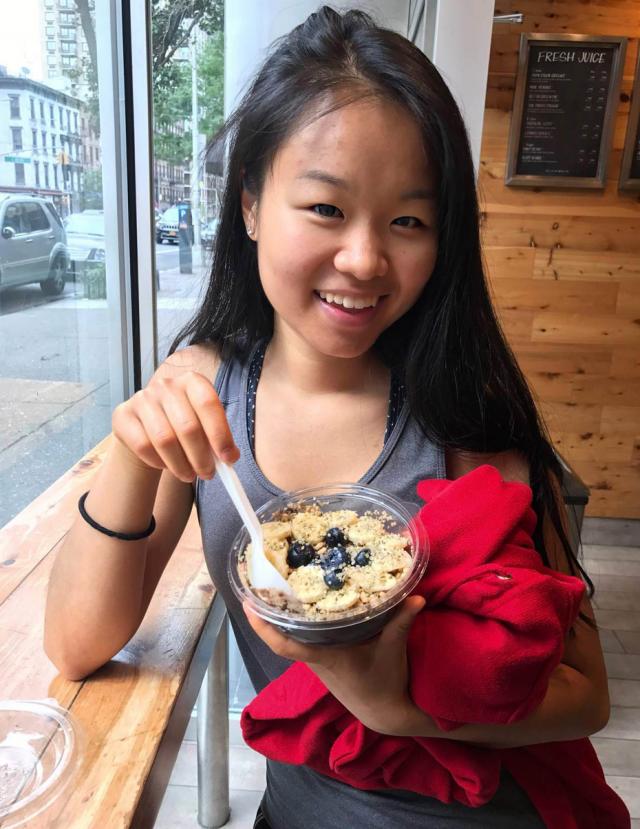 A new Student Union-funded club is the Nutrition Club, founded by Wan Na Chun '19 and Sydney Noldin '20, who serve as co-presidents. "Many RPI students are so focused on school and grades that they don't devote enough time to thinking about nutrition and their well-being," says Chun, a senior majoring in chemistry. "I believe that with a nutrition club on campus, we will soon see many changes in the health of RPI students."
So far, the club has already co-hosted an event with Terra Café, where members helped serve healthy local food at one of the weekly lunches. They also plan to collaborate with Mayer, the campus dietitian, to host workshops for members covering topics such as how to make different pre/post-workout meals, Chun says. "Furthermore, we plan on hosting nutrition trivia and tabling in the Union in order to educate people about nutrition."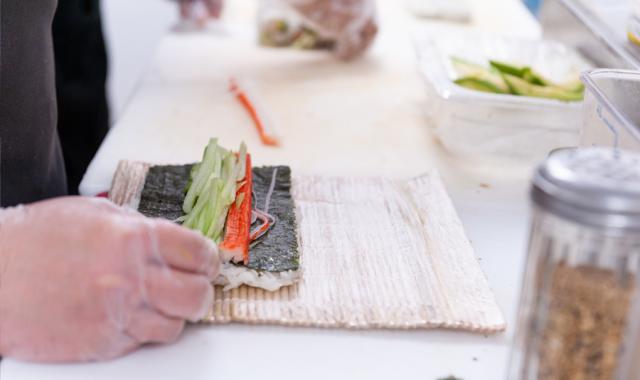 "The students at RPI are different than other schools I have worked at or supported," says Pouliot, who has been a chef since 2005 and who joined Rensselaer last August. "They are a very interesting group of people. They are quiet, and they carry themselves with a good feeling of respect, to themselves and each other, but also to our staff. They seem like school is first; they all seem to have a plan, and will work extremely hard to get to the end goal.
Pouliot has found a number of exciting opportunities at Rensselaer. "This is a very prestigious school with several dining locations and multiple brand concepts," he says. "There is a ton to manage and understand, and I really enjoy the challenge of taking a program and putting my twist on it. For the future, I am looking to grow our program with some station changes and a focus on the menus we produce, taking into account the ethnicities of our students."
"We might not be able to accommodate all requests," he continues, "but we will do our part to make the dining experience at Rensselaer a good one."