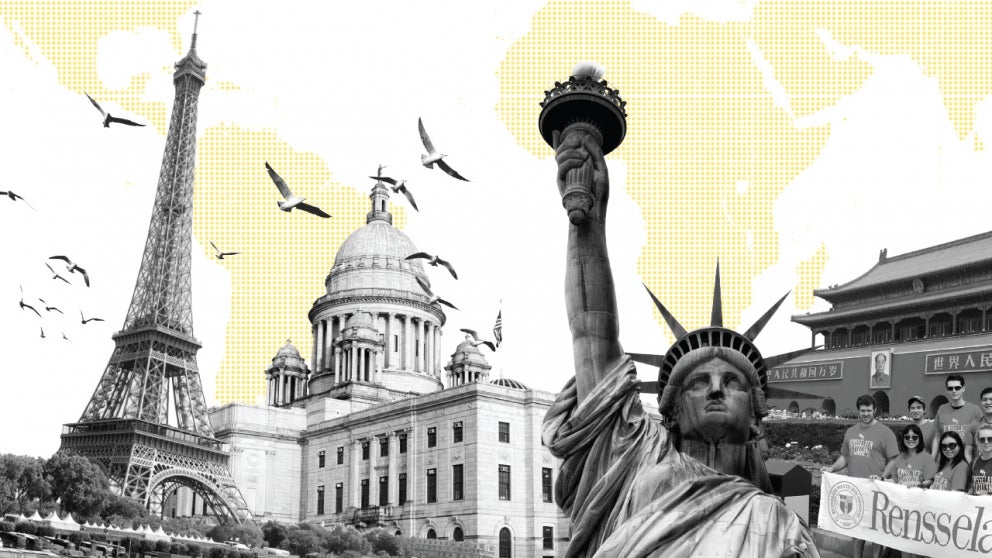 Summer Here, the World Away
Breaking free from the traditional academic calendar, The Arch takes experiential learning to new heights.
by Regina Stracqualursi
If you were to walk through a handful of college and university campuses during the summer, you'd likely find similar scenes: sparsely filled parking lots, students huddled around just a few tables in the dining hall, and professors teaching class in the midst of otherwise vacant buildings. But you won't find this at Rensselaer Polytechnic Institute. Instead, you'll find bustling walkways ahead of 8 a.m. classes, students eating lunch with their professors in Russell Sage Dining Hall, and friends playing Frisbee on the '86 Field all summer long.
As part of The Arch, a new and innovative approach to education, Rensselaer has reimagined the traditional academic calendar. Now, all students spend the summer after their sophomore year on campus in preparation for a full semester away, where they put their knowledge into action outside of the classroom.
Breaking the Mold
The Arch, first announced in 2015, was introduced by President Shirley Ann Jackson as part of an ongoing effort to make the Rensselaer student experience more transformative. "Rensselaer continues to find ways to encourage exploration, to make our students active participants in their own learning, and to use different modes of teaching to spark unpredictable synergies and new ideas," says President Jackson. Building upon Clustered Learning, Advocacy, and Support for Students (CLASS), the model designed to facilitate personal and professional growth throughout a student's academic journey, The Arch ensures that all students explore their interests and passions as they form their career goals. 
"This was part of an exercise where we asked ourselves, 'What can we do to really enhance the total educational experience?'" says Prabhat Hajela, provost. "We wanted to develop a program that would provide students with the kind of experiences that would really help them grow."

It was ultimately decided that experiential learning, something that has been a key characteristic of a Rensselaer education throughout the Institute's near-200 years of history, could be taken to new heights. While Rensselaer had a longstanding Cooperative Education Program, only a fraction of all students participated. Though a co-op may not be the most suitable professional development opportunity for every program of study, the idea of having an educational experience outside of the classroom was something that could be applied widely. 
"Students who have a breadth of experiences come back to the classroom more enriched," says Keith Moo-Young, vice provost and dean of undergraduate education. "They understand why they're studying a major and how it relates to the bigger picture."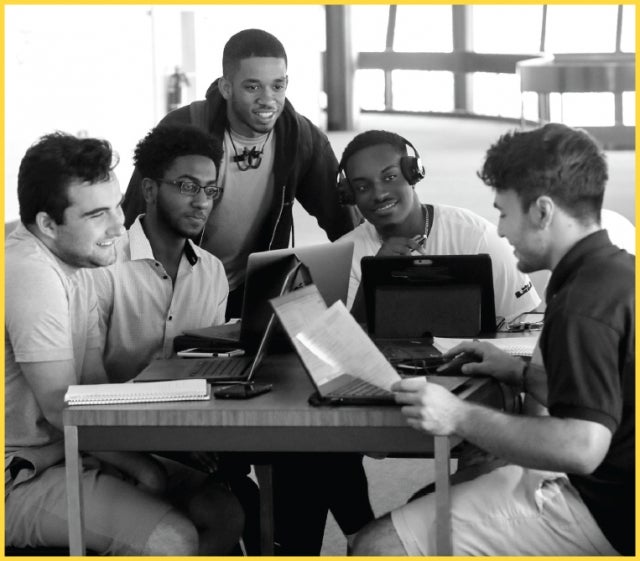 The Arch allows students to tailor that experience to their individual passions and goals. They can spend time away from the Rensselaer campus pursuing a variety of opportunities, including co-ops, internships, civic engagement, international travel or study, research, and entrepreneurship. Students also are able to pursue nontraditional experiences through an option called an Individual Learning Experience (ILE), where they develop a customized plan for their semester away. "It's really up to the student, their creativity, what they want to do, and how they can relate it to their goals," says Moo-Young.
The Arch also opened the door to another unique experience for students — a semester where their class would be the only full cohort on campus. "We didn't want the experiential learning activity to extend the time or cost it takes for a student to graduate," says Hajela. "Knowing this, we saw an opportunity for each class to spend a semester on campus separate from the rest of the student body, which would give them added opportunities to further develop relationships with one another and with members of the faculty."
Living on campus as the only class not only allows students to build a stronger sense of community, it also enables them to grow personally and professionally. With The Arch's required summer semester comes a slew of exclusive co-curricular activities such as student-faculty lunches, one-day pop-up courses, field trips, cultural events, recreational activities, and more. Additionally, the Center for Career and Professional Development (CCPD) offers customized workshops and programs to aid rising juniors in the search for their away experience. "The summer semester provides students with individualized attention from their advisers, professors, and the CCPD staff," said Peter Konwerski, vice president for student life. "These experiences will help them learn beyond the classroom, enhance their career skills, and grow their professional networks; preparing them for greater success in life after college."
Summer Here
Carlos Elizondo '19, an industrial and management engineering major, was among the first students who participated in The Arch as part of a pilot program. One week after completing his sophomore year, he arrived back on campus to take on a full semester of studies in addition to preparing for his semester away.
Originally from Houston, Elizondo never had the opportunity to experience the Rensselaer campus or Capital Region during the summer. "It's beautiful," he says, looking back fondly on the afternoons he spent outside. "Campus really lights up. That's something I always heard but was never here to witness." Today, students participating in The Arch have ample opportunities to explore the Capital Region. Each summer, Rensselaer offers a lineup of recreational activities, such as berry picking, whitewater rafting, and goat yoga, all at no additional cost to the student.
The Arch also gave Elizondo the chance to experience the academic environment at Rensselaer in new ways. His summer classes were smaller than what he experienced during a traditional semester, something that helped him as he transitioned out of foundational courses and into the main course requirements of his major. "With smaller classes, you're more dependent on the professor and each classmate to help guide the discussion," he says. "You have the chance to really take the direction of the course into your own hands."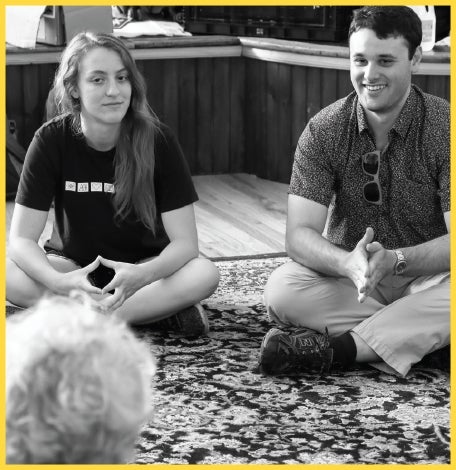 On top of taking a full semester of classes, Elizondo spent his summer working diligently to secure a co-op for his away experience, an option he chose because the shift in the academic calendar gave him availability in both the spring and summer. Taking advantage of the resources and programs the CCPD had to offer, he found and applied to over 130 positions. "It's like you're in the batter's box of the Home Run Derby," says Elizondo. "You're looking for that one good pitch that's going to knock it out of the park and if you keep getting bad pitches, you just have to keep swinging."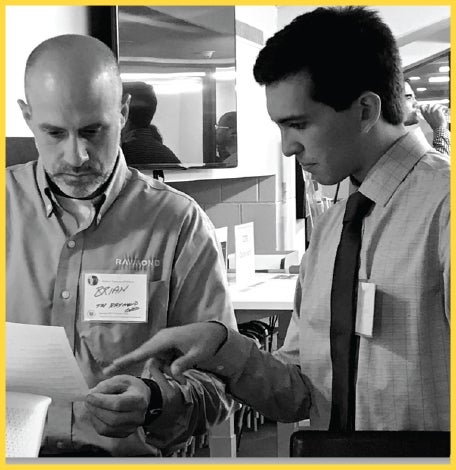 The World Away
Instead of returning to class after winter break with his friends like he had done in past years, Elizondo pulled into the parking lot of the Philips manufacturing facility in Latham, New York. As part of the health technology company's co-op program, he spent the next eight months working as a procurement engineer.
After learning about the position, Elizondo met with a recruiter for an on-campus interview. Though he interviewed for a position different from the one he accepted, the connection to the recruiter is what ultimately gave him the opportunity.
That semester, he traded his classes for team meetings and his homework for project tracking reports. Because he had the ability to spend several months working at Philips, longer than a traditional internship, Elizondo was given the opportunity to be part of a team that managed the introduction of a new product into the facility. The product, an MRI machine, has since been added to at least one major New York City hospital for testing and research. "It's awesome to see it come to life," Elizondo says.
Because The Arch takes place during junior year, students have the ability to come back to campus and tailor their coursework accordingly, as well as look for applicable concentrations or certifications to add to their degree. It also provides them with important insight when thinking about their postgraduate plans.
"That's my favorite part: when you talk to them when they've come back and you hear what they've learned about themselves, their skills, and where they want to go," says Dawn Cairns-Weaver, associate director of the CCPD. "Some students will come back and say, 'I know what I don't want to do,' which is also important."

The Arch in Action
This past summer, Rensselaer welcomed the Class of 2021 to campus as the first full class to participate in The Arch. Nearly 1,100 students returned to campus just two weeks after completing the spring semester, to take part in more than 210 academic courses and a diverse selection of pop-up courses, field trips, professional workshops, and recreational activities.
Since The Arch was first piloted, the CCPD has expanded its staff to include a full-time employer relations team solely dedicated to cultivating relationships that fuel opportunities for students' away semesters. Experiences have been identified with companies such as Amazon Robotics, Lockheed Martin, and ExxonMobil. 
Today, The Arch influences a student's journey at Rensselaer from the moment he or she steps on campus freshman year. From Freshman Career Compass, a series of programs put forth by the CCPD to get students thinking about career options, to the mandatory online preparation course designed to guide sophomores through the process of planning for their semester away, The Arch serves as an underlying force that encourages students to explore their full potential and gain the experiences needed to be successful.
After initially being rolled out in the form of two voluntary pilot sessions during the 2017-2018 and 2018-2019 academic years, The Arch is now a required component of the Rensselaer education. Having gained a variety of unique experiences both outside of the classroom and on campus, Rensselaer students graduate better prepared to make a difference in the world around them.
"The Arch, as the name symbolizes, describes an act of extending your mind and body to reach out for something beyond just a traditional program of study," Hajela says. "It is a vehicle to attain and enhance intellectual agility, multicultural sophistication, and a global view."
Students Speak About The Arch
Maddie Daily '21
As someone who is passionate about both animals and solving problems, Daily considers veterinary biomedical engineering her dream. One day, she hopes to create prosthetics for animals in need. The Arch has allowed her to bring this dream to fruition; this fall, she is experiencing her studies in new ways as an intern for the Pittsburgh Wildlife Rehabilitation Center. "The skills I'm going to pick up, such as working with a lot of different types of animals and working in a fast-paced environment, will definitely benefit me," she says.
Maggie McAuliffe '21
When McAuliffe came to Rensselaer, she chose to pursue a degree in industrial and management engineering because of its versatility. Having a major that can be applied to a number of industries, McAuliffe will take time to explore one prior to graduation. This spring, she will spend a semester away working at BorgWarner, an automotive technology company based in Ithaca, New York. "It's really exciting to think about," she says. "I'm looking forward to applying the things I've learned in the classroom in a real-life experience." 
Tomás Provencher '21 
Provencher, a dual math and physics major, spent his away semester working as a project engineer at Hasbro in Providence, Rhode Island, where he supported the development of the company's games. "I know that's not what I want to do now," he says. "But just having a new perspective is something I'm really grateful for. It's helpful in everything else I do, from how I communicate to how I interact with people, both professionally and personally."
Ashley Smith '21
Smith always knew she wanted to be a doctor one day so studying biology at Rensselaer was a no-brainer. In preparing to apply to medical school, she knows that it will be important to have experiences beyond the classroom, such as research and volunteer work. "I don't want to just check off boxes," says Smith. "I actually want to do things that are interesting to me." As part of a program funded by the National Science Foundation, Smith is spending this fall conducting coral reef research at the Bermuda Institute of Ocean Sciences.
Geetika Verma '21 
As a student pursuing a degree in biology, Verma plans to go to medical school to attain her M.D. after graduating from Rensselaer. This fall, she will gain a new perspective on the field of health care as a technology co-op for Johnson & Johnson's pharmaceutical sector. "I am looking forward to learning more about the blend of health care and technology while enhancing my leadership skills," says Verma, who is eager to see how the knowledge she has gained can be applied outside of the classroom. 
Jack Zhu '21
In deciding between postgraduate plans such as going to medical school, working in industry, or pursuing a Ph.D., participating in an internship has allowed Zhu to further explore his passions as a scientist. "In the end, I'll get to ask myself, 'Do I like doing this kind of work in this kind of setting?'" says Zhu, who, this fall, is working as an intern for ASML, a semiconductor company located in the Netherlands.