Academics
Center for Global Communication and Design Announces New Name and Broader Mission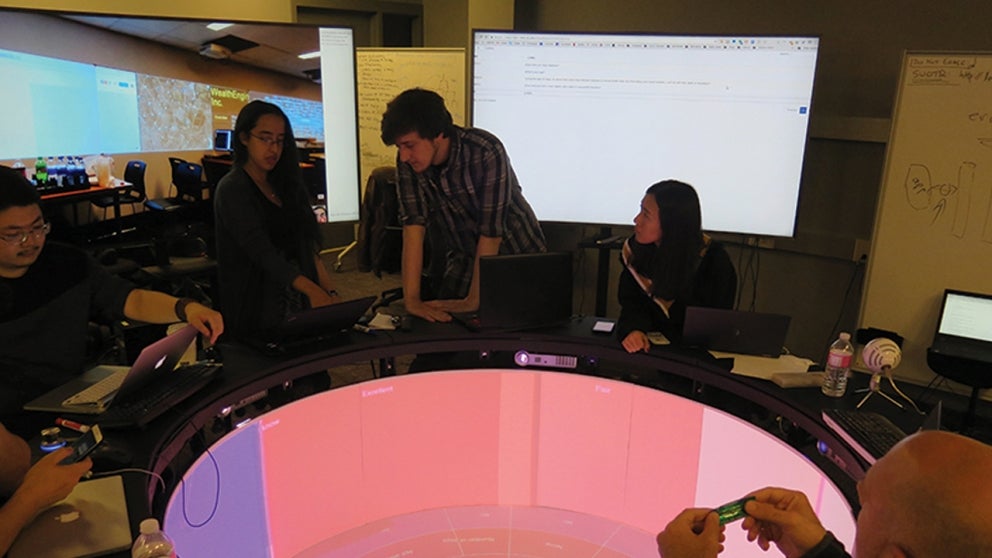 "

Interdisciplinary research and collaborations create opportunities for students to explore innovative ways to use communication design and new technologies to present information to diverse audiences in a global society.

"


— Patricia Search
To celebrate its 40th anniversary, the Center for Communication Practices has announced a broader vision as well as a new name: the Center for Global Communication and Design, known informally as Comm+D. The center, located on the first floor of Folsom Library, was established in 1978 as The Writing Center to offer communication assistance to the Rensselaer community.
For four decades the center has offered one-on-one consultation to students, faculty, and staff in preparing written, oral, and electronic communication projects. Now the center is expanding its areas of teaching, research, and service beyond writing and oral communication to include various types of visual communication including illustrations, interface design, video and animation storyboards, and multisensory data representation.
In addition, workshops and discussions with international scholars will highlight research in different areas of communication and inform pedagogical initiatives that prepare students to communicate effectively in diverse global contexts.
This summer, the center began operating year-round in support of The Arch program's new academic summer semester, providing mentoring, research presentations, and professional workshops. Also, the Summer Academic Program for International Students (SAPRIS), which welcomes international students to Rensselaer and to American academic culture, has moved under the Comm+D umbrella.
In June, Comm+D partnered with the Lally School of Management, the Rensselaer Institute for Data Exploration and Applications (IDEA) / Health INCITE, and the Cognitive and Immersive Systems Lab (CISL) to present the 2018 Rensselaer Cognitive and Immersive Data Insights Application Challenge. More than 40 undergraduate and graduate students competed in this inaugural challenge to create immersive, multimodal, collaborative applications using health and business datasets.
In addition to cash awards, winning teams were presented with opportunities for ongoing interdisciplinary research.
"Multimodal and cross-cultural communication are areas of focus at Comm+D," says Patricia Search, center director. "Interdisciplinary research and collaborations, such as this year's Cognitive and Immersive Data Insights Application Challenge, create opportunities for students to explore innovative ways to use communication design and new technologies to present information to diverse audiences in a global society."
Search is a professor in the Department of Communication and Media and a designer of interactive multimedia installations that explore the aesthetics of space, time, and action in multisensory design. Barbara Lewis, lecturer in the Department of Communication and Media, is the communication practices lead faculty in the center with expertise in writing in disciplines. Center staff include graduate teaching assistants and undergraduate mentors who have significant experience in composing and responding to many types of either written or visual work.