One Last Thing: Commemorating a Landmark Speech
Architect Revisits a Civil Rights Leader's Call to Action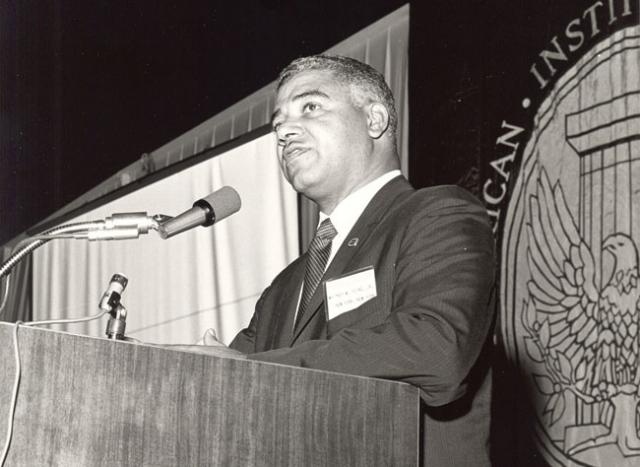 By Kathryn Prigmore '78, FAIA
At the 1968 American Institute of Architects (AIA) Convention in Portland, Oregon, civil rights leader Whitney M. Young Jr. delivered a fiery speech about diversity in the architecture profession. He told his audience of mostly white men: "…you are not a profession that has distinguished itself by your social and civic contributions to the cause of civil rights…You are most distinguished by your thunderous silence and your complete irrelevance."
As head of the National Urban League, Young led the drive for equal opportunity for African-Americans in U.S. industry and government service. He urged the members of the architecture profession not only to increase the number of minorities in the profession, but also to actively address such issues as lack of access to economic opportunity and discriminatory housing practices.
On the 50th anniversary of his landmark speech, Architect, the journal of the AIA, published a series of essays by contemporary practitioners reflecting on the speech and its aftermath. The following was written by Kathryn Prigmore '78, FAIA.
Whitney M. Young Jr. could have given this address to any profession in 1968. Or in 1978; or, even today some 50 years later. He was speaking to not just men or architects, or Americans, but to all of us as supposedly compassionate human beings. He was asking each of us — no matter what our race, or gender, or condition — why we refuse or are reluctant to funnel some of our energy and passion to improving the lives of those less fortunate than we are. He was asking us why, once we reach a certain stature, do we isolate ourselves from our more humble pasts?
Thankfully, architects are making progress toward overcoming "our thunderous silence" and our "complete irrelevance." Mobilization of the profession to address Mr. Young's challenge took many forms. Some, like the National Organization of Minority Architects, began immediately and have evolved into sustained institutions with equity in the profession as a primary mission. Others were later additions to the cause, such as the powerful ArchVoices which purposefully dissolved after achieving its primary goals and stimulating the introduction of many initiatives through which architects and others can focus on specific aspects of disparity within the built environment.
Architects and students regularly reach beyond the boundaries of our profession through a broad range of programs such as Canstruction and the Rural Studio. Pipeline programs such as Architecture in the Schools expose diverse groups of young people to the possibility of becoming an architect. Initiatives aimed at making us more aware of the shortcomings within our profession, such as Equity by Design, and aimed at supporting diverse populations within the profession, such as Riding the Vortex, currently thrive.
There is a higher percentage of firms which undertake socially conscious endeavors either as part of their primary mission or as tertiary activities now than there were in 1968. Just like the rest of America, and most of the world, our progress has been steadily moving in a positive trajectory. Ironically, within our profession the greatest strides have been made relative to gender equity, an area not even mentioned in Young's speech.
Young addressed many ills of society and of inequities in the built environment that planners, engineers, developers,  bureaucrats, politicians, or others are more able to affect than practicing architects. In response to this aspect of his challenge, our academic communities acknowledge they are training not just professionals but individuals with backgrounds in architecture who will fill roles within the entire spectrum of professionals involved with conceptualizing, designing, and constructing the built environment. As more individuals trained in architecture become policymakers and financiers, the better our physical environments will become, not just for those who can afford to commission an architect but for everyone.
Today, as in 1968, there is no simple answer to the questions Young posed. As long as change happens within the existing socio-political environment we can only achieve modest gains. For true parity to be achieved, we need to dissolve the laws and institutionalized policies which provide the foundation for inequity in our profession, in America, and throughout the world.
Kathryn Prigmore '78, FAIA, is a senior associate at the Washington, D.C., architectural firm Shalom Baranes Associates, and is adviser to the president of the National  Organization of Minority Architects (NOMA).