PRESIDENT'S VIEW • SHIRLEY ANN JACKSON, PH.D.
Signs of Success
Transformative Campaign provides opportunities for sharing Institute progress with alumni and alumnae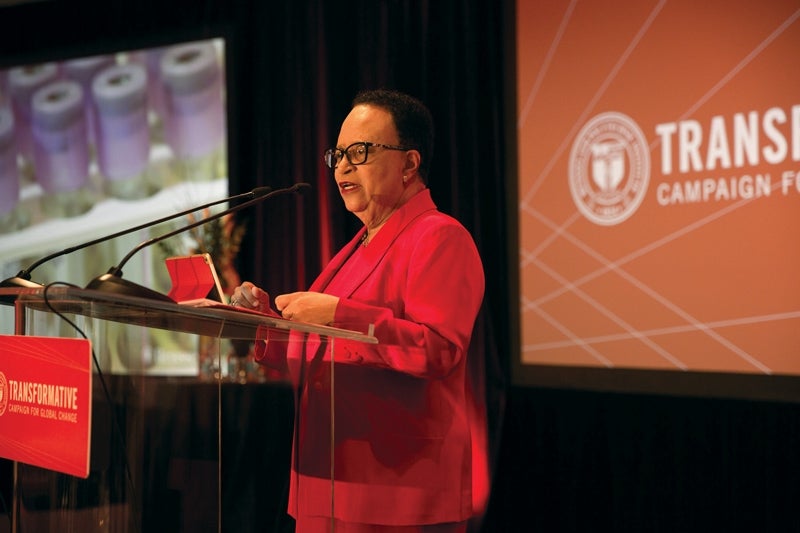 "...we engage our students with a revolutionary pedagogy that includes the gamification of courses, immersive experiences, and interaction with artificially intelligent characters."
— President Shirley Ann Jackson
Since the launch of our capital campaign, Transformative: Campaign for Global Change, I, along with leaders from across the Institute, have been traveling across the country and around the world to engage with the Rensselaer community. We have hosted events in New York City, New Jersey, Washington, D.C., Boston, Sarasota, Fort Meyers, West Palm Beach, and Miami. Internationally, we have visited with our alumni and alumnae in Dubai and Zurich.
We have had the great pleasure of talking about how we are educating the next generation of technological leaders, as well as changing the world through our research and pedagogy.
The signs of success are everywhere at Rensselaer. We had the greatest number of applicants for our freshman class in history — 20,403 — a 5 percent increase over the record-breaking number of applications we received last year. We have admitted the strongest (SAT: 1409) and the most diverse class in our history.
We derive this strength from a strong vision for ourselves that inspires Rensselaer students, faculty, and staff alike. We operate within the paradigm of "The New Polytechnic," in which we continue to educate our students for deep foundational knowledge in their chosen fields — while we also serve as a great crossroads for the exchange of ideas across disciplines, sectors, geographies, and generations. At Rensselaer, we bring together talented people from everywhere to address the greatest of challenges, using the most advanced tools and technologies.
Another key factor is our world-class faculty, which includes members of the National Academy of Engineering, the National Academy of Sciences, and the National Academy of Inventors, several professors who serve on key national panels and committees, hundreds of fellows of technical and professional societies, dozens of early CAREER award recipients, and numerous winners of national and international awards.
To stay on the leading edge in education as well as research, we are adding to our academic offerings in emerging fields. We have a new Bachelor of Science in Music program that began this fall, as well as a new focus on Quantitative Health Economics in our Economics Department. We are developing a new Bachelor of Science program in the Lally School in Quantitative Finance and Analytics; and in the School of Science, a new program of study in Artificial Intelligence and Machine Learning.
Overall, we engage our students with a revolutionary pedagogy that includes the gamification of courses, immersive experiences, and interaction with artificially intelligent characters.
As we do all of this, we encourage new ways of seeing and thinking that cross fields. Recently, we launched an initiative that received a great deal of attention around the nation — a "data dexterity" requirement to ensure that all undergraduates learn how to use diverse datasets to define and solve complex problems. In addition, an initiative we have created, titled Art_X, which focuses on the art in and of science, and the science in and of art, also encourages creativity across disciplines, and domains.
To ready Rensselaer, the oldest technological research university in the nation, for global leadership in the 21st century, we have begun a billion-dollar capital campaign — Transformative: Campaign for Global Change — which has three pillars:
The first is increasing student financial aid and enhancing the remarkable student experience at Rensselaer. The cost of the education we offer — world-class, immersive, and experiential — means that our ability to offer financial aid must bridge the cost gap for many students.
Our second pillar focuses on our faculty. We will use the resources unleashed by the campaign to create new endowed professorships that will allow us to attract and retain the very best academic talent from around the world.
Our third pillar focuses on our beautiful Troy campus, which we must grow, modernize, and equip for continued leadership in pedagogy, research, and student life.
As we consider the world around us, the stakes are high. The opportunities are clear. The urgency is real. The world truly needs that particular combination of qualities that characterize the men and women of Rensselaer — that combination of audacity, creativity, pragmatism, and refusal to be daunted by the scale of a challenge.