Athletics
Grant O'Connor Named Men's Track National Athlete of the Year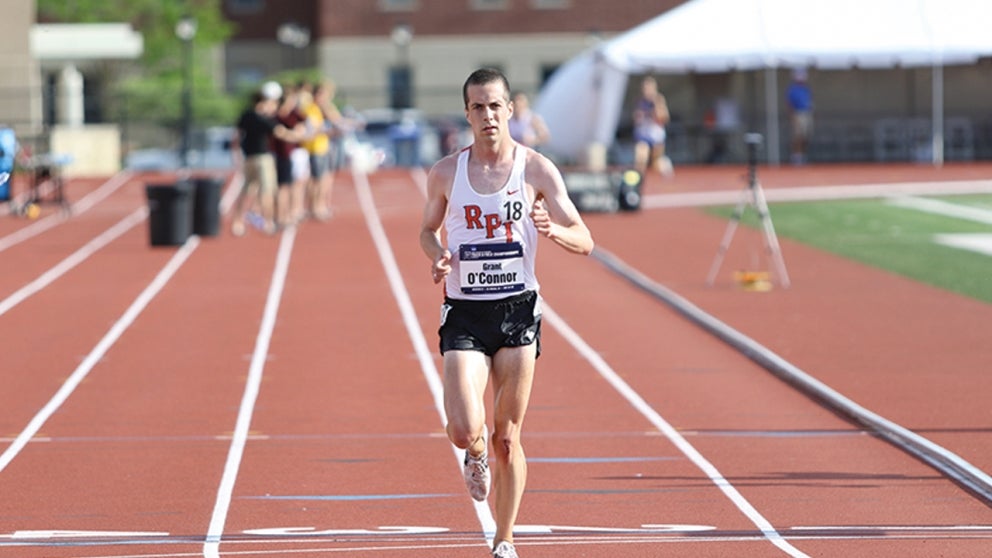 Student-athlete Grant O'Connor has been named the NCAA Division III National Men's Track Athlete of the Year, earning the highest honor awarded by the United States Track & Field and Cross Country Coaches Association (USTFCCCA). The junior is the first from Rensselaer to ever be selected.
O'Connor culminated the 2018 campaign by collecting the most points by an individual (18) at the NCAA Division III Outdoor Championship, including a National Championship in the 5000 meters. He was second in the 10,000-meter run, helping Rensselaer to a school-record fifth-place team finish.
"I have had the honor of working with some of the top student athletes in the world while serving as an athletics administrator," says Lee McElroy, associate vice president and director of athletics. "Grant O'Connor stands among the best, not only for his athletics prowess but his academic and leadership excellence. His feats made history at Rensselaer and established a standard that will permeate our entire athletics program."
O'Connor backed up his runner-up in the 10,000 by edging out Will McDermott of Widener University at the wire in the 5000 to earn his first individual national title. He ran a 14:26.03, which included a 59.94 second final lap, to narrowly clip McDermott, who took a brief lead at the final turn. A final push over the last 50 meters and a lean at the finish line gave O'Connor the victory by just 0.03 seconds.
In the 10,000, O'Connor finished in 30:17:88, which was 30 seconds behind champion Dhruvil Patel from North Central College and 14 seconds ahead of McDermott. He finished with negative splits over his final six laps, closing out the race with a 1:09.44 final 400 meters. He opened with a 1:15.70 — his slowest lap out of the 25 and then did not stray outside of 71-75 seconds the rest of the way.
O'Connor's outdoor season also included victories in the 5000 meters at the Liberty League Championship (15:01.46) and in the 10,000 meters at Bucknell University, where he established an NCAA Division III best time of 29:19.53. He was second in the 1500 at Tufts University (4:01.59) and third in the same event at the league meet (3:59.14). O'Connor, a captain, also ran in the 5000 meters at The Penn Relays, finishing in 14:10.60 to qualify for the NCAA Championship.