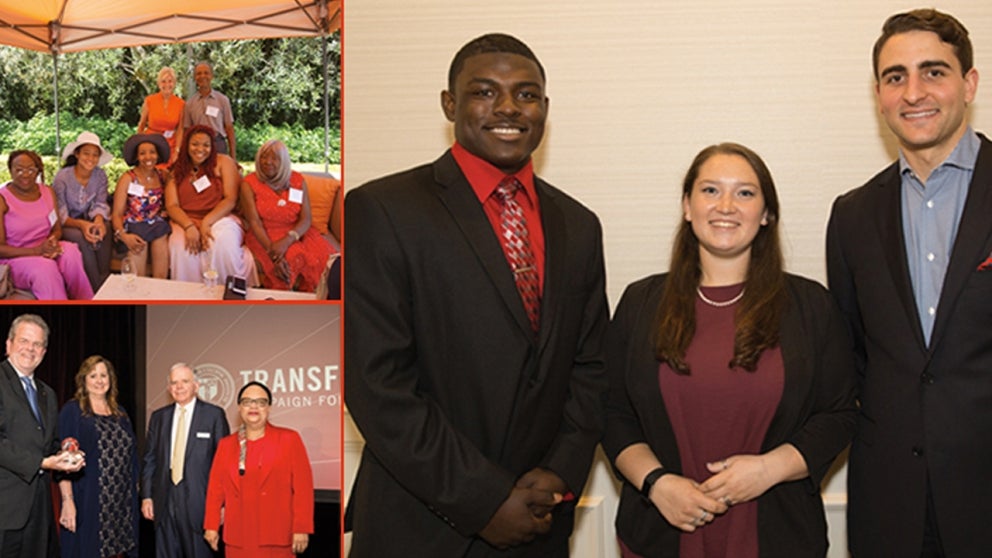 "My journey at Rensselaer began last summer with the Bridge Scholars Program…designed to help prepare students for the rigors of the classroom. But what I received from the program goes beyond that. I made friends for life, and the peers and leaders of the program have helped me grow immensely throughout my first year."
– Oliver Feagin '21, Psychological Science

 
This spring, President Shirley Ann Jackson hosted more than 150 alumni, alumnae, corporate partners, leaders, and friends at an inaugural scholarship gala on the West Coast designed to build upon and strengthen the connections between Rensselaer and more than 8,000 alumni, alumnae, and parents who call California home.
At the West Coast Scholarship Gala, guests of Rensselaer enjoyed an evening of celebrating the importance of student scholarship. Many also participated in immersive activities that began earlier that day, featuring opportunities to connect with faculty, leaders, and students through presentations, research demonstrations, and panel discussions. Additionally, efforts to establish regional networks that will support strengthening the bond among and between the growing cohort of alumni and alumnae, corporate partnerships, and current and incoming students and families was supported with the official launch of the Rensselaer Silicon Valley Network Executive Council. The weekend culminated with a reception for incoming students, family members, alumni and alumnae, and leaders that is annually hosted by Board of Trustees Member Nancy Mueller.
"Participating in The Arch gave me a new opportunity to gain real-life experience, which in turn opened the door to further and different opportunities. All of these experiences, both on and off campus, have shaped me into the student, scientist, and person that I am today. I hope to use the skills, experience, and relationships I've acquired to make a difference, and, someday, change the world."
– Rebecca Wilen '19, Chemical Engineering
"It is fitting that we gather on the West Coast," said President Jackson. "The association between California and Rensselaer has become increasingly noteworthy. The devotion of our Rensselaer West Coast community will support a transcontinental model for enhancing accepted and incoming student programs, engaging parents, alumni, and alumnae — many of whom are key leaders in their respective industries — to network on behalf of the Institute and its talented students, and further strengthening corporate alliances across the region."
Cindi and Curtis R. Priem '82 were recognized at the event for their transformative campaign gift that enhances faculty and research excellence through the establishment of an endowed Curtis R. Priem '82 Cognitive and Immersive Systems Constellation. The constellation will support a cohort of multidisciplinary faculty and students forging new frontiers in research, further advancing the world's understanding of cognitive computing.
The gala also commemorated the West Coast launch of Rensselaer's capital campaign, Transformative: Campaign for Global Change. Publicly launched in fall 2017, the campaign seeks to raise $1 billion. The campaign's pillars include improving student access and enhancing the student experience, empowering world-class teaching and world-changing research, and building the third-century campus. Support of this initiative will allow Rensselaer to secure the future for its third century and empower students to change the world for generations to come.
"It's an exciting time to be ambassadors for Rensselaer," said Priem. "We are thrilled to be a part of the Rensselaer vision for the future. It's important for us to have the opportunity to support the enhancement of faculty and research as one of the three key pillars of the campaign."
If you were unable to attend the West Coast Gala, plan to attend the East Coast Annual Rensselaer Scholarship Gala in New York City on October 24. For more information, visit giving.rpi.edu/gala/east.
"From a school that is the oldest technological research university in the United States so rooted in its academics and hospitable sense of community, I can proudly say that I will take all the knowledge and skills that I have learned on my future endeavors."
– Gino Gasbarro '19, Mechanical Engineering