Humanities, Arts, and Social Sciences
Game Design Program Among Top 10 Nationwide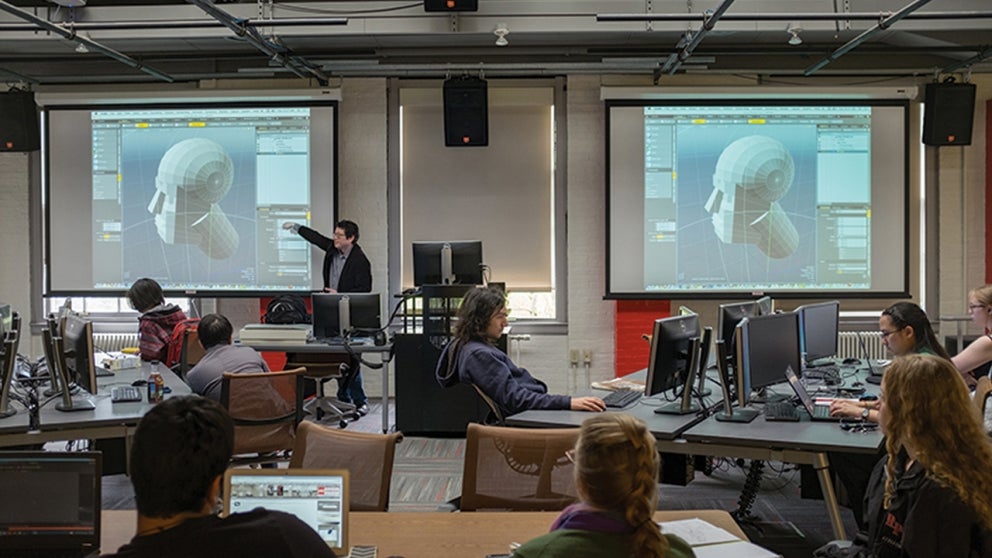 Video games represent one of the largest and fastest-growing entertainment industries in the world. Beyond games, today's interactive technology also helps shape how young people learn, drives national defense strategies via computer simulations, and assists training efforts in biomedicine, physical fitness, anti-terrorism, and much more.
The highly regarded Games and Simulation Arts and Sciences (GSAS) program is a leader in games studies, and rankings released recently by Animation Career Review attest to that: The program was ranked No. 9 nationally on the list of top game design programs in the United States and No. 7 nationally among schools offering a bachelor of science degree in game design.
Among East Coast colleges and universities, Rensselaer is ranked at No. 4; on the list for private schools and colleges, Rensselaer is ranked No. 7; and among programs offered in New York state, No. 3.
Two recent GSAS graduates, Ben Caulkins and Sam Suite, founded a video game company that was named a finalist in the college game competition at the Electronic Entertainment Expo, or E3, in Los Angeles. The company, called Dang!, has developed several video games, including IO Interloper, a "corporate espionage hacking game" that was recognized in March when it was also an awards finalist at the Independent Games Festival in San Francisco.
The GSAS program was established at Rensselaer in 2007. Students in the program gain an understanding of games from the broadest possible range of perspectives, studying fields as diverse as electronic arts, artificial intelligence and cognitive science, digital graphics, software development, psychology, human-computer interaction, and computer graphics in communication and the arts.
"Rensselaer is a uniquely rich environment for games studies, and our GSAS degree program provides an undergraduate experience like few others available anywhere in the country," says Mary Simoni, dean of the School of Humanities, Arts, and Social Sciences, which houses GSAS. "Our program draws on RPI's Computer Science, Cognitive Science, Arts, Communication and Media, and Science and Technology Studies departments — a combination of resources few other games programs can even claim, let alone match.
"GSAS emphasizes a deep theoretical foundation along with collaborative, interdisciplinary teamwork, which is how games are actually created," she says. "This equal emphasis on theory and practice means that students graduate fully prepared to work in the games industry, and the program enjoys a considerable success rate in post-graduate employment."