Entrepreneurship
It All Starts With an Idea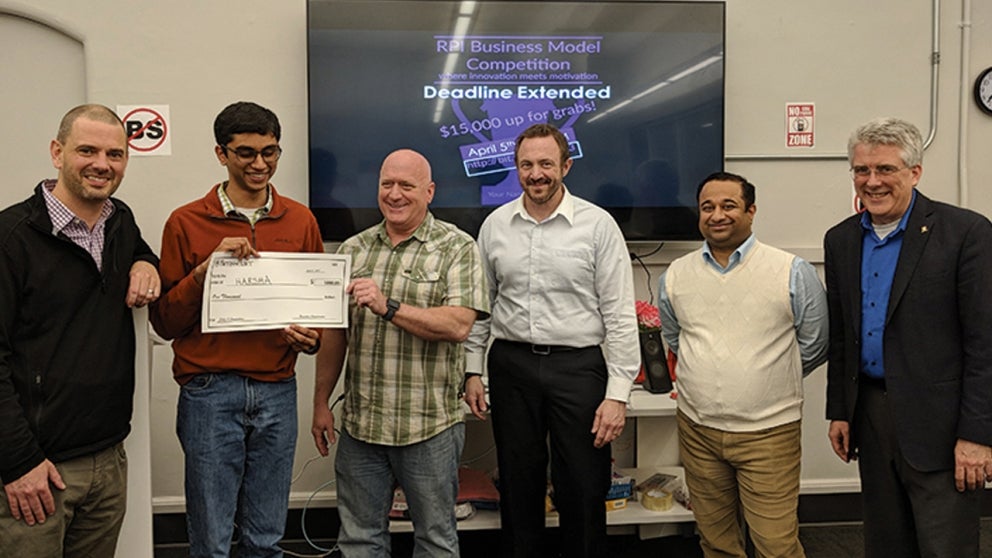 "The Change the World Challenge is an excellent way to encourage students to develop and grow innovative ideas for businesses."
— Thomas Begley
An automatic door control system, an emergency response drone, a specialized drawing board, a planter system that cleans the air, a product to prevent plaque regrowth on surgical stents, and a novel use of gamification for community security are all winners of the spring 2018 Change the World Challenge student innovation competition.
Kapshur Medical Devices earned the "Best of the Best" honor and a $5,000 grand prize with its aims to conquer restenosis (subsequent plaque buildup) in patients receiving stents to treat artery disease. This supplemental add-on device will reduce the number of repeat surgeries needed for the 1 million Americans receiving traditional cardiac or peripheral stents annually. The device was created by Kapila Chandramouli '18, a mechanical engineering major.
The Change the World Challenge entrepreneurship competition is a twice-yearly event created to support entrepreneurship education and inspire Rensselaer students to develop their unique ideas into a viable business concept. The winning students and student teams who develop innovative ideas and inventions each receive a prize of $1,000. Patent application assistance is also available for the winning student proposals when applicable.
Established in 2005 by Rensselaer alumnus and entrepreneur Sean O'Sullivan '85, the Change the World Challenge competition has helped to validate more than 150 new student ideas. The competition is overseen by the Paul J. '69 and Kathleen M. Severino Center for Technological Entrepreneurship in the Lally School of Management. Students involved in the competition develop ideas that have the potential to improve human life through innovative and sustainable solutions.
"The Change the World Challenge is an excellent way to encourage students to develop and grow innovative ideas for businesses. The Severino Center does an excellent job running this competition, not just with the final event but also in working all semester with the students to prepare their entrepreneurial ideas," says Thomas Begley, dean of the Lally School of Management. "Sean O'Sullivan's generous contribution makes this competition possible. Through his own career, he stands as a role model for students thinking about becoming entrepreneurs."
"It is great to see student entrepreneurs changing the world through entrepreneurship," says Jason Kuruzovich, academic director of the Severino Center.
"Entrepreneurship is the vehicle by which so many of our alumni have brought lasting change to the world."